Ladies of Leisure 1930
---

"You're wondering why I was at that party.
That's my racket. I'm a party girl. Do you know what that is?"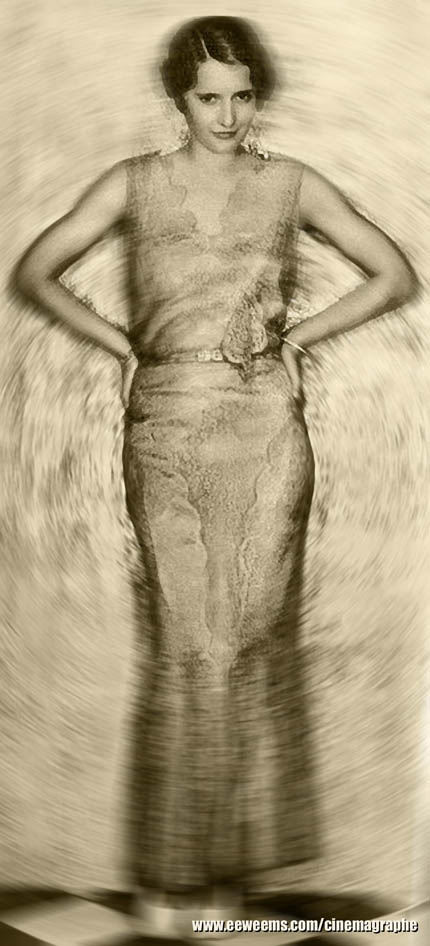 Jerry Strong is a painter from a wealthy family. Kay is a working-class "party girl," hired as a model by Jerry, who becomes reluctantly infatuated with her. Kay is equally reluctant, and afraid, of her admiration for Jerry. When Jerry's snobbish parents realize his interest in the low-class Kay, and of his desire to stay in the fine arts despite their plans for him to join in their business, surprises and hard decisions take place.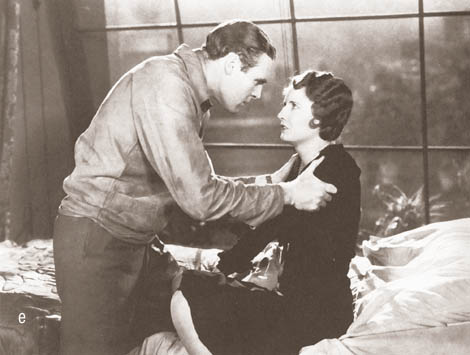 A 1930 movie still of actors Ralph Graves (who starred in a number of early Capra films) and a 22 year old Barbara Stanwyck.
---
DVD and VHS availability:
Ladies of Leisure is part of the box set "Frank Capra the Early Collection" - Amazon.com
The 85 minute silent version has been made available on VHS.
The silent version is only available via Turner Classic Movies here.
---
Also known by the title Ladies of the Evening.
(Movie based "Ladies of the Evening" by
Milton Herbert Gropper, theatre play, New York City.
Ran December 23, 1924 to May 1925). Columbia Pictures remade the
same story as Women of Glamour in 1937 from the same Gropper source material.
Runtime:
98 minute, 102 and 106 minutes (sound versions)
9,118 feet of film, 10 reels.
An 85 minute silent version was made from the same film shoot.
Sound:
Filmed in Black and White
Film:
Sound by Western Electric Microphone Recording (mono track)
Release Date:
April 5, 1930
Premiered April 2, 1930.
Production on the film began in December 1929, filming on January 14, 1930.
---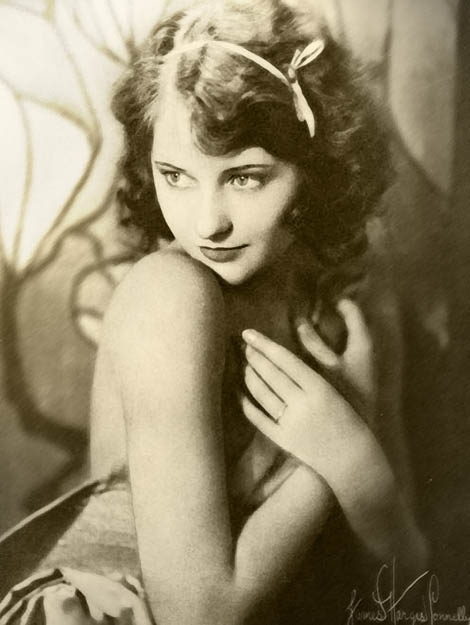 ---
LADIES OF LEISURE
[1930]
Capra wrote the first draft of Ladies of Leisure, before writer Joe Swerling took over.
I went to my hotel, locked myself in my room and for five days pounded out a rewrite story of the plot I'd heard, interrupting the writing only long enough for black coffee, sandwiches and brief snatches of sleep. I was simply writing a newspaper yarn with a longer deadline than usual. The result was Ladies of Leisure. (Quoted in Joseph McBride's Frank Capra: The Catastrophe of Success, pages 211-212. Read about this book here.)
Capra tells the story of Swerling hating the project when originally approached about the material during a story conference at Columbia Pictures in 1929. Swerling said:
I don't like Hollywood, I don't like you, and I certainly don't like this putrid piece of gorgonzola somebody gave me to read. It stunk when Beasco produced it as Ladies of the Evening, and it will stink as Ladies of Leisure, even if your little tin Jesus does direct it. The script is inane, vacuous, pompous, unreal, unbelievable - - and incredibly dull." (Quoted in Capra's autobiography The Name Above the Title, page 114. Read about this book here.)
According to Capra, he dismissed using Stanwyck (who had been sent to Capra by Harry Cohn) when their interview went badly. Frank Fay, Stanwyck's husband at the time, called Capra up, furious over Stanwyck's having come home from the interview, crying. Capra blamed Stanwyck, saying she acted like she didn't even want the part.
Frank, she's young, and shy, and she's been kicked around out here. Let me show you a test she made at Warner's.(Quoted in Capra's autobiography The Name Above the Title, page 115. Read about this book here.)
The test was from The Noose (a Broadway play Stanwyck starred in, also a film made -- without Stanwyck -- in 1928 by John Francis Dillon for First National) and Capra was so impressed that he left the screening immediately to get Harry Cohn, who ran Columbia, to sign up Stanwyck as quickly as possible.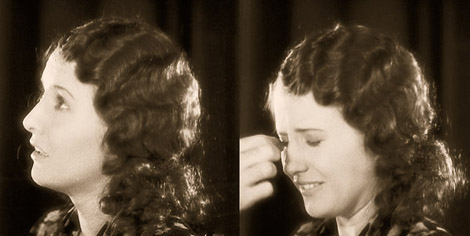 Above: "I can't paint you if I can't see you... and I can't see you with all this camouflage!" Says painter Jerry Strong (actor Ralph Graves) to hired model Kay Arnold (Stanwyck). By the end of the story, it will take more than that for Jerry to see her.
Working with Stanwyck created a problem Capra had not previously dealt with: spontaneity.
...I discovered a vital technical lack - - one that shook us all up: Stanwyck gave her all the first time she tried a scene. Whether in rehearsal, or in long shots which served only to geographically orient the audience. All subsequent repetitions, in rehearsals or retakes, were pale copies of her original performance.

This was a new phenomenon - - and a new challenge; not only to me, but to the actors and the crews. I had to rehearse the cast without her. The actors grumbled. Not fair to them, they said. Who ever heard of an actress not rehearsing?

And the crew had problems. I had to take the "heart" of a scene - - the vital close-ups of Barbara - - first, and with multiple cameras so she would only have to do the scene once. Multiple cameras aggravate the difficulties of lighting and recording in geometrical progression, i.e., four times as complex with two cameras, eight time with three cameras.

On the set I never let Stanwyck utter one word of the scene until the cameras were rolling. Before that I talked to her in her dressing room, told her the meaning of the scene, the points of emphasis, the pauses. Her hairdresser Helen had become her confidante. I let Helen give her the cues from the other actors. I talked softly, not wanting to fan the smoldering fires that lurked beneath that somber silence. She remembered every word I said - - and she never blew a line. My parting admonition was usually this: 'Remember Barbara. No matter what the other actors do, whether they stop or blow their lines - - you continue your scene to the end... (Quoted in Capra's autobiography The Name Above the Title, page 113-114. Read about this book here.)
---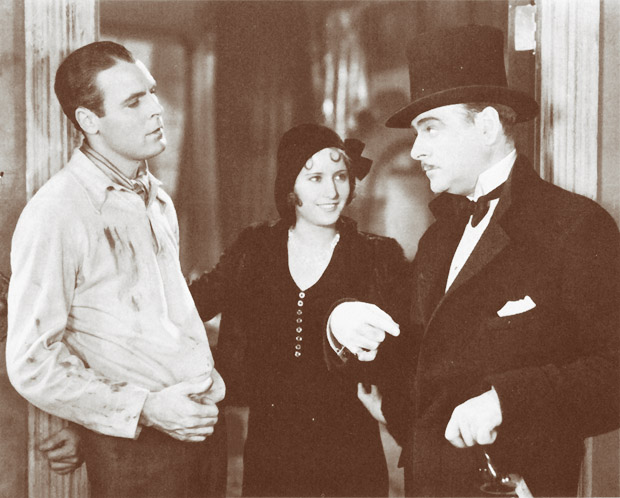 ---
With Ladies of Leisure, Capra evolved his working style considerably, forced into a position of adapting his considerable technical demands (especially with the relatively primitive technology of the early sound pictures) so that they would not interfere with the more important project of getting the best possible performances from the cast. Capra wanted to make better films, and his ambitions in this regard were fueled by a growing skill with directing cast and crew, along with facing and taking advantage of the rapid changes in the equipment available.
You guys are working for the actors, they're not working for you." Capra would say. Al Keller, assistant cameraman, said: "It was inspirational to work with Capra because everyone was trying to do their best. We were anxious to do things for him. Capra inspired 110 percent from his crew. We felt that working with him, we were the elite. But he wouldn't tolerate anyone who couldn't cut it. Boy, you did it right the first time or you weren't there.(Quoted in Joseph McBride's Frank Capra: The Catastrophe of Success, pages 213. Read about this book here.)
The success of the film at the box office gave Capra more clout in choosing and developing his future projects at Columbia, and it also made Barbara Stanwyck a star. She had been on the verge of returning to New York City to pick her theatre career back up, having made three earlier films (Mexicali Rose, 1929; The Locked Door, 1929; Broadway Nights, 1927) before working with Capra. These earlier films were poorly received and Stanwyck herself disparaged them considerably when asked about them later in her life.
---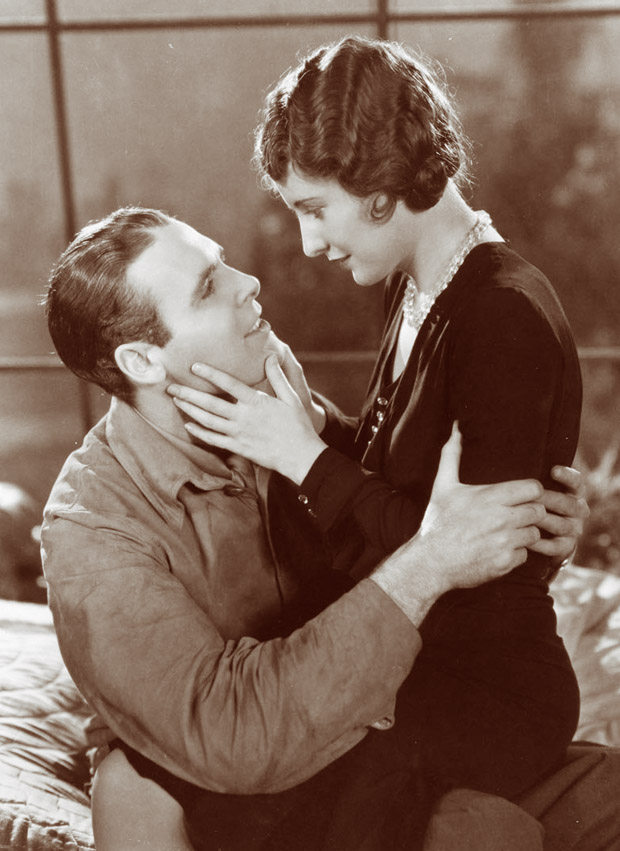 ---
Ladies of Leisure was marketed by Columbia with an emphasis on Stanwyck's performance, but also on the clothing worn by the character in the film. Part of the strategy used by Columbia was an expectation that female audiences would scrutinize the wardrobe of the female characters, particularly Stanwyck's character.
With newspaper ads, women got to study the dresses worn by the stars and then see the stars in those dresses when they went to the movies...

...the 'little shop girls' going to the movies may well have been distracted by the new medium, to borrow Siegfried Kracauer's term for this audience and the pleasures the cinema gave them. But they were also discerning consumers: they had some income to spend on such things but not a lot. As a result, the cinema, publishing, and other entertainment industries competed with each other to attract this clientele, but they also worked together... (From Eric Smoodin's Regarding Frank Capra, pages 34-35. Published by Duke University, 2004.)
---
Links
Page about Barbara Stanwcyk at Cinemagraphe
---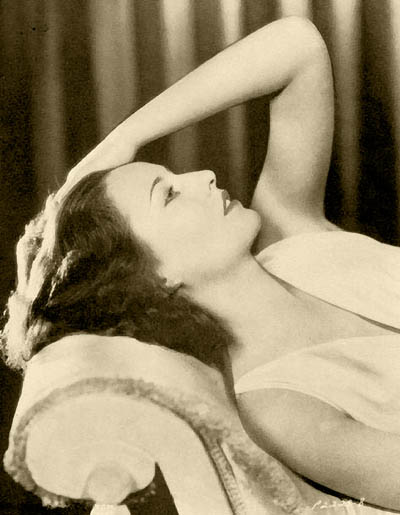 LADIES OF LEISURE
1930
Cinematography
Joe Walker
Writer
Jo Swerling - dialogue and adaption
Dudley Early - Titles
Based upon the play produced by David Belasco
and written by Milton Herbert Gropper
Producer
Harry Cohn
Editing
Maurice Wright
Art Director
Harrison Wiley
Musical director
Bakaleinikoff
Sound
John P. Livadary
Harry Blanchard
Edward Bernds
Original newspaper advertisement for Ladies of Leisure: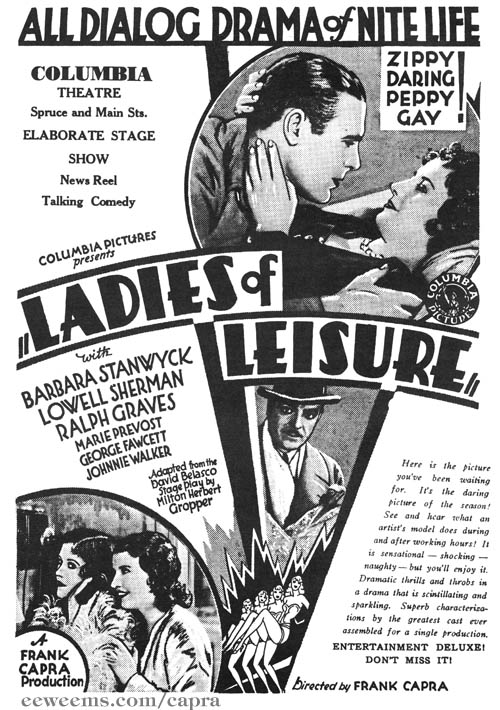 CAST
Ralph Graves
Nance O'Nei
George Fawcet
Barbara Stanwyck
Lowell Sherman
Marie Prevost
Johnnie Walker
Juliette Compton
Charles Butterworth

Jerry Strong
Mrs. Strong
Mr. Strong
Kay Arnold
Bill Standish
Dot Lamar
Charlie
Claire Collins
Man at party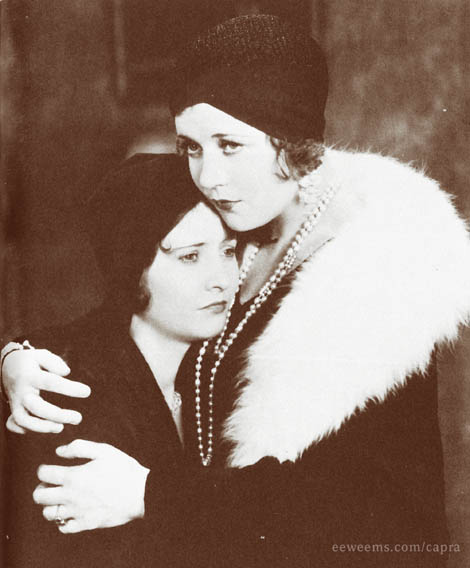 Links
Moviediva.com has an interesting review of the movie here.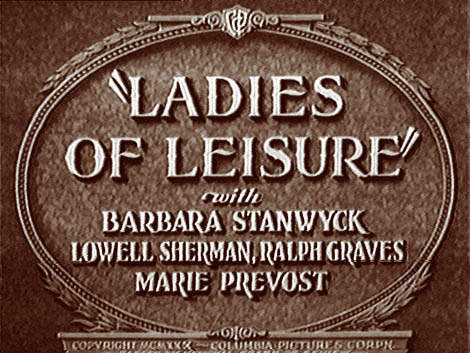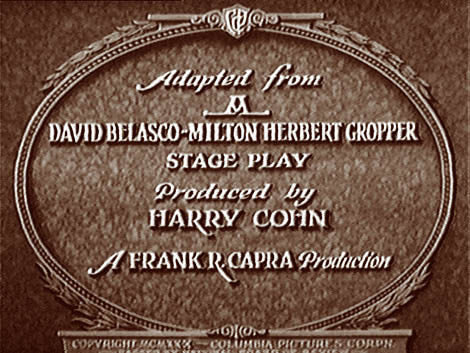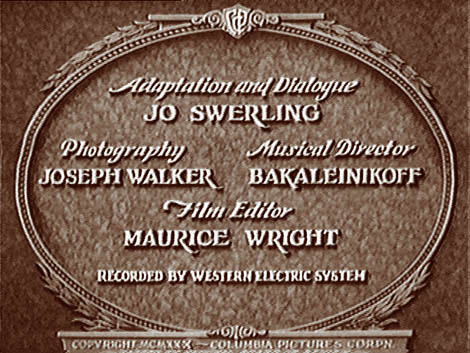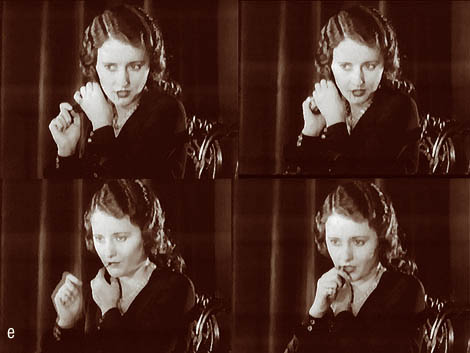 ---
More info coming
---
Original page 2001 | Updated April 2013
---