Miracle Woman 1931
---

"What God? Whose God? Yours?
This isn't a house of God - this
is a meeting place for hypocrites.."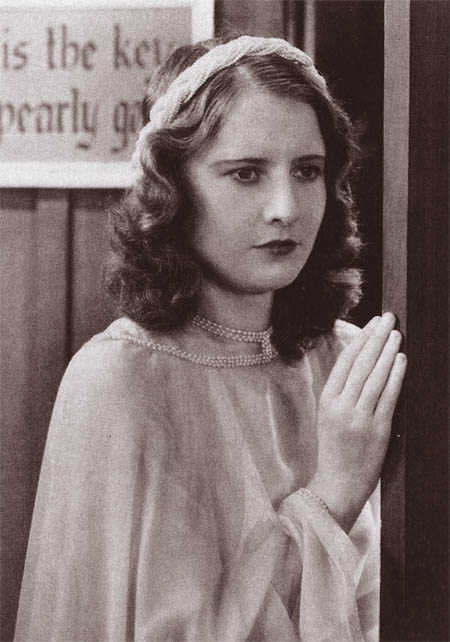 Story synopsis of The Miracle Woman
Florence Fallon's father, a minister, dies after being fired from a church he had led for ten years.
Embittered, she meets a former circus promoter who has an idea about how to get even, emphasizing that "Religion is like everything else, it's great if you sell it, but no good if you give it away."
Half-convinced, "Sister Fallon" begins evangelizing, eventually coming into contact with a blinded war veteran who shocks her with his guileless willingness to believe.
However, her promoter and manager has his own ideas. In between stage-managing phony "miracles," and trying to seduce Fallon - - he is grimly determined to protect his investment.
---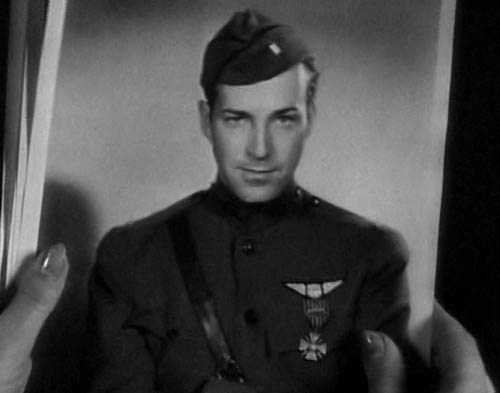 Sister Fallon (Stanwyck): "How long have you been blind? How did it happen?"
John Carson (Manners): "I joined the army to see the world."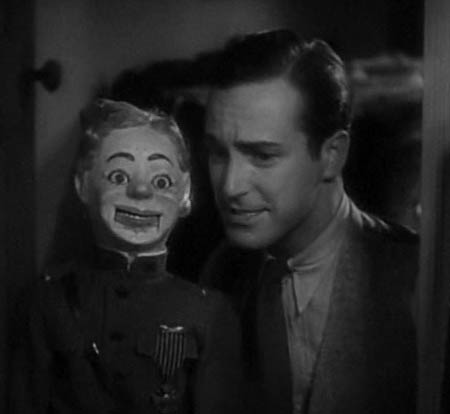 Above: David Manners is the blinded war vet who uses a ventriloquist dummy to amuse the female evangelist, but ends up expressing much more than he meant to.
---
Mircale Woman Film Notes
The Miracle Womanin which Capra was talking to Robert Riskin, who had been one of the original investors in the theatre version of the tale:
I wrote that play. My brother and I were stupid enough to produce it on Broadway. It cost us almost every cent we had. If you intend to make a picture of it, it only proves one thing: You're even more stupid than we were." (From Joseph McBride's Frank Capra: The Catastrophe of Success, Touchstone Books, 1992, page 227)
Riskin's original theater play was titled Bless You, Sister, in which he shared writing credits with John Meehan. It is the basis for the Jo Swerling film script which Capra used. (See Pat McGilligan's Six Screenplays by Robert Riskin, University of California Press, pages 19 - 20)
McGilligan says that Riskin, who along with his brother Everett had produced a string of productions in New York, had come up with the idea for Bless You, Sister while reading the Sinclair Lewis novel Elmer Gantry. Like that book, Bless You, Sister has at its core the relationship between a lady evangelist and a con-man on the make, and the tricks and gimmicks they use to fool their congregation.
The difference, though, is that the nature of the relationship is just implied in Riskin's play (and the Capra film) and the addition of the blind war-vet is the pivotal character, whereas in Lewis' tale, the con artist comes to have complete control over the evangelist after eventually seducing her. In Capra's version in The Miracle Woman, the Bob Hornsby character (played by Sam Hardy) clearly has the same intentions.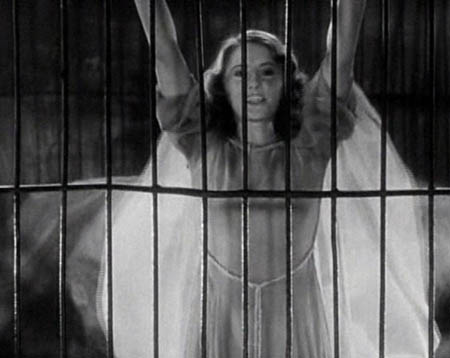 Like some other Capra films, for example Mr. Smith and Mr. Deeds, the story of the Miracle Woman has the romantic love between an idealizing man and a cynical, embittered woman.
The title of the film seems to be a novelty revision of the successful Lon Chaney silent film, The Miracle Man. In a scene from the newer film, a circus contortionist demonstrates his skill at reshaping his body into what appears to be a paralytic tangle, so that Sister Fallon (Stanwyck) can complete one of her fraudulent 'miracles' upon him. Chaney was famous for his ability to distort his body through carnival tricks like these.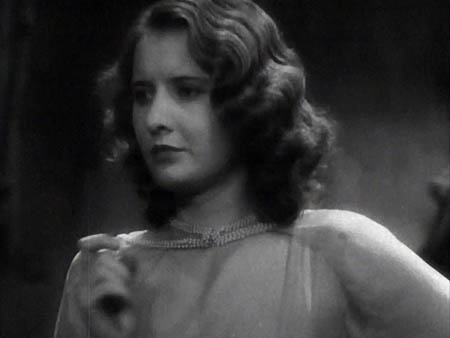 Barbara Stanwyck based her characterization on real-life evangelist Aimee Semple McPherson, who was famous in the 1920-30s. Robert Riskin and his brother Everett had fashioned their play from both the Lewis book and taking notes from watching lady evangelist Uldine Utley. (See McGilligan, page 17.)
After Miracle Woman, Capra would go on to make Forbidden (1932) with Barbara Stanwyck, and the The Bitter Tea of General Yen (1933), where Stanwyck would play a missionary. Their final film together would be the 1941 Meet John Doe.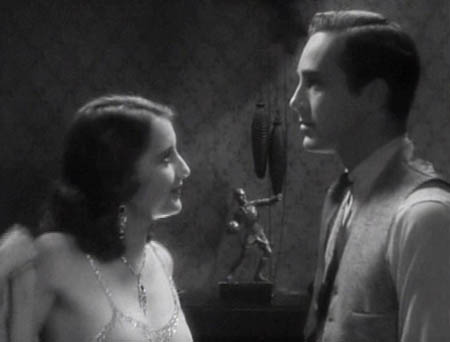 The film is about the psychology of the masses, about the gray mob that follows an opinion leader. This time the charismatic figure is a messianic evangelist... whose religious mission is exploited for commercial ends to such an extent that the church ends up becoming a "circus." But the heroine, Florence, an anguished mixture of good and evil, finally realizes that she has become the victim of a perverse process, rather like John Doe ten years later. The only road to salvation is expiation and sacrifice; in the film's grand finale Florence's diabolical church is destroyed by a purifying fire, together with the ambitious plans of those who were exploiting her. (From Vito Zagarrio's essay It Is (Not) a Wonderful Life; For a Counter-reading of Frank Capra, in Frank Capra: Authorship and the Studio System, Temple University Press, 1998)

---

Stanwyck is electrifying; at times jaded and mean, at times innocent and playful. DM [David Manners] gives the performance of his career, almost stealing the show, and one actually experiences the two characters' whole beings change as the plot unfolds and they fall in love. Their on-screen chemistry is explosive and captivating, and is certainly aided by the literate script and Capra's sensitive direction. From the David Manners web site, written by John Norris. Link here.
---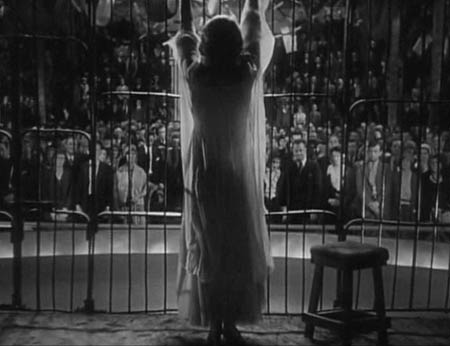 THE MIRACLE WOMAN [1931]
Executive Produced by Harry Cohn
Produced / Directed by Frank Capra
Script by Jo Swerling and Dorothy Howell
From the play "Bless You, Sister"
by John Meehan and Robert Riskin
Cinematographer: Joseph Walker
Editing: Maurice Wright

Assistant Director: Sam Nelson

Sound Engineer: Glenn Rominger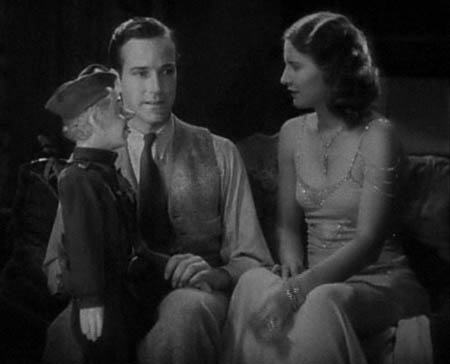 Cast:
Barbara Stanwyck
David Manners
Sam Hardy
Beryl Mercer
Russell Hopton
Charles Middleton
Eddie Boland
Thelma Hill
Robert Bolder
Mary Bracken
Aileen Carlyle
Mary Doran
Lorraine Hubbell
John Kelley
Edward LeSaint
Ivan Linow
Dennis O'Keefe
Bud Osborne
Al Stewart
Harry Todd
Fred Warren
---
Release Date: July 20, 1931
Produced between March 10 to April 10, 1931
Listed as either 87 or 90 minutes in length; 8,370 feet; 9 Reels
---
DVD OR VHS AVAILABILITY:
The Miracle Woman is part of the box set "Frank Capra the Early Collection" - Amazon.com
As of September 2007, I know of only one VHS and one DVD issue (single and as part of box sets) of The Miracle Woman, they are;
• There is a 1997 VHS tape issue (listed as 90 minute running time) still available from amazon.com HERE
• There is a UK DVD region 2 issue (listed as 86 minute running time) available from the UK amazon.com site HERE
• The Barbara Stanwyck DVD box set for sale in the United Kingdom. This is not a United States (region 1) but a European "region 2" PAL DVD. The box set includes these films: The Miracle Woman (1931), The Bitter Tea of General Yen (1933), Golden Boy (1939), The Lady Eve (1941), Double Indemnity (1944), and All I Desire (1953). It lists for £42.48 at the UK Amazon HERE.
• The Barbara Stanwyck DVD box set for sale in Germany. This set seems identical to the UK box set. It is listed on the German Amazon HERE.
---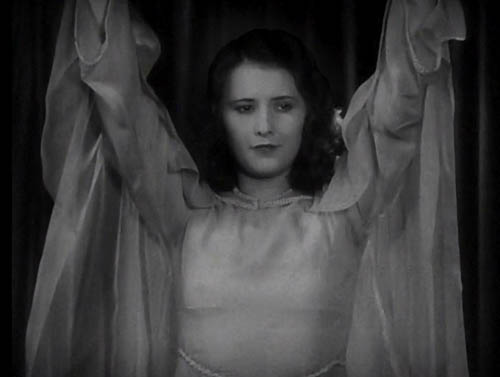 Links:
Page about Barbara Stanwcyk at Cinemagraphe
John Norris has an excellent page on this movie on his David Manners.com web site here.
IMDB has reviews, credit info, etc., here.
---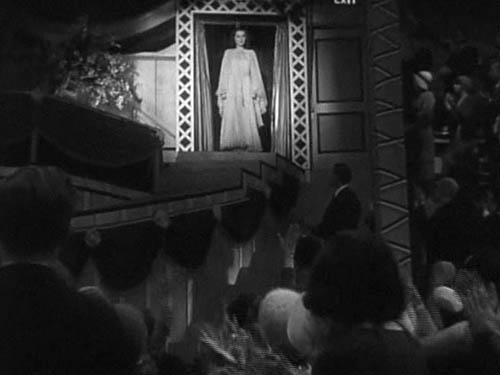 ---
Below: A prime example of Joseph Walker's photography skills, and why he worked so long with Capra. From the catastrophic fire sequence late in the film when Stanwyck's 'tabernacle' goes up in flames.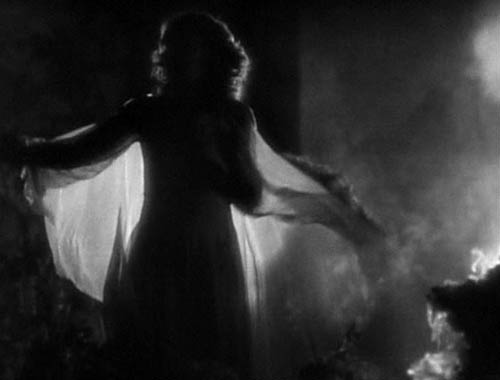 ---
More info coming
---
Original page 2002 | Updated April 2013
---