Platinum BLonde 1931
---
"I know those bluenoses. Their ancestors refused to come over on the Mayflower because they didn't want to rub elbows with the tourists. So they swam over."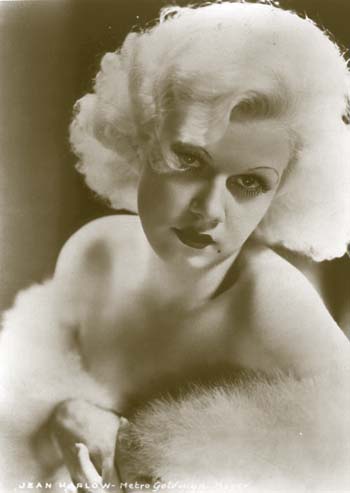 Stew Smith is a reporter covering the scandal that has thrust a wealthy family uncomfortably into the headlines. As he gets closer to the family he becomes interested in the snobby but beautiful daughter, Anne Schuyler. He thinks he can bring her down to his level, but she has other ideas.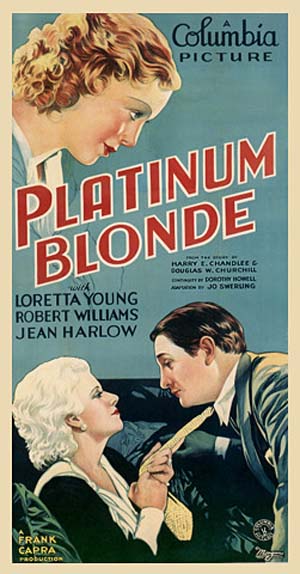 FILM NOTES:
(SIX SCREENPLAYS BY ROBERT RISKIN and Joseph McBride's FRANK CAPRA: THE CATASTROPHE OF SUCCESS figures greatly in compliling the facts I've put together here. To read about these books, go here.)
The film was released in November, 1931.
A series of writers and directors worked on thie project for Columbia before Capra and Riskin finished it. In the film credits, Harry Chandler and Douglas Churchill got story credit, Joe Swerling got adaptation, and Riskin "dialogue."
So little is known of the contribution that the screenwriter makes to the original story... He puts so much into it, blows up a slim idea into a finished product, and then is dismissed with the ignominious credit line - - 'dialogue writer.' (From a 1937 interview with Robert Riskin, quoted by Joseph McBride in Frank Capra: The Catastrophe of Success, page 233)
Jean Harlow was becoming quite popular while Platinum Blonde was in production. The film started out as Gallagher, from the Robert Riskin treatment of the story, became Bird in a Gilded Cage, and then finally Platinum Blonde, squarly banking on Harlow's fame. She had made Public Enemy and Hell's Angels, two financially successful films that created the "blonde bombshell" persona that characterized much of her early thirties work. Despite her central role in the film marketing, the story itself belongs to Robert Williams, the 33 year old actor playing Stew Smith. Williams died shortly after the films premier from appendicitis. His comic turn as the wise-cracking reporter who finds himself hostage to the pretensions of a wealthy society he had previously mocked is the prototypical "Capra" hero, the delimma being repeated in Mr. Deeds Goes to Town and in some degree in Meet John Doe and Mr. Smith Goes to Washington.
Fay Wray, the actress most well-known for being in King Kong (1933), was married to screenwriter Robert Riskin until he died (1955). She has stated that various aspects of Riskin's own character show up in the characters he wrote, but that Stew Smith in Platinum Blonde is most clearly like him.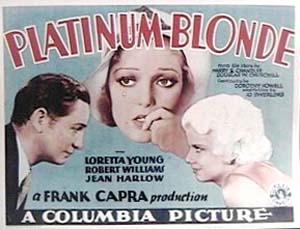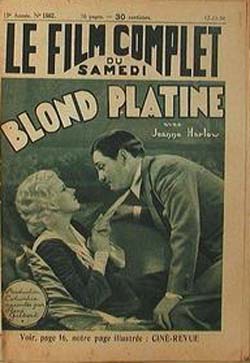 PLATINUM BLONDE [1931]
Produced by Harry Cohn
Directed by Frank Capra.
Script by Robert Riskin, Harry Chandlee, Douglas W. Churchill, Joe Swerling (adaptation) and Dorothy Powell (Continuity)
Cinematographer Joseph Walker.
Music by Irving Bibo, David Broekman, and Bernard Kaun.
Editing by Gene Milford.
Art Direction by Stephen Goosson.
Length: 90 minutes.
Cast: Loretta Young, Robert Williams, Jean Harlow, Halliwell Hobbes, Reginald Owens, Edmund Breese, Don Dilliway, Walter Catlett, Claude Allisterm and Louise Closser Hale
Release Date: 31 Oct 1931
Premiere Information: not available
Production Date: 3 Aug--28 Aug 1931
Color: Black and White
Sound: Mono (Western Electric Sound System)
Duration (in mins): 82 or 90 mins.
Duration (in feet): 8,240
Duration (in reels): 9
Alternate Title: Gallagher
The Gilded Cage
Distribution Company: Columbia Pictures Corp.
---
More info coming
---
Original page 1998 | Updated April 2013
---