ARCHIVE PAGE 2
Previous posts that appeared on the front page of this Capra Site
---
"Wonderful Life" Tops AFI list Most Inspirational
Article at Mercury News
Our page on It's A Wonderful Life here.
George Bailey's brother proclaimed him the richest man in Bedford Falls. Now the story of the despondent businessman, who got a chance to see how ugly the world would be without him, has been proclaimed the most inspiring American movie.

Frank Capra's ``It's a Wonderful Life,'' starring James Stewart as the disillusioned George, led the American Film Institute's list of inspirational films revealed last week in the group's annual Top 100 TV special that aired on CBS.

``We all connect to that story. We may not all connect to the story of a fighter from Philadelphia or a singing family in the Austrian Alps,'' said the TV special's producer, Bob Gazzale, referring to two other films on the list, ``Rocky'' and ``The Sound of Music.''

``But there's no way to get away from the inspiring story of George Bailey. It relates to us all.'
Filmstew.com has an article on the AFI list by Dennis Michael here.
Filmmaker Frank Capra left us 15 years ago, but he is still tops in the Inspiration Cinema Business. The American Film Institute revealed its list of the 100 most inspiring films this week, and Capra's It's a Wonderful Life was the number one film on the list.

Capra's Mr. Smith Goes to Washington, which also stars Jimmy Stewart, came in fifth, and Capra had two other films in the top 100. Steven Spielberg had five films in the top 100, but his highest mark was third place with Schindler's List.
---
Review of the "Great Filmakers" Book
Article at the New York Observer by Scot Syman:
...there's the peppery, contrarian honesty of Frank Capra: "I guess I don't actually think that the definitive pictures were made in the thirties and forties. Yes, we made some good films, but hell, that's past. Who the hell's interested in that? I'm surprised you even watch old films. What should interest you is tomorrow."
---
TV Producer Gloria Monty O'Byrne dies ;
Cited Capra as Influence
Article at app.com:
Asked where she got her ideas for General Hospital, Monty said, "I stole from the best: Frank Capra for his sense of romance, his humor and most importantly, his hope; Alfred Hitchcock for his chilling terror and suspense."
---
Capra's Submarine Screened in San Diego
SILENT FILM FEST at Miracosta College, One Barnard Dr., Oceanside, 760-795-6815. Showing at 7:30 p.m. Friday, Feb. 24, Submarine, a 1928 silent film directed by Frank Capra. Showing at 7:30 p.m. Saturday, Feb. 25, Mantrap, a 1926 silent film directed by Victor Fleming.
---
New Book
Conversations with Great Filmmakers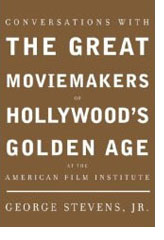 From the amazon.com website:

...collection of interviews from AFI seminars, edited by Stevens (who is a writer, director and producer, and founder of the AFI), lets cinema masters tell their stories. Stevens opens each chapter with a succinct, entertaining description of the artist and his or her work, followed by a fascinating q&a. He has edited the material with grace and clarity, allowing the personality of each subject—as well as an inside look at the industry—to emerge. Though most of the personalities are directors, including silent-film pioneer Harold Lloyd, Alfred Hitchcock and Billy Wilder, other craftspeople provide important insights into filmmaking. ...Including such legends as Frank Capra, Howard Hawks, Billy Wilder, and Alfred Hitchcock.
---
"IT'S A WONDERFUL LIFE: LIVE RADIO PLAY"
The Joe Landry version of the Capra film is playing in numerous places this holiday season:
HOLLYWOOD: It's a Wonderful Life: A Live Radio Play, based on the Frank Capra classic holiday tale of love and redemption, 8 p.m. Wednesday-Friday, 2:30 and 8 p.m. Saturday, and 2:30 p.m. Sunday through Dec. 23 ($25-$30) at the Crossley Terrace Theatre, 1760 N. Gower St., Hollywood. (323) 462-8460.

STAMFORD CONNETICUT: A holiday tradition continues when Stamford Center for the Arts presents It's A Wonderful Life based on the 1946 movie classic by Frank Capra, adapted by Joe Landry. It's a Wonderful Life is staged as an old-time radio show with actors (in period costumes) in a studio portraying over fifty characters while creating live sound effects and pausing for live commercials. info
Venue: Rich Forum, 307 Atlantic Street, Stamford CT 06901

CHICAGO: American Theater Company, Joe Landry, adapted from the Frank Capra screenplay Cost $25-$30; $10 kids Description: For a fourth season, American Theater Company celebrates the holidays with a live radio broadcast of "It's a Wonderful Life," with actors providing the voices of several characters at once and an actual foley artist. $20 previews start on Nov. 30, with press opening on Monday, Dec. 5 at 7 p.m. info
Performances (Opens November 30, 2005, Closes December 31, 2005)
Information about the play from 2004 is here.
(Below) picture of the cast from the Springfield, IL production in 2004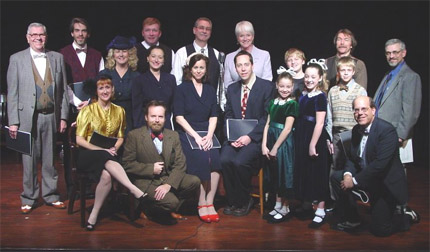 ---
"IT HAPPENED ONE NIGHT" REVIEW AT PLAIN-DEALER
The entire article is here.
These days, the idea of an unmarried guy and girl sharing a hotel room would barely raise a shrug. But Frank Capra milked the then-shocking notion for an entire film worth of laughs in "It Happened One Night." Claudette Colbert at her giddiest plays a runaway heiress, and Clark Gable is the poor reporter caught in her wake.
---
"FRANK CAPRA'S GOOEY TRIBUTE TO THE HUMAN SPIRIT"
Dennis Rogers at the North Carolina News-Observer:
Being a touchy-feely sort of guy, I suppose my all-time favorite Christmas movie is "It's a Wonderful Life," Frank Capra's gooey tribute to all that is noble in the human spirit.
It has been entertaining the 25 or so times I've watched it. I still get choked up when the townsfolk bring money to keep George Bailey out of jail.

But lately I've had a nagging feeling that anyone who would trust a befuddled old fool like Uncle Billy with $8,000 of other people's money just maybe ought to get a shot of reality in the Bedford Falls slammer.
The rest of the article on Christmas Season films is at the News-Observer here.
---
"IT HAPPENED ONE NIGHT" A "MUST HAVE" - UK TELEGRAPH
Marc Lee at the UK Telegraph reviews Capra's 1934 film here.
---
"ITS A WONDERFUL LIFE" ONSTAGE
Vermont Times-Argus newspaper reports on theatre production of the 1946 Capra film here.
---
DIRECTOR'S FILM 'TRIBUTE TO CAPRA'
Film director Emir Kusturica (the only director to win the Palme d'Or twice) is profiled film at the UK Telegraph about his new film "Life is a Miracle" which he says is a form of tribute to Capra: 'He loves directors such as Frank Capra; the new film's title is a tribute to Capra's It's a Wonderful Life. He worked in America once, making the strange and beautiful Arizona Dream, which starred Johnny Depp and Jerry Lewis, but became thoroughly disillusioned with Hollywood. "Hollywood cinema was bigger than life in the 1940s and 1950s," he argues. "Today, it is inferior to life. If you compare American cinema in the 1940s and 1950s with now, it's devastating. You ask yourself, 'Has humanity really progressed in such a stupid, idiotic way?' My problem is not just that they make bad films. They do not even include human beings.'
---
LONDON WEST END PRODUCTION OF "IT'S A WONDERFUL LIFE"
The 1946 film is being financed as a 7 million pound musical by producer Jon Thoday, of the controversial hit show Jerry Springer - The Opera, reported ThisisLondon.com on March 6. Steve Brown of the play Spend, Spend Spend is writing the piece.
---
IT'S A WONDERFUL LIFE RADIO PROGRAM
Saukvalley.com has a brief article on the 1947 radio program version of the film, plus the newly recorded version here.
---
FILM REVIEW INTERVIEWS CAPRA JR.
Frank Capra Jr. talks about the making of Wonderful Life and his father. The January Issue of Film Review (#652) is in the shops December 2
---
NBC HAS EXCLUSIVE RIGHTS ON WONDERFUL LIFE
CNN reports on NBC's deal to exclusive broadcasting rights to Wonderful Life.
---
SENECA FALLS, NY, CONNECTION TO WONDERFUL LIFE
The town of Seneca Falls in New York claims to be part of the inspiration for Bedford Falls. Story at the Kentucky New Era here.
---
THE JIMMY STEWART MUSEUM & KAROLYN GRIMES
Article on the Stewart Museum & Karolyn Grimes, "Zuzu" of It's A Wonderful Life. Article at zwire.com here.
---
MR. SMITH GOES TO HOLLYWOOD
The web site New Jersey.com has an article on political films, especially Capra's Mr. Smith.
---
FAY WRAY DIES, WIDOW OF CAPRA WRITER ROBERT RISKIN
Steve Hill's excellent FAY WRAY Memorial pages are here with literally hundreds of pictures and various items. Many obituary articles are available. The best one so far is at the Chicago Tribune . The London Free Press has an obit here. E! Online has a Wray piece here. Wray also starred in Capra's 1931 film Dirigible.
---
BOSTON AREA THEATRE STAGING "YOU CAN'T TAKE IT WITH YOU"
The Wakefield Observer has an article on a revival of the play the Capra film is based upon.
---
MR.SMITH LISTED AS ONE OF 6 GREAT AMERICAN POLITICAL FILMS
The Daily Iowan has a brief list of "great" political films.
---
A MOVIE THAT "SNEAKS UP ON YOU"
The Arkansas Benton Carrier has an article discussing Wonderful Life, among others here.
---
ARTICLE MENTIONING CAPRA "LOST PATRIOTS OF HOLLYWOOD"
The Desert Dispatch has a brief article here.
---
NATIONAL ARCHIVES SHOWING "BATTLE OF MIDWAY"
As part of a series on World War II, the National Archives in Washington D.C. are showing various films from the World War II era.
---
"INSPIRED BY THE DESERT"
The Inland Southern California has an article on Frank Capra's long association with the area of La Quianta, California.
---
DOCUMENTARIES IN THEATERS
Alternet.org has a story on theatrical release documentary films, and mentions the Why We Fight series.
---
Ann Miller has died
ANN MILLER (YOU CAN'T TAKE IT WITH YOU) DIES
The UK Telegraph has an obituary of the actress and dancer. The San Francisco Chronicle has a story on Miller here.
---
JEAN ARTHUR TRIBUTE ARTICLE
The Classic Film site has a new article on Capra actress Jean Arthur
---
PLATINUM BLONDE RELEASED ON DVD
DVD Talk has a review of the just released DVD version of the film. "Capra helped cement the stardom of Jean Harlow, and Platinum Blonde shows why. A proletarian beauty if there ever was one, Harlow here plays a society girl and Capra's direction has a lot to do with the functioning of her performance." Reviewed by Glenn Erickson.
---
POCKETFUL OF MIRACLES
The Detroit Free Press reports on theatrical adaptationof the Capra film.
---
CAPRA CARTOONS ON DVD
Capra short films Hemo the Magnificent, and Unchained Goddess are reviewed by Matt Langdon at DVD Talk.
---
Detroit Area Play version of "Pocketful of Miracles"
The Detroit Free Press reports:
"Utica Community Schools: The Henry Ford II High School Actors of Tweed drama club will present "Pocketful of Miracles," a play based on the 1961 comedy film produced and directed by Frank Capra. Performances will be at 8 p.m. Thursday-Saturday at the school. Tickets are $5 and will be available at the door. The school is at 11911 Clinton River Road, Sterling Heights. '"
The brief newspaper listing is here.
---
New Capra short films released on DVD:
Hemo the Magnificent
Unchained Goddess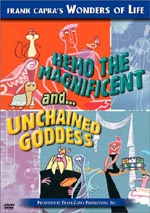 Frank Capra's 1950s science short animated films are being released by Image Entertainment.
"Similar to the other previously reviewed DVD Our Mr Sun and The Strange Case of the Cosmic Ray nthere is so much information in the 54 minute running time of these shorts that viewers may feel inclined to take notes. For this reason the shorts are perfect for teachers and astute students
A complete review of this Capra pairing on dvd is reviewed by Matt Langdon at DVD Talk here.
---
Toronto Area
Grant Golden's Old Chestnut Film Society
Film society specializing in watching old films (recent night was dedicated to silent Barrymore movies). Article mentions Frank Capra briefly.
"I look back at the early films, of films from the '30s and '40s, at (Frank) Capra's films and say: "Wow, could the world have been this naive? Could the world have been this charming?'"
The complete article discussing the film groups activities is here.
---
New Capra short films released on DVD:
Our Mr. Sun
The Strange Case of the Cosmic Ray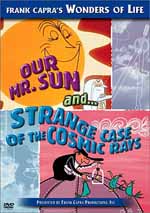 Frank Capra's 1950s science short animated films are being released by Image Entertainment.
"In the mid 1950's Frank Capra got together with Bell Labs (aka The Bell telephone company) and wrote a few clever and informative animated films geared toward brainy kids. The two on this DVD are Our Mr Sun and The Strange Case of the Cosmic Ray.

Our Mr Sun is a 50 minute short that teaches us all about the sun. Eddie Albert plays a writer who is having trouble coming up with a script to give to a scientist played by Frank Baxter (who was an English professor). They aren't sure how to present their material so they conveniently turn to 'the magic screen' and up pops Father Time and Mr. Sun (voiced by Marvin Miller of Robbie the Robot fame).

Over the course of 50 minutes we learn - from Mr Sun, the writer and the Scientist - everything there is to know about the sun; from what the ancient peoples thought to the up-to-the-minute (circa 1957) knowledge that the scientific community knew.

The other short film is The Strange Case of the Cosmic Ray, which focuses on the somewhat complex case of Cosmic Rays by posing all of the details as a mystery."
A complete review of this Capra pairing on dvd is reviewed by Matt Langdon at DVD Talk here.
---
"Downhill for films after 1939?"
"The latest "Fabulous 50-Cent Fantail Film Festival" series will be launched on Oct. 10 with Frank Capra's Mr. Smith Goes to Washington, starring Jimmy Stewart. Following that will be Goodbye, Mr. Chips (Oct. 17), Stagecoach (Oct. 24) and Gunga Din (Oct. 31)."
Review of film festival showing 1939-era films (including Capra's Mr. Smith) from off the stern of the battleship USS North Carolina. Article by Ben Steelman here.
---
"Frank Capra in the audience"
Review of the play Moon over Buffalo, which mentions Frank Capra as part of the plot. South-Bend Tribune article by Ken Bradford here.
---
100 Funniest Films list at Readers Digest.
Includes Capra work. Article/list here.
Review of the George Steven's film Talk of the Town,
briefly makes (negative) comparison to Capra films.
DVD Talk article here.
---
General Yen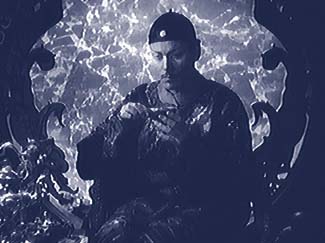 General Yen (Nils Asther) and his tea.
Added material on The Bitter Tea of General Yen, fixed up the page on It Happened One Night, and wrote a semi-rebuttal to a UK Guardian review of The Bitter Tea of General Yen on the links page.
---
FILM PRESERVATION ON MR.SMITH CAPRA FILM
Article on film preservation efforts at the Library of Congress which briefly mentions Mr. Smith Goes to Washington here.
---
NEW BOOK ON CAPRA:
"My name is Joe Saltzman and I am associate dean and professor of journalism at the Annenberg School for Communication at the University of Southern California. I was recently named director of the Image of the Journalist in Popular Culture (IJPC), a project of the Norman Lear Center, USC Annenberg. Our first publication is a book I've written, Frank Capra and the Image of the Journalist in American Film, and we've just put up our Web site, http://www.ijpc.org"
---
---