ARCHIVE PAGE 6 - Feb 2008 - Mar 2009
Previous posts that appeared on the front page of this Capra Site
---
Frank Capra
---
Tom Hanks seeking to make "Capra" like movies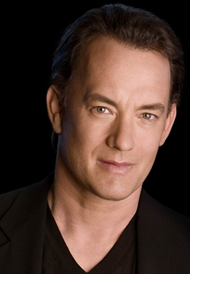 According to several articles on the internet, Hollywood star Tom Hanks is looking at making "Capra-esque" films to bolster American confidence during the current economic downturn. I did not see an actual quote anywhere which states that Hanks is literally saying this, or if the news people are all saying this as a description of Hank's efforts (and apparently copying each other verbatim).
For example is this blurb from the New York Daily News:
"Tom Hanks may become this generation's Frank Capra.

Just as the "Mr. Deeds Goes to Town" director raised Americans' spirits during the Depression, Hanks is producing several social parables that search for cheer in our own sinkhole economy.

First up is "The Talk of the Town," about an out-of-work 48-year-old guy who enrolls in junior college to try to update his skills. He's embarrassed at first, but Hanks says it ends up being all good.

"I'm interested in stories about people doing something out of the ordinary to cope with a bad situation, and it ends up changing their lives," the Oscar-winner tells us."
---
It's A Wonderful Life "still reels them in"
It's A Wonderful Life "still reels them in" Article at USA Today on the phenomenon of Capra's most popular movie and the town's namesake of Bedford Falls:
"And although the film's cozy setting was actually an RKO soundstage in Encino, Calif., the real-life mill town of Seneca Falls, N.Y. happily milks its resemblance to fictional Bedford Falls with an annual December celebration.

This weekend's shindig kicks off Friday with appearances by former child actress Karolyn Grimes, who played George Bailey's daughter Zuzu, and Carol Coombs-Mueller, her older sister Janie. Also on tap: An Uncle Billy's scavenger hunt, a Ma Bailey's Hot & Hearty Cook-Off, and a Dance by the Light of the Moon dance contest. (Alas, the recently renovated Hotel Clarence, named after Bailey's guardian angel, is already booked.)"
---
Frank Capra Film Festival December 2008
Turner Classic Movies is scheduling a special Capra Festival for this December. Here's the news bite describing what they're planning:
"The creator of one of the holiday season's most memorable films – It's a Wonderful Life (1947) – gets a special December tribute with this month-long festival. Capra is known for his Americana vision, a combination of folksiness, down-home values and the everyman winning against powerful forces. TCM will feature such Capra classics as Best Picture Oscar winner It Happened One Night (1934), Mr. Smith Goes to Washington (1939), Meet John Doe (1941), State of the Union (1959) and his final film, Pocketful of Miracles (1961). The network will also feature a collection of Capra's wartime documentaries."
TCM usually has a few Capra films on it's monthly schedule, but this is a plethora of holiday sentiment.
---
It's A Wonderful Life
[Below] Karolyn Grimes in Jimmy Stewart's arms in Capra's It's A Wonderful Life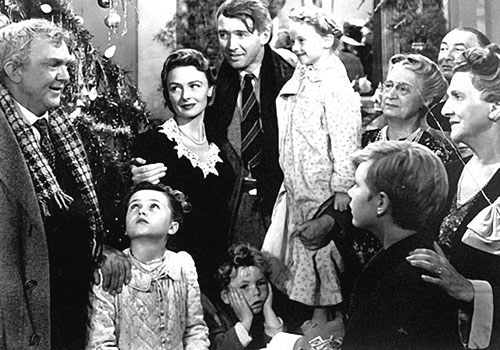 The UK Mirror has an article on Karolyn Grimes who played Zuzu Bailey in It's A Wonderful Life, reflecting on her life and the often tragic circumstances she had to live through :
'Orphaned in her teens, Karolyn suffered at the hands of a wicked foster mother, watched two husbands die, lost a child to suicide and three stepchildren to a bitter court battle.

Yet through it all, she's had the support of the film's fans. "My life has not been wonderful. But that's OK," she says in an exclusive interview with the Mirror. "It has been a rollercoaster ride. It's a Wonderful Life gives people so much joy and happiness each year and that makes me happy."
You can see Karolyn Grimes' official web site at zuzu.net
---
Seasonal Links
Related: An article about both the film and the performers who appeared in It's A Wonderful Life at the Australian The Age
The Canadian Calgary Herald also has a brief article on It's A Wonderful Life
BC Local has "Timeless Capra Classic A must"
---
Yearly NBC Broadcast of It's A Wonderful Life
December 9, 2008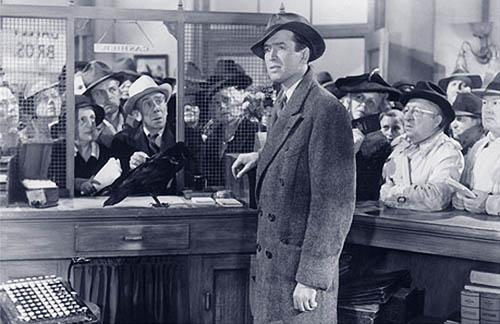 [Below] George Bailey faces down a bank run in Capra's It's A Wonderful Life
Christmas and Capra Time Again
It's time for NBC to present the network broadcast of It's A Wonderful Life. This year the film will be shown December 13 at 8:00 PM Eastern.
Read about the It's A Wonderful Life movie here.
---
Capra Radio Theater
A review by Howard Shapiro of the It's A Wonderful Life Theatre Play Radio broadcast at the Philadelphia Inquirer
---
Capra on the set of General Yen, 1932, with Asther and Stanwyck.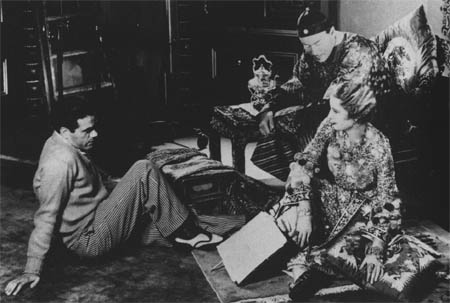 Capra's "Bitter Tea of General Yen" on TCM in June
As part of Turner Classic Movies special film program in June titled "Asian Images on Film," there will be a screening of Capra's "The Bitter Tea of General Yen" which premiered in 1933. A unique film in Capra's filmography, the movie stars Barbara Stanwyck and Nils Asther.
---
Capra's Missing Oscar Returned
A duplicate Oscar statuette of Capra's 1948 win for his "Why We Fight" series short film "Prelude to War" was on loan to the U. S. Army until it disappeared in 1970. Recently it was recovered when it showed up for sale at famed auction house Christie's. It has now been returned to the Army. The Daily Herald has the whole story here.
---
State of The Union - Critical Pick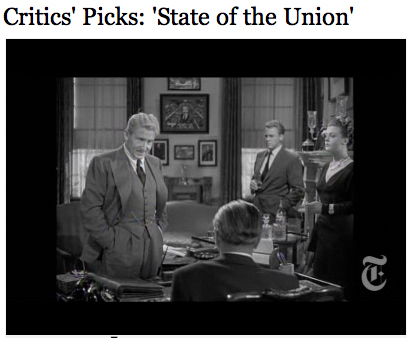 Screenshot of the video player at the NYT online
A. O. Scott's "Critic's Pick" Online at NYT
A three minute video essay about Capra's State of the Union is online at the New York Times, featuring clips from the film and NYT writer A. O. Scott's commentary.
---
Lady for A Day updated; New Glenda Farrell Page
Some additional information and images about Capra's 1934 Lady for A Day has been added. Also, a new bio page about actress Glenda Farrell (who is the "gun-moll" in Lady for A Day) is also newly added to the site.
---
Capra's 1956 "Our Mr. Sun" documentary online
Capra's 1956 television documentary broadcast was later distributed through public schools by the Bell Telephone System. Has Eddie Albert as "The Fiction Witer" and also Lionel Barrymore lending his voice to the animated character "Father Time."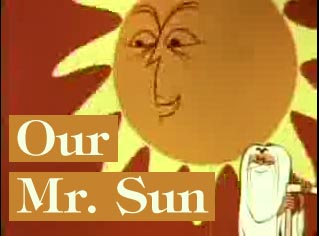 ---
"FLIGHT" to show on TCM March 13, 2008
Turner Classic Movies cable and satellite movie channel will be running the relatively unknown early Capra film FLIGHT on March 13, 2008. This 1929 film was co-written by Capra and the film's star Ralph Graves (who also appears in Capra's Ladies of Leisure and Dirigible).
---
John Huston WW2 Docs shown; was in Capra's Film Unit
Director John Huston's WW2 era war documentaries "Battel of San Pietro" and "Let there be Light" are being shown in Los Angeles, both of which were suppressed, and then heavily edited at their time of production. Huston was in Capra's U. S. Army Signal Corp film unit, and Capra was involved in the talks with the war department trying to get Huston's documentaries released. 'San Pietro' is about a 1943 battle in Italy; 'Let There Be Light' is a 1943 examination of the psychological difficulties of returning war veterans.
The Los Angeles Times online has a complete story here.
---
---