Review: Mr. Deeds Goes to Town 1936
---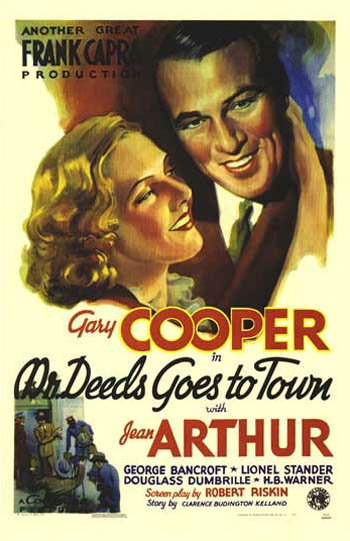 Mr. Deeds Goes to Town
National Board of Review Magazine May 1936 (Their web site here)
Written by James Shelley Hamilton
I t took an avalanche of awards and medals, rushing down upon It Happened One Night, to put Frank Capra up among the critically crowned, though his producers had been aware of his value to them for some time. The glory was spread out to include a best piece of acting for an actress and another for an actor. The medals should have all been boiled down into one, and given to Caprawith probably a ribbon to Robert Riskin. For Gable and Colbert had acted much harder innumerable times before Capra gave them a chance to be merely charming and human, and though they have tried to repeat those performances (being just charming and human) under other directors, it is notable that no more medals have been showered upon them.
By now it is fairly well known that Capra is one of our most individual directors. He has that rare thing, a style of his own, which appears to grow out of his gift for warming up a plot with a goodnatured spirit, disguising its frailties with all sorts of human and amusing by-play, and keeping the whole thing plausible and pleasant by a genial semblance of common sense. And he is a wizard at taking players in need of a break and making them so likeable that they are given credit for good acting.
Perhaps it is something of a tribute to Capra that no matter how much we enjoy his last picture we are wondering, at the end of it, what he will do next. It was that way with Broadway Bill-pretty swell for a racing picture, but we wished he would tackle something with a little more substance to it. We had forgotten the Bitter Tea. How would that strike us now, now that we know Capra is good?
Well, Mr. Deeds Goes to Town seems to have more substance to it. It is a Saturday Evening Postish story, but it has quite an important theme-a young man and his ideals. Beneath that runs the good old theme of the honest country lad and the city slickers. He is so completely a country lad that he has never been outside his own little town, but he inherits a vast fortune and goes to the city, where his native Yankee wit serves him quite well in keeping his head above the plots and counterplots that swirl around him. Until he finds the dream girl has been deceiving him along with the others. That is the ideal whose loss he cannot bear, and he submits to a sanity trial, the outcome of which will determine whether he loses all his money or not, without a word in his own defense. Until he finds that the dream-girl, though deceiving him had truly loved him. Whereupon his native Yankee wit revives and sweeps away all his enemies.
It sounds rather crazy, and it is crazier than it sounds. In its craziness lies much of its virtue-out of the fantastic it creates something touching and moving as well as amusing. For Capra's genial gift is at work again, keeping things going at such a lively pace that there is no time to stop and think, and at the same time weaving a spell of likeableness and plausibility that is just beginning to wear a bit thin when the story sweeps into the trial scene-and then you sit up for some good, gripping drama that keeps you sitting up till the end.
Perhaps there is substance in the plentiful bits of satire-all fairly amiable-and in Mr. Deeds' plans for the unemployed, who are the only people who don't go back on him. It depends on how you take them. At any rate Mr. Capra has worked his usual magic with them. And one wonders what The Lost Horizon will be like, with confidence and hope.
[Our page on the film with complete credits is here]
---
Original page 2007 | Updated April 2013
---