Early Life of Frank Capra
---
(Timeline of dates from 1897 to 1930)
Born May 18, 1897 in Bisacquino, Sicily, Italy
Died September 3, 1991 in La Quinta, California
(Capra was asked where he would have ended up if he had not become a film director):
"With [Dr. Edwin] Hubble. As an astronomer. I could study the stars and the planets forever. I always wanted to know why, why... Pictures changed my mind. I was too far along in the movie business. But when I go back to [Capra's college] Caltech now and hear about things I'm not familiar with, like black holes, goddamn! I get mad. How the hell I ever refused that I don't know... But it seems like motion pictures have a terrible hold on me. I don't know what it is..."
(From Joseph McBride's book Frank Capra: The Catastrophe of Success, page 655.)
---
This timeline is based upon events and information in Capra's autobiography
The Name Above the Title
and Joseph McBride's
The Catastrophe of Success
. See
books
for information about these and other books.
1897 - Born May 18 in Bisacquino, Sicily.
1903 - May 10, leaves for America aboard the boat Germania.
1903 - May 23, arrives at New York Harbor. About the trip Capra said, "There's no ventilation, and it stinks like hell. They're all miserable. It's the most degrading place you could ever be," "Oh, it was awful, awful. It seems to always be storming, raining like hell and very windy, with these big long rolling Atlantic waves. Everybody was sick, vomiting. God, they were sick. And the poor kids were always crying."(See Joseph McBride, Frank Capra: The Catastrophe of Success, pages 29-30.)
1903 - June 3, Capra and his family arrive in Los Angeles (at this time the population of LA was approximately 102,000 people) to stay with his older brother Benjamin. On the Southern Pacific train they took across the country, they lived on bananas and bread, as they lacked the language skills to ask for any other kind of food.
1903 - September 14, Frank Capra begins schooling at the Castelar Elementary school.
1907 - September 16, Frank Capra enters the Griffin Elementary School, so that he can continue into the 5th grade.
1909 - Frank Capra enters the Manual Arts High School. During this time, Capra sold newspapers downtown after school, and on Saturdays. Later he would work as part of a two-man combo, playing music at various places in the red light district of LA, including brothels. He was paid a dollar per night for performing the popular songs of the time.
1915 - January 27, Capra graduates from high school. During this time he had worked as an early-morning janitor for the school, and had been involved with the theatre, usually handling lighting or other back-stage work. Of his school years, Capra later said, "[My family] thought I was a bum. My mother would slap me around; she wanted me to quit school. My teachers would urge me to keep going. ...I was going to school because I had a fight on my hands that I wanted to win."
1915 - September, Capra entered the Throop College of Technology. His family finally accepted that he would be continuing his schooling, and supported him with occasional funds. Tuition was $250 a year. He studied chemical engineering. Though a technical school, Throop had a fine arts department, which was Capra's introduction to poetry. "It was a great discovery for me. I discovered language. I discovered poetry. I discovered poetry at Caltech, can you imagine that? That was a big turning point in my life. I didn't know anything could be so beautiful." Capra also began to write, penning "The Butlers Failure," about an English butler provoked by poverty to murder his employer, then to suicide. (See Joseph McBride, Frank Capra: The Catastrophe of Success, page 77.)
1915 - Capra's grades for his class were the highest in the school. He was awarded a $250 cash prize, plus a six-week trip across the United States and into Canada.
1916 - Capra's father, Turiddu, dies. Capra begins working at the Throop campus laundry to help support himself.
1917 - April 6, President Wilson declares war on Germany. Capra, and many of the other students at Throop, enlist. He later becomes supply officer for the student soldiers, who are given an ROTC program while at Throop. At his enlistment, Capra also discovered he was not a naturalized American citizen. He was still allowed to keep his enlistment, though final papers on his individual naturalization as a citizen did not occur until 1920.
1918 - September 15, Capra graduates from Throop with a Bachelors degree. On October 18, he is mustered into the U. S. Army as a private. He is sent to the Presidio at San Francisco, but comes down with Spanish influenza and is discharged on December 13.
1919 - Capra recuperates at the home of his brother Ben. He hears of extras being hired to appear in the John Ford film The Outcasts of Poker Flat being filmed nearby. The film is released in July, 1919. Capra plays a laborer. The film starred Harry Carey, who Capra met, along with his wife Olive. Carey would appear in Mr. Smith Goes to Washington 20 years later.
1919 - Capra continues to find work as an extra at other film studios, but also works as a ditchdigger, or runs errands, or any other work he can find. Mostly he spends time at his mother's house, unemployed, which seemed to validate the families previous attitude of disdain for Frank's pursuit of schooling. Capra also tries to freelance short stories at this time, without success. He is then hired as a live-in tutor by Anita Baldwin, a wealthy woman wanting private schooling in chemistry for her son. In the 1931 film Dirigible, Capra would shoot scenes on the Baldwin property.
1919 - August. Capra, along with former actor W. M. Plank, and financial backer Ida May Heitmann, go to Nevada and incorporate together as the Tri-State Motion Picture Company. By 1920 the company will have produced three short films, Don't Change Your Husbands, The Pulse of Life, and The Scar of Love. Each were possibly based on Capra story treatments, but directed by Plank. The company would break up when the films were not successful, and Capra returned to Los Angeles.
1920 - Between March and August, Capra works for the CBC Film Sales Company (which would later evolve into the Columbia Films studio) working on a series called Screen Snapshots. He does editing and some directing.
1920 - Capra goes to San Francisco, and works intermittently as a bookseller, gambler, and door-to-door stock salesman. He also learns to hop trains with a sometimes hobo named Frank Dwyer.
1921 - Capra is hired by Actor-producer Walter Montague to direct Fulta Fisher's Boarding House, based on a Rudyard Kipling poem. The film was budgeted at $1700, with Capra earning $75 a week. Capra hired out of work actors around San Francisco for the cast. In the summer he edited the film with Walter S. Ball. When the film was exhibited to the Pathe Exchange, a distribution company, it sells for $3,500. Montague then canceled the next Capra directed project, insisting on filming a story based upon one of his own poems. Capra resigns, and unable to find other work in the film industry, is taken on as an assistant by Walter Ball at his film lab. In his off-time he would film short subjects for private citizens for hire.
1921 - October, he is hired by the Paul Gerson Picture corporation, which makes two-reel comedies. He also begins dating Helen Edith Howell, an actress.
1922 - Capra continues to work for both Walt Ball and the Gerson company, chiefly editing film, particularly the 5th thru 12th films of a comedy series called the plum Center Comedies.
1923 - November 25, Capra and Helen Howell are married at the First Unitarian Church, a compromise location as Helen is Jewish and Capra Catholic. Shortly thereafter, he and Helen move to Hollywood.
1924 - January, Capra is hired by the Hal Roach studios for writing material for the Our Gang series. His employment lasted only seven weeks. He then is hired into the Mack Sennett studios, working as one of a six-man team of writers for comedian Harry Langdon films. Capra eventually works on twenty-five Sennett films during his tenur there. On writing these films, Capra would later tell film writer and critic James Agee,
" [It is] the principal of the brick: If there was a rule for writing Langdon material, it was this: his only ally was God. Langdon might be saved by a brick falling on a cop, but it was verboten that he in any way motivated the bricks fall." (Quoted by Joseph McBride, Frank Capra: The Catastrophe of Success, page 149. Original source is James Agee's essay Comedy's Greatest Era, Life Magazine, Sept. 5, 1949.)
1925 - September 15, Harry Langdon leaves Sennett and goes to work for First National. Capra soon follows Langdon when he is fired by Mack Sennett after three days being promoted to director. Capra works on Langdons first feature-length film Tramp, Tramp, Tramp, released in 1926.
1926 - Langdon has Capra direct The Strong Man. At $750 a week, Capra purchased a piece of property in Hollywood. The Capras begin construction on a house, and Helen begins carrying a child, but it ends when it is found to be a life threatening ectopic pregnancy. Capra throws himself into his work, and Helen begins drinking heavily. In September, Capra begins working with Langdon on Long Pants.
1927- Long Pants is released in March. Tensions between Langdon and Capra reach a crisis, and Capra is fired. In April, Frank Capra and Helen split. Capra goes to New York city to direct For the Love of Mike for First National. It would star Claudette Colbert. The film goes overbudget, and Capra is not paid his salary. He has to hitchhike to return to Hollywood.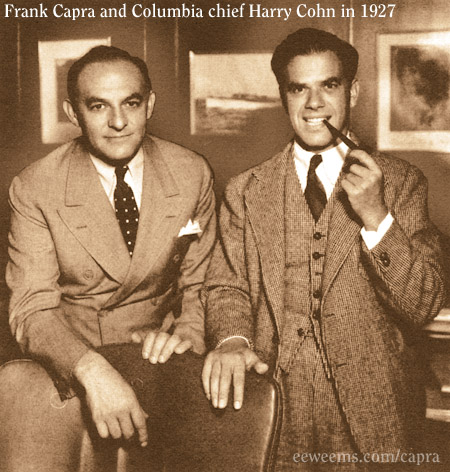 1927 - September. Capra goes back to work for Mack Sennett, writing for The Swim Princess, starring Carole Lombard. He also works on a two reel comedy series called The Smiths. In October he begins working for Columbia pictures after a job interview with production chief Harry Cohn. He then is assigned That Certain Thing to direct. Cohn, after seeing initial rushes, wanted to fire Capra. Everything from the first day had been shot in long shot, the second day in medium shot, and the third day in close-ups. Capra later recalled what happened:
"I did it [that way] for time. It was so easy to be better than the other directors, because they were all dopes. They would shoot a long shot, then they would have to change the setup to shoot a medium shot, then they would take their close-ups. Then they would come back and start over again. You lose time, you see, moving the cameras and the big goddamn lights. I said, 'I'll get all the long shots on that first set first, then all the medium shots, and then the close-ups.' I wouldn't shoot the whole scene each way unless it was necessary. If I knew that part of it was going to play in long shot, I wouldn't shoot that part in close-up. But the trick was not to move nine times, just to move three times. This saved a day, maybe two days." (See Joseph McBride, Frank Capra: The Catastrophe of Success, page 188.)
1928 - Capra works steadily at Columbia, making So This is Love, The Matinee Idol, The Way of the Strong, Say it With Sables, The Power of the Press, and Submarine. Cohn was pleased with Capras efforts, and gave him a $3,000 per picture salary. During this time he was loaned out to MGM by Cohn to direct Brotherly Love, but chafing under the stricter controls of the MGM production style, he returned to Columbia before shooting began. Before the end of 1928, he begins shooting The Younger Generation, which became his first sound feature when scenes were reshot for dialogue. (See Joseph McBride, Frank Capra: The Catastrophe of Success, page 196-197.)
1929 - Cohn and Capra choose fewer films, but higher budgets. Capra directs The Younger Generation, The Donovan Affair, and Flight. During this time he dates, but spends most of his leisure time with male friends, going hunting and fishing. He purchases a Malibu beach house.
1929 - Summer. He meets Lucille Warner Reyburn, called "Lu." She is a widowed 26 year old introduced to Capra by mutual friends. He also meets Barbra Stanwyck, who had appeared in three unsuccesful films already, and was wanting to return to New York city were she had been working as a stage actress.
1930 - Capra began shooting Ladies of Leisure with Barbara Stanwyck in January.
[below] The 1998 Apple Computer promo poster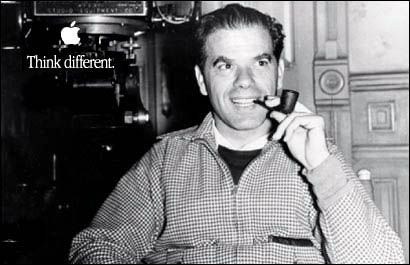 ---
Original page 2005 | Updated April 2013
---