Frank Capra Jr
---
Frank Capra Jr. 1934-2007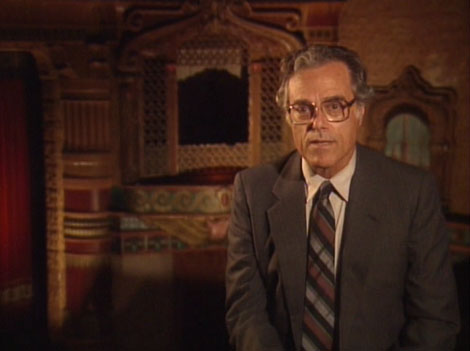 Frank Capra Jr. in a frame from the "Personal Remembrance"
featurette from the 2006 "60th Anniversary" DVD release of the
restored IT'S A WONDERFUL LIFE
---
About Frank Capra Jr
Born March 20, 1934 – December 19, 2007
American movie studio executive and oldest of the three children of film director Frank Capra and his second wife, Lou Capra.
Capra, Jr., was president of EUE Screen Gems Studios in Wilmington, North Carolina. He had a long list of credits dating back to his father's 1961 Pocketful of Miracles where he held the uncredited role of second assistant director. He began producing films in 1969 as an associate producer in the astronaut adventure Marooned.
He seems to have been the most involved of the Capra children with a Hollywood career and with managing the family interests in his fathers films. His was the face seen most often in the various Capra documentaries representing the family.
---
Frank Capra, Sr., on the birth of Frank Jr:
...on the morning of March 20, 1934, our first child was born. Dr. Vruink insisted I watch the birth. "A boy!" said an excited nurse. "Say hello to Frank, Jr.," said Dr. Vruink, holding a writhing, crying, red little creature up by its hind paws. My heart sank. It wasn't human. Its face was a wrinkled onion, and its head was curved and pointed like a banana. I ran out of the delivery room to where Dimitri Tiomkin was waiting for me. "Dimi! Dimi! It's got a banana head... It's Zip... the missing link..."

"Papichka, you need a big drink..."

An hour later, Tiomkin practically carried me back to Lu's hospital room. And there she was, holding her newborn, wearing a smile that rivaled the sunrise, and doing the first thing all new mothers do over and over – counting the little guy's fingers and toes. I embraced her and glanced at our firstborn. I couldn't believe my hard-to-focus eyes. "Lu! Where's its banana head? That's the most beautiful baby in the world!
From Capra's book The Name Above the Title, page 154.
---
NEWS ITEM DECEMBER 21, 2007
Frank Capra Jr has Died
The eldest son of director Frank Capra, his name-sake Frank Capra Jr., has died after a long battle with prostate cancer.Associated Press reports:
Capra was one of three children of Frank Capra and Lucille Rayburn Warner Capra, who tried to protect her children from the Hollywood life. Still, he could tell stories about dinners with Clark Gable and Carole Lombard, and said he was best friends with Gary Cooper's daughter Maria.

Capra Jr. said his father had no idea he was making a classic when filming "It's a Wonderful Life," which starred Jimmy Stewart, Donna Reed and Lionel Barrymore.

"I don't think any filmmaker knows that," he said. "He loved the idea of the story. He fell in love with that idea of the story about a man who could see the world the way it would have been had he never been born."

Capra said his father described the movie as "the picture I was born to make," and held no resentment that he didn't earn any money from the movie's repetitive showings on television during the Christmas season.

For the past several years, Capra screened his father's 1946 Christmas favorite at the University of North Carolina at Wilmington, using his family's 35mm print until switching to a DVD last year. This year's screening is Friday night.
North Carolina News and Observer online has this article by Danny Hooley:
...Certainly when Frank went to speak to legislators, they listened because they knew Frank knows the industry, and what would make this industry work in North Carolina," Syrett said. "He was key."

And then there was that name.

"People, when they heard the name 'Frank Capra,' you'd see their eyes just light up, and certainly when Frank walked into the room, you knew he was there," Syrett said.

Vassar cited Capra's "abilities to open doors in Los Angeles that wouldn't open without somebody of his stature. Those relationships attracted people to come and do business here."

Last year, some feared Capra might leave North Carolina for an entertainment complex in Connecticut. But he stayed, saying he was "very ensconced" in the Tar Heel state.

"I think when he first came, he just fell in love with the area," Syrett said. "The beach, the beauty of North Carolina, the landscape. And then after that, he found the people of North Carolina. ... I think that's probably what kept him here."

Capra was a visiting professor at UNC-Wilmington, and he won the school's Citizen of the Year Award this year. He helped bring the Scene First all-student film festival to Wilmington this year.

"He wanted to help everybody," Syrett said. "If you were interested in film, Frank would stop and talk to you and give you advice.
The Los Angeles Times has a longer piece by Dennis McLellan, here
Frank Capra Jr., son of the legendary Hollywood director, who rose through the ranks to become a movie producer and for the last decade was president of EUE Screen Gems Studios in Wilmington, N.C., has died. He was 73.

Capra died Wednesday of prostate cancer in a hospital in Philadelphia, his son Jonathan told The Times on Thursday.

In a Hollywood career that began as a second assistant director on TV series such as "Dennis the Menace" and "The Rifleman," Capra became an associate producer on films such as "Play It Again, Sam," "Marooned" and three "Planet of the Apes" outings.

He then produced films such as "Billy Jack Goes to Washington," "Born Again" and "An Eye for an Eye." And from 1981 to 1982, he served as president and chief executive of Avco Embassy Pictures.

Capra first came to Wilmington in 1983 to scout locations for "Firestarter," a 1984 horror film starring Drew Barrymore that he produced for Dino De Laurentiis' company.

De Laurentiis was so taken with the area that after the film was shot at the Orton Plantation in nearby Winnabow, he began building a studio complex near the town's airport.

When the George Cooney family bought what by then had become Carolco Studios in a bankruptcy auction in 1996, Capra returned to Wilmington to become president of the renamed EUE Screen Gems Studios.

He remained president of the studio, which has nine soundstages and is said to be the largest film production center east of California, until his death.
Additional coverage links:
Arizona Republic online
BBC online
United Press International online
---
Original page October 4, 2007 | Updated April 2013
---