ARCHIVE PAGE 4
Previous posts that appeared on the front page of this Capra Site
---
Capra's 1939 letter to NYT about Directing
Capra's letter from April 2, 1939 to the New York Times:
"Them are only half a dozen directors in Hollywood today who are allowed to shoot as they please and who have any supervision over their editing. "We all agree with you when you say that motion pictures are the director's medium. That is exactly what it is, or should be. We have tried for three years to establish a Directors' Guild, and the only demands we have made on the producers as a Guild were to have two weeks' preparation for 'A' pictures, one week preparation time for 'B' pictures, and to have supervision of just the first rough-cut of the picture. "You would think that in any medium that was the director's medium the director would naturally be conceded these two very minor points. We have only asked that the director be allowed to read the script he is going to do and to assemble the film in its first rough form for presentation to the head of the studio. It has taken three years of constant battling to achieve any part of this. "We are now in the process of closing a deal between director and producer which allows us the minimum of preparation of time, but still does not give us the right to assemble our pictures in rough form, but merely to assemble our sequences as the picture goes along. This is to be done in our own time, meaning, of course, nights and Sundays, and no say whatever in the final process of editing. "I would say that 80 percent of the directors today shoot scenes exactly as they are told to shoot them without any changes whatsoever, and that 90 per cent of them have no voice in the story or in the editing. Truly a sad situation for a medium that is supposed to be the director's medium. "All of us realize that situation and some of us are trying to do something about it by insisting upon producer-director set-ups, but we don't get any too much encouragement along this line. Our only hope is that the success of these producer-director set-ups will give others the guts to insist upon doing likewise."
At the time of this letter, Capra was President of the Director's Guild.
---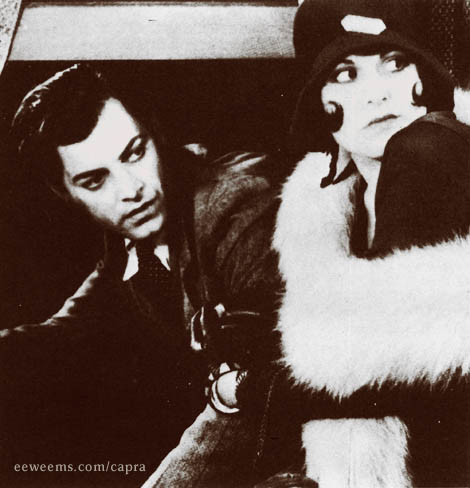 Rex Lease and Lina Basquette from Capra's Younger Generation (1929)
---

Robert Osbourne on Capra's Bio Book
The Wall Street Journal has a brief article by Turner Classic Movies onscreen host Robert Osbourne about the "five best books on Hollywood" and he names Capra's autobiography The Name Above the Title as number one:
This is the best show-business autobiography to date, bar none, written by a man who for many years was one of only three directors in Hollywood (the others: Cecil B. DeMille and Alfred Hitchcock) whose name meant as much on a marquee as any star's. The life of Frank Capra (1897-1991) is a dazzling American success story, filled with more peaks than plateaus. But by the time the three-time Academy Award-winning director was 64, "the Marquis de Sade had taken over the movie industry," he writes, and "the kind of people I once ate for breakfast were maneuvering me out of pet projects I wanted to do and out of the studio I had helped build into a major company." So Capra called it a day. Regrettably, for us. What he has to say about his time in the sun is filled with all the verve and intrigue of a great mystery novel.
---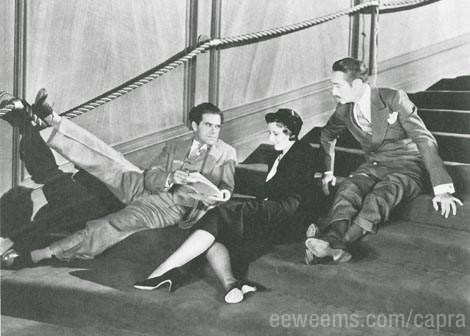 Page on Capra's 1932 film "Forbidden" updated
Our page on the film is here.
---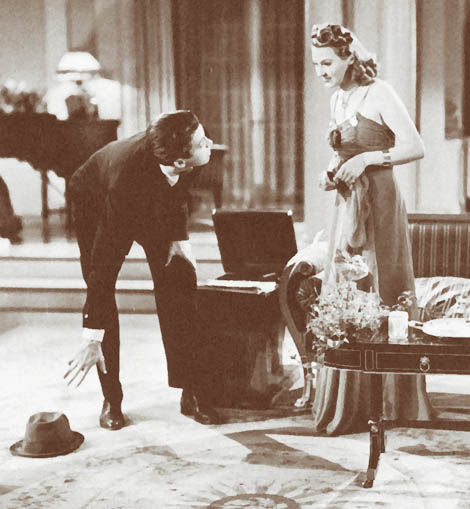 Page on Mr. Smith Goes to Washington updated
This 1939 film is sometimes considered Capra's best. It is certainly one of his most popular from a list of very popular classic Hollywood movies (it is available on DVD as part of the Capra box set, also singly. It also runs regularly on the Turner Classic Movies cable channel). Our page on the film is here.
---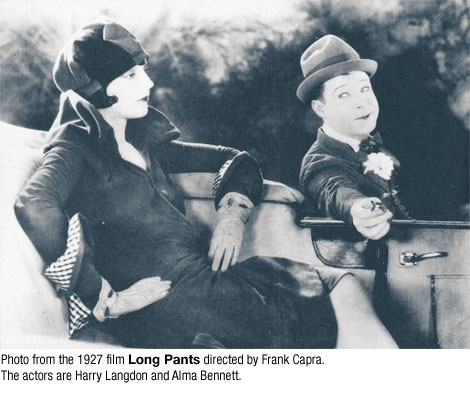 ---
Capra Birthday Today - March 18
Frank Capra was born on this day in 1897 in Palermo, Sicily. He directed his first film in 1922. Bio pages here.
---
TCM HAS 6-FILM CAPRA DAY
Turner Classic Movies is running a 6-film string of Capra movies for Friday, May 18. Below is the schedule, all times Eastern:
6:00 am You Can't Take It With You (1938)
A girl from a family of freethinkers falls for the son of a conservative banker.
Cast: Jean Arthur, Lionel Barrymore, James Stewart. Dir: Frank Capra.
BW-126 mins, TV-G

8:15am It Happened One Night (1934)
A newspaperman tracks a runaway heiress on a madcap cross-country tour.
Cast: Claudette Colbert, Clark Gable, Walter Connolly. Dir: Frank Capra.
BW-105 mins, TV-PG

10:15am Mr. Deeds Goes to Town (1936)
When he inherits a fortune, a small-town poet has to deal with the corruption of city life.
Cast: Gary Cooper, Jean Arthur, Lionel Stander. Dir: Frank Capra.
BW-115 mins, TV-G

12:15pm Lost Horizon (1937)
Four fugitives from a Chinese revolution discover a lost world of peace and harmony.
Cast: Ronald Colman, H.B. Warner, Thomas Mitchell. Dir: Frank Capra.
BW-118 mins, TV-G

2:30pm Arsenic And Old Lace (1944)
A young man about to be married discovers the two aunts who raised him have been poisoning lonely old men.
Cast: Cary Grant, Raymond Massey, Peter Lorre. Dir: Frank Capra.
BW-118 mins, TV-G

4:30pm Here Comes the Groom (1951)
A foreign correspondent woos his former fiancee so he can maintain custody of some orphans he's adopted.
Cast: Bing Crosby, Jane Wyman, Alexis Smith. Dir: Frank Capra.
BW-113 mins, TV-G
The TCM Web Site schedule is here.
---
Barbara Stanwyck Centennial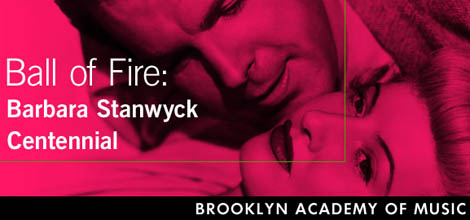 Barbara Stanwyck Program to include
The Bitter Tea of General Yen and Meet John Doe
Program runs from April 25 to May 6, 2007
The Brooklyn Academy of Music is screening 12 Stanwyck movies as part of a program exploring her career from the early pre-code Baby Face with a pair of Capra films up to the 1964 Night Walker.
One of the most singular talents to come from Hollywood's Golden Age, Brooklyn-born Barbara Stanwyck moved effortlessly from comedy to drama, westerns to film noir. Rarely cast as a typical heroine, Stanwyck embodied women who existed outside of society's norms: the ultimate femme fatale in Double Indemnity, a Western missionary adrift in China in The Bitter Tea of General Yen, and a gangland moll dishing out street slang in Ball of Fire. Here's to you, Barbara, a real Brooklyn dame!
The Brooklyn Academy of Music web site page on the Stanwyck program is here.
A review of the film program is at the Brookyn Courier Life web site here.
This retrospective captures the breadth of Stanwyck's prolific career and the vast array of characters she played in 12 films by some of the most prominent directors of the classical Hollywood era. The series opens on April 25 with a double feature of Pre-Code films from 1933: "Baby Face" by Alfred E. Green and "Ladies They Talk About," an early entry in the "women-in-prison" genre by Howard Bretherton and William Keighly.

Next is Mitchell Leisen's screwball comedy "Remember the Night" (1940) on April 26. Screening on April 27 is Lewis Milestone's "The Strange Love of Martha Ivers" (1946).

Howard Hawks' "Ball of Fire" (1941) screens on April 28. On April 29 is the rarely seen "There's Always Tomorrow" (1956), the first of a pair of Douglas Sirk melodramas in the series. In the film, Stanwyck appears as the old flame of a successful family man played by frequent co-star Fred MacMurray.

A second Sirk film, "All I Desire" (1953), in which Stanwyck plays a woman returning to the family she left years before, follows on May 1.

Other series' highlights are two films by Frank Capra, the director who gave Stanwyck her first leading role (in Ladies of Leisure, 1930). The first, "The Bitter Tea of General Yen" (1933), in which Stanwyck plays a missionary in Shanghai, screens May 2. One of the screenings of "The Bitter Tea of General Yen" will be followed by a Cinemachat with film historian Elliott Stein and Victoria Wilson, author of "Barbara Stanwyck: Her Life, Her Work, Her Hollywood, Across an American Century.
---
Review of Meet John Doe Musical
A throrough review of the musical adaption of the Capra film by J. Wynn Rousuck at the Baltimore Sun web site:
The grim, hard-times tone is set in the opening number when newspaper workers move like automatons as they hold pink slips aloft, singing, "Will I be yesterday's news?"

But one tough reporter, determined to avoid dismissal, confronts the editor directly. In "I'm Your Man," Heidi Blickenstaff's Ann Mitchell demonstrates her go-getter philosophy while firmly establishing herself as a woman more than capable of holding her own in a man's world. ("My office cup has lipstick stains, but, brother, I'm your man," she sings.)

Desperate to hold onto her job, Ann concocts a story about a laid-off "John Doe" threatening to kill himself if conditions don't improve. When the story elicits an enormous response from the public, Ann convinces the newspaper to hire someone to impersonate Doe - a former bush-league ballplayer named John Willoughby (portrayed a little too complacently by James Moye).

Before long, Ann and John are peddling - and believing in - hope. But as the John Doe movement spreads across the country, they also find themselves caught between the competing forces of D.B. Norton, the power-monger newspaper owner (Patrick Ryan Sullivan as a believably ruthless tycoon with a hidden political agenda), and the good-hearted populace (portrayed with strong choral work by an 11-member ensemble).

In addition, Ann becomes romantically involved with both evil D.B. and good John (though Blickenstaff and Moye emit few amorous sparks on stage).

There are more than enough elements - romance, political intrigue and that old favorite, good versus evil - to craft this compelling musical. And Gerle and Sugarman's version even has a credible ending, something that eluded Capra, who filmed five conclusions, as he recounted in his autobiography, The Name Above the Title.
---
Review of Mr. Smith Goes To Washington
A short review and analysis of Mr. Smith by Laura Beshell at the UK Channel 4 news web site :
When Smith's effort to set up a national boys' camp on the very same land threatens to reveal the plot, he quickly finds himself framed for corruption, a victim of a pervasive power that even turns family friend Senator Paine (Rains) against him. But Smith has his morals to defend and embarks on a three-day filibuster to uncover the plot and bring a little honesty to the senate.

'Capra-corn' was the term applied to the director's penchant for idealism, and it's true that Mr Smith's driving force is the triumph of the ordinary, honest man against widespread corruption. But Capra makes a few digs at the White House that still hold true today, and which caused the film to be branded 'un-American' on its release.
---
Stanford Theatre shows Capra's "General Yen"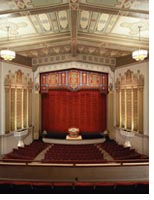 The beautifully restored "Golden Age of Hollywood" Stanford Theatre in Palo Alto, California, ran Capra's "The Bitter Tea of General Yen" recently. The North California metroactive web site ran a short review of the film:
The Bitter Tea of General Yen: Barbara Stanwyck plays the fiancee of a missionary and finds herself captivated—in both senses of the word—by an Oxford-educated warlord (Nils Asther). The then-unthinkable romance between a Chinese man and a European woman made the film notorious; director Frank Capra even claimed that it was banned in England. It wasn't, writes Capra biographer Joseph McBride (The Catastrophe of Success), but the racist reaction to Bitter Tea can't be exaggerated: Variety noted, "Seeing a Chinaman attempting to romance with a pretty and supposedly decent young American white woman is bound to evoke adverse reaction." It's the best Von Sternberg movie Von Sternberg never made, and so very unlike Capra because of its sexuality.
The
Standford Theatre
Web Site is
here
.
Our page on the movie is
here
.
---
Premiere of Capra's Meet John Doe play adaptation "like birthing an elephant"
The Ford's Theatre in Washington DC is hosting the play version of the Frank Capra/Robert Riskin 1942 movie Meet John Doe. The Washington Post has a feature article on the play here.
Schaeffer became involved in the long gestation of the baby pachyderm that is "Meet John Doe" almost two years ago, and he has helped reshape the material. It is, he says, the first "big musical" of writers Andrew Gerle (music) and Eddie Sugarman (lyrics). Gerle and Sugarman also wrote the book, an adaptation of filmmaker Frank Capra's 1941 populist fable, which starred Gary Cooper and Barbara Stanwyck. Jonathan Tunick, a Tony, Oscar, Emmy and Grammy winner, is overseeing the orchestrations.

"When you adapt for the stage, whether it's a book or a movie, the idea is to make it your own but to know when to mine the material and get the best out of it you can," Schaeffer says. "I think that's the hardest thing about adaptations."

Although an earlier version of the musical was seen during the New York Musical Theatre Festival in 2004, Ford's Theatre is billing this production as the world premiere.

The movie is generally regarded, along with "Mr. Smith Goes to Washington" and "Mr. Deeds Goes to Town," as quintessential Capra, in which a "regular Joe," representing solid American values, succeeds against overwhelming odds in stemming the forces of political corruption and corporate greed that threaten the American way of life. These films present a dark vision of America in the 1930s and '40s, but they are also marked by an underlying optimism: Basic human decency triumphs in the end. Today, these films are often dismissed as overly simplistic and sentimental "Capra-corn." Can "Meet John Doe" work for audiences in 2007, when problems in the United States don't seem nearly as black and white as a Capra film?

"I have to say, with everything that's happening in the world today and with our country, it's kind of amazing how effective this material is," Schaeffer says. "Someone asked me whether we were keeping it in its original period, and I said, 'Yes, you have to,' because you see what people were going through in the 1930s. It was the Depression, and they were fighting for survival. They were searching for hope in their lives and hope in the world, and we're doing the same thing today. The ice caps are melting on both ends of the Earth, we're in this war. . . . We're all searching for hope. I think, if anything, the show feels more timely than when Capra's film came out.
The Ford Theatre web site here.
The "Meet John Doe" blog.
Our page on the 1941 movie with Gary Cooper and Barbara Stanwyck here.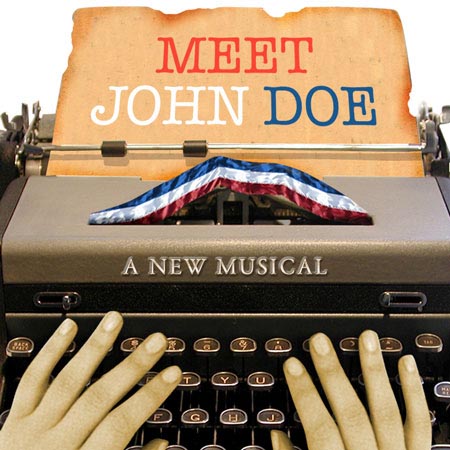 ---
"Meet John Doe" musical onstage in Washington DC at the Ford Theatre
The Frank Capra/Robert Riskin 1941 movie Meet John Doe has been produced as a stage musical and is appearing at the famous Ford's Theatre in Washington DC beginning March 16, 2007. Playbill has a story on the musical here, and Broadway World here.
Ford's Theatre will host a free panel discussion making of Meet John Doe, a new musical, Monday, March 26 at 7 PM.

Panelists will include director-producer Paul R. Tetreault, choreographer Karma Camp, author-composer Andrew Gerle, and author-lyricist Eddie Sugarman. Based on the the classic Frank Capra film about a Great Depression-era hero created by a reporter trying to save her job, Meet John Doe will be the first production to world premier at Ford's Theatre in over five years.

Meet John Doe will run March 16 – April 29, 2007, with signed performances Sunday, March 25 at 2:30 and Tuesday, April 24 at 7:30 pm. Audio described performances are: Wednesday, April 4 at 7:30 pm and Sunday, April 22 at 2:30 pm.

Ticket prices run from $25-$52, and are available through www.ticketmaster.com, the Ford's Theatre Box Office (202.347.4833) or in person, and online at www.fordstheatre.org. For group sales, call (202.638.2367).

Ford's Theatre is at 511 Tenth Street, N.W., Washington, D.C. 20004. Space is limited, so RSVP for the panel at boxoffice@fordstheatre.org
Incidentally, Ford's Theatre will also be staging the Howard Lindsay and Russel Crouse's Pulitzer Prize-winning play State of the Union, which was adapted by Capra as a film in 1948.
Here's a quote from the "Meet John Doe Blog" on the Ford's Theatre web site:
...hearing the trombone bust out with the "Lighthouses" theme to kick off the overture was tremendously exciting. And something I think is particularly neato is that two of the latest songs we wrote made the cut to be featured in the overture. Makes me think we're writing strong songs late in the game…well, we better be! Guy Paul, who sings "Lighthouses", perked right up when he heard his theme kick off the show.
The Ford Theatre web site here.
The "Meet John Doe" blog.
Our page on the 1941 movie with Gary Cooper and Barbara Stanwyck here.
---
Bitter Tea of General Yen on DVD
I have heard a rumour that Capra's General Yen is on the list for DVD release from Columbia Tristar, probably this year. (Correction: More likely in 2008)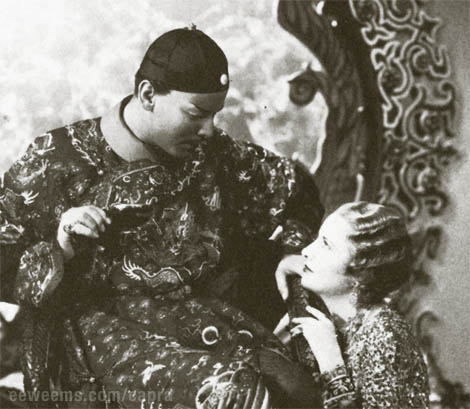 A 1933 movie still of actors Nils Ather and Barbara Stanwyck from Capra's "The Bitter Tea of General Yen."
---
---