ARCHIVE PAGE 5 - Feb 2008 - Mar 2009
Previous posts that appeared on the front page of this Capra Site
---
Frank Capra
---
TCM Running 5 Capra films February 11, 2008
Turner Classic Movies cable and satellite movie channel is running five Frank Capra movies on February 11. Below are the films, all times Eastern:
3:30 PM Mr. Smith Goes to Washington (1939)
An idealistic Senate replacement takes on political corruption. Cast: James Stewart, Jean Arthur, Claude Rains. Dir: Frank Capra. BW-130 mins, TV-G, CC
5:45 PM Meet John Doe (1941)
A reporter's fraudulent story turns a tramp into a national hero and makes him a pawn of big business. Cast: Gary Cooper, Barbara Stanwyck, Edward Arnold. Dir: Frank Capra. BW-122 mins, TV-G, CC, DVS
8:00 PM It Happened One Night (1934)
A newspaperman tracks a runaway heiress on a madcap cross-country tour. Cast: Claudette Colbert, Clark Gable, Walter Connolly. Dir: Frank Capra. BW-105 mins, TV-PG, CC
10:00 PM Mr. Deeds Goes to Town (1936)
When he inherits a fortune, a small-town poet has to deal with the corruption of city life. Cast: Gary Cooper, Jean Arthur, Lionel Stander. Dir: Frank Capra. BW-116 mins, TV-G, CC
3:15 AM Lady For A Day (1933)
A gangster helps an old apple-vendor pose as a society woman to fool her visiting daughter. Cast: May Robson, Warren William, Guy Kibbee. Dir: Frank Capra. BW-96 mins, TV-G
---
Frank Capra Jr. has died
UPDATED December 21, 2007
The eldest son of director Frank Capra, his name-sake son Frank Capra Jr., has died after a long battle with prostate cancer. Associated Press reports:
Capra was one of three children of Frank Capra and Lucille Rayburn Warner Capra, who tried to protect her children from the Hollywood life. Still, he could tell stories about dinners with Clark Gable and Carole Lombard, and said he was best friends with Gary Cooper's daughter Maria.

Capra Jr. said his father had no idea he was making a classic when filming "It's a Wonderful Life," which starred Jimmy Stewart, Donna Reed and Lionel Barrymore.

"I don't think any filmmaker knows that," he said. "He loved the idea of the story. He fell in love with that idea of the story about a man who could see the world the way it would have been had he never been born."

Capra said his father described the movie as "the picture I was born to make," and held no resentment that he didn't earn any money from the movie's repetitive showings on television during the Christmas season.

For the past several years, Capra screened his father's 1946 Christmas favorite at the University of North Carolina at Wilmington, using his family's 35mm print until switching to a DVD last year. This year's screening is Friday night.
North Carolina News and Observer online has this article by Danny Hooley:
...Certainly when Frank went to speak to legislators, they listened because they knew Frank knows the industry, and what would make this industry work in North Carolina," Syrett said. "He was key."

And then there was that name.

"People, when they heard the name 'Frank Capra,' you'd see their eyes just light up, and certainly when Frank walked into the room, you knew he was there," Syrett said.

Vassar cited Capra's "abilities to open doors in Los Angeles that wouldn't open without somebody of his stature. Those relationships attracted people to come and do business here."

Last year, some feared Capra might leave North Carolina for an entertainment complex in Connecticut. But he stayed, saying he was "very ensconced" in the Tar Heel state.

"I think when he first came, he just fell in love with the area," Syrett said. "The beach, the beauty of North Carolina, the landscape. And then after that, he found the people of North Carolina. ... I think that's probably what kept him here."

Capra was a visiting professor at UNC-Wilmington, and he won the school's Citizen of the Year Award this year. He helped bring the Scene First all-student film festival to Wilmington this year.

"He wanted to help everybody," Syrett said. "If you were interested in film, Frank would stop and talk to you and give you advice.
The Los Angeles Times has a longer piece by Dennis McLellan, here
Frank Capra Jr., son of the legendary Hollywood director, who rose through the ranks to become a movie producer and for the last decade was president of EUE Screen Gems Studios in Wilmington, N.C., has died. He was 73.

Capra died Wednesday of prostate cancer in a hospital in Philadelphia, his son Jonathan told The Times on Thursday.

In a Hollywood career that began as a second assistant director on TV series such as "Dennis the Menace" and "The Rifleman," Capra became an associate producer on films such as "Play It Again, Sam," "Marooned" and three "Planet of the Apes" outings.

He then produced films such as "Billy Jack Goes to Washington," "Born Again" and "An Eye for an Eye." And from 1981 to 1982, he served as president and chief executive of Avco Embassy Pictures.

Capra first came to Wilmington in 1983 to scout locations for "Firestarter," a 1984 horror film starring Drew Barrymore that he produced for Dino De Laurentiis' company.

De Laurentiis was so taken with the area that after the film was shot at the Orton Plantation in nearby Winnabow, he began building a studio complex near the town's airport.

When the George Cooney family bought what by then had become Carolco Studios in a bankruptcy auction in 1996, Capra returned to Wilmington to become president of the renamed EUE Screen Gems Studios.

He remained president of the studio, which has nine soundstages and is said to be the largest film production center east of California, until his death.
Additional coverage:
Arizona Republic online
BBC online
United Press International online
Our page on Frank Capra, Jr., is here.
---
UPDATED December 16, 2007
"Tommy Bailey" from Wonderful Life Interviewed
Jimmy Hawkins, who was Tommy Bailey in Capra's It's A Wonderful Life, was interviewed about the film at movieweb.com (here):
...the reason it caught on was that the film fell into public domain. Somebody at the studio let the copyright go, and TV stations all over the country could pick it up and show it for free. They took full advantage of that. It kind of caught on with people who saw films and get together and have trivia about it. Then it started to grow. More and more stations picked up on it. It was shown hundreds and hundreds of times at stations all across the country. I remember back in the early 90s it was played 14 times in L.A. between Christmas Eve and Christmas Day. 14 times!

...You had CBS, PBS, Channel 4, all the local stations. Everybody picked it up because they showed it for free, and whatever they got from the sponsors, that was their pay for it. They didn't have to pay for any rights to show for it or anything. That went on for 19 years and then, through some manipulations, the studio got it back, or portions of it, and they could show it exclusively. If it wasn't for television, the film would never be seen. TV made it a classic. It keeps growing every year. Last year it was named the most inspirational movie of all time, and it just grows and grows. Paramount is coming out with this new DVD with the great black and white print for the purists. In talking to people and kids today, they're not big fans of black and white, apparently. They don't watch anything unless it's in color.
Hawkins also discusses how he put together an "audio book" that includes interviews with Donna Reed, Jimmy Stewart, Frank Capra and others from the film's making. Unfortunately, there seems to be quite a few legal tangles around It's A Wonderful Life that makes getting that audio book added into a "Definitive Edition" of the film problematic, something which Hawkin's points out hasn't been accomplished with the 2-disc version that is out now for Christmas 2007. The whole interview is at movieweb.com here.
---
2 DVD Set "It's A Wonderful Life" with color version
UPDATED November 12, 2007
I've got to wonder how Joseph Walker (Capra's cinematographer) might have felt about this: Paramount has produced a (new) colorized version of this perennial Capra favorite, matched with the restored black and white version (released 2006) it makes up a 2-disk set, including the two mini-documentarys from last year and the original trailer. Amazon is pre-selling the set for $14.99 here. Read about the film here.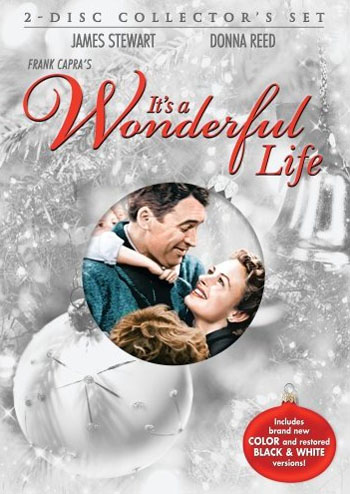 ---
Mr. Smith and the Premiere Capra DVD Collection
UPDATED November 4, 2007
I recently ran across an interesting discussion at Home Theatre Forum which talks about the amount of labor that went into putting together last years "Frank Capra Premiere Collection" DVD set from Sony. In particular, the DVD transfer of Mr. Smith is based upon a newly discovered print, and over thirty sections of the film were rebuilt using other elements, and all of it is not even apparent in the finished print (!) which is the best looking "Mr.Smith" in many decades. Also, there were significant amounts of work put into restoration on the other films (It Happened One Night, Mr. Deeds Goes to Town, American Madness). Apparently, only You Can't Take it With You was included without a major overhaul.
Here's hoping that Sony will get a second volume of Capra's Columbia films out on DVD - - In particular, The Bitter Tea of General Yen should be made available. Its reputation continues to climb with a new generation of film enthusiasts (as is actress Barbara Stanwycks) , and as sometime is said, it's what "Lost Horizon" could have been - Capra's "exotic" masterpiece.
Our page on the box set is here.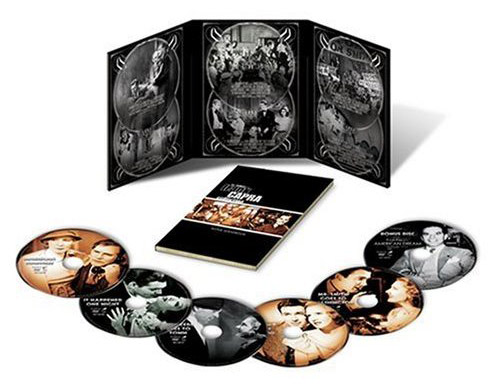 [Above: The Sony Frank Capra Premiere Collection.
---
UPDATED November 2, 2007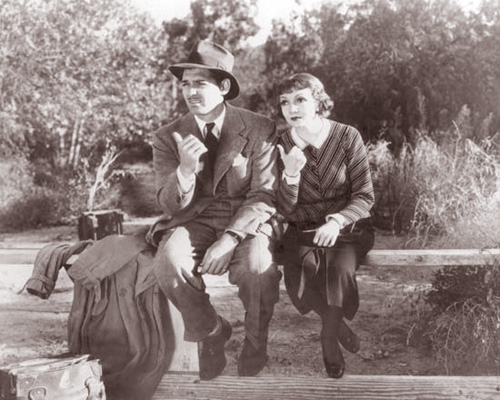 [Above: Clark Gable and Claudette Colbert 'on the fence' - - a still image from one of the more humorous scenes from It Happened One Night. ]
---
UPDATED October 29, 2007
The Miracle Woman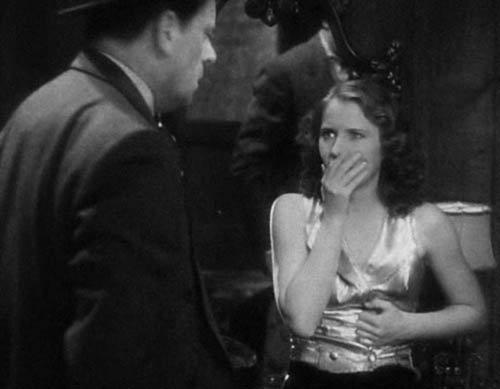 [Above: Svengali Hornsby (Sam Hardy) informs 'Sister Fallon' (Barbara Stanwyck) to what extent he'll go to keep her tied up in his phony-evangelism racket. ]
---
October 26, 2007
Lady For A Day Updated

You can see the updated page on the 1933 Capra film LADY FOR A DAY here.
---
October 24, 2007
Two 1930s Reviews of It Happened One Night Added
If you're interested in how well Capra's It Happened One Night performed with the film critics of the era, see these two reviews from The New Republic in 1934 and The Nation from 1935 here.
---
October 4, 2007
Meet John Doe page updated
We have added new pictures and text about this film, along with a video embed from Turner Classic Movies of the Meet John Doe trailer which can be viewed online. Updated page is here.
---
October 1, 2007
Capra Movies Online
Google Video is presenting Capra's films "It Happened One Night," "It's A Wonderful Life," and "Mr. Smith Goes to Washington" online for free viewing. We are in the process of embedding these and adding other legal, free online Capra video materials.
---
Site Updates
You may notice that this site is being renovated. Hopefully all the former pages will be converted to the new look in a few days. Until the upgrade is complete, we apologize for any inconvenience accessing pages that may become temporarily unavailable.
---
Restored "Rain or Shine" shown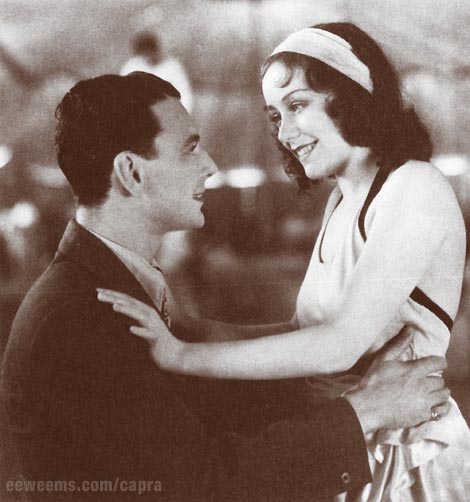 Capra's film "Rain or Shine " from 1930. Stars above are William Collier, Jr. and Joan Peers. The very rare film has been restored and screened. New Jersey Star Ledger article here.
The 1930 Frank Capra film that's rarely been seen since its initial release has been restored, and a new 35mm print will be shown at the Palace Theatre in Netcong. ...It may be the last chance for many to see the film, which was made years before Capra would become a household name for his Oscar-winners "It Happened One Night," "Mr. Deeds Goes to Town," and "You Can't Take It with You" -- not to mention his most famous film, "It's a Wonderful Life." Says Kane, "We were hoping that Sony, which owns the rights, would release it on DVD, now that it's been restored. But they tell us they have no plans to do that.
---
Actress Jane Wyman Dies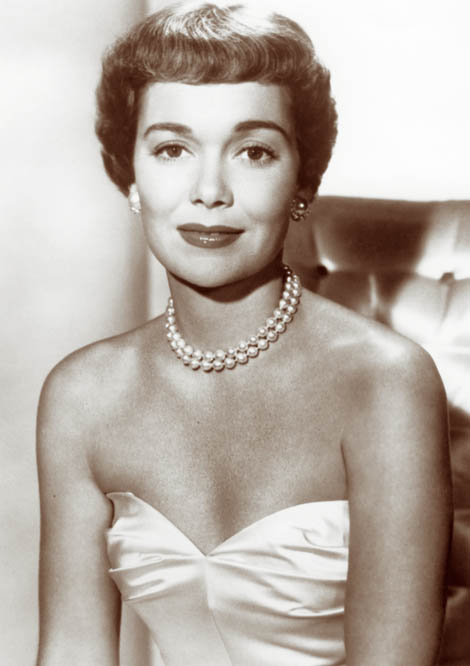 Star of Capra's film "Here Comes the Groom" died September 11, 2007. The Hollywood Reporter has a biography/obituary here. Wikipedia has a bio page here.
---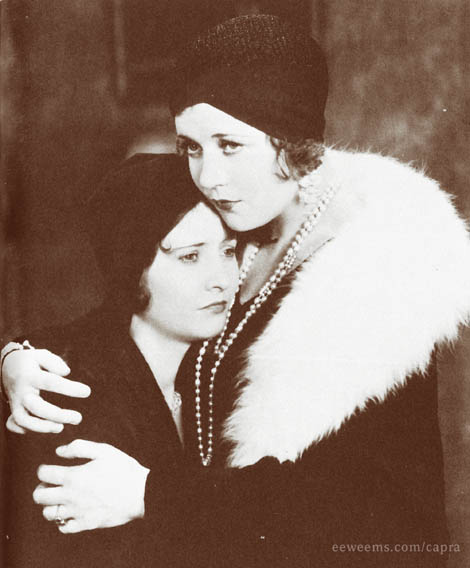 Marie Prevost and Barbara Stanwyck from Capra's 1930 drama Ladies of Leisure
---
---