Looted Nazi artworks being returned, includes Goya work
CBC.CA reports that the Dutch government will be returning artworks looted by the Nazi government during WW2 (report here)



The Dutch government on Monday agreed to return more than 200 paintings by old masters to the heirs of a Jewish art dealer whose collection was looted by the Nazis.The paintings, by Rubens, Rembrandt, Goya and other well-known painters, are valued at hundreds of millions of dollars.
They will be returned to the family of Jacques Goudstikker, a major pre-war art collector who fled the Netherlands shortly before the German invasion in May 1940.

A news report on this (and the return of a set of 5 Gustav Klimpt paintings) at leadingthecharge.com brings up an interesting point – there are many still missing works from the Nazi era:

Others works that Goering took — including pieces by Van Gogh, Rembrandt, Velasquez, Goya, Rubens, Brueghel, Titian and Tintoretto — remain lost. A handful have been returned by buyers who later realized the paintings were Goudstikker's.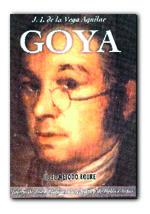 New Book: Hidden Mysteries in Goya's Paintings
By Manuel Real Alarcony
The author is a Spanish writer born in Cuenca, Spain, presently living in Valencia.

The following are excerpts from his published book "Misterios Ocultos de la Pintura de Goya" (Hidden mysteries of Goya's Paintings). They constitute, all by themselves, corroboration and support of the existence of Goya's amazing parallel talent creating a misterious, intricate cryptic system of "self validation", undiscovered for more than two centuries.
Page 22: Second paragraph.- "Almost most of the canvas is imbedded with inscriptions, that must be very interesting given the circumstance, such as those in his paintings. Inscriptions that are just about to be read, but one cannot read them altogether. Goya does not allow them to be read, he rather expects them, one day, to be read. To that purpose he employs the method, instruments, occasion and necessary field; a single hair brush, a pin, for cleaved engraving or relief, or, in a natural manner with a normal brush, only to later paint, stain over it, imbed them taking advantage of those zones in which the inscriptions or legends adapt themselves to the drawing or its forms, and embodying these to configure hidden images. It is so, that in this painting the clothing area has numerous indications of the imbedding....

Much more about this book at goyadiscovery.com

UPDATE: The Forman-Saentz Goya film nears completion
Our page on Goya movies is here
Quote below from the UK Telegraph here


Czech director Milos Forman's movie about 18th-century Spanish artist Francisco Goya, Goya's Ghosts, looks as if it could be ready for release this summer. Forman completed filming at the end of December and is now starting post-production. The movie, which stars actors Javier Bardem and Natalie Portman (who plays Goya's teenage muse), should receive its world première in Prague.


Goya: Prophet of Modernity," at the National Museum of Art in Mexico City. Drawn from more than two dozen museums and private collections across the globe, including London´s National Gallery and the Prado in Madrid, which organized the show with Berlin´s Nationalgalerie Staatliche Museen, it includes a number of oil paintings, drawings and other works never previously shown in Latin America. The newspaper Reforma reported last month that nearly 40,000 people had visited the exhibition in its first three weeks, a pace that would put "Goya" on track to draw 150,000 visitors by its March 5 closing. (By comparison, the show drew 200,000 last summer and fall in Berlin.)

Goya Movie page updated
Added photos here.

Goya's Los Proverbios [Disparates] online
The entire etching collection is online here.

"Mysteries of the Rectangle" by Siri Hustvedt


We just got in a copy of the Siri Hustvedt book of essays about nine subjects of art, two of which are specific to Goya - the Los Caprichos etchings, and Goya's paintings in general.
"Before he fell ill in 1792, Goya gave an address to the Royal Academy of San Fernando about methods of teaching the visual arts. In it he vehemently advocated the importance of working from nature and not from other paintings, sculptures, or casts, which was the common practice in art academies all over Europe at the time. 'I will give a proof to demonstrate with facts that there are no rules in painting, and that the oppression or servile obligation of making all study or follow the same path is a great impediment for the young who profess this very difficult art.' From page 96) The web page for this book at the Princeton Architectural Press is here.

Prado "...micro-signatures are madness "
Article about Chief Goya Curator Manuella Mena from the Prado here.

Is there a Goya in your home?
Article about the tests for finding a true (or false) unknown Goya here.

Maak: "Goya idealised nothing"
Sign and Sight reports Niklas Maak's reaction to the Berlin Goya exhibit here.
Goya's oeuvre was "marked by an ambivalence towards revolution, a mixture of hope for emancipation and fear of the horrors born of anarchy", Maak explains. "Only a decade after his arrival, Goya had risen to become the most successful court painter and portraitist of his time. This may seem surprising from today's perspective because Goya idealised nothing: if you had a potato nose he painted you a potato nose. The dignitaries in his portraits stand there looking strangely awkward. Whereas the figures in Velasquez portraits know precisely how to present themselves, Carlos IV's family in Goya's famous painting stands about in a confused group, looking disoriented in all directions as if a guillotine-happy mob from the neighbouring country might already be lurking nearby.

Asmodea
Our web page on the Black Painting "Asmodea" has been updated here.

New Goya Web Site
A new web site concerned with authentication issues and Goya, particularly regards to the work of restorer Dr. Antonio Perales, is here.

London Goya Lecture by Dr. Sarah Symmons
Dr. Symmons web site has notation of a lecture slated for Thursday, November 24th at 2:30 pm at the Wallace Collection in London. The web site announcement is here. The Wallace Collection web site is here. Our page with an interview from 2004 with Dr. Symmons is here.

Dr. Perales and the World Art Service Foundation
Expert Goya restorer Dr. Antonio Perales Martinez is involved with this new non-profit organization. You can read an English translation of an article from Spain's La Razon discussing this organization and its efforts to streamline art commerce here.

The Goya Exhibit in Vienna
The official web site for the exhibit is here.
Screenshot of the page site below: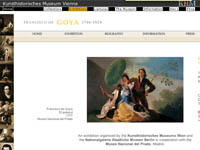 Review of the Vienna Goya Exhibit
International Herald Tribune carries a short review of the Vienna show here.