Page about this at the Prado Museum web site here.

- - - - - - - - - - - - - - - - -
Goya "Black Paintings"
in dispute over authenticity
Juan Jose Junquera, a professor
of art history at Complutense University in Madrid,
says: ''These are fake paintings.''
Other Art Scholars weigh in.
New York Times online article here.
Art & Antiques article here.

- - - - - - - - - - - - - - - - -
Striker Family Goya
Striker Family "Portrait of an
Unknown Woman" probable
Goya painting of Josepha Bayeu
1785 painting possible portrait of Goya's wife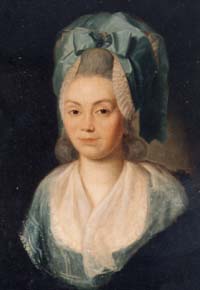 More information here.
Auction page (on Ebay) here.
- - - - - - - - - - - - - - - - -
Michael Nyman's
"Facing Goya,"
Minimalist Opera reviewed at Calendar Live
" This is an opera as chock-full of arguments about the nature of artistic genius and the intrusion of science as they have evolved since Goya's death in 1828 as it is about the ideas reflected in Goya's work. "Goya saw Hitler before Hitler saw Goya!" is the art banker's most memorable line." More here.
- - - - - - - - - - - - - - - - -
Toronto Star Article on
Goya-Manet-Valesquez here
- - - - - - - - - - - - - - - - -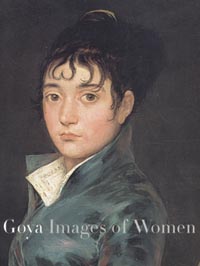 Cover to the exhibit catalog
Goya "Images of Women"
Exhibit opens in
Washington DC
National Gallery of Art
My review here.
Washington Post review HERE.
National Review Online HERE.
West Building of the National Gallery of Art
March 10 through June 2, 2002.
- - - - - - - - - - - - - - - - -
ANOTHER GOYA FILM
TO BE MADE
Updated April 24. 2004
Forman and Zaentz to
make Goya Biopic
SEE OUR MAIN PAGE ABOUT THIS FILM HERE
UPDATE from story by Ruthe Stein at the SFGATE.COM:
"Forman and his old friend and collaborator Saul Zaentz, who was at the festival party, also have tried for years to fund a movie about Goya.
Forman shook his head no when I inquired if he ever considered throwing in the towel and just enjoying his nice life. 'Sure it's frustrating, but that's the nature of the business. I'm still excited about making movies.'' "
OLD NEWS: Film is on hold as director Milos Forman is working on a different project. Reports in July 2002 had said Gary Oldman was going to be playing Goya in the proposed film.
Preview by Greg Schmitz, info on film here.
(From Variety) - Director Milos Forman and producer Saul Zaentz, who collaborated on the Academy Award-winning films ``One Flew Over the Cuckoo's Nest'' and ``Amadeus,'' are embarking on a film about the life and times of Spanish painter Francisco Goya. The picture will be directed by Forman, produced by Zaentz and penned by Michael Weller, who wrote the screenplays for the Forman pictures ``Hair'' and ``Ragtime.'' (Other films on Goya are The Naked Maja (1959) starring Ava Gardner and Anthony Franciosa, Volaverunt (1999) and Goya in Bordeaux (2000).
- - - - - - - - - - - - - - - - -
Armed Thieves take Goya, Brueghel, Pissarro paintings in Madrid Robbery
Esther Koplowitz collection
One of the 14 stolen is Goya's "The Swing"
Associated Press Reports news HERE.
UPDATE: The paintings were later recovered in 2002 through a sting operation. A complete F.B.I. report can be read here.
- - - - - - - - - - - - - - - - -
GOYA: Disasters of War
Napoleonic scholar comments on Goya (and this sites)
info about the French/Spanish conflict
"I went back and looked over your historical info. and it looks fine to me. I was actually pleased that you mentioned that the Spanish committed atrocities against the French as well in response for their actions. In your discussion of "Great deeds against the dead" I just wanted to mention that Spanish guerrillas and peasants were also known to have frequently unearthed dead Frenchmen and mutilated their corpses. My other comment concerns your discussion in "the Third of May." You mention the dissatisfaction that many Spanish intellectuals had with Charles and Ferdinand and you say that these two monarchs ruled unsuccessfully. Actually one of the major problems that the Spanish intellectuals had with their kings was that they refused to give their subjects a constitution (a major goal of liberals in the early 19th century). In fact, after the Napoleonic Wars were over, Ferdinand had promised to rule with a written constitution. But when he went back on this promise (he was a real jerk)--this sparked a liberal revolt in Spain in the 1820s which was brutally suppressed." - K.G.
- - - - - - - - - - - - - - - - -
GOYA IN PHILADELPHIA
Karen Wilkin's review of the 1999 Goya show at the Philly Art Museum
Link takes you to the New Criterion web site HERE.
- - - - - - - - - - - - - - - - -
PRADO EXPERT DISPUTES AUTHORSHIP OF SOME GOYA'S AT PRADO
4/4/2001
Wonders if Rosario, Goya's adopted daughter, painted two of them.
BE SURE TO SEE OUR INTERVIEW WITH DR. SARAH SYMMONS, DISCUSSING THESE ISSUES HERE, AND OUR PAGE ON DR.PERALES HERE

(Reuters) - An expert at Madrid's Prado Museum said on Wednesday Spanish artist Francisco de Goya probably did not paint either "The Colossus'' or "The Milkmaid,'' two 18th Century works attributed to the master which hang in the world-famous art gallery. (Yahoo Reuters article on their news site here)
(Associated Press Article here.)

British art historian Juliet Wilson-Bareau made these claims in The Art Newspaper, in which she reported that X-rays of "The Milkmaid of Bordeaux'' showed sketches of other figures underneath the painting - unusual for Goya's work. The Prado's chief Spanish art expert and Goya specialist Manuela Mena has also stated. "I'm convinced they are not Goyas,'' Mena said. "But until every area of investigation is exhausted we will have to leave them as they are, albeit changing how they are attributed.''
(Note from Erik: An excellent source for considering how to weigh the opinions of art experts is the Orsen Welles documentary F For Fake (1975) in which through a somewhat humorous exploration of the world of art forgery, it is shown that art 'experts' often can believe what they wish to believe, regardless of evidense - - or a lack thereof. I have yet to see any mention of what was the original authentication for these supposed Goya's to enter into the Prado collection in the first place. That 'experts' once added them to the Prado as genuine, and now 'experts' are removing them as not genuine should cause a moment of pause to consider what an 'expert' is, and what are the limits of their ability to know something as actually a Goya or not. Also to consider is how hotly the arguments for authenticating this painting would be if it, say, were up for sale at Sothebys. Caveat emptor.
- - - - - - - - - - - - - - - - -
GOYA IN BORDEOUX
Found a new review
of the Saura film 1/23/2001
(from the UK Sunday Times) Goya was an old man, and past his artistic prime, by the time he settled in Bordeaux, but the city only serves as the vantage point from which the film's Goya (Francisco Rabal) surveys his life and times in a series of flashbacks. These scenes are played out on abstract, pointedly artificial sets, an approach that lends a dreamlike quality to Goya's memories and allows episodes from his life to merge into images from his paintings.
The director, Carlos Saura, is a passionate admirer of Goya, and he has certainly fashioned an intelligent, honourable tribute. He has not, however, made a particularly exciting movie.
Search the Sunday Times here
- - - - - - - - - - - - - - - - -

CAPRICHOS EXHIBIT
GOYA'S LOS CAPRICHOS
January 10 - February 28, 2001
George Washington University Dimock Gallery
730 21st Street, N.W.
Washington, D.C.
Hours: Tuesday through Friday, 10 am - 5 pm.
Closed Saturday, Sunday, and Monday.
(202) 994-1525.
Cost: Admission is free.
Exhibit web site here