Goya's Terrible Beauty:
What's the Source of His Enigmatic Genius?
It's in the Blood.
By Paul Richard Washington Post Staff Writer
Sunday, May 2, 1999; Page G01

PHILADELPHIA-Goya is a riddle.
Was that subtle Spanish courtier--who bowed to the nobility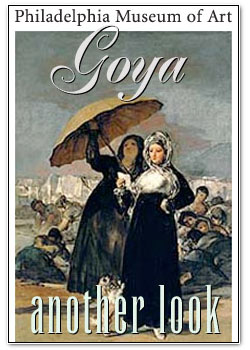 and kissed the hands of kings--the last of the Old Masters? Or was he the first modernist, the man who showed the way to the innovative art of Manet and Picasso?
Were Goya's pictures sweet or bitter? Was he a pious Spanish Catholic--or a man who spat at priests?
Do his prints and paintings show us the the solid war-torn world that the artist saw around him--or fantasies that swarmed through his demon-ridden dreams?
To all of these questions, "Goya: Another Look" at the Philadelphia Museum of Art somehow answers yes.
Francisco Jose de Goya y Lucientes (1746-1828) was 78 years old, stone-deaf and impoverished when, in 1824, he left his Spanish homeland for exile in Bordeaux.
By then he was a wreck. He was sick and all alone. The Spanish Inquisition, offended by the candor of his nude "The Naked Maja," had pursued him for obscenity. He had witnessed, and depicted, the most searing of atrocities -- murders, rapes, garrotings and the corpses stuck on spikes of the Napoleonic Wars. Seven of his children had died before reaching adulthood. Once painter to the king, he'd been hiding from the government
before he fled to France. He should have been miserable.
"Goya in fact arrived," wrote a friend who met him in Bordeaux, "deaf, old, awkward and weak, and without knowing a word of French, and without bringing a servant (that no one needs more than he)." Surely the old painter had earned the right to misery. But Goya, being Goya, wasn't miserable at all.
He arrived, instead, "so happy," as his friend observed, amazed, and "desirous of seeing the world."
How he managed to combine deep distress with high delight was one of Goya's secrets. Conflicting emotions somehow blended in his mind as they do within his art. One shudders, and one smiles, when looking at his pictures, and sometimes one feels called upon to do both at once.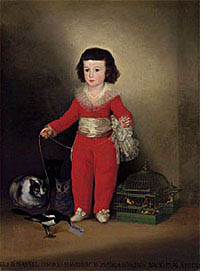 Among the 40 oils gathered for the Philadelphia exhibit is a 1788 portrait (from the Metropolitan Museum of Art) of Don Manuel Osorio de Zuniga, a well-bred little boy dressed in lace and scarlet who's as adorable as could be. And look--aw, the child's posing with his beloved pet, a tame magpie on a string. And look--the bird is pecking at Francisco Goya's visiting card. No image could be cuter. Until one sees the cats.
Three of them are there, intent, patient, deadly, lurking in the shadows, waiting for the kill. The cuteness of the picture, its innocence and warmth, has suddenly been countered by one's imagination of the pouncing and the claws and the magpie's squawks of pain.
Goya's pictures show us reassuring beauty--and beauty's scary opposite. Few women in the history of European painting are as lovely as the young Dona Antonia Zarate, whom Goya portrayed graciously in 1805-06. She is proud, demure, intelligent. That swiftly painted wonder of golden silk and healthy skin, black hair, black eyes, black lace, hymns the thought of womanhood--which Goya's "The Old Women (Time)," c. 1808-12, savagely insults. Two hags share a looking glass. They are among the ugliest in European art. The bejeweled blonde is toothless; her eyes are rheumy red. The brunette who sits beside her has been depicted just as cruelly. Some hideous disease, syphilis perhaps, has eaten at her nose. ("Que tal?"--"What's up?"--is the question inscribed on the mirror; are we supposed to laugh?) The figure of gray, winged Death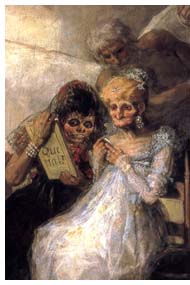 looms behind the women. Instead of a scythe, he lifts aloft a broom, for that is all that's needed to sweep such withered lives away.
"Self-Portrait With Dr. Arrieta," an 1820 portrait of the painter's sickly self, is nearly as indecorous, and as unforgiving. He's clutching at his bedsheets; his face is clammy pale. Unseen in the painting, but there by implication, as so often in his art, is the imminence of death.
"Goya: Another Look," which the Philadelphia Museum organized in partnership with the Palais des Beaux-Arts de Lille, is not what one would call a blockbuster exhibit. Modestly installed amid pieces of period furniture, it necessarily omits the most famous of his images--"The Colossus" (c. 1808-12), the two majas, clothed and naked (1805 and 1800), the "Second of May 1808" and the "Third of May 1808" (both from 1814), and the nightmarish "Black Paintings" of 1821-23, which he painted on the walls of his house outside Madrid. Goyas of this stature are almost never permitted to leave Spain. Still, "Goya: Another Look" does include a number of the paintings he most valued, and held back from the market, and 60 of his prints, and all in all is full enough to indicate the master's inexplicable personality and extraordinary range.
He must have been a charmer to do so well at court. He must have been, as well, an exceptional psychologist to paint such telling portraits. He must have painted quickly; his paint strokes show the speed of his darting brush. We know that he went to Rome to absorb Italian styles, and that he also looked to France. The tapestry cartoons with which the show begins are obviously indebted to the Parisian rococo. Another of his leanings is apparent in this show: Goya, in all sorts of ways, turned his thoughts to
death.
A mood of blood-soaked darkness shadows much of Spanish art. The country's painted sculptures--of Jesus on the Cross or the severed head of John the Baptist--are among the bloodiest in European art. Fear, and fear defeated, and gushing blood, and death, are central to the bullfight, a sport that Goya followed avidly as Picasso. Humans in his pictures die in various gruesome ways. Some are shot by muskets, some are hacked to pieces, some are carried off by witches, and some are gored by bulls. And in such gory images as "Cannibals Preparing Their Victims," some are flayed and gutted and cut into small pieces to be eaten by their fellow men.
Such scenes may make some delicate modern viewers gag. But the still lifes in this show are those Goya kept at home, and held back from the market, and displayed in his dining room. All of them show things to eat-- turkeys, chickens, woodcock, sheep --none of which have yet been cooked, all of which are dead.
Also on display are two poignant images of St. Joseph dying of what seems to be old age. The theme is rarely treated in European art, perhaps because the subject is theologically problematic. Would Jesus regard Joseph as if he were his father? In both of Goya's paintings he does precisely that.
War, too, was his subject. His print series the "Disasters of War" includes among its pictures of carnage and of corpses some of the most terrible images produced before photography's invention. Though pacifists have viewed these as humane pleas for peace, and as terrible predictions of 20th-century atrocities, Goya was no modern anti-war liberal. What makes his war prints so disturbing--and so Goyaesque--is that they are not wholly grim. Some indeed are touched by a kind of ghoulish relish.
That same brio in the face of death is apparent in his many pictures of the bullfight. In one of these--depicting humans gored and trampled on the bullring's blood-soaked sand--the horror of the image is eerily undone by the laughter of the witnesses watching from the stands. This lithograph has a title. It's called "The Sport of Spain."
Goya often scares us. He does so with his images of flagellants and witches, howling bat-winged demons and lunatics in chains. But he is seldom merely preaching. He is also saying . . . Boo!
One of his best-known etchings--an example is on view--is called "The Sleep of Reason Produces Monsters." A late-18th-century gentleman is nodding at his desk while lynxes (symbolizing ignorance) eye his body hungrily, and sharp-beaked owls and giant bats flutter around his head.
The power of the picture is in those apparitions. Though the sharpest of observers, Goya was no rationalist, no son of the Enlightenment. Long before the age of Freud, and of the surrealists, Goya somehow understood the stew of the unconscious and the force of the irrational. Reason and its opposite work together in his art.
Joseph J. Rishel, the Philadelphia Museum's senior curator, and Arnauld Brejon de Lavergnee, the Lille museum's director, curated the show. The Philadelphia display is supported by a grant from Advanta Corp. and by an indemnity from the Federal Council on the Arts and the Humanities. "Goya: Another Look" will remain at the museum (at Benjamin Franklin Parkway and 26th Street in downtown Philadelphia) through July 11.
© Copyright 1999 The Washington Post Company