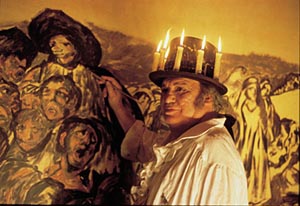 (Above) Francisco Rabal as the elder Goya in Saura's film.
"Goya has pursued me
throughout my whole life," he says.
"I've always felt a powerful attraction for his
painting and his personality.
But both are still a mystery to me."
- Director Carlos Saura
Lolafilms, in association with Italian International Film.
Producer: Andres Vicente Gomez; Co-producer: Fulvio Lucisano;
Director/Screenplay: Carlos Saura; Ph: Vittorio Storaro;
Prod design: Pierre-Louis Thevenet;
Cost design: Pedro Moreno; Editor: Julia Juaniz;
Music: Roque Banos.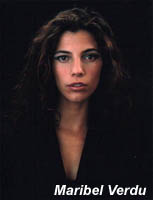 Maribel Verdu portrays the Duchess of Alba
CAST
Francisco Rabal (Goya), Jose Coronado (Goya as a young man),
Dafne Fernandez (Rosario), Maribel Verdu (Duchess of Alba),
Eulalia Ramon (Leocadia), Joaquan Climent (Moratan),
Cristina Espinosa (Pepita Tudo), Jose Mara Pou (Godoy),
Saturnino Garcaa (Priest/San Antonio), Carlos Hipolito (Juan Valdes),
La Fura dels Baus. International distribution: Lolafilms.
Official Movie site HERE.
- - - - - - - - - - - - - - - - -
REVIEWS & ARTICLES
ROGER EBERT
Lushly photographed and grandly conceived, Carlos Saura's "Goya in Bordeaux" never comes alive. It is an homage to the great Spanish painter, but we must come to the film already fascinated by Francisco de Goya; if we do not, the film will not convince us. It is too much a study and an exercise, not enough a living thing. more

PREVIEW ONLINE
Maybe it's because, like the painter, he's from Aragon (he was born in the northern Spanish town of Huesca in 1932). Maybe it's because his own older brother, Antonio, was himself one of Spain's best-known painters. But mainly, one suspects, it is because Carlos Saura, like Goya, has spent the best part of his life capturing the world through colour and light that it was inevitable that their paths would eventually converge. More at their site HERE.