Goya Links
These links date from 1998 and are listed at the top for functioning links, and further down for historical purposes the currently non-functioning (checked 2019).
---
Functioning Goya Links
---
PHILADELPHIA MUSEUM OF ART
GOYA: ANOTHER LOOK
https://www.philamuseum.org/exhibitions/exhibits/goya.shtml
April 11 - July 11, 1999
A review of the exhibit by Karen Wilkin is here at the New Criterion web site.
"We've all been to exhibitions where the whole was more than the sum of its parts, shows where not entirely stellar works combined to make an illuminating point, enlarge our understanding of a period, or change our conception of what an artist was seeking. But what about an exhibition where the parts are greater than the whole—which is a fairly accurate description of the wonderful, perplexing, engaging, and in some ways disappointing "Goya: Another Look."
More Karen Wilkin on Goya at New Criterion: Goya at the Frick (2006) and 2014 Goya Order and Disorder (Example of WIlkin's consideration of the exhibit: "We are introduced to him not only as a sought-after portrait painter, an inspired decorator, a creator of dark fantasies, a maker of religious images, and a brilliant inventor of still-life compositions, but also as a chronicler of daily life, a moralizer, a wit, and an acerbic political commentator...")
---
Artexperts.com
Goya
Page with many images covering the life of Goya.
---
NATIONAL GALLERY OF ART
These image pages listed below include historical notes and technical data by the Museum's staff. (The National Gallery also has a collection of Goya Drawings.)
Thérèse Louise de Sureda
The Marquesa de Pontejos
María Teresa de Borbón y Vallabriga, later Condesa de Chinchón
Bartolomé Sureda y Miserol
Señora Sabasa Garcia
---
THE FRICK COLLECTION
The NYC Frick Collection contains several Goya pieces. - Goya at the Frick
---
Image Ones Goya Site
A clean, academic site on Goya, with a few representative images.
---
The 250th Anniversary
This 1996 Centenniel site is in English and Spanish
https://www.encomix.es/~dga/internet.htm
---
Goya '96
The Goya site by the University of Zaragoza in Spain.
This is truly an excellent site on Goya and his work, however, after years of being up, it is STILL incomplete and riddled with "under construction" pages. Yet, it contains small images of many usually unseen Goya works, and has much text information in both English and Spanish. Well worth exploring, if you do not mind the frustration of dissapointment. (01-10-00)
---
No Longer Active Goya Links
These last checked 2019
---
David Hart Goya Page
Large collection of images, particularly etchings
https://homepage.mac.com/dmhart/WarArt/StudyGuides/Goya.html
---
Learning resources for
El sueño de la razón
(The Sleep of Reason)
A site from the University of Durham on the play about Goya by Antonio Buero Vallejo
El sueño de la razón

The site contains a number of links and information on the playwright.
https://www.dur.ac.uk/m.p.thompson/sueno1.htm
---
HAYWARD GALLERY
Goya
drawings from his private albums
22 February – 13 May 2001
"Education Pack page"
This page (from the exhibit) lists a number of excellent resources on Goya, and explains (in short detail) the quality of some of the material cited.
https://www.dur.ac.uk/m.p.thompson/sueno1.htm
https://www.hayward.org.uk/exhibitions/goya_brassai/txtedu.html
---
Goya at Liquifry.com
Artwork & Links
https://liquifry.0catch.com/
---
INDIANAPOLIS MUSEUM OF ART
PAINTING IN SPAIN IN THE AGE OF ENLIGHTENMENT
Indianapolis Museum of Art's Goya Exhibition, 1997
https://www.ima-art.org/specexhibits/goya/goya.html
---
Carol Jackson's Goya Site
High resolution .jpg images of some of Goya's paintings, especially his religious pieces.
A separate section includes biographical text.
https://sunsite.unc.edu/cjackson/goya/index.html
---
Brianne Clace Goya Site
Includes an enthusiastic page of Brianne's favorite Goya paintings,
short informative biographical text and links.
https://206.45.16.34/vmc/swaweb/bcgoya1.htm
---
Goya y la familia del infante Don Luis
An all Spanish site, with excellent (small) painting reproductions of Goya's involvement with the Spanish monarchy of Don Luis.
https://www.boadilla.com/pages/goya.htm
---
Goya in Aragon
A mostly text bio site on Goya, long on Spanish and somewhat fractured English.
https://www.geocities.com/SoHo/Studios/7788/goya1.html
---
AMAZON
Goya The Terrible Sublime - Graphic Novel - (Spanish Edition) - Amazon
---
Goya: His Life & Works in 500 Images: An illustrated account of the artist, his life and context, with a gallery of 300 paintings and drawings – 256 pages, Lorenz Books, 2015 - Amazon
---

"From this headlong seizure of life we should not expect a calm and refined art, nor a reflective one. Yet Goya was more than a Nietzschean egoist riding roughshod over the world to assert his supermanhood. He was receptive to all shades of feeling, and it was his extreme sensitivity as well as his muscular temerity that actuated his assaults on the outrageous society of Spain." From Thomas Craven's essay on Goya from MEN OF ART (1931).
"...Loneliness has its limits, for Goya was not a prophet but a painter. If he had not been a painter his attitude to life would have found expression only in preaching or suicide." From Andre Malroux's essay in SATURN: AN ESSAY ON GOYA (1957).
"Goya is always a great artist, often a frightening one...light and shade play upon atrocious horrors." From Charles Baudelaire's essay on Goya from CURIOSITES ESTRANGERS (1842).
"[An] extraordinary mingling of hatred and compassion, despair and sardonic humour, realism and fantasy." From the foreword by Aldous Huxley to THE COMPLETE ETCHINGS OF GOYA (1962).
"His analysis in paint, chalk and ink of mass disaster and human frailty pointed to someone obsessed with the chaos of existence..." From the book on Goya by Sarah Symmons (1998).
"I cannot forgive you for admiring Goya...I find nothing in the least pleasing about his paintings or his etchings..." From a letter to (spanish) Duchess Colonna from the French writer Prosper Merimee (1869).
---
---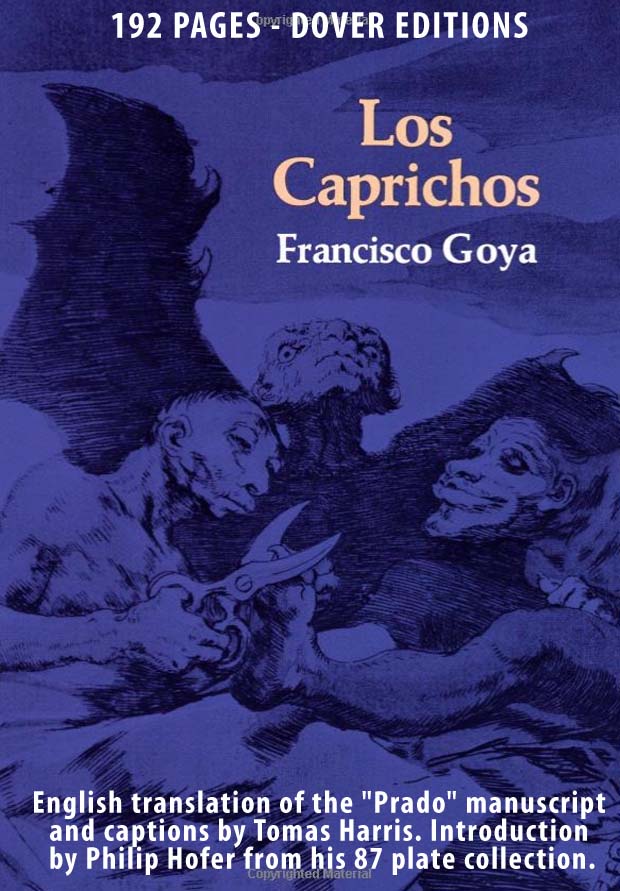 GOYA : Los Caprichos - Dover Edition - Amazon
---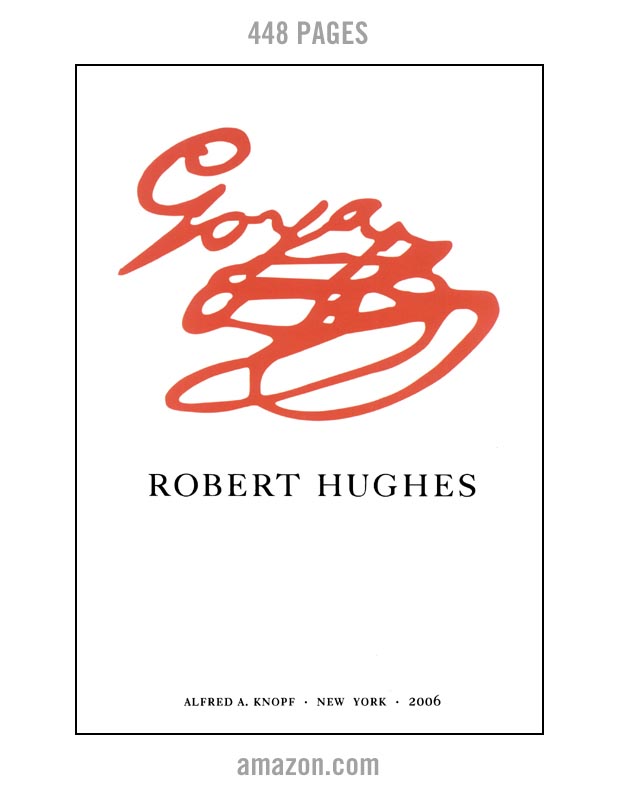 ---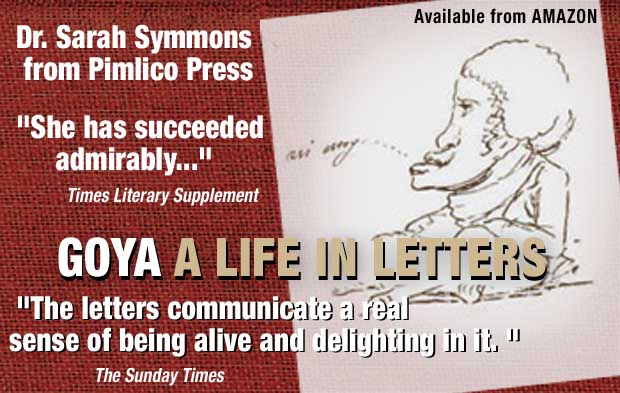 Goya: A Life in Letters
---