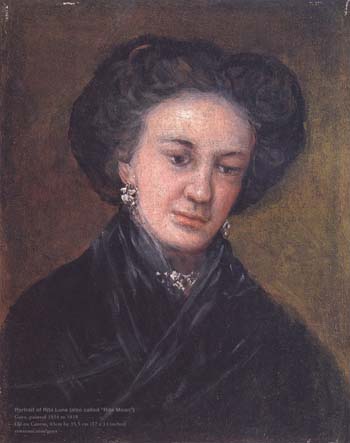 To view enlargement please click on the image

Portrait of Rita Luna
also called
"Rita Moon" and
"Portrait of Rita Luna, actress from Moratin's Time"
1814-1818 Oil on Canvas
17 inches x 14 inches
43 x 35.5 cm
Previously in the Stanley Moss collection,
sold at auction via Sothebys in January 2007.
The painting had previously been sold in 1995.
The 1970s Xavier de Salas Goya list shows the painting in the
Fort Worth, Texas, USA, Kimbell Art Collection.
According to Goya's grandson Mariano, this painting was found in a cupboard that was walled up within Goya's house in 1818. I have not read of an explanation for this in Goya literature that I have seen.
The actress Rita Luna was born April 28, 1770, and died in Pardo, Spain, 1832. She was a theatre actress who specialized in dramatic roles.
- - - - - - - - - - - - - - - - - - - - - - - -