Hidden Goya Self-Portrait
in The Third of May?
The writer Siri Hustvedt discusses
viewing the Goya painting El Tres de Mayo
and discovering a small self-portrait
image in the shadowy lower
left corner.
"I told myself that I had looked too long at this section of the painting and was seeing things the way children see images in shadows or clouds. And then, to my utter astonishment, I saw Goya's face staring out at me. It's a simple rendering - large eyes, flat nose and open mouth, but it includes the artist's signature leonine hair flowing out from around his jawline."
David Gewanter's book
of poetry "The Sleep
of Reason" based on
Goya's etching
of the same name
"David Gewanter's intelligent, uneven new book of poems takes its name from an etching by Goya, ''The Sleep of Reason Produces Monsters,'' in which a sleeping artist's unfettered imagination gives birth to mad-eyed horrors. As you might expect, then, the poems here often involve violence, irrationality, ''the choke of fertility'' and other things that go bump in the night."
A review of this book by
David Orr is at the NYTimes here.
---
Goya etchings & Gusky photographs together for Dallas, Texas exhibit
"The 70 etchings and photographs, "Images of Human Tragedy in Black & White," are shown in tandem on the walls of the Meadows Museum on the Southern Methodist University campus. Each set is a potent, disturbing comment on man's inhumanity. Together, they are almost unbearable.
The earliest ones, etchings by Francisco de Goya, depict the atrocities of the Napoleonic Wars in Spain. The more recent set consists of photographs by Dr. Jeffrey Gusky capturing the legacy of the Nazis' extermination of the Polish Jews. Goya depicts acts of extreme brutality, Gusky only the shadowy remains of a civilization"
The Meadows Museum, 5900 Bishop Blvd., Dallas
Through Jan. 4, 2004. Free Admission.
Information (214) 768-2516
Review article by Gaile Robinson
Star-Telegram Art and Design Critic here.

---
Goya Disasters of War
disfigured for
modern art display
"No Shock, No Awe." By Perry McPartland
"Having received £500,000 from Saatchi for their piece, "Hell", the Chapman brothers purchased a complete set of Goya's "Disasters Of War" prints. Their new work, "The Rape Of Creativity" reveals them as having gone through the lot, changing the figures´ heads into clowns, nazis, rabbits and puppy dogs. As a piece it is symptomatic of the current floundering in the British art scene."
"No Shock, No Awe," New York Arts
Mag online article here.

---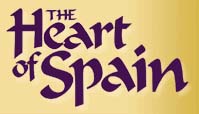 Spanish Art Exhibit
in Louisiana
"The Heart of Spain is a centerpiece of Central Louisiana's celebration of the Louisiana Purchase Bicentennial and features work by such world renowned artists as El Greco, Murillo, Ribalta, and Goya. The collection is a magnificent cross-section of spiritually-themed paintings, tapestries, sculptures, jewelry and ancient symbols of faith that document one of the world's oldest themes: man's spiritual journey. "
Official Web site here
Alexandria Museum Website here
Alexandria "Town Talk" Review here
Times-Picayune Review here