Goya by Xavier de Salas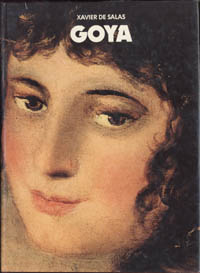 Goya
By Xavier de Salas
Published by Mayflower Books, 1978
ISBN 0831739509
206 pages
Printed in Italy
GOYA by Xavier de Salas [Amazon]

Xavier de Salas writing on Goya in this volume has the warm, easy pace of someone who has handled the subject over and over (Salas' author credit says that he has produced over 180 books). He seems more concerned with explaining the basics for the reader versus charging into any thick and weighty debate, which is a nice difference since the subject of Goya typically provokes easy argumentation. While de Salas flatly declares which way he stands on a number of issues (for example, the supposed affair between Goya & the Duchess of Alba, i.e., it didn't happen), he also presents the reasoning behind the opposite position. This is done in a deferential manner, and with great tact, which, I think, reveals the Spanish culture that de Salas is writing from (this book is an English translation from the Spanish). American writers, particularly with regards to Goya, have things to prove, and don't have time for such niceties, which can conjure a sort of high school debate atmosphere to a book written in that way.
Which speaks all the more to the grace of de Salas' volume. He writes in a straight forward, authoritative manner, and has a personal tone toward the reader. Salas approaches Goya as if he were an artist and a man, not a god, which is a tendency with some art historians. Perhaps this is because for de Salas, Goya is a talented and thoughtful countryman, not a foreign genius and peg to hang modernist art theory upon.
Considering its age, the production qualities on this 9.5" x 13" book holds up well. While much of the reproduction on the images are poor by comparison to any modern book published since the 1980s, there is a certain quality to the photography which is not found in modern techniques. Chiefly this is in the instances when a paintings surface is in relief, such that brush strokes can be seen in the color. This is a fascinating attribute that does not show up in newer books, since the aim in reproduction is capturing the flatness of the painting. (Example below, detail from the portrait of Gaspar Melchor Jovellanos, 1798)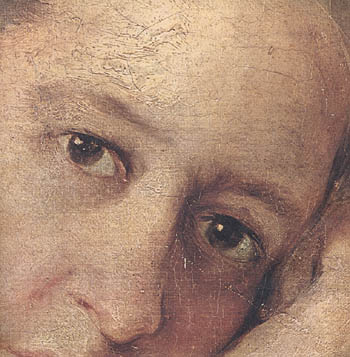 Brief Bio of Xavier de Salas (from the book dust jacket of the book):
Francisco-Xavier de Salas Bosch studied in the Universities of Barcelona and Madrid, graduating in History. From 1947 to 1961 he organized and directed the Spanish institute in London. He was Vice-Director of the Prado Museum from 1962 to 1969 and Director of the same from 1970 until March 1978. He is a member of the Real Academia de Bellas Artes de San Fernando in Madrid and also an honorary member of the Royal Academy in London. From 1971 he was President of the Spanish branch of the international Council of Museums, and from 1973 of CIHA (Congresos Internacional de Historia del Arte). He has lectured in the history of art in' the Universities of Barcelona and Madrid. In his capacity as coordinator and organizer, he has been responsible for setting up a large number of reviews and international exhibitions. He has also written more than 180 books and numerous articles on art history, of which more than twenty-five have been on the subject of Goya.
GOYA by Xavier de Salas [Amazon]
---
AMAZON
Goya The Terrible Sublime - Graphic Novel - (Spanish Edition) - Amazon
---
Goya: His Life & Works in 500 Images: An illustrated account of the artist, his life and context, with a gallery of 300 paintings and drawings – 256 pages, Lorenz Books, 2015 - Amazon
---

"From this headlong seizure of life we should not expect a calm and refined art, nor a reflective one. Yet Goya was more than a Nietzschean egoist riding roughshod over the world to assert his supermanhood. He was receptive to all shades of feeling, and it was his extreme sensitivity as well as his muscular temerity that actuated his assaults on the outrageous society of Spain." From Thomas Craven's essay on Goya from MEN OF ART (1931).
"...Loneliness has its limits, for Goya was not a prophet but a painter. If he had not been a painter his attitude to life would have found expression only in preaching or suicide." From Andre Malroux's essay in SATURN: AN ESSAY ON GOYA (1957).
"Goya is always a great artist, often a frightening one...light and shade play upon atrocious horrors." From Charles Baudelaire's essay on Goya from CURIOSITES ESTRANGERS (1842).
"[An] extraordinary mingling of hatred and compassion, despair and sardonic humour, realism and fantasy." From the foreword by Aldous Huxley to THE COMPLETE ETCHINGS OF GOYA (1962).
"His analysis in paint, chalk and ink of mass disaster and human frailty pointed to someone obsessed with the chaos of existence..." From the book on Goya by Sarah Symmons (1998).
"I cannot forgive you for admiring Goya...I find nothing in the least pleasing about his paintings or his etchings..." From a letter to (spanish) Duchess Colonna from the French writer Prosper Merimee (1869).
---
---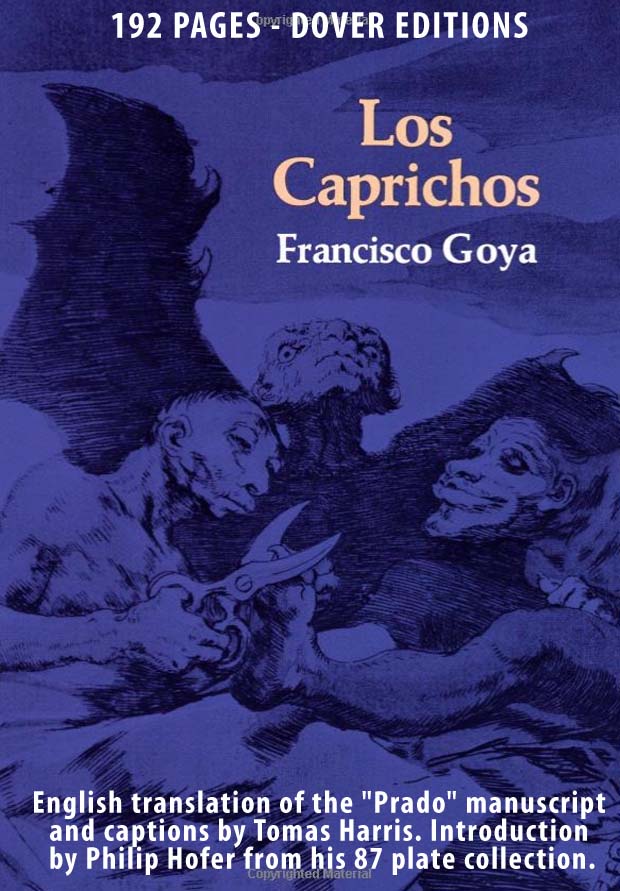 GOYA : Los Caprichos - Dover Edition - Amazon
---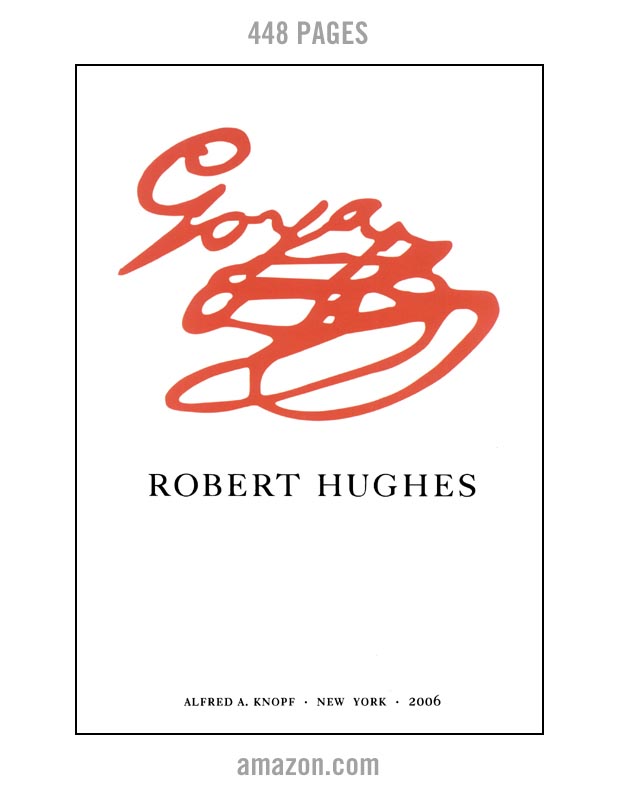 ---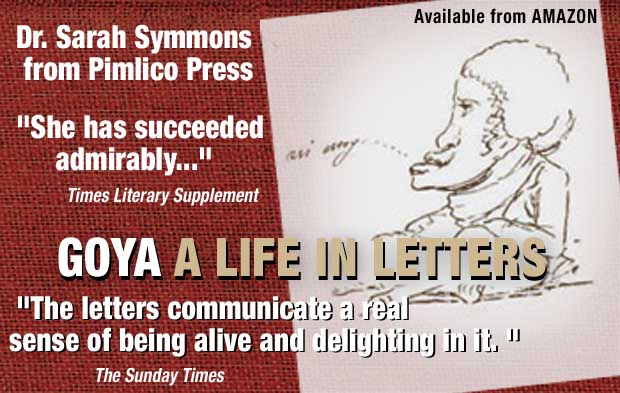 Goya: A Life in Letters
---