Goya Digital Catalog nearing completion
March 18, 2010
Goya Digital Catalog nearing completion
The digital catalogue raisonné of Goya works we reported on from February 26 is nearing completion. The cover has been released. This comprehensive 'alternative' catalog effort is led by Prof. Amparo Sacristan of Mataro University in Spain:

For an overview of why this is an important step forward in the contentious dialogue between art experts, museum officials, and consumers who own authenticated (and unauthenticated) works by Goya:
• English language version of a Spanish article at interviu.com which discusses the mostly closed world of art authentication when it comes to a "brand" as important as Goya:
"If Goya creates problems it is because Goya is still on the market and the trials and responsibilities of his catalog have significant influences on the market. The bottom line is so clear that even the director of the Museo del Prado, Miguel Zugaza, admitted in 2008, as tensions with Goya are a matter of business...

The scandal last year with the colossus - the Museo del Prado decided to remove the authorship of Goya against the opinion of many experts, it was just a spark in a thick canvas of interests where art historians, foreign experts, money auctions, officials of the Prado, private collectors and even scientists battle for authority.

At the bottom of this mess would be the certificate of authenticity of the paintings of Goya. Or put another way: How many works not listed may be by this painter, and how many of which hang in prestigious institutions would are not from his brush? Is there a "Goya lobby"?"
Professor Antonio Pereles. Probably the leading exponent of the "Goya graphism" method of authentication. Using the usual technical tools of analysis, Pereles added to this a comprehensive effort at understanding and recognizing the "hidden" Goya signatures that occur on many accepted (and unaccepted) Goya works. Unfortunately, Pereles recently died, but his efforts as a long-respected restorer and then controversial authenticator has had a major impact on what is going forward in the battle between the Prado experts and those aligned in Spanish academies and art collection circles outside of the museum system.
Goya Discovery: Probably the best English language source for information about the struggle between the "scientific method" of authentication and the subjective "eye-technique" when it comes to Goya.
The Scientific Method versus Eye Technique
About the 'scientific method' and the 'subjective eye technique': Neither term accurately pinpoints where the division between the two methods occurs, since both utilize tools that are in the provence of the other. Both use chemical analysis, x-rays and historical research through written records contemporary to Goya. Also, each use the same lists of known Goya works from the time following Goya's death when his works were being sold off by his heirs.
What is more distinct is the situation now for these two camps, one inside and one outside of the Prado museum. The frustration of owners of paintings which on balance probably are by Goya, but who face a barricade when it comes to having them accepted in the world of the museum and that of the lucrative, high-paying auctions, is pressuring a move forward getting tools of authentication accepted that will supercede the opinions of two specific Goya experts: Goya curator Manuela Mena Marqués and longtime Goya authority Juliet Wilson Barreau.
The situation for "new" Goyas
Without a strongly supported provenance proving parentage, a painting is left to other devices to demonstrate its authorship. Unfortunately, the current trend is to sensationally discredit Goya paintings at the Prado, versus identifying and adding to the list of known Goya works. Perhaps this is a reflection of the tension within western museums on the whole, where forgeries sometimes surface, embarrassing more than just a staff, but also the endowing agents who are the source of much of the support money that keeps an expensive enterprise like a museum going. There is also the struggles over ownership of objects that may not have entered a museum collection through verified legal means.
AMAZON
Goya The Terrible Sublime - Graphic Novel - (Spanish Edition) - Amazon
---
Goya: His Life & Works in 500 Images: An illustrated account of the artist, his life and context, with a gallery of 300 paintings and drawings – 256 pages, Lorenz Books, 2015 - Amazon
---

"From this headlong seizure of life we should not expect a calm and refined art, nor a reflective one. Yet Goya was more than a Nietzschean egoist riding roughshod over the world to assert his supermanhood. He was receptive to all shades of feeling, and it was his extreme sensitivity as well as his muscular temerity that actuated his assaults on the outrageous society of Spain." From Thomas Craven's essay on Goya from MEN OF ART (1931).
"...Loneliness has its limits, for Goya was not a prophet but a painter. If he had not been a painter his attitude to life would have found expression only in preaching or suicide." From Andre Malroux's essay in SATURN: AN ESSAY ON GOYA (1957).
"Goya is always a great artist, often a frightening one...light and shade play upon atrocious horrors." From Charles Baudelaire's essay on Goya from CURIOSITES ESTRANGERS (1842).
"[An] extraordinary mingling of hatred and compassion, despair and sardonic humour, realism and fantasy." From the foreword by Aldous Huxley to THE COMPLETE ETCHINGS OF GOYA (1962).
"His analysis in paint, chalk and ink of mass disaster and human frailty pointed to someone obsessed with the chaos of existence..." From the book on Goya by Sarah Symmons (1998).
"I cannot forgive you for admiring Goya...I find nothing in the least pleasing about his paintings or his etchings..." From a letter to (spanish) Duchess Colonna from the French writer Prosper Merimee (1869).
---
---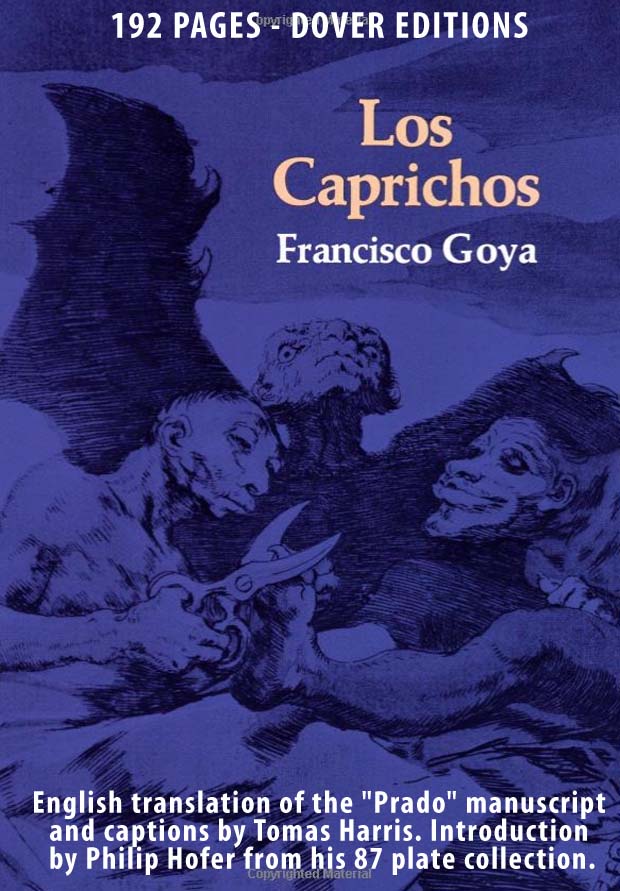 GOYA : Los Caprichos - Dover Edition - Amazon
---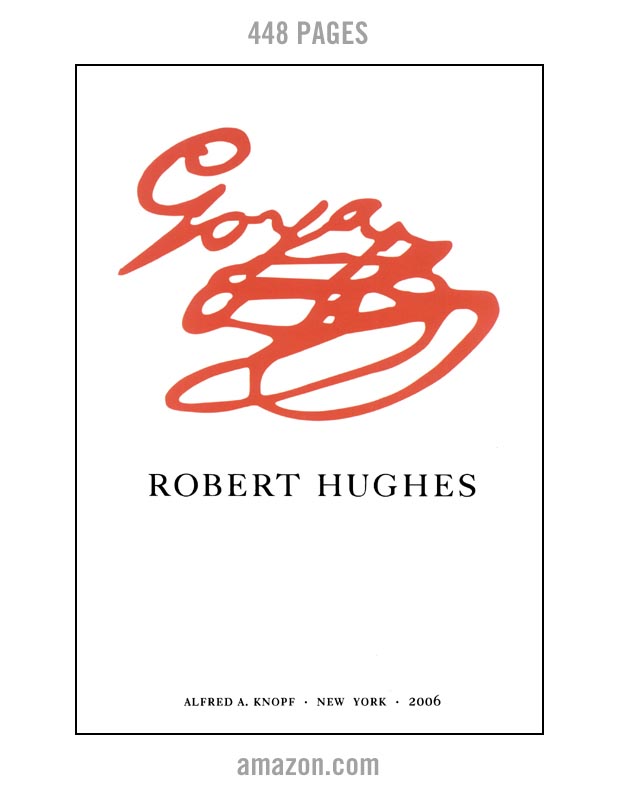 ---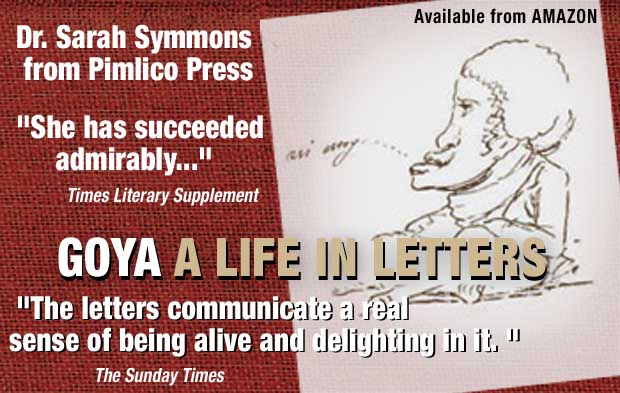 Goya: A Life in Letters
---