Goya and the Milkmaid of Bordeaux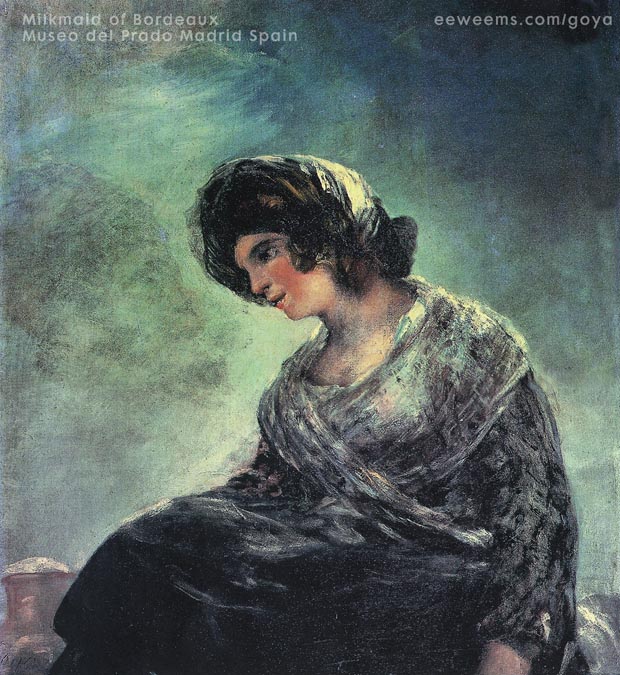 Milkmaid of Bordeaux
1825 – 1827 Oil on canvas
29 inches by 26 1/2 inches
76 c, x 68 cm
Museo del Prado Madrid, Spain
On April 4, 2001, the Spanish language The Art Newspaper printed an article disputing Goya's authorship of this painting. In fact, the current experts at the Museo del Prado are more or less in agreement that it probably is not a true Goya.
This painting has been speculated to be a portrait of Rosario, the daughter of Leocadia, the woman who cared for Goya in Bordeaux. Goya is known to have requested his friends to treat Rosario as if she were his own daughter, which has given rise to the idea she may in fact have been Goya's daughter via Leocadia.
On the other hand, there are opinions that Rosario painted this image, under Goya's tutelage. Rosario is known to have studied under Goya and was later employed in both France and by the Spanish royal family as an artist.
Leocadia owned this painting, and was the only painting she was able to keep after Goya's death, as his estate was executed under a 1811 will that gave everything to Goya's son Xavier and grandson Mariano. Supposedly Xavier and Leocadia disliked each other, and Leocadia was unceremoniously evicted from the home she shared with Goya not long after his death.
"Goya apparently painted the Milkmaid slowly and was so satisfied with the strength of his achievement that after his death Leocadia Weiss claimed that he told her not to sell it for less than an ounce of gold."
From Sarah Symmons, Goya,
page 315, Phaidon Press, 1998

(below) From our interview with Dr. Sarah Symmons here:
Question: I noticed in your 1998 book that you firmly back Milkmaid of Bordeaux as a true Goya painting. How have you viewed efforts to have it's authorship changed to Rosario, or to some unknown person altogether?

Answer: The problem with the Milkmaid of Bordeaux is basically the problem of Goya's very late style, as I see it. Many of the compositional and stylistic anomalies, observed by Juliet Wilson Bareau in her essay about the Milkmaid, can be found in the late etching of 'The Blind Guitarist,' which is a very odd work but its authenticity is rarely if ever questioned.

Many artists like Goya who have long working lives produce apparently new styles in their later years (e.g. Titian, Raphael, Daumier) and these can become controversial.
---
"Goya painted this charming picture when he was 81 years old. It was not a commissioned work, but a purely private enterprise that seems, above all, to be a celebration of beauty, and an affirmation of life. The last brilliant burst prompted his old friend Moratin to write of the artist, 'He is very cocksure these days and paints furiously, never wanting to correct anything he paints. Goya included the churn in the left-hand corner as a symbol with which to identify his sitter, the milkmaid. She was one of the young country girls who delivered milk to his house in Bordeaux. Goya's brushwork reveals a sublime indifference to the fashion of the day, represented by the slick, fussy style and surface polish of the new First Painter to King Ferdinand VIII, Vicente Lopez [here to see the portrait of Goya by Vicente Lopez]. Here, Goya's relaxed, supremely confident handling of paint, despite its apparently crude application, achieves a sensuous, tremulous quality also present in Velasquez' late paintings [for a discussion of Goya and Velasquez, go here]."
From Patricia Wright, Eyewitness Art: Goya
page 59, Dorling Kindersley, 1993
An Opinion
The experts who are challenging the historical identification of Goya as its painter can't, of course, have it both ways: it can't be a portrait of Rosario painted by Rosario. The styling appears to be Goya's, and as he was near the end of his life suffering from failing eyesight and a myriad list of ailments, it is possible (if one may speculate along the same lines as the experts do) that Goya may have roughed out the painting and then used it as a way to teach Rosario various techniques. But, as with any inventing without evidence (much like the experts sometimes must do) one can imagine any number of explanations for this painting.
My personal guess is that Goya painted it himself and gave it specifically to Leocadia - - hence the reason it was the lone piece Leocadia had left that Xavier did not grab (he was prone to selling off his fathers work.)
That it may indeed depict Rosario may have been one reason Xavier did not (or would not) fight for it. If it was not a true Goya, would Xavier have let Leocadio retain it that much easier? And, should he not have taken pains to denounce it as not a "true" Goya - - since Xavier's chief business concern was marketing his fathers works, and a competing work on the market only stands to dilute his standing inventory for a deceased painter?
"Javier, who loathed Leocadia – the feeling seems to have been amply reciprocated – let her take a few odds and leftovers: some furniture, household linen, clothes, and, in case she decided to go back to Spain, he provided the sum of one thousand francs. She had to vacate the house, whose rent was only paid up to the end of April.

She also got one painting, The Milkmaid of Bordeaux, which may or may not have been a portrait of her daughter Rosario, and may or may not have been painted by Goya. A year later, poverty compelled her to sell it to one of Goya's distant relatives, Juan Bautista de Muguiro, whose descendants gave it to the Prado in 1946."
From Robert Hughes Goya, Alfred Knopf, 2003
The one sure thing that can be said for the painting is it is traced directly back to Leocadia at the time she lived with Goya. It was sold a year later to Juan Bautista de Muguiro (who was a relative to Goya through marriage, and someone that Goya particularly treasured, judging by the personal inscription written on the portrait he did of Muguiro in 1827). This begs the question, why would Muguiro buy a bogus Goya painting?
(To read a defense of the authorship of this painting as belonging to Goya, read the material we have on Professor Antonio Pereles here.)
---
AMAZON
Goya The Terrible Sublime - Graphic Novel - (Spanish Edition) - Amazon
---
Goya: His Life & Works in 500 Images: An illustrated account of the artist, his life and context, with a gallery of 300 paintings and drawings – 256 pages, Lorenz Books, 2015 - Amazon
---

"From this headlong seizure of life we should not expect a calm and refined art, nor a reflective one. Yet Goya was more than a Nietzschean egoist riding roughshod over the world to assert his supermanhood. He was receptive to all shades of feeling, and it was his extreme sensitivity as well as his muscular temerity that actuated his assaults on the outrageous society of Spain." From Thomas Craven's essay on Goya from MEN OF ART (1931).
"...Loneliness has its limits, for Goya was not a prophet but a painter. If he had not been a painter his attitude to life would have found expression only in preaching or suicide." From Andre Malroux's essay in SATURN: AN ESSAY ON GOYA (1957).
"Goya is always a great artist, often a frightening one...light and shade play upon atrocious horrors." From Charles Baudelaire's essay on Goya from CURIOSITES ESTRANGERS (1842).
"[An] extraordinary mingling of hatred and compassion, despair and sardonic humour, realism and fantasy." From the foreword by Aldous Huxley to THE COMPLETE ETCHINGS OF GOYA (1962).
"His analysis in paint, chalk and ink of mass disaster and human frailty pointed to someone obsessed with the chaos of existence..." From the book on Goya by Sarah Symmons (1998).
"I cannot forgive you for admiring Goya...I find nothing in the least pleasing about his paintings or his etchings..." From a letter to (spanish) Duchess Colonna from the French writer Prosper Merimee (1869).
---
---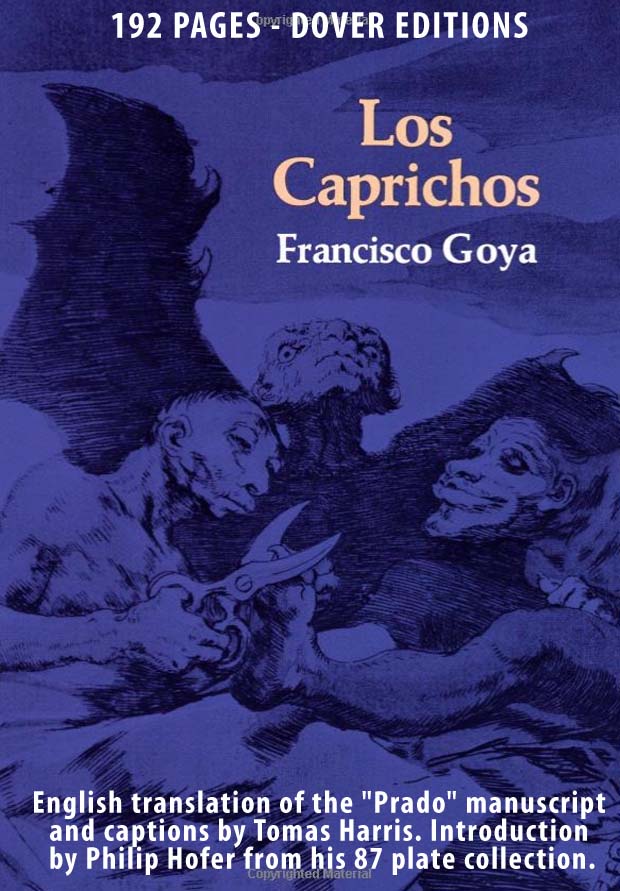 GOYA : Los Caprichos - Dover Edition - Amazon
---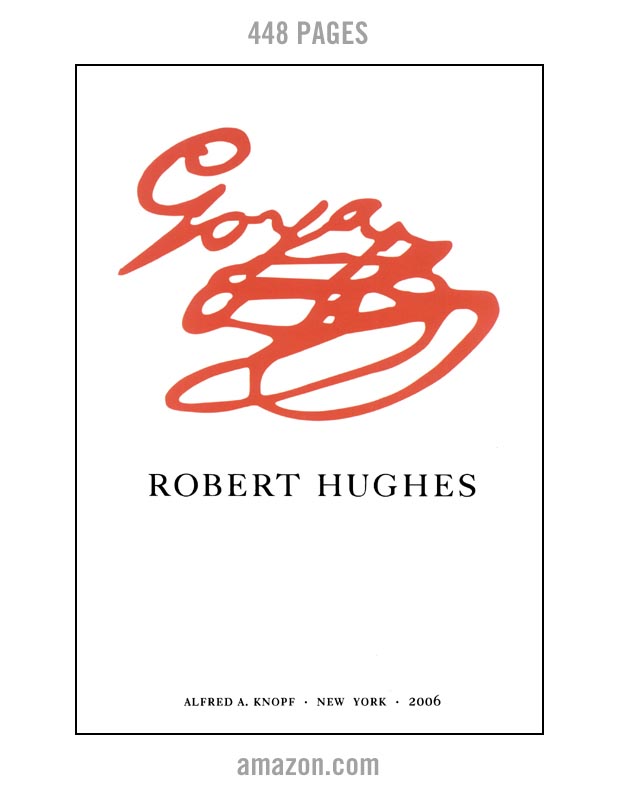 ---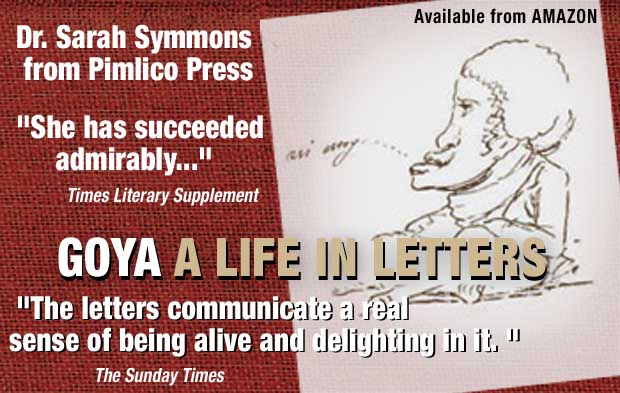 Goya: A Life in Letters
---