Chalk Portrait of Josefa Bayeu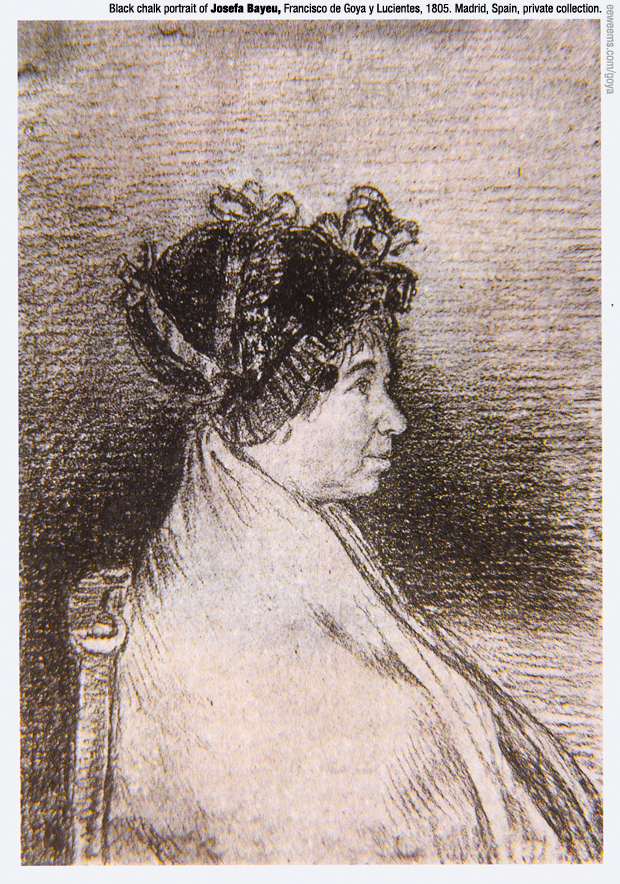 Enlarge image to 1400 pixel size
Josefa Bayeu
Black chalk, 1805
Private Collection, Madrid
"The misgivings that in one way or another estranged Goya from his brothers- and sisters-in-law never effected his relationship with his wife, Josefa Bayeu, whose life was an almost constant succession of pregnancies, many ending in miscarriages, and quite a few deliveries. Such was the prevailing condition of married women in Goya's time, and, judging by the statistical data available, not greatly improved in our own. All this physical and emotional effort took its toll on Josefa Bayeu, and is reflected in the drawing the painter made of her in 1805, when she was fifty-eight and had seven more years to live. By the same token, however, she must have been a strong woman: she died at sixty five, an age few of her contemporaries reached, and fewer still after a lifetime that was arduous to the very end.

Intimate relations with her husband were not chilled with the passage of time; the couple lived together for almost half a century, and though Goya did not mention her often in his letters to Zapater, when he did, his observations indicate a stable conjugal harmony. He also credited Josefa with a shrewd wit and - - occasionally - - a dark humor. Her description of a house in a bad part of Saragossa (which Zapater had arranged to rent) as "a tomb for women" is often quoted."
From the book Goya: Images of Women, page 55, section written by Francisco Calvo Serraller. Published by the National Gallery of Art, Washington DC, for the "Goya: Images of Women" exhibit of 2002.
Related:
To view the Goya 1814 Oil Portrait of Josefa Bayeu, go here.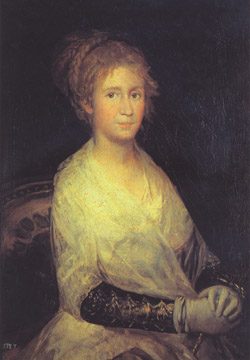 ---
This page revised August, 2011
---
AMAZON
Goya The Terrible Sublime - Graphic Novel - (Spanish Edition) - Amazon
---
Goya: His Life & Works in 500 Images: An illustrated account of the artist, his life and context, with a gallery of 300 paintings and drawings – 256 pages, Lorenz Books, 2015 - Amazon
---

"From this headlong seizure of life we should not expect a calm and refined art, nor a reflective one. Yet Goya was more than a Nietzschean egoist riding roughshod over the world to assert his supermanhood. He was receptive to all shades of feeling, and it was his extreme sensitivity as well as his muscular temerity that actuated his assaults on the outrageous society of Spain." From Thomas Craven's essay on Goya from MEN OF ART (1931).
"...Loneliness has its limits, for Goya was not a prophet but a painter. If he had not been a painter his attitude to life would have found expression only in preaching or suicide." From Andre Malroux's essay in SATURN: AN ESSAY ON GOYA (1957).
"Goya is always a great artist, often a frightening one...light and shade play upon atrocious horrors." From Charles Baudelaire's essay on Goya from CURIOSITES ESTRANGERS (1842).
"[An] extraordinary mingling of hatred and compassion, despair and sardonic humour, realism and fantasy." From the foreword by Aldous Huxley to THE COMPLETE ETCHINGS OF GOYA (1962).
"His analysis in paint, chalk and ink of mass disaster and human frailty pointed to someone obsessed with the chaos of existence..." From the book on Goya by Sarah Symmons (1998).
"I cannot forgive you for admiring Goya...I find nothing in the least pleasing about his paintings or his etchings..." From a letter to (spanish) Duchess Colonna from the French writer Prosper Merimee (1869).
---
---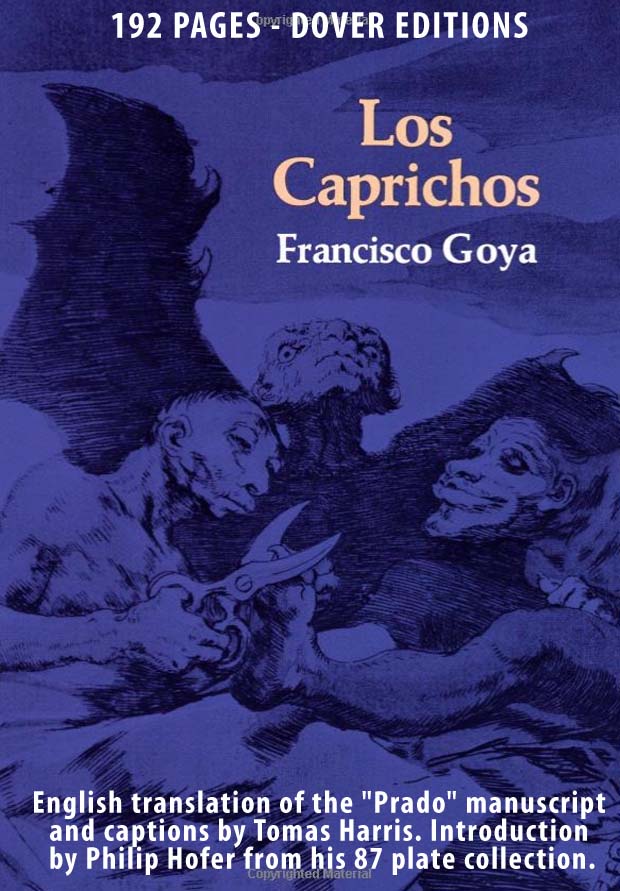 GOYA : Los Caprichos - Dover Edition - Amazon
---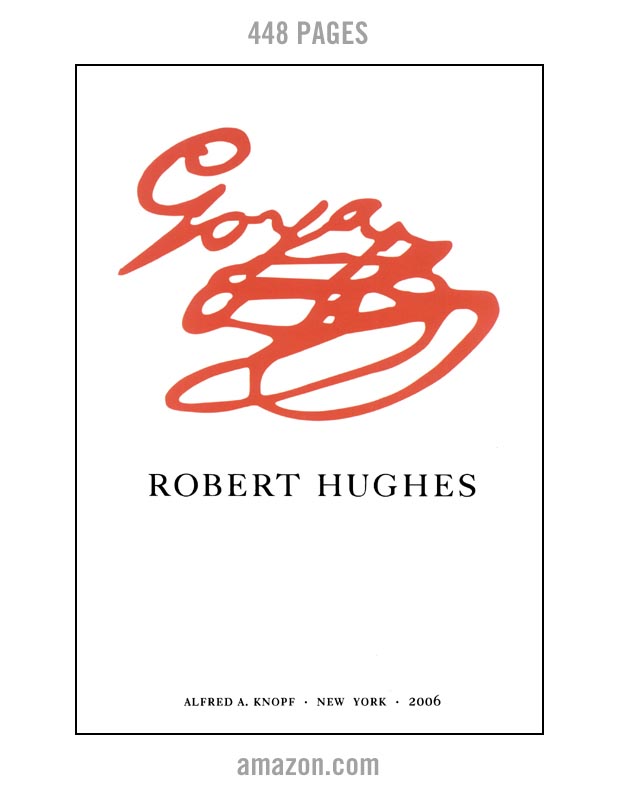 ---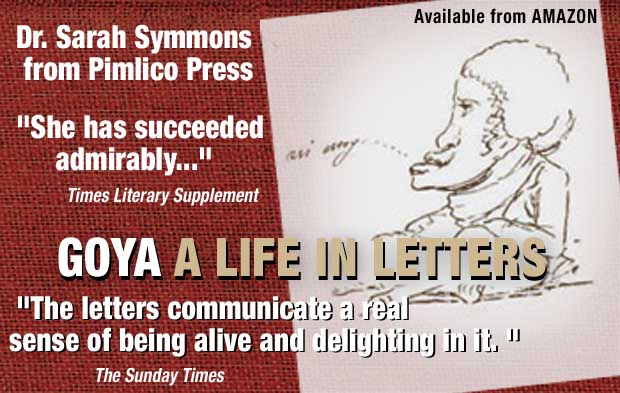 Goya: A Life in Letters
---