STOLEN GOYA FINALLY GOES ON DISPLAY


The Goya painting "Children with A Cart" which was stolen November 14, 2006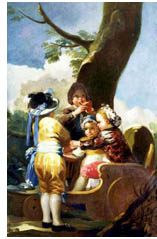 while en route to the Guggenheim exhibition Spanish Painting From El Greco to Picasso: Time, Truth and History and is now finally on display where it was originally intended.

All's well that ends well," said Don Bacigalupi, director of the Toledo Museum of Art, who traveled to New York's Solomon R. Guggenheim Museum for the delayed installation of Goya's "Children with a Cart" there.

The painting was being trucked to New York in November when the drivers spent the night at a motel in Stroudsburg, Pa., leaving it unattended. They discovered it missing the next morning. Within 10 days, a tipster had alerted authorities to its whereabouts in New Jersey.

FBI spokesman James Margolin said the investigation into the theft was ongoing.

The painting was insured for about $1 million. It was returned undamaged to the Toledo museum which owns it before being lent to the Guggenheim as originally planned for inclusion in the exhibit, "Spanish Painting from El Greco to Picasso: Time, Truth, and History."


"After the FBI recovered it, it went back to Toledo, Ohio to be enjoyed by the audience there and welcomed home, and then Don very graciously agreed to the loan for the next six weeks of the show," said Guggenheim Director Lisa Dennison.
The complete Nepa News story about this is here.
More info about the theft here.

"CITIZENS AND KINGS" EXHIBIT INCLUDES GOYA'S "FERDINAND VII"


The Royal Academy of Arts is presenting the exhibit Citizens and Kings: Portraits in the Age of Revolutionfrom February 3, 2007 until April 20, 2007. A review of the exhibit at thisislondon.com by Brian Sewell is here:

[Talking about Goya's Ferdinand VII] He, too, looks like a peasant togged up for a ball, but at least we know that Goya was capable of irony and the paint itself, particularly in the braiding of the cloak, is utterly seductive in the way that it represents alien materials while remaining indubitably fat impastose paint. Was Goya suggesting some ironic contrast between this ugly, fat-legged little man and the regal trappings of his position? Hanging Lawrence's portrait of George IV nearby was quite a witty thing to do, for the pose mirrors the Spanish king and George is hung with even heavier trappings, but where Ferdinand was deliberately stunted in proportion, George has been fined of fat and turned into eight feet of balletic fairy prince; Lawrence was, no doubt, aware of his duty and doing it; Goya, equally aware, was not..
The Royal Academy of Arts page on the exhibit is here.