Goya Coloso

The Giant (or, The Colossus)
Coloso
1808 – 1810 Oil on canvas
45.75" x 41.125"
116cm x 105cm
Museo del Prado, Madrid, Spain
This painting is often explained as an allegory of the war in Spain, either as a figure representing Spain, or of the crushing power of war itself. Goya used a combination of brush and palette knife to complete this work.
Interestingly, in regards to arguments disputing the authorship of this painting to Goya, one must also consider the drawing and the mezzotint etching of what appears to be the same subject, and are grouped together by most past Goya writers. See information below to read more on the issues of attribtution, and also to see the drawing and mezzotint.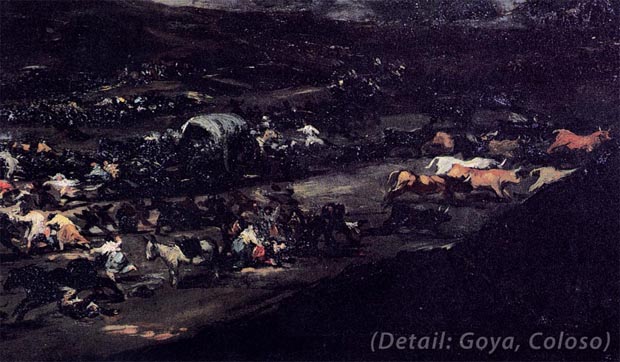 ---
News Archive Items
FEB 2010: Dr Sarah Symmon addressed the issue of the bull "anatomy" in an article in defense of the Colosus being painted by Goya:
"When the horses were important, like in the Bullfighting, Goya painted them exquisitely . But when the horses performed a marginal function in a composition, for example in the Picture of Fernando VII, they assumed a clumsy, inanimate quality."
Read the entire article (in Spanish) at abc.es
---
January 29, 2009: The UK Daily Mail reports on the ongoing authorship debates for Colosso here.
---
"Colossos" by an assistant, claims Prado
June 27, 2008: The long-running argument over 'Colossos' (also often titled "The Giant") has been going on since at least 2001 when Goya scholar Juliet Wilson-Bareau stated the painting was probably by someone else. Research on this has reached the point that the Prado is virtually giving this opinion "official" status:
Danny Wood at the BBC online wrote:
"The Colossus, painted early in the 19th Century, is traditionally attributed to Francisco Jose de Goya.

But museum experts now say that an investigation has revealed new information about the possible artist.

The revelations follow the identification of two initials - AJ - at the bottom of the canvas.

According to the Prado's investigators, those initials link the work to Asensio Juli, a friend and collaborator of Goya.

The painting depicts a giant walking through a landscape as people flee in panic.

The style of the Colossus was thought to be connected to paintings by the artist about Spain's war of independence against the French.

But, on the basis of their ongoing investigation, the Prado's specialists say they refute the view that Goya is the painter."
The identification of Arsenio Juli seems to answer the caution given by Goya writer Sarah Symmons in our interview from 2006:
"The question with Goya is that if he didn't paint works like The Colossus, the New York Majas, or the Black Paintings, then we have to find a new artist as their author. If there were such an anonymous artist who for various reasons wanted to keep their identity a secret, then it's a challenge to find out who they were. I know some people have suggested Javier Goya, but I don't believe that."
The UK Telegraph [Telegraph link no longer working - Erik 2015] has more on the Prado announcement, written by Elisabeth Nash from Madrid:
"... in an announcement set to raise a storm in the art world, the museum said yesterday that the celebrated El Coloso was not by the Spanish master after all, and was probably painted by a pupil in his studio.

In a devastating critique, the museum's chief Goya specialist said the painting, made during Napoleon's occupation of Spain after 1808 and long seen as one of the artist's most dramatic portrayals of the horrors of war, was "a pastiche".

"Stylistically, it is completely alien to Goya," said Manuela Mena, the Prado's senior Goya specialist who has studied El Coloso and doubts over its attribution for nearly 20 years. She also revealed doubts over at least three other Goyas held by the Prado.

..."The person who painted the bulls in El Coloso knew nothing about the anatomy of a bull – which Goya knew everything about," Ms Mena said. "The donkey looks like a furry toy, nothing like Goya's perfectly executed donkeys of the same period. None of the details correspond to the Goya we know."
The UK Independent also chimed in with a headline saying "Is Goya masterpiece just a colossal mistake?" They cover the ongoing debacle. Article quotes respected Goya authoirty Julie Wilson-Barreau, who says:
"Doubts were first cast on El Coloso's authenticity – and that of another celebrated Goya work, La Lechera de Burdeos (The milkmaid of Bordeaux) – by the British Goya specialist Juliet Wilson-Barreau, a member of the scientific committee that organised the Prado's new exhibition.

"The works lack energy and a good display within the framework of the painting, faults that are completely abnormal in the trajectory of Goya," Ms Wilson-Barreau wrote in Spain's art review El Periodico del Arte in April 2001. Giving El Coloso the definitive thumbs down, she added: "Almost all the specialists are in agreement that it is not by Goya." Ms Wilson-Barreau's doubts were shared by Manuela Mena, the Prado's senior Goya expert and curator of the show which opens tomorrow.

However, they were furiously dismissed at the time by the Prado's then director, Fernando Checa, who insisted both works were authentic. A year later, Nigel Glendinning, professor of art history at London University, wrote an academic study robustly defending the painting's authenticity. Almost nothing further was heard about the disputed El Coloso until this week, when it emerged that the canvas was excluded from the forthcoming celebration of Goya's war paintings."
---
On April 4, 2001, a news article translating some of the comments of British art historian Juliet Wilson-Bareau in the Spanish language The Art Newspaper, disputed Goya's authorship of this painting.
A Prado representative was reported to acknowledge the report as probably true. An other 150 Goya images were also called into dispute. Thus far, the hard evidence, or proof for these assertions, seems to reside chiefly on the opinions of these experts. Whether counter opinions will be presented, or if there is indeed something more tangible supporting these claims, to my knowledge, has yet to appear. - Erik)
(To read a defense of the authorship of this painting as belonging to Goya, read the material we have on Professor Antonio Pereles here.
---
The Giant
1810-18 Mezzotint
11 inches by 8 1/4 inches
This is the only mezzotint etching that Goya made during his career. A mezzotint is a plate whose images are made through a rocking-burring tool. This creates a wash of tone when coated with ink, versus the distinct line of a regular etching made through a marking tool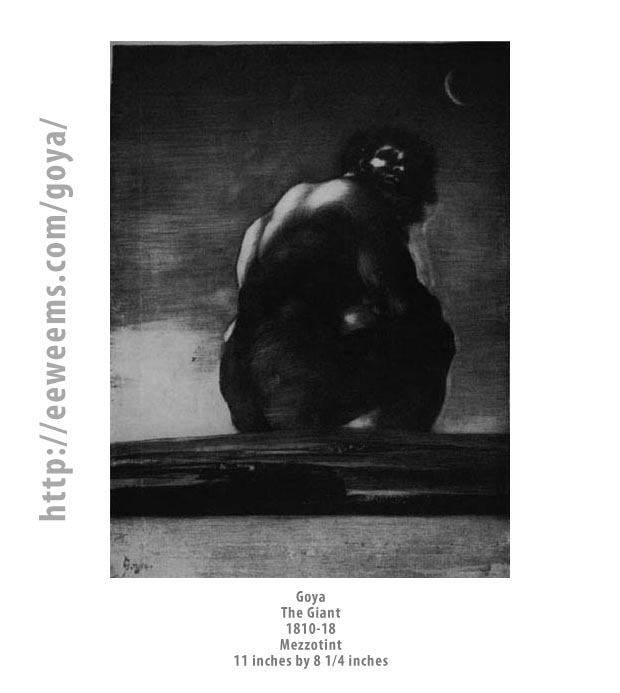 ---
Giant Sleeping
1824-28 Sketchbook drawing with black chalk
A. de Beruete Collection, Madrid
"Goya's unusual creation of a repeating character, the Giant, which appears at least three times in his work, is often viewed as a kind of key toward Goya's personality, particularly in how Goya viewed Spain as a whole. In war, or sleeping, or in a weary contemplation, Goya's Spain, which he both loved and abhorred, always had his attention, thought, and usually, affection. That he could be both searing in his criticism, and shock, and yet continue to have this affection, says much about both Goya and the Spain that he saw."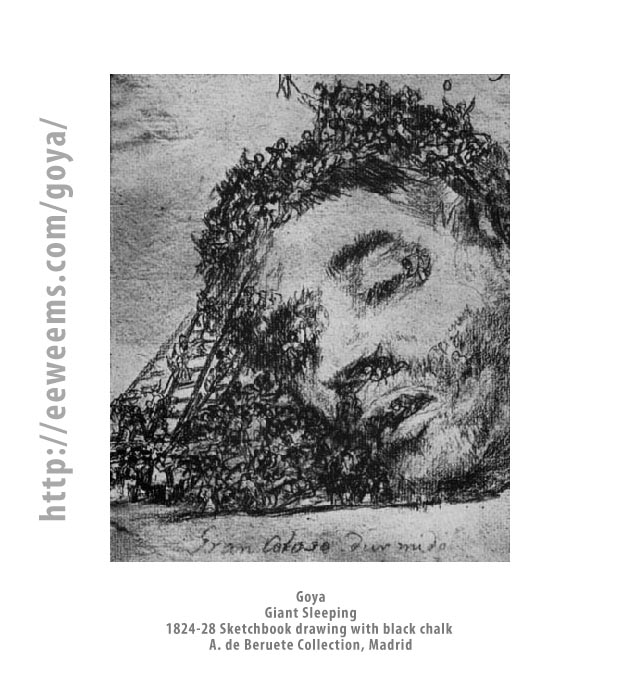 AMAZON
Goya The Terrible Sublime - Graphic Novel - (Spanish Edition) - Amazon
---
Goya: His Life & Works in 500 Images: An illustrated account of the artist, his life and context, with a gallery of 300 paintings and drawings – 256 pages, Lorenz Books, 2015 - Amazon
---

"From this headlong seizure of life we should not expect a calm and refined art, nor a reflective one. Yet Goya was more than a Nietzschean egoist riding roughshod over the world to assert his supermanhood. He was receptive to all shades of feeling, and it was his extreme sensitivity as well as his muscular temerity that actuated his assaults on the outrageous society of Spain." From Thomas Craven's essay on Goya from MEN OF ART (1931).
"...Loneliness has its limits, for Goya was not a prophet but a painter. If he had not been a painter his attitude to life would have found expression only in preaching or suicide." From Andre Malroux's essay in SATURN: AN ESSAY ON GOYA (1957).
"Goya is always a great artist, often a frightening one...light and shade play upon atrocious horrors." From Charles Baudelaire's essay on Goya from CURIOSITES ESTRANGERS (1842).
"[An] extraordinary mingling of hatred and compassion, despair and sardonic humour, realism and fantasy." From the foreword by Aldous Huxley to THE COMPLETE ETCHINGS OF GOYA (1962).
"His analysis in paint, chalk and ink of mass disaster and human frailty pointed to someone obsessed with the chaos of existence..." From the book on Goya by Sarah Symmons (1998).
"I cannot forgive you for admiring Goya...I find nothing in the least pleasing about his paintings or his etchings..." From a letter to (spanish) Duchess Colonna from the French writer Prosper Merimee (1869).
---
---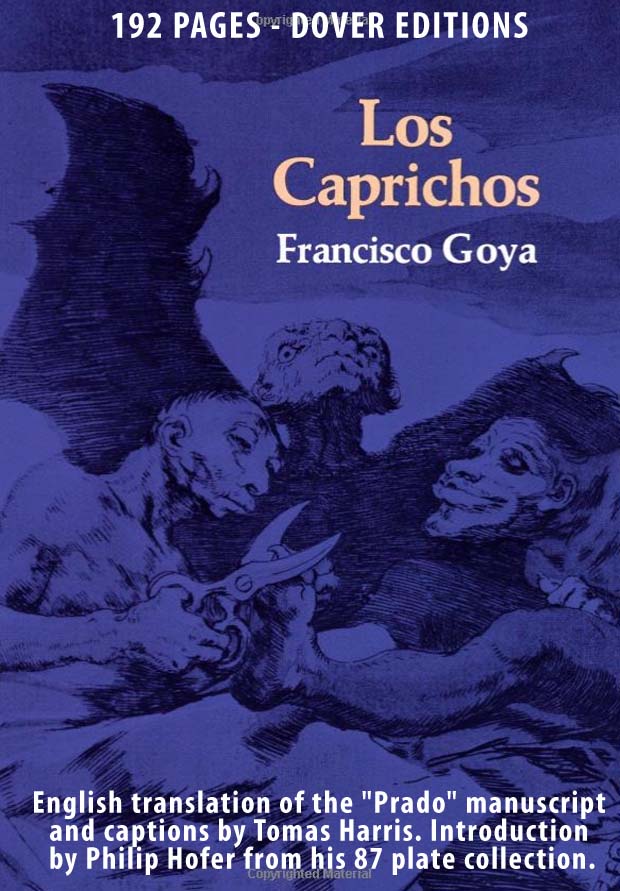 GOYA : Los Caprichos - Dover Edition - Amazon
---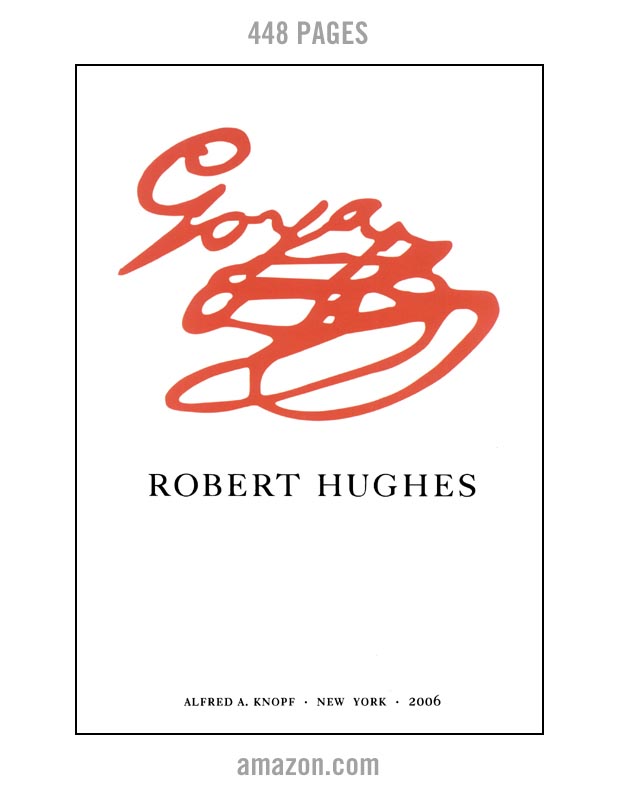 ---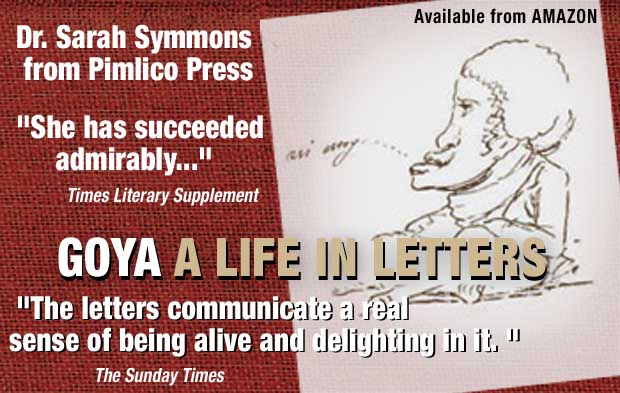 Goya: A Life in Letters
---