Goya & Micro Signatures 2005
Manuela Mena Marqué, Chief Goya Curator at the Prado:
'To believe in Goya micro-signatures is madness...'
"I HAVE SEEN EIGHT THOUSAND WORKS ATTRIBUTED TO GOYA AND ONLY FIVE WERE AUTHENTIC."
Manuela Mena, chief curator of the Prado, gave yesterday a conference in the Camon Aznar Museum and defended the necessity to review the work of the Aragonian painter.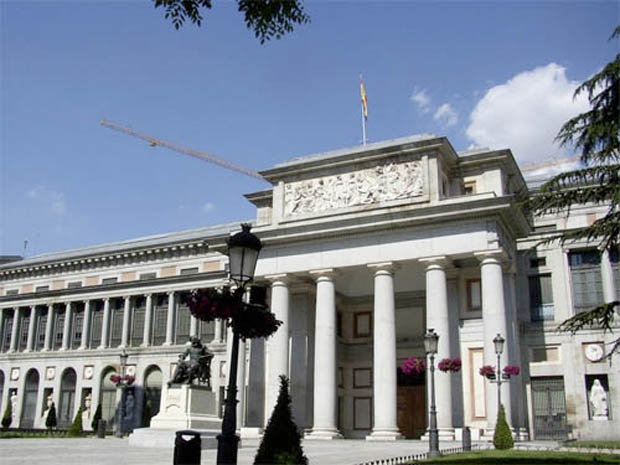 Photograph of the Prado in Madrid by A. Holloway. Used by permission.
Article by Mariano Garcia Zaragoza published on November 18, 2005 in the Heraldo newspaper, Aragon, Spain.
"...there has not been a day in which one or two paintings attributed to Goya did not come in. I calculate that I have seen between 7,000 and 8,000 works of this type.

Even yesterday... a gentleman from Mexico showed me three paintings that had been offered to him for sale. None was a Goya. Of the almost 8,000 pieces that I have contemplated during that time, the ones that can be considered as an authentic Goya can be counted on the fingers of my hand: a drawing, three pieces that I have bought for El Prado…"
The article continues with background on how Manuela Mena has worked as chief curator for the 18th century section of the Prado. The topic of whether art history specialist Juan José Junquera's accusation that Goya did not paint the famous "Black Paintings" at the La Quinta de Goya (for reference, see this 2003 page on the controversy Lubow on the Black Paintings) is answered with:
"I do not say neither YES, nor NO. I only say that one must have respect by Junqueras's ideas, that is based on documents and that have been brought to light things that no one had until now had imagined."
Though asked about the authorship questions regarding The Milkmaid of Bordeaux, Manuela Mena does not respond but cautions a wait and see attitude regarding recent work that hasn't been concluded by Spain's museums with their Goya collections.
Regarding the topic of Goya "micro signatures" the article states Mena became "belligerent" and said:
"To believe in these micro signatures is madness," She stressed, "An authentic madness. That happens with painters like Rembrandt or Goya. With that type of technique, with that usage of the pictorial matter, one can, if you insist, see anything at all in those painting. It may well be, given the case, to even read 'El Quixote.' It is absolutely false that Goya did micro signatures in his paintings."
She says research on Goya must follow the path of documented works where doubt is not possible. The study of pictorial technique, color range and composition ,and how light is depicted, are the clues to the distinctive style of Goya. Further, she mentions a list of 150 to 200 qualities that make up a Goya work, and this provides guidance for judging an unknown piece.
As an example of this style of authentication, she provides a unique insight, which is that in Goya portraiture, though typical artists painted in the forehead first and then add hair over this area, Goya does not, he actually does the reverse.
Also, she agrees with the general consensus over the centuries regarding Goya's impeccable methods:
"...as a rule of thumb, something pasted, dirty and without light can never be a Goya. He was an artist of an impressive clean technique."
Additional information:
---
AMAZON
Goya The Terrible Sublime - Graphic Novel - (Spanish Edition) - Amazon
---
Goya: His Life & Works in 500 Images: An illustrated account of the artist, his life and context, with a gallery of 300 paintings and drawings – 256 pages, Lorenz Books, 2015 - Amazon
---

"From this headlong seizure of life we should not expect a calm and refined art, nor a reflective one. Yet Goya was more than a Nietzschean egoist riding roughshod over the world to assert his supermanhood. He was receptive to all shades of feeling, and it was his extreme sensitivity as well as his muscular temerity that actuated his assaults on the outrageous society of Spain." From Thomas Craven's essay on Goya from MEN OF ART (1931).
"...Loneliness has its limits, for Goya was not a prophet but a painter. If he had not been a painter his attitude to life would have found expression only in preaching or suicide." From Andre Malroux's essay in SATURN: AN ESSAY ON GOYA (1957).
"Goya is always a great artist, often a frightening one...light and shade play upon atrocious horrors." From Charles Baudelaire's essay on Goya from CURIOSITES ESTRANGERS (1842).
"[An] extraordinary mingling of hatred and compassion, despair and sardonic humour, realism and fantasy." From the foreword by Aldous Huxley to THE COMPLETE ETCHINGS OF GOYA (1962).
"His analysis in paint, chalk and ink of mass disaster and human frailty pointed to someone obsessed with the chaos of existence..." From the book on Goya by Sarah Symmons (1998).
"I cannot forgive you for admiring Goya...I find nothing in the least pleasing about his paintings or his etchings..." From a letter to (spanish) Duchess Colonna from the French writer Prosper Merimee (1869).
---
---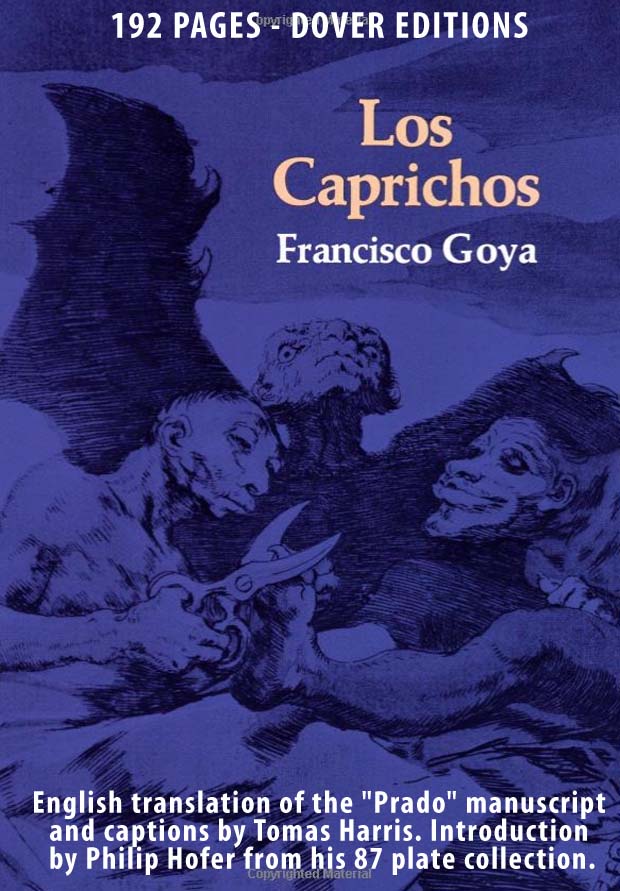 GOYA : Los Caprichos - Dover Edition - Amazon
---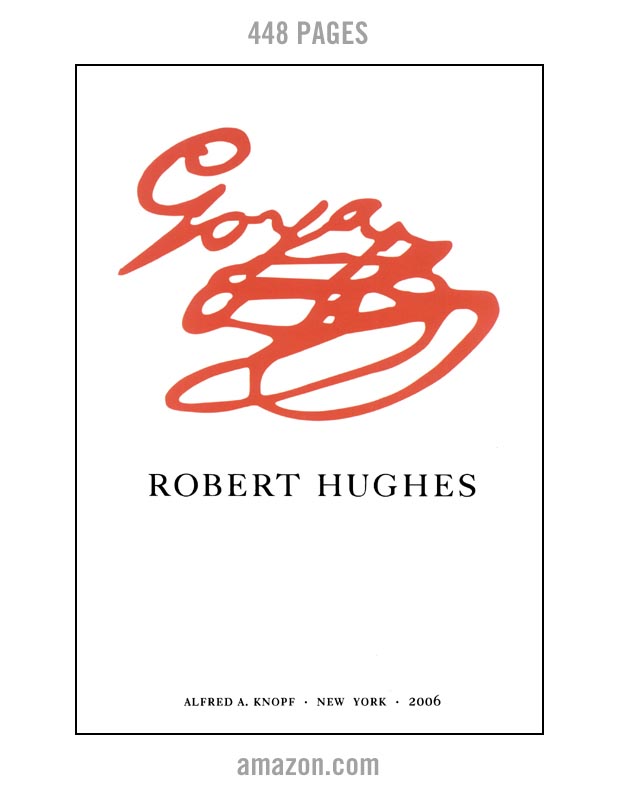 ---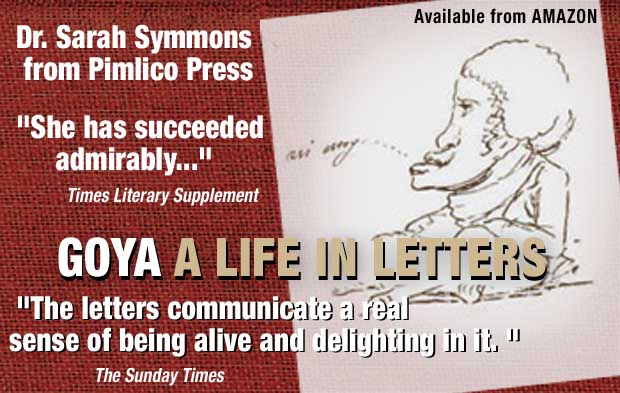 Goya: A Life in Letters
---