Frank Capra 2009
TCM schedules long "Capra Day" on December 7, 2009
Turner Classic Movies will also be running a long list of Capra films throughout December (see schedule below listing the various films).
"DIRIGIBLE" and "FLIGHT" to play on TCM in December; Also other rare Capra silents
Twin aviation films made early in the career of Frank Capra are to be screened on TCM in December. "Dirigible" (1931) and "Flight" (1929) will play on December 14 at 12 midnight and Flight at 1:45 AM. Dirigible has Fay Wray (who later married veteran Capra screenwriter Robert Riskin) and tells the tale of a botched expedition into the Antarctic that results in a dangerous rescue attempt by airship (i.e., a zeppelin). Flight is a silent film that is rarely seen.
Turner Classic Movie Schedule December 2009 - Frank Capra Films

All Times Eastern

7 Monday
10:30 AM
Prelude to War (1943)
The rise of the fascists in Germany and Italy and Japan's growing aggression put the world on the brink of war. Cast: Walter Huston and Anthony Veiller narrate. Dir: Frank Capra, Anatole Litvak. BW-52 mins,
11:30 AM
Nazis Strike, The (1943)
German treaty violations lead to the start of World War II. Cast: Walter Huston and Anthony Veiller narrate. Dir: Frank Capra, Anatole Litvak. BW-42 mins,
12:30 PM
Divide and Conquer (1943)
The Nazis seize control of France and Central Europe. Cast: Walter Huston narrates. Dir: Frank Capra, Anatole Litvak. BW-52 mins,
1:30 PM
Battle of Britain, The (1943)
Great Britain stands against the Nazi war machine. Cast: Walter Huston, Frieda Inescort and Anthny Veiller narrate. Dir: Frank Capra. BW-52 mins,
2:30 PM
Battle of Russia, The (1943)
The Soviet Union fights to freeze out the Nazis during World War II. Cast: Walter Huston narrates. Dir: Frank Capra, Anatole Litvak. BW-83 mins,
4:00 PM
Battle of China, The (1944)
The Chinese army fights to hold off Japanese invaders during World War II. Cast: Walter Huston and Anthony Veiller narrate. Dir: Frank Capra. BW-63 mins,
5:15 PM
War Comes to America (1945)
International events bring the U.S. closer to entering World War II on the eve of Pearl Harbor. Cast: Walter Huston and Lloyd Nolan narrate. Dir: Frank Capra, Anatole Litvak. BW-66 mins,
6:30 PM
Tunisian Victory (1943)
The U.S. Army's Tunisian campaign forces the Germans out of Africa. Cast: Burgess Meredith and Leo Genn narrate. Dir: Frank Capra, Hugh Stewart. BW-76 mins,
8:00 PM
It Happened One Night (1934)
A newspaperman tracks a runaway heiress on a madcap cross-country tour. Cast: Claudette Colbert, Clark Gable, Walter Connolly. Dir: Frank Capra. BW-105 mins, TV-PG, CC
10:00 PM
Mr. Deeds Goes to Town (1936)
When he inherits a fortune, a small-town poet has to deal with the corruption of city life. Cast: Gary Cooper, Jean Arthur, Lionel Stander. Dir: Frank Capra. BW-116 mins, TV-G, CC
12:00 AM
You Can't Take It With You (1938)
A girl from a family of freethinkers falls for the son of a conservative banker. Cast: Jean Arthur, Lionel Barrymore, James Stewart. Dir: Frank Capra. BW-126 mins, TV-G
2:15 AM
Arsenic And Old Lace (1944)
A young man about to be married discovers the two aunts who raised him have been poisoning lonely old men. Cast: Cary Grant, Raymond Massey, Peter Lorre. Dir: Frank Capra. BW-118 mins, TV-G, CC, DVS
4:15 AM
Platinum Blonde (1931)
A heartless heiress seduces a hard-working reporter into a disastrous marriage. Cast: Robert Williams, Loretta Young, Jean Harlow. Dir: Frank Capra. BW-89 mins, TV-G

14 Monday
8:00 PM
Bitter Tea of General Yen, The (1932)
An American missionary falls in love with a Chinese warlord. Cast: Barbara Stanwyck, Nils Asther, Walter Connolly. Dir: Frank Capra. BW-87 mins, TV-PG, CC
9:30 PM
Lost Horizon (1937)
Four fugitives from a Chinese revolution discover a lost world of peace and harmony. Cast: Ronald Colman, H.B. Warner, Thomas Mitchell. Dir: Frank Capra. BW-133 mins, TV-G, CC
12:00 AM
Dirigible (1931)
Romantic rivals vie to be the first to fly to the South Pole. Cast: Jack Holt, Ralph Graves, Fay Wray. Dir: Frank Capra. BW-100 mins, TV-G
1:45 AM
Flight (1929)
A Marine flyer and his flight school mentor fall for the same beautiful nurse. Cast: Jack Holt, Lila Lee, Ralph Graves. Dir: Frank Capra. BW-112 mins, TV-PG
3:45 AM
Younger Generation, The (1929)
A rising businessman tries to make his immigrant parents assimilate. Cast: Jean Hersholt, Lina Basquette, Ricardo Cortez. Dir: Frank Capra. BW-75 mins,
5:15 AM
American Madness (1932)
A banker fights to keep his independence and protect his customers. Cast: Walter Huston, Pat O'Brien, Kay Johnson. Dir: Frank Capra. BW-76 mins, TV-G, CC

21 Monday
8:00 PM
State Of The Union (1948)
A presidential candidate fights to keep his integrity and his wife during a grueling campaign. Cast: Spencer Tracy, Katharine Hepburn, Angela Lansbury. Dir: Frank Capra. BW-122 mins, TV-G
10:15 PM
Mr. Smith Goes to Washington (1939)
An idealistic Senate replacement takes on political corruption. Cast: James Stewart, Jean Arthur, Claude Rains. Dir: Frank Capra. BW-130 mins, TV-G, CC
12:30 AM
Meet John Doe (1941)
A reporter's fraudulent story turns a tramp into a national hero and makes him a pawn of big business. Cast: Gary Cooper, Barbara Stanwyck, Edward Arnold. Dir: Frank Capra. BW-122 mins, TV-G, CC, DVS
2:45 AM
Ladies of Leisure (1930)
A wealthy artist faces family pressure when he falls for a model with a past. Cast: Barbara Stanwyck, Ralph Graves, Lowell Sherman. Dir: Frank Capra. BW-100 mins, TV-PG
4:30 AM
Miracle Woman, The (1931)
A phony faith healer fights the temptation to go straight when she falls for a blind man. Cast: Barbara Stanwyck, David Manners, Beryl Mercer. Dir: Frank Capra. BW-90 mins, TV-PG

22 Tuesday
6:15 AM
Forbidden (1932)
On an ocean voyage, a librarian falls for a married man. Cast: Barbara Stanwyck, Adolphe Menjou, Ralph Bellamy. Dir: Frank Capra. BW-85 mins, TV-G

24 Thursday
3:30 PM
Pocketful of Miracles (1961)
A good-hearted gangster turns an old apple seller into a society matron so she can impress her daughter. Cast: Bette Davis, Glenn Ford, Hope Lange. Dir: Frank Capra. C-137 mins, TV-G, CC, Letterbox Format

28 Monday
8:00 PM
Broadway Bill (1934)
An heiress and her brother-in-law defy her father by going into horse racing. Cast: Warner Baxter, Myrna Loy, Walter Connolly. Dir: Frank Capra. BW-102 mins,
10:00 PM
Riding High (1950)
An heiress and her sister's fiancee defy her family to race horses. Cast: Bing Crosby, Coleen Gray, Charles Bickford. Dir: Frank Capra. BW-112 mins,
12:00 AM
Lady For A Day (1933)
A gangster helps an old apple-vendor pose as a society woman to fool her visiting daughter. Cast: May Robson, Warren William, Guy Kibbee. Dir: Frank Capra. BW-96 mins, TV-G
1:45 AM
Pocketful of Miracles (1961)
A good-hearted gangster turns an old apple seller into a society matron so she can impress her daughter. Cast: Bette Davis, Glenn Ford, Hope Lange. Dir: Frank Capra. C-137 mins, TV-G, CC, Letterbox Format
4:15 AM
Matinee Idol (1928)
While marooned in the country, a Broadway star auditions incognito for the local little theatre. Cast: Johnnie Walker, Bessie Love, Lionel Belmore. Dir: Frank Capra. BW-57 mins, TV-G
5:15 AM
Rain or Shine (1930)
A young woman inherits her father's financially troubled circus. Cast: Joe Cook, Joan Peers, Louise Fazenda. Dir: Frank Capra. BW-88 mins, TV-G
---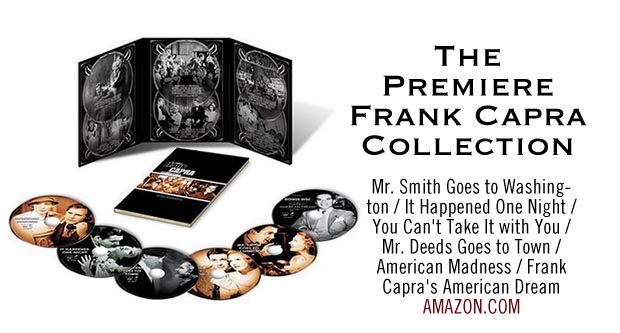 AMAZON: The Premiere Frank Capra Collection (Mr. Smith Goes to Washington / It Happened One Night / You Can't Take It with You / Mr. Deeds Goes to Town / American Madness / Frank Capra's American Dream)
---
---

---