The Bitter Tea of General Yen - 1933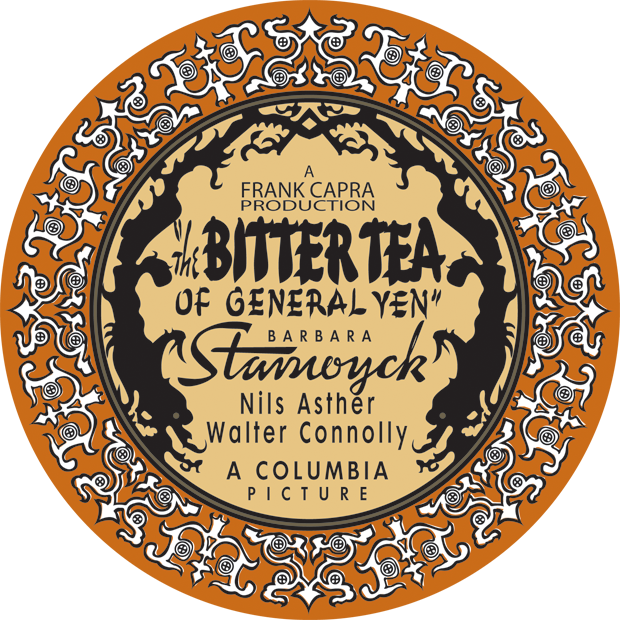 THE BITTER TEA OF GENERAL YEN - 1933
General release date January 6, 1933 at Radio City Music Hall
"It's hard to become acquainted with a man who slaughters helpless prisoners, and then shows such a tender reverence for the beauty of the moon."
"Life at it's best is hardly endurable.."
Megan Davis has come to China to marry a missionary when she is abducted by the outlaw Chinese Warlord General Yen. Separated from the American-enclave that had kept her from the Chinese around her, she is plunged into a culture that is strange, exotic and dangerous. She loaths General Yen, but why does she start dreaming of him at night?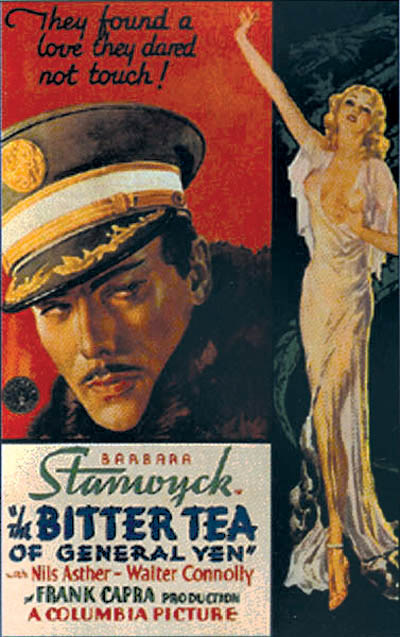 ---
Box Set - Frank Capra: The Early Collection (Ladies of Leisure / Rain or Shine / The Miracle Woman / Forbidden / Bitter Tea of General Yen)
---
FILM NOTES
This film property was originally scheduled to be directed by Herbert Brenon and to star actress Constance Cummings as the missionary woman and Anna May Wong as Mah-Li. Capra also considered actors Leo Carrillo, Leslie Banks and Chester Morris before settling on Nils Asther for the male lead.
"Columbia made some big movies. Occasionally they would entice a Howard Hawks over to direct something worthwhile, and they had Frank Capra, whose films largely accounted for Columbia's rise to the level of respect. Capra made two in 1933: Lady for A Day, a tremendous hit, and The Bitter Tea of General Yen, an unjustly neglected drama, with Barbara Stanwyck and Nils Asher, that deserved better than its fate at the box office; it is what Capra's Lost Horizon should have been." From B Movies by Don Miller, published 1973 Curtis Film Books, page 17.
Because of the interracial theme of the Chinese bandit and the American missionary woman falling in love, there was a great deal of protest from some groups at the time of the films release. Joseph McBride's Frank Capra: The Catastrophe of Success quotes Barbara Stanwyck as saying:
"The women's clubs came out very strongly against it, because the white woman was in love with the yellow man and kissed his hand. So what! I was so shocked [by the reaction]. It never occurred to me, and I don't think it occurred to Mr. Capra when we were doing it. I accepted it, believed in it, loved it." (McBride, page 281)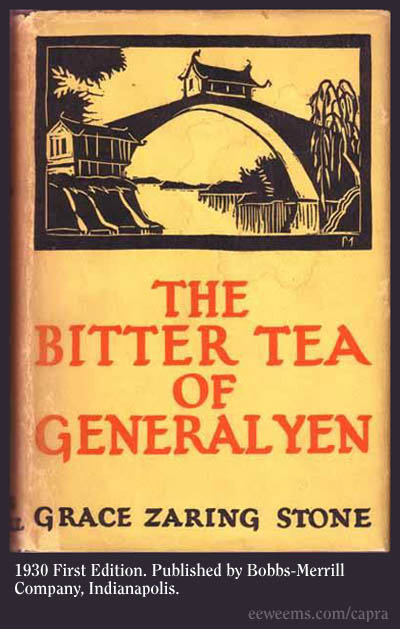 The script for The Bitter Tea of General Yen is by Edward Paramore, based on the novel by Grace Zaring Stone published in 1930 by the Bobbs-Merrill Company. Stone's ending has the General dying while assisting Megan to escape from bandits.The Capra ending, however, builds upon not just the sudden reversal of fortune for the General, but also the impossible situation he has found himself in by falling in love with the white missionary girl. His palace abandoned by his servants who no longer fear him, he is left to equip himself for suicide, selecting a poison from a drawer of small ceramic capsules kept on a velvet tray. The melodrama of the screenplay hints that Yen is seeking a world where, as the character in the film puts it, "There isn't a General Yen or Megan Davis, but just you and me."
"Despite its dangerous theme of miscegenation and the problems attached to any film that represented the Chinese, The Bitter Tea of General Yen underwent only minor alterations to produce a version acceptable to the Chinese charge d'affaires in Washington. The SRC ["Studio Relations Committee"] argued that 'the story is in fact a eulogy of the Chinese philosophy, fair dealing, morality and graciousness." (Quoted by Richard Maltby in his essay "It Happened One Night" in Frank Capra: Authorship and the Studio System, page 134. See bibliography for further information about this book.)
Toshia Mori, who plays General Yen's Chinese mistress Mah-Li, becomes the pawn between General Yen and Megan, as they duel to see which philosophy (or religion) is true. General Yen is certain that all of Megan's talk of kindness, happiness and love are empty, though he admits he wishes it were true, at least for as long as Megan will repeat it to him. He gives Mah-Li to Megan instead of slaying the woman after she has betrayed him up with one of his officers. Yen's real philosophy is of armed power, suspicion and obedience to the traditions of his culture. Later, when Mah-Li (Mori) has betrayed him again (via Megan's naive beliefs in Mah-Li's Christian conversion), it is Megan who must accept a grim and terrible truth. How the two resolve this conflict makes for the films unusual end, and the movie's title.
Frank Capra on The Bitter Tea of General Yen:

"I wanted an Academy Award very badly. I thought I was as good or better than the other guys. I had never had any worries about thinking I was good at all. This cockiness I had as a kid just stuck with me and I'm still cocky. And anyhow, coming in second is not better than coming in last, as far as I'm concerned. I wanted to get out there in front. I wanted to win one of these Academy Awards for directing. It became an obsession; all ambitious people, all nutty people think that way. I'd seen how the Academy voted – they voted for art; they didn't vote for comedy. They didn't vote for this kind of junk I'm making. So I thought, What the hell, I'll give them art. And I took on The Bitter Tea of General Yen, which is a story about miscegenation between a Chinese warlord and an American missionary. But I fell in love with the story, too. And I think I made a very fine picture out of it. I loved the film myself. It had a quality of honesty between these people.

The warlord said all the things that needed to be said about miscegenation, about racism. And I felt that this woman had depth enough to understand. She was so bigoted [at first]. And this reformation of this character from a bigot to one who could love anybody – why, this was an honest story to me.

But no Academy Award."


(From the Frank Capra chapter in Richard Schickel's
book The Men Who Made the Movies, page 70.
Published by Atheneum, 1975, New York.)
When the movie was brought up for reissue in 1950, Production Code Administration Director Joseph I. Breen said "it would be well if the company [Columbia] would drop its plans to reissue this picture. ...Probably the most objectionable characterization is that of the American financial advisor to the General, played by Walter Connolly. He is a completely unscrupulous character without morals or ethics. This does not seem to be a good portrayal of an American in the Orient to be circulated at this time."
"It is... significant that, when Cohn yielded to Capra's continual pleas to tackle more ambitious projects, the results were disastrous. This occurred on two occasions, with the Bitter Tea of General Yen in 1933 and Lost Horizon in 1937, two lavish, costly, and high-minded costume dramas designed to compete more aggressively in the high stakes prestige market. Such projects were inevitable, perhaps, given Capra's and Cohn's ambitions. But both pictures fared poorly commercially and critically, and on each occasion the Capra unit reverted to screwball comedies that it knew best, with It Happened One Night in 1934 and You Can't Take it with You in 1938, two of Columbia's biggest hits of the decade."


(From the Thomas Schatz essay
"Anatomy of a House Director," in
Frank Capra: Authorship and the Studio System,
page 26. See bibliography for further information on this volume.)
"The Bitter Tea of General Yen is the oddest, least characteristic talkie effort of director Frank Capra. Barbara Stanwyck stars as the intended of an American missionary (Gavin Gordon) who is sent to spread the good word in China. During a military revolution, Stanwyck and her fiance inadvertently wander into forbidden territory while trying to help a group of orphans escape. The couple is forcibly detained by elegant warlord General Yen (played by Swedish actor Nils Ashter), who relies upon the financial advice of drunken American expatriate Walter Connolly. Yen is overcome with desire at the sight of Stanwyck; at first repulsed by his attentions, Stanwyck finds herself strangely drawn to the charismatic oriental." – From a review at nytimes.com
"I don't believe a word you say, but when you say things like that, I forget I am General Yen." Swedish actor Nils Asther's tall, elegant Chinese warlord and his suicidal impulse to please (and love) the almost-attainable American missionary woman played by Barbara Stanwyck.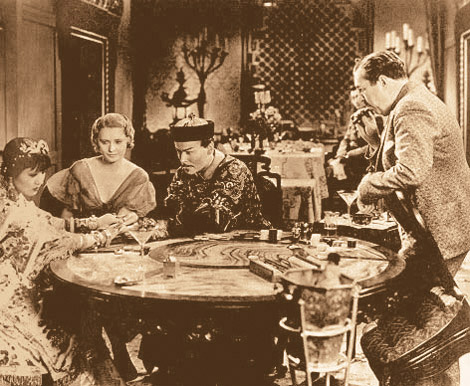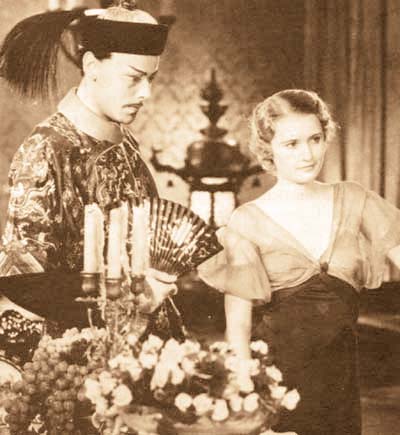 THE BITTER TEA OF GENERAL YEN
1933
Directed by Frank Capra
Assistant Director C. C. Coleman
Gene Lewis participated in dialogue reshoots
Producer Walter Wanger
General release date January 6, 1933 at Radio City Music Hall
(Joseph McBride's book on Capra states the release date was January 11, 1933)
Production from July 7, 1932 until August 15, 1932
Filmed in the San Fernando Valley, California.
(The sets were reused for One Night of Love in 1934 at Columbia. )
Filmed in Black and White
Based on the novel The Bitter Tea of General Yen by Grace Zaring Stone
(Published by Bobbs-Merrill Company, Indianapolis, 1930)
Written for the screen by Edward Paramore
Western Electric Sound System (Mono track)
Sound Engineer E. L. Bernds
Original length listed as 87-89 minutes,
the DVD release (part of the Stanwck DVD box set, title not available individually)
lists the film as being 83 minutes long.
9 reel movie, 8,105 feet of film
Cinematography by Joseph Walker
Editing by Edward Curtis
Music by W. Franke Harling
Costumes by Edward Stevenson and Robert Kalloch

Columbia Pictures
Production company by Harry Cohn and Frank Capra
CAST

Barbara Stanwyck
Nils Asther
Toshia Mori
Walter Connolly
Gavin Gordon
Lucien Littlefield
Richard Loo
Helen Jerome Eddy
Emmett Corrigan
Clara Blandick
Moy Ming
Robert Wayne
Knute Erickson
Ella Hall
Nora Cecil
Robert Bolder
Lillianne Leighton
Harriet Lorraine
Martha Mattox
Arthur Millett
Miller Newman
Arthur Johnson
Jessie Perry
Jessie Arnold
Adda Gleason
Daisy Robinson
Doris Llewelyn
Willie Fung
Ray Young
Milton Lee

Megan Davis
General Yen
Mah-Li
Jones
Dr. Robert Strike]
Mr. Willis Jackson
Captain Li
Miss Reed
Bishop Harkness
Mrs. Jackson
MDr. Lin
Rev. Bostwick
Dr. Hansen
Mrs. Hansen
Missionary
Missionary
Missionary
Missionary
Miss Avery
Mr. Pettis
Dr. Mott
Dr. Shuler
Miss Reid
Mrs. Blake
Mrs. Bowman
Mrs. Warden
Mrs. Meigs
Prisoner/Soldier
Engineer
Telegrapher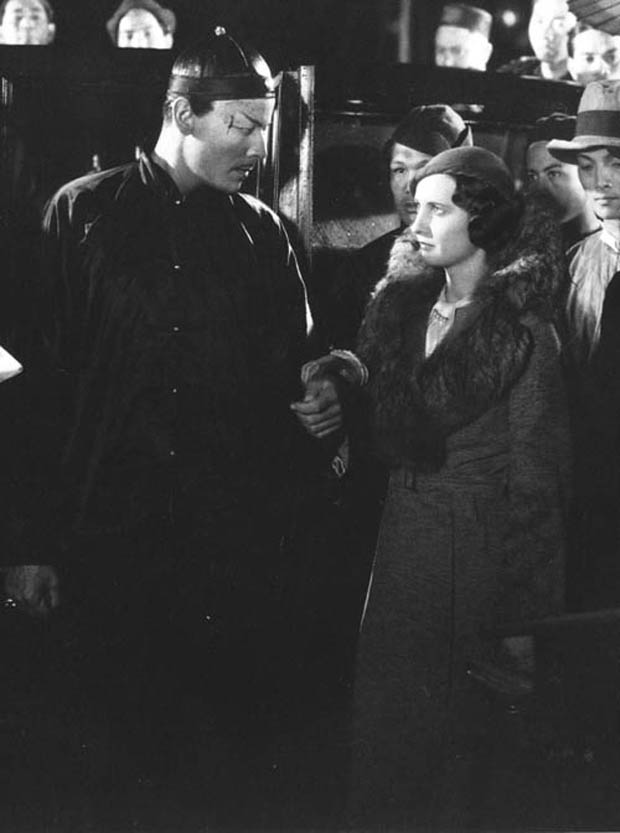 Links:
Page about Barbara Stanwcyk at Cinemagraphe
---
DVD OR VHS AVAILABILITY:
Frank Capra: The Early Collection (Ladies of Leisure / Rain or Shine / The Miracle Woman / Forbidden / Bitter Tea of General Yen) - AMAZON BOX SET
General Yen is part of the box set "Frank Capra the Early Collection" - Amazon.com
As of September, 2007, I know of only one VHS and two DVD issues of The Bitter Tea of General Yen, they are;
• There is a 1997 VHS tape issue (listed as 78 minute running time) still available from amazon.com for approx. US $7.00 HERE
• The Barbara Stanwyck DVD box set for sale in the United Kingdom. This is not a United States (region 1) but a European "region 2" PAL DVD. The box set includes these films: The Miracle Woman (1931), The Bitter Tea of General Yen (1933), Golden Boy (1939), The Lady Eve (1941), Double Indemnity (1944), and All I Desire (1953). It lists for £42.48 at the UK Amazon HERE.
• The Barbara Stanwyck DVD box set for sale in Germany. This set seems identical to the UK box set. It lists for 82.99 Euros at the German Amazon HERE.
(Note: I have head a rumour - - February 2007 - - that Columbia Tristar has General Yen on it's list for DVD production in 2008.)
---
News - March 23, 2007
Stanford Theatre shows Capra's "General Yen"
The beautifully restored "Golden Age of Hollywood" Stanford Theatre in Palo Alto, California, ran Capra's "The Bitter Tea of General Yen" recently. The North California metroactive web site ran a short review of the film:
"The Bitter Tea of General Yen: Barbara Stanwyck plays the fiancee of a missionary and finds herself captivated—in both senses of the word—by an Oxford-educated warlord (Nils Asther). The then-unthinkable romance between a Chinese man and a European woman made the film notorious; director Frank Capra even claimed that it was banned in England. It wasn't, writes Capra biographer Joseph McBride (The Catastrophe of Success), but the racist reaction to Bitter Tea can't be exaggerated: Variety noted, "Seeing a Chinaman attempting to romance with a pretty and supposedly decent young American white woman is bound to evoke adverse reaction." It's the best Von Sternberg movie Von Sternberg never made, and so very unlike Capra because of its sexuality."
The Standford Theatre Web Site is here.
---
More info coming
---
Original page 2003 | Updated April 2013
---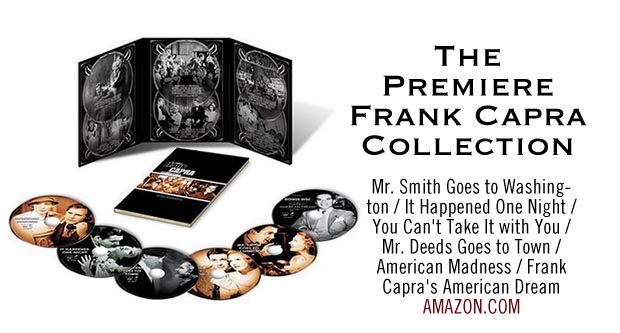 AMAZON: The Premiere Frank Capra Collection (Mr. Smith Goes to Washington / It Happened One Night / You Can't Take It with You / Mr. Deeds Goes to Town / American Madness / Frank Capra's American Dream)
---
---

---