Mr Smith Goes to Washington 1939
"You're not a Senator. You're just an honorary stooge."
Jimmy Stewart and Jean Arthur
Jefferson Smith is sent to Washington DC to fill out the term for a deceased Senator. Idealistic and naively sure of the honesty of his fellow congressmen, he discovers himself caught in a web involving graft, perjury, and other political misdeeds. He receives an education in American politics he didn't expect, and enemies and allies in surprising places.
---
DVD availability:
Mr Smith Goes to Washington DVD from amazon.com
Mr. Smith is also part of the Frank Capra 5-film box set at amazon.com
---
Runtime:
Two runtime versions are known to exist: 125 and 130 mins.
(The Columbia DVD release from 2000 lists at 129 minutes.)
11,868 feet of film, 13 reels.
Filmed in Black and White
Sound by Western Electric Mirrophonic Recording (mono track)
Release Date:
October 19, 1939
Premiere in Washington, D.C. premiere on October 17,1939
Production between April 3, 1939 and July 7, 1939
Music by:
M. W. Stoloff - Music Director
Music score by Dimitri Tiomkin
---
MR. SMITH GOES TO WASHINGTON [1939]
Alternatingly called "The Gentleman from Montana" or "The Gentleman from Wyoming" when originally written by Lewis R. Foster, the story was purchased by Columbia as a film for actor Ralph Bellamy. Columbia secured the rights for Capra as a possible sequel to Mr. Deeds Goes to Town. As the project progressed, titles also changed, going from Mr. Deeds Goes to Washington with Gary Cooper to finally Mr. Smith after Jimmy Stewart was attached (Cooper being unavailable, Stewart had to be borrowed from MGM).
Joseph I. Breen, who ran the self-directed censorship system set up by the Hollywood studios, was against the film being made when story treatments were submitted in January 1938.
"...we would urge most earnestly that you take serious counsel before embarking on the production of any motion picture based on this story. It looks to us like one that might well be loaded with dynamite, both for the motion picture industry, and for the country at large." (From the MPAA/PCA Collection of the Academy of Motion Picture Arts and Sciences Library.)"
Capra travelled to Washington, D.C. with writer Sidney Buckman to film scenery material and obtain information on the actual Senate Chamber for replication at full scale at the Columbia lot. A former superintendent of the Senate press gallery named James D. Preston became Capra's technical advisor for the film's representation of the U.S. Senate.
Jean Arthur was first choice for casting as the secretary who lends her crucial street-wise experience with Washington insider politics in DC to Senator Smith.
During the pre-production haggling over Mr. Smith, Capra tried unsuccesfully trying to to be named director of David O. Selznick's Gone With the Wind. Columbia considered other directors for Mr. Smith.
Robert Riskin, who had penned many of the earlier Capra films, did not work on this film because he had moved on to M-G-M for a five-fold increase in pay. Years later he would quit M-G-M and join up with Capra for for he and Capra's independent effort Meet John Doe (1941).
Although Sidney Buchman and Lewis Foster are credited onscreen as the writers for Mr. Smith, both long-time Capra employee Myles Connolly and Capra himself performed rewrite duties. Particularly, the relationship between Senator Paine and Joe Smith were modeled by Capra's writing contributions. Capra also rewrote the late-night scene of Joe Smith at the Lincoln memorial, weeping over his discovery of the degree of corruption he had tripped over. Also significantly affecting the film that was made, Sidney Buchman, (who was the chief screenwriter), fought against the Capra rewrites in which Paine attempts suicide, but Capra did not relent and kept this pivitol action in the story climax. (See Joseph McBride's book Frank Capra: The Catastrophe of Success for a complete telling of the development of Mr. Smith. Our page on the book is here.)
The Boy Scouts of America objected to the use of their name in the film, hence Capra changed the children's group that helps Smith during his Senate filibuster to "Boy Rangers."
Nazi Germany invaded Poland, sparking the Second World War (in Europe) in September, 1939, which was when Capra was in the midst of editing Mr. Smith. Although traditionally Republican in his private politics, Capra was vocally in favour of FDR's interventionist policies in combating fascism abroad and tendencies at home. This aspect of Capra's perspective became therefore more developed in Mr. Smith (and obvious in films like Meet John Doe.)
The film can be seen a number of ways. For Senator Pain, "The White Knight," it is a tragedy ending in disgrace. For Miss Saunders, Joe Smith's secretary, it is a revenge on the political system that had dissapointed her and created a deep cynicism. Without Saunders, Smith is helpless, but with her engineering the strategy, fights successfully to success, along with Senator Paine's capitulation to simple morals.
Classic film director Howard Hawks assisted Capra with the the drunk scene between Jean Arthur and Thomas Mitchell at the National Press Club. Hawks is best known for his screwball films Bringing Up Baby, His Girl Friday, Humphrey Bogart films like To Have and Have Not, The Big Sleep, and Westerns like Rio Bravo and Rio Lobo.
Mr. Smith completed shooting on July 7, 1939. Shooting ran eight days over schedule and cost $1,963,354. (See Joseph McBride's book Frank Capra: The Catastrophe of Success for an analysis of the films technical record. Our page on the book is here.)
After the film opened, trouble began for Mr. Smith. The Chicago Tribune newspaper condemned the film, which was then repeated by other papers. Senate Majority Leader Barkley commented at a press conference that the film was "grotesque." Other Congressmen condemned the film for describing the legislators as nominally corrupt. The film was, however, very popular and boosted Columbia's profits for the year to its highest point for the 1930s.
"Some things are just too "American-dream-ish," from the black and the Jew who both arrive simultaneously to pay tribute to the Lincoln Monument, to the pastiche of music that Tiomkin has orchestrated (or rather compiled, certainly it could not be called composed), ranging from "Yankee Doodle" through "Bury Me Not on the Lone Prarie," "My Darling Clementine," "Jeanie with the Light Brown Hair" and "Red River Valley" - and even including six bars of the National Anthem. There is an awful lot of flag waving in this film, though it is done earnestly in the days before people knew any better and probably still believed that government of and by the people wasn't going to perish.

Harry Carey as President of the Senate is allowed to walk off with the picture. With only a few words to say. He carries his role with facial responses that are endearing and difficult. It is small wonder after seeing him in this role that directors sought him out for years, and that John Ford dedicated Three Godfathers to him, calling him 'one of the stars of the firmaments.'"

(G. Dane Wilsonne, Kit Parker Film Catalog, 1978-1979, page 42)
---
CAST
Jean Arthur
James Stewart
Claude Rains
Edward Arnold
Guy Kibbee
Thomas Mitchell
Eugene Pallette
Beulah Bondi
H.B. Warner
Harry Carey
Astrid Allwyn
Ruth Donnelly
Grant Mitchell
Porter Hall
Pierre Watkin
Charles Lane
William Demarest
Dick Elliott
Billy Watson
Delmar Watson
Johnny Russell
Harry Watson
Garry Watson
Larry Simms
H.V. Kaltenborn
Erville Alderson
Stanley Andrews
William Arnold
Sam Ash
Edwin August
Frank Austin
Harry A. Bailey
Wade Boteler
Ed Brewer
Al Bridge
Harlan Briggs
Tommy Bupp
Frederick Burton
Ken Carpenter
Jack Carson
Burr Caruth
Maurice Cass
Allan Cavan
Eddy Chandler
George Chandler
Dora Clement
Edmund Cobb
Dorothy Comingore
Hal Cooke
George Cooper
Jack Cooper
Nick Copeland
Anne Cornwall
Gino Corrado
Maurice Costello
Alec Craig
Beatrice Curtis
Dulcie Day
Vernon Dent
Clyde Dilson
Neal Dodd
Ann Doran
Helen Jerome Eddy
Jack Egan
Douglas Evans
Eddie Fetherston
Mabel Forrest
Byron Foulger
Michael Gale
Jack Gardner
Frances Gifford
June Gittelson
Mary Gordon
Lorna Gray
Harry Hayden
Louis Jean Heydt
Olaf Hytten
John Ince
Lloyd Ingraham
Frank Jaquet
Dickie Jones
Eddie Kane
Robert Emmett Keane
Donald Kerr
Milton Kibbee
Joe King
Evalyn Knapp
Wright Kramer
Vera Lewis
Arthur Loft
Hank Mann
Margaret Mann
Philo McCullough
Matt McHugh
George McKay
Lafe McKee
James McNamara
Robert Middlemass
James Millican
Charles R. Moore
Gene Morgan
William Newell
Alex Novinsky
Frank O'Connor
Frank Puglia
Ed Randolph
Jack Richardson
Russell Simpson
Walter Soderling
Harry Stafford
Wyndham Standing
Paul Stanton
Count Stefenelli
Robert Sterling
Craig Stevens
Carl Stockdale
Dub Taylor
Ferris Taylor
Arthur Thalasso
Fred "Snowflake" Toones
Victor Travers
Laura Treadwell
John Tyrrell
Robert Walker
Myonne Walsh
Lloyd Whitlock
Dave Willock
Florence Wix

Clarissa Saunders
Jefferson Smith
Sen. Joseph Harrison Paine
Jim Taylor
Gov. Hubert 'Happy' Hopper
Diz Moore
Chick McGann
Ma Smith
Sen. Agnew
President of the Senate
Susan Paine
Emma Hopper
Sen. MacPherson
Sen. Monroe
Sen. Barnes
Nosey newsman
Bill Griffith
Carl Cook (at station)
Peter Hopper
Jimmie Hopper
Otis Hopper
Hopper boy
Hopper boy
Hopper boy
Himself
Handwriting expert
Sen. Hodges
Reporter
Sen. Lancaster
Senator
Inventor at Smith's office door
Sen. Hammett
Family man
Senate reporter
Sen. Dwight
Mr. Edwards
Boy cheering for Smith in meeting
Sen. Dearhorn
Announcer
Sweeney Farrell
Townsend
Handwriting expert
Ragner
Reporter
Reporter
Mrs. McGann
Sen. Gower
Woman
Reporter
Waiter
Photographer
Senate reporter
Senate reporter
Barber
Diggs (newsman)
Speaker
Paine's secretary
Senate reporter
Senate reporter
Reporter
Senate chaplain
Paine's secretary
Paine's secretary
Reporter
Francis Scott Key
Senate reporter
Senate reporter
Hopper's secretary
Senate reporter
Reporter
Hopper girl
Woman
Woman
Woman
Speaker
Soapbox speaker
Hopper's butler
Sen. Fernwick
Committeeman
Sen. Byron
Pageboy Richard Jones
Reporter
Editor
Reporter
Senate reporter
Summers
Reporter
Sen. Carlton
Mrs. Edwards
Chief clerk
Photographer
Nun with cheering orphan boys
Sen. Albert
Reporter
Reporter
Civil War veteran at Lincoln Memorial
Reporter
Speaker
Senate reporter
Porter
Reporter
Reporter
Foreign diplomat
Sen. Alfred
Handwriting expert
Senate reporter
Sen. Manchester
Kenneth Allen
Sen. Pickett
Sen. Atwater
Sen. Ashman
Flood (newsman)
Foreign diplomat
Bit Role
Senate reporter
Sen. Burdette
Reporter
Sen. Carlisle
Doorman
Porter
Sen. Grainger
Mrs. Taylor
Sen. Holland
Jane Hopper
Schultz (newsman)
Senate Guard
Committeewoman
---
Original page 1998 | Updated April 2013
---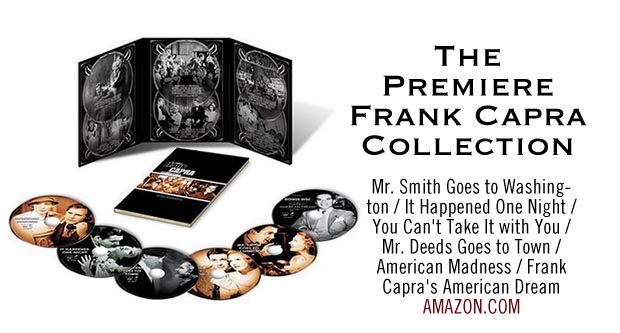 AMAZON: The Premiere Frank Capra Collection (Mr. Smith Goes to Washington / It Happened One Night / You Can't Take It with You / Mr. Deeds Goes to Town / American Madness / Frank Capra's American Dream)
---
---

---