Lady for a Day - 1933
"Listen fellas, I don't wanna get tough with you, but we gotta go through with it. It's not for me, nobodies going to get anything out of it... It's for Apple Annie, she's in a tough spot and its up to us to give her a break."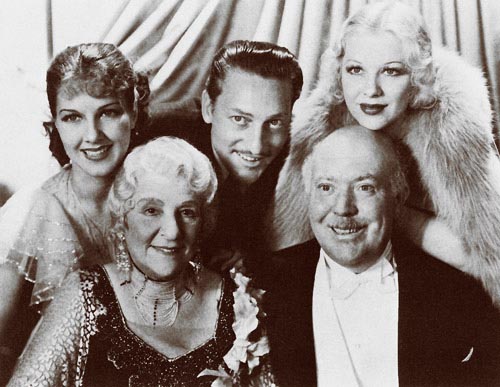 [ABOVE: The cast of Lady for A Day: Jean Parker, Warren William, Glenda Farrell, May Robson, and Guy Kibbee]
"Apple Annie" is a near destitute street peddler who has invented the false identity of a wealthy matron of high society in letters to her daughter who has been raised in Spain. The ruse is threatened when the daughter becomes engaged to a Spanish nobleman's son, and his family insists upon meeting the daughter's family prior to the nuptials. When Annie learns they are all coming from Spain to visit her, she becomes near-suicidal until "Dave the Dude," her dubious crime-boss benefactor, finds her. Dave is a local racketeer with a superstitious sense of responsibility for Annie's welfare, convinced that buying her apples has been what maintains his good luck in the various underworld schemes he manages. He enlists his criminal associates in a plot to fool the soon-to-arrive nobleman, son and daughter, by dressing up his cronies and rehearsing them on proper etiquette. He puts Annie into a luxury apartment, equips her with a respectable husband (actually a local pool shark) named Judge E. Worthington Mansville. But the scheme goes an unexpected path when Annie becomes more than convincing as a dignified and maternal woman.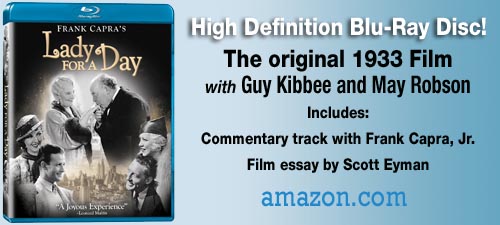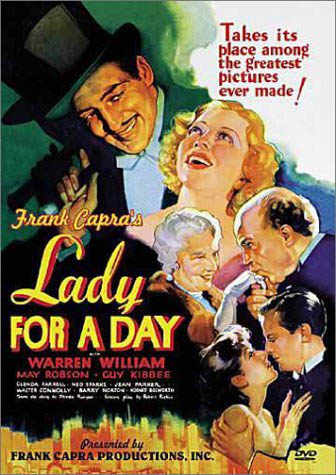 LADY FOR A DAY
1933

(Alternative titles used for this film during production were:

"Apple Annie," "Beggar's Holiday," and "Madam La Gimp")

Based on the short story "Madame La Gimp" written by Damon Runyon
published in Hearst's International-Cosmopolitan (Oct 1929).

Production at Columbia Studios between May 9 - June 6, 1933
Premiered in New York City September 7, 1933
General release on September 13, 1933

Filmed in black and white
Western Electric Noiseless Recording

Versions:

Lengths listed at 88, 93 and 102 minutes
(Note: the DVD from Image Entertainment is a 92 minute version)

(Note: The British Film Institute lists the film at only 83 minutes)

Film footage 10 reels

Columbia Pictures Corporation, Harry Cohn Producer

4 Academy Awards (Oscar) Nominations:
Best Actress: May Robson
Best Director: Frank Capra
Best Adapted Screenplay: Robert Riskin
Best Picture
---
DVD AVAILABILITY:
The DVD version available from Image Entertainment has some complaints about print quality. The 2001 single disk is called a "restored" version with a commentary track with Frank Capra Jr. (Available approx. $21.99 new from amazon.com)
Originally Columbia tried to obtain William Powell for the part of Dave the Dude, but instead finally settled on Warren William who was loaned to the production from Warner Brothers. Capra wanted Marie Dressler (who was featured in the big box-office success of 1932's Dinner at Eight) for "Apple Annie" but as she was one of the biggest star attractions of the early 30s, this request went nowhere. Warner's also allowed Guy Kibbee and Glenda Farrell, and M-G-M loaned out May Robson, Walter Connolly and Jean Parker to fill out the cast. Capra's other unrealized "dream cast" hopes were Robert Montgomery, James Cagney and W.C. Fields for "Judge" Blake.
Columbia writer Robert Riskin (who worked on the 1931 Platinum Blonde film with Capra) suggested the script to Capra as a project. Riskin wrote four drafts, and according to Joseph McBride's Capra book, the script for Lady for A Day has the fewest number of alterations between script and final finished film. The film also heralded the beginning of Capra and Riskin's unique working relationship:
"...Riskin was for many years to work closely with Capra throughout each of the latter's films, from initial conception to final cutting, with no interference whatever from the heads Columbia. They were, and remain, a writer-director team unique in the history of Hollywood for perfect collaboration and complete independence of supervision." (Page 17, "Frank Capra" by Frank Giffith, British Film Institute New Index Series, No. 3, 1950)
In the book Six Screenplays of Robert Riskin, Editor Pat McGilligan writes that Damen Runyon (who wrote the original short story Lady for A Day is based on) telegraphed Riskin after seeing the film, and praised him for keeping his story intact while elaborating on the characters and adding more to the tale.
The film did quite well at the box office, accumulating approximately $600,000, and Columbia rushed out a pseudo-sequel Lady by Choice in 1934, with Carole Lombard and directed by David Burton.
Like several other Capra films, Lady for A Day is a motion picture that was almost "lost" due to the negatives decaying. Other Capra films that are also missing portions of their original negatives are It Happened One Night, Broadway Bill, and Lost Horizon. Capra films that are considered lost, or partially lost, are For the Love of Mike, The Matinee Idol, The Power of the Press, That Certain Thing, So This is Love, and The Way of the Strong.
In McBride's book, he describes that the original opening shots in Lady for A Day showed a statue of a woman being found in the city dump. Harry Foster, who worked at the Columbia New York office, sent a message to Harry Cohn (and Capra) that this opening scene slowed down the start. Foster was then sent to the film studios in California, where he talked with Cohn and Capra, and Capra recut the already finished work on Lady for A Day to begin as the film is seen today, with Annie selling her apples in the street.
[Below: May Robson and Glenda Farrell from Lady for a Day.]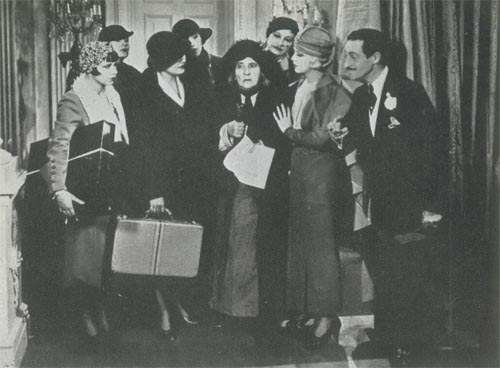 In the film, Dave the Dude's girlfriend was played by Glenda Farrell - who was at that time Robert Riskin's girlfriend.
Capra remade Lady for A Day with Bette Davis and Glenn Ford in 1961 as Pocketful of Miracle.
On May 1, 1939, May Robson and Jean Parker performed a radio version of Lady for a Day for Lux Radio Theater.
Martial arts comedy star Jackie Chan (loosely) remade Lady for A Day in 1989 under the title Qiji (USA title "Mr. Canton and Lady Rose").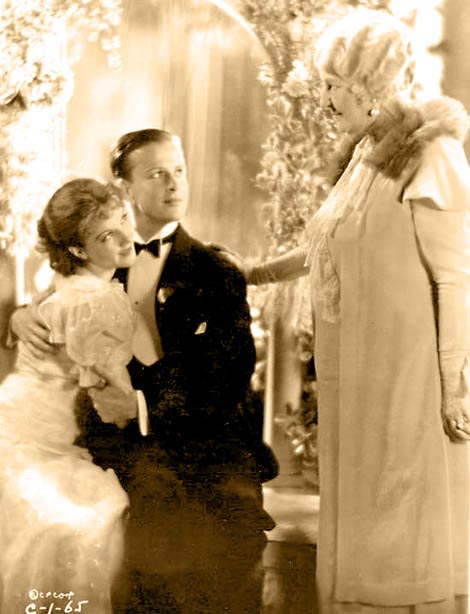 LADY FOR A DAY
1933
Produced and Directed by Frank Capra.
Screenplay and Dialogue by Robert Riskin,
from the story "Madame La Gimp" by Damen Runyon.
Film Editor: Gene Havlick.
Asst Director: Charles C. Coleman
Filmed at the Columbia/Sunset Gower Studios -
1438 N. Gower Street,
Hollywood, Los Angeles,
California, USA
Production Dates:
May 9, 1933 to June 6, 1933
Sound by Western Electric Noiseless Recording
Engineer: E. L. Bernds, Assistant Engineer Buster Libbitt
Musical Director: Bakaleinikoff.
Cinematography: Joseph Walker
Camera Operator: André Barlatier
Assistant Camera: George Kelly
Assistant Camera: Michael Walsh
Art Direction by Stephen Goosson
Costumes and Wardrobe by Robert Kalloch
Chief electrician: George Hager
Grip: Jimmy Lloyd
Propman: George Rhein
Still Photography by William Fraker Jr.
Press Promotion by George Brown
Released on September 13, 1933
Premiered in New York on September 7, 1933
Film length (Three versions) 88 min, 93 minor 102 min. in 10 reels
(The DVD version released in 2001 lists at 96 minutes.)
CAST:
Warren William
May Robson
Guy Kibbee
Glenda Farrell
Ned Sparks
Walter Connolly
Jean Parker
Nat Pendleton
Barry Norton
Hobart Bosworth
Robert Emmett O'Connor
Halliwell Hobbes
Irving Bacon
Samuel S. Hinds
Ward Bond

Dave the Dude
Apple Annie
Judge Henry D. Blake
Missouri Martin
Happy McGuire
Count Romero
Louise
Shakespeare
Romero
Governor
Inspector MacCreary
John the butler
Pool hall dupe
Mayor
Mounted policeman
---
Sources:
Books: SIX SCREENPLAYS BY ROBERT RISKIN and Joseph McBride's; FRANK CAPRA: THE CATASTROPHE OF SUCCESS read about these books, go here.
Notes about the 2001 DVD version of the film:
Format: Black & White, NTSC
Language: English
Region: Region 1 (U.S. and Canada only.)
Aspect Ratio: 1.33:1
Number of discs: 1
Studio: Image Entertainment
DVD Release Date: October 23, 2001
Run Time: 96 minutes
DVD Features:
English (Dolby Digital 1.0)
Commentary by: Frank Capra Jr.
---
A review of Lady for A Day at Cinemagraphe
---
DVD AVAILABILITY
Lady for a Day on Blu Ray disc amazon.com
Standard DVD being released, amazon.com
---
More info coming
---
Original page 2001 | Updated April 2013
---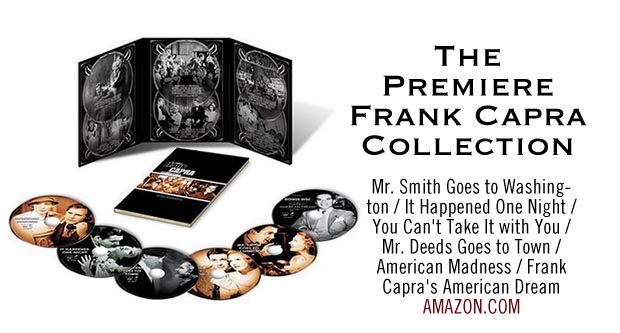 AMAZON: The Premiere Frank Capra Collection (Mr. Smith Goes to Washington / It Happened One Night / You Can't Take It with You / Mr. Deeds Goes to Town / American Madness / Frank Capra's American Dream)
---
---

---