The Catastrophe of Success - Frank Capra
Book Review
---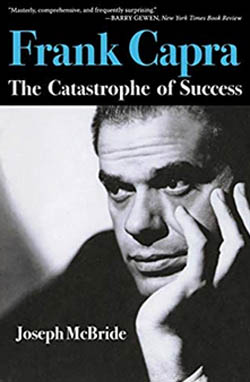 The Catastrophe of Success
By Joseph McBride
Published by
St. Martin's Griffin, 2000
New York City
799 pages, illustrated
ISBN: 0312263244 (paperback)
Purchase from amazon.com Frank Capra: The Catastrophe of Success
There is nothing quite like this angry book in the stacks of Capra literature that is available. McBride spends 650 pages narrating Capra's life and work, and then has 150 pages of notes and bibliography. He dissects Capra several ways, debunking Capra's autobiography The Name Above the Title, using some Freudian psychological analysis, and some flat-out guessing on the motivations of Capra who struggled from nothing to become one of the most successful moviemakers in all of Hollywood, only to have that career erode with self-doubt and events beyond his control.
There is a sourness about Capra in the book, specifically in vignette stories (of which there seem to be dozens) in which Capra boasts of his creative works at the expense of some other person, especially screenwriter Robert Riskin, who worked on most of Capra's most famous movies. McBride's angle of attack is one part just letting Capra's quotes add up to (apparently) obvious revelations about the man's character, and then one part piecing together a general biography culled from Capra's Hollywood history. The details are many and the amount of research that goes into every page is more than impressive, it's a staggering number of minor items that in the end creates an entire portrait. Intended or not, though, McBride's Catastrophe of Success is the Dorian Gray reverse to Capra's famous autobiography of some 20 years previous. Is this book an "attack" on Capra? And is it even a true picture of Capra?
McBride had access to Capra in his declining years, and the reported conversations are sad, funny and revealing. Like Orson Welles speaking of Faust, McBride seems to have human sympathy for Capra, but not moral sympathy. I don't know if this is a limitation. I know that McBride's book drives some Capra fans to apoplexy of outrage.
The book is well-written and engaging as both history and as a story. There are enough quotes from other Hollywood luminaries: John Huston, Barbara Stanwyck, Jimmy Stewart, and so forth, that Capra is shown as one of the main figures of the era called Hollywood's "Golden Age."
As much as McBride has pulled Capra apart into pieces, though, those pieces all put back together do not account for how Capra was able to make so many of those famous movies (Robert Riskin was hardly on hand for all of them). It is as if there are (at least) two "Frank Capra's," but McBride only had access to the one, and it makes for a distorted and mysterious view of the other Capra.
Purchase Frank Capra: The Catastrophe of Success
---

"...there are those who feel no affection toward the object of their inquiry, such as Capra's biographer, Joseph McBride. Any counter-reading of Capra must come to grips with McBride's volume because of the depth of the work, the fact that it as the first biography published after Capra's death, and the necessity to distinguish one's own position from that of the author."

"Above all, McBride's biography seems to be a systematic personal attack on the director."

"Capra, according to McBride, suffered a manic-depressive crisis typical of the postsuccess phase: 'Capra had schemed and sweated since childhood for the fame that was now his... but when it came, it left him feeling strangely unworthy.'"
(Vito Zagarrio, essay "It Is (Not) A Wonderful Life," pages 68 - 69, from Frank Capra: Authorship and the Studio System.
---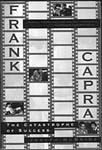 LINKS:
• The Beatrice has an interview with Joseph McBride, which is primarily about his Steven Spielberg biography book, but also touches upon his Capra book. [Below: From the interveiw at 'Beatrice']
"I also thought that this would be an interesting contrast to my Capra book. Frank Capra was a man who was ashamed of being an Italian- American immigrant, who always tried to assimilate and deny who he was and that, I think, helped really destroy him as a person."
• A brief Wikipedia page about McBride is here.
• McBride's latest book(October 2007) is "What Ever Happened to Orson Welles" which seems to be a followup to his 1996 collection of writings on Welles. available from amazon.com
• McBride is a professor at San Francisco State University. The Staff bio page on McBride is here.
---
BOOKS BY JOSEPH McBRIDE:
Persistence of Vision: A Collection of Film Criticism (editor), 1968


Orson Welles, 1972; revised and expanded edition, 1996


Focus on Howard Hawks (editor), 1972


John Ford (with Michael Wilmington), 1974


Kirk Douglas, 1976


Orson Welles: Actor and Director, 1977


High and Inside: The Complete Guide to Baseball Slang, 1980; revised and expanded edition, High and Inside: An A-to-Z Guide to the Language of Baseball, 1997


Hawks on Hawks, 1982


Filmmakers on Filmmaking, Vols. I and II (editor), 1983


Frank Capra: The Catastrophe of Success, 1992; revised edition, 2000


Steven Spielberg: A Biography, 1997


The Book of Movie Lists: An Offbeat, Provocative Collection of the Best and Worst of Everything in Movies, 1998


Searching for John Ford, 2001


What Ever Happened to Orson Welles?: A Portrait of an Independent Career, 2006
---
Original page 2001 | Updated April 2013
---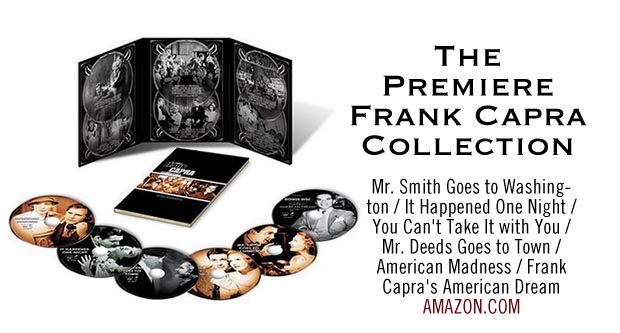 AMAZON: The Premiere Frank Capra Collection (Mr. Smith Goes to Washington / It Happened One Night / You Can't Take It with You / Mr. Deeds Goes to Town / American Madness / Frank Capra's American Dream)
---
---

---