It's A Wonderful Life 1946
"A young man who's been dying to get out on his own ever since he was born... a young man ...the smartest one in the crowd, mind you...a young man who has had to watch his friends go places, because he is trapped. Yes sir, trapped! Into frittering his life away being nurse-maid to a lot of garlic eaters..."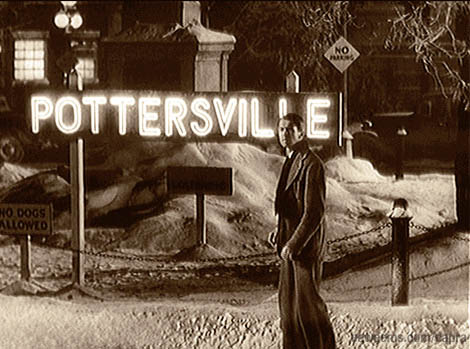 George Bailey wanders back into Bedford Falls after wishing himself out of existence... only to discover it is no longer Bedford Falls. But that's the least of his worries.
---
Synopsis: George Bailey wants desperately to leave the town of his birth, Bedford Falls, for a life of travel and adventure. But systematically he is called upon to put his dreams aside and to care for family and friends. Through a tragic carelessness on the part of a family member, George is threatened with public and financial humiliation, and jail. Determined upon suicide, George is saved through the intercession of an angel, who shows him what his hometown would have become without his efforts.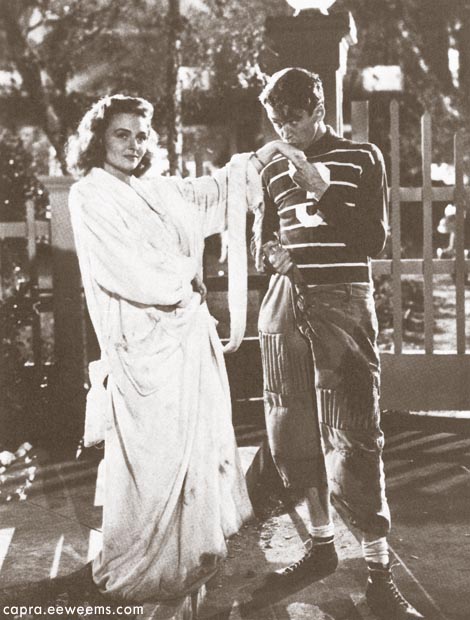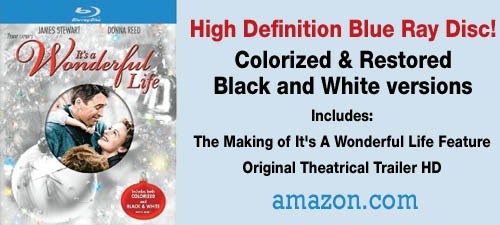 ---
IT'S A WONDERFUL LIFE - 1946
(Originally titled "The Greatest Gift" during production)

Premiered in New York on December 20, 1946 at the Globe Theatre
(Joseph McBride's book Frank Capra: The Catastrophe of Success
says the film premiered December 21, 1946. See McBride, page 529)
General release date January 7,1947
Filmed at the RKO-Pathé Studios between April 15, 1946 and July 27, 1946
(The High School dance contest scenes were shot at the
then newly opened Beverly Hills High School gymnasium.
Also; exterior town scenes shot at the Encino, California RKO Ranch.)

Filmed in Black and White
Sound by RCA Sound System
Film length (3 versions) 120, 129 or 132 mins.
Distributed by RKO Radio Pictures, Inc.

Awards:
1946 Golden Globe Award for Best Direction.
1946 Oscar nomination for Best Direction to Frank Capra.
Other Oscar nominations were for Best Picture,
James Stewart for Best Actor,
William Hornbeck for Best Film Editing
and RKO's sound department for Best Sound Recording.
---
(I have heard that the RKO Effects Department received a special award from the Motion Picture Academy for creating a new snow effect specifically for It's A Wonderful Life. However I could not find a mention of the award at the Academy Award database. The innovation was using a soapy, liquid-based artificial snowflake, versus the old method of painted corn flakes being blown by a wind fan.)
---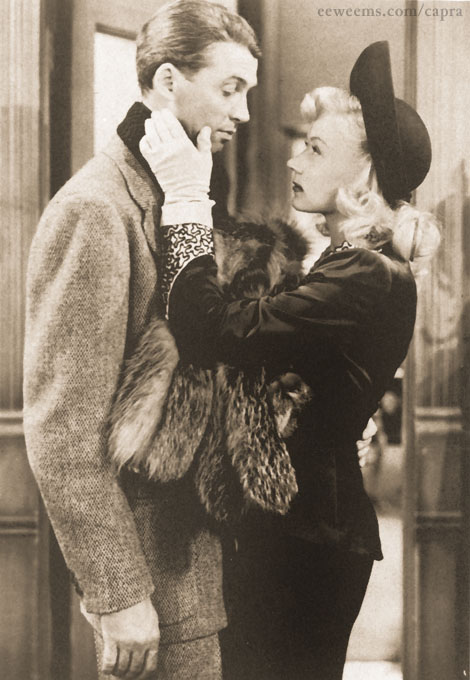 ---
The Story of the making of It's A Wonderful Life
1944: CAPRA WHO...?
Near the end of World War II with his career as a military documentary film maker about to be over, Capra met with a lack of enthusiasm for his services at the major studios in Hollywood. Some of this stemmed from Capra's reputation for spending too much in the past on his pictures, but also from Capra's criticism of war films made during the era that he felt were embarrassing to the actual troops who who had seen combat. Capra considered moving to England to pursue commercial film directing, where he had made many connections during his work for the Army Signal Corps. His situation was like that of many other 1930s film veterans who had spent the war years in the service, discovering they no longer had the clout they once had (Actor Jimmy Stewart, for example, who eventually became the lead on It's A Wonderful Life).
Capra and the former second-in-command at Columbia (under Harry Cohn) Samuel Briskin (1896 - 1968 imdb profile here) talked with Capra about forming an independent production company. Briskin was an old friend and an independent company seemed a good way to resume Capra's creative work in a way that bypassed the studio controls that had always irked Capra in the past at Columbia. Eventually the two men enlisted film directors William Wyler and George Stevens in their scheme, announcing Liberty Films on January 29, 1945 and incorporating the company in April 1945.
Of course Capra was not new to independent film-making, he had already made Meet John Doe with his Robert Riskin/Frank Capra independent company Frank Capra Productions. In fact Capra had nearly been the ninth member of the Society of Independent Motion Picture Producers in 1941, where he would have been in the company of Walt Disney and Orson Wells, among others, but had dropped his pursuit of membership after he enlisted into the army.
LIBERTY FILMS
Both Wyler and Stevens had previous commitments to take care of, so it was up to Capra to get the first Liberty Pictures production off the ground. Capra pursued development on a number of projects before settling on the Philip Van Doren written tale "The Greatest Gift." Doren had originally created the short story in 1939, and had issued it as a Christmas card in 1943. Shortly thereafter it was purchased by RKO as a property at the urging of actor Cary Grant, and it was announced in September 1945 by RKO as a future film that would star both Grant and Gary Cooper. Retitled, the story ran in Good Housekeeping magazine as "The Man Who Never Was." It was from RKO (which had the distribution rights on product from Liberty Films) that Capra got the rights to create his treatment of the story.
Some of the other projects Capra had in development at the time was an early working of the invisible 6-foot rabbit theatre piece Harvey. Capra also sketched out a treatment for a western that he hoped to have Gary Cooper for, in which a lone cowboy is saddled with the responsibility of guarding a wagon train of 500 mail-order brides to California (this film was eventually made as Westward the Women in 1951 with director William Wellman. Capra's original title was Pioneer Women.)
Bank of America put forward the initial financing for It's A Wonderful Life with $1.54 million. The final budget hit $3.78 million, the most costly film Capra ever made.1
WRITING THE MOVIE
The screenplay for It's A Wonderful Life eventually passed through nine writers. Dalton Trumbo adapted it first for RKO, only to pass it on to Clifford Odets and Marc Connelly for rewrites. After Capra purchased the project for $50,000 from RKO, he hired Frances Goodrich and her partner Albert Hackett to rework the existing adaptation. Capra also brought in Michael Wilson and Dorothy Parker for dialogue work. In Joseph McBride's book on Capra, Frank Capra: The Catastrophe of Success, Jo Swerling is estimated to have redone a quarter of the script. In the end, only Capra, Swerling, and Hackett received actual writing credits.2
The distance of time between Capra's last commercial film Arsenic and Old Lace, (shot in 1941 but not released until 1944) and making It's A Wonderful Life in 1946 was huge. 1946 was a different era, and much had changed over the years of World War Two. In particular, much had changed for the film's star, Jimmy Stewart:
"Frank really saved my career. I don't know whether I would have made it after the war if it hadn't been for Frank. It wasn't just a case of picking up where you'd left off, because it's not that kind of business. It was over four and a half years that I'd been completely away from anything that had to do with the movies. Then one day Frank Capra called me and said he had an idea for a movie.

He said, 'Now, you're in a small town and things aren't going very well. You begin to wish you'd never been born. And you decide to commit suicide by jumping off a bridge into the river, but an angel named Clarence comes down from heaven, and, uh, Clarence hasn't won his wings yet. He comes down to save you when you jump into the river, but Clarence can't swim, so you save him.'

Then Frank stopped and said, 'This story doesn't tell very well, does it?'

I just said, 'Frank, if you want to do a movie about me committing suicide, with an angel with no wings named Clarence, I'm your boy.' 3
But Capra was not the only one with uncertainties:
I can't describe my sense of loneliness in making that first film which we now called It's A Wonderful Life, a loneliness that was laced by the fear of failure. I had no one to talk to, or argue with. My former close associates, "The fiddlers three," had scattered. Joe Sistrom was a big producer at Paramount (Wake Island, Star Spangled Rhythm). Harold Winston had disappeared. Chester Sticht was still in the army untangling the film mess we left behind. Riskin was busy writing the script for his own film – Magic Town. My old dear friend Myles Connolly had resented it personally when I donned a uniform. I guess it finally convinced him he didn't own me. At any rate I hadn't seen him for years. I finally hired my old writer Jo Swerling just to talk to him, but when he couldn't rewrite the whole script he left. 4
SUCCESS AND LOSS
Ironically, it was the film William Wyler had to make before he could contribute anything at Liberty Films that knocked out It's A Wonderful Life at the Academy Awards and also made almost four times as much money at the box office. Wyler's The Best Years of Our Lives was shot at the very same time as Capra's, in fact there was a friendly competition between the two directors to see who could finish first (Capra joking to Wyler with bogus astonishment "Do you know they're using sound these days?") The two films are in their own ways time capsules of the America that had just finished the war with Japan and Germany. Both films are optimistic, though both try to show an undercurrent of trouble and unease within society: Wyler overtly shows this in the character played by Dana Andrews, an air force bombardier who loses almost everything in his effort to fit back into America; and in the reverse Faust story of It's A Wonderful Life, in which the character played by Jimmy Stewart nearly loses everything through a freakish chain of bad luck. Both characters recover through the help and sympathy of their friends and neighbors.
"Throughout 1946 the large amount of publicity generated by Liberty ignited the independent production market. "Undoubtedly there will always be big studios. . . ." Capra wrote in anticipation of the emergence of the independent filmmakers, "but we hope they will be divided by the individual creative efforts of the independents, of which, fortunately, I happen now to be one together with Producer-Directors William Wyler and George Stevens, and production executive Samuel J. Briskin, under the emblem, Liberty Films.5
On general release, It's A Wonderful Life did well, making $3.3 million (Wyler's The Best Years of Our Lives at Paramount had made $11 million, which at the time put it directly behind Gone With The Wind as the top moneymakers ever produced by Hollywood. ) Having spent $3.74 million getting It's A Wonderful Life into theatres, Capra and his partners were convinced that they had no choice financially except to seek association with a major Hollywood studio. Liberty Films was sold as a subsidiary to Paramount Pictures (where Capra went on to direct State of the Union in 1948), and then dissolved entirely in1951 when the copyright to It's A Wonderful Life was bought by TV packaging consortium United Film Service, MTA TV of New Orleans, and Minot T.V. (The film rights are currently owned by Paramount's parent company Viacom.)
---
"Unlike Sound of Music, which was contrived sweetness plotted by computer to produce the most dollars per pseudo-sentiment, It's A Wonderful Life is honestly reflective of Frank Capra's confirmed belief in the essential goodness of life and the importance of the individual, as well as his importance to the lives of all he touches, that one can hardly stand the warmth and lovingness of the film as a sham. It is, as they say,"...the real thing...", and if you will relax and go along with it, you'll find it an emotionally irresistible motion picture. It is almost impossible to relate the scenario to prove the point; it sounds sticky, it could have been cloying but it is not!" (G. Dane Wilsonne, Kit Parker Film Catalog, 1978-1979, page 30)

"...the daydream of George Bailey. In this famous sequence, Clarence, stops the hero of the film, George, from committing suicide by jumping off a bridge, convincing him that life is always worth living by allowing him to experience never having been born. This is a classic device of science fiction and of counterhistory: what would have happened if the Germans had won the First World War or the South had won the American Civil War? In this didactic nightmare one finds that George's brother would have died, his wife would have been a spinster, Gower the pharmacist would have ended up in prison, but, most importantly, the town would have been in the power of the wicked Potter (Lionel Barrymore) without the actions of the ordinary citizen, George Bailey. Bedford Falls, the utopian American town, begins to look like a real contemporary city with all its defects and moral degradation: the violent, vulgar bars; the gambling dens; the roads lit up by too many neon lights, the haunts for men only, lured in by flashy promises of girls. ...The community is more similar to the worst real models of postwar American society than to the village of metaphor and fable. A diabolic, rather than an angelic, trick has transformed the wholesome Bedford Falls of the Golden Age, of good-neighborliness, of loving one's fellow as oneself, into New York, Los Angeles, or Washington. The dream reveals actual society. To provide a distorted picture of Bedford Falls, Capra introduces the realism of the society in which he lives, unconsciously judging that society and destroying the American myth. And the appalled eye of James Stewart, dilated by a wide-angle shot, suddenly catapulted into a horror film, legitimizes this translation into a parallel dimension." (Vito Zagarrio, essay It Is (Not) A Wonderful Life, pages 74-75, from Frank Capra: Authorship and the Studio System. Published by Temple University, 1998)

"One of the bleakest... films ever made." William Pechter, "American Madness," in Frank Capra: The Man and His Films, ed. Richard Glatzer and John Raeburn (Ann Arbor: University of Michigan Press, 1975), page 182, quoted in the Charles Maland essay "Capra and the Abyss," in Frank Capra: Authorship and the Studio System, Temple University Press)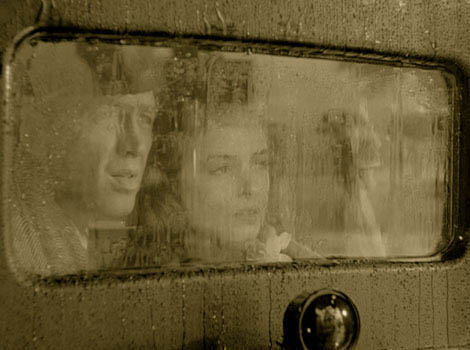 Footnotes:
1. Jospeh McBride Frank Capra: The Catastrophe of Success, page 526. Published by Simon and Schuster, Touchstone Books, 1992. Read about McBride's book here.
2. ibid , page 511. Published by Simon and Schuster, Touchstone Books, 1992. Read about McBride's book here.
3.ibid, page 524-525. Published by Simon and Schuster, Touchstone Books, 1992. Read about McBride's book here.
3.Frank Capra, The Name Above the Title, page 378. Published by Macmillan Company, New York City, 197. Read about Capra's autobiography here.
4. From cobbles.com [Cobblestone Entertainment], September 2006 web page, excerpted from the book Hollywood Renegades by J. A. Aberdeen, ISBN: 1890110248, Published October 2000. Library of Congress info: Hollywood Renegades : the Society of Independent Motion Picture Producers / by J.A. Aberdeen. Los Angeles : Cobblestone Entertainment, published 2000. 332 pages ; 22 cm.
[Please note: Joseph McBride's chapter "Liberty" from his book on Capra Frank Capra: The Catastrophe of Success, figures greatly in the facts amassed here. Read about the book here. ]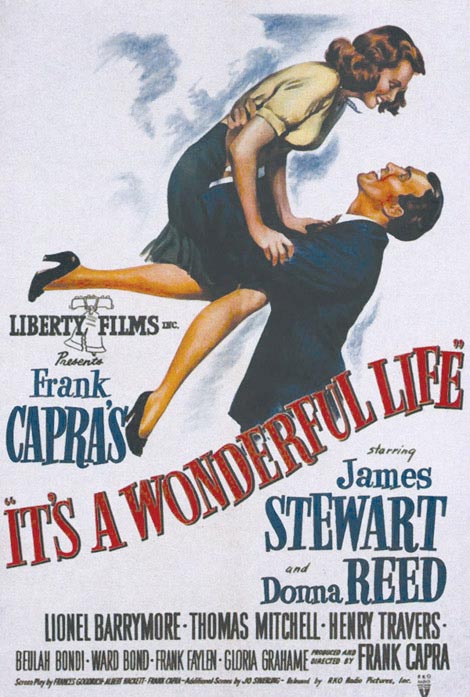 DVD & MISC AVAILABILITY:
New Blu-Ray Version of It's A Wonderful Life- Amazon
Online Instant Video It's A Wonderful Life from Amazon
60Th Anniversary DVD It's A Wonderful Life at Amazon
2-Disk DVD Colorized and Black and White - from Amazon
52 Little Lessons from It's a Wonderful Life by Bob Welch - 2012 Book
The Essential It's a Wonderful Life: A Scene-By-Scene Guide to the Classic Film by Michael Willian - 2006 Book
It's a Wonderful Life: The Fiftieth Anniversary Scrapbook - Hardcover Book
It's a Wonderful Life: A Memory Book
The It's a Wonderful Life Book- Jeanine Basinger
It's a Wonderful Life by Marie Cahill - 2008 Book
---
It's A Wonderful Life
Produced and Directed by Frank Capra
Assistant Director Arthur S. Black
Cinematography:
Joseph Walker
Assistant Joseph Biroc
( Victor Milner was the original cinematographer for the film; he was replaced by Walker.)
Writers:
Frances Goodrich
Albert Hackett
Frank Capra
Jo Swerling
Michael Wilson
Film editing by William Hornbeck
Music score written and directed by Dimitri Tiomkin
Music composition by William Cool White
(Dimitri Tiomkin's original score at the end used Beethoven's Ode To Joy but was switched out for Alfred Newman's score from the 1939 The Hunchback of Notre Dame.)
Art Director: Jack Okey
Special effects by Russell A. Cully
Make-Up by Gordon Bau
Costume and Wardrobe by Edward Stevenson
Art Direction by Emile Kuri
Sound Engineers (RCA Sound System):
Richard Van Hessen
Clem Portman
CAST
James Stewart
Donna Reed
Lionel Barrymore
Thomas Mitchell
Henry Travers
Beulah Bondi
Frank Faylen
Ward Bond
Gloria Grahame
H. B. Warner
Todd Karns
Samuel S. Hinds
Mary Treen
Frank Albertson
Virginia Patton
Charles Williams
Sarah Edwards
Bill Edmunds
Lillian Randolph
Argentina Brunetti
Bobby Anderson
Ronnie Ralph
Jean Gale
Jeanine Anne Roose
Danny Mummert
Georgie Nokes
Sheldon Leonard
Frank Hagney
Ray Walker
Edward Keane
Carol Coombs
Karolyn Grimes
Larry Simms
Jimmy Hawkins
Harry Holman
Hal Landon
Alfalfa Switzer
Bobby Scott
Harry Cheshire
Charles Halton
Ed Featherstone
Stanley Andrews
J. Farrell MacDonald
Tom Fadden
Garry Owen
Marian Carr
Dick Elliott
Ellen Corby
Al Bridges
Edward Clark
Lane Chandler
Bert Howard
Charles Meakin
Frank Fenton
Ernie Adams
Netta Packer
Beth Belden
Herbert Heywood
Eric Hansen
Joe Bernard
Tom Coleman
Monya Andre
Herschel Graham
Irene Mack
Bryn Davis
Michael Chapin
Buz Buckley
Cy Schindell
Bert Moorehouse
Carl Kent
Milt Kibbee
Cedric Stevens
Tom Chatterton
Art Howard
Frank O'Connor
Sam Flint
Charles Wilson
Effie Laird
Jean Acker
Phillip Morris
Ed Kane
Wilbur Mack
Almira Sessions
Mike Lally
Harry Denny
Sam Ash
Mary Bayless
Tim O'Brien
Max Wagner
Franklin Parker
Lee Frederick
George Bailey
Mary Hatch [Bailey]
Mr. Potter
Uncle Billy
Clarence [Oddbody]
Mrs. Bailey
Ernie
Bert
Violet [Bick]
Mr. Gower
Harry Bailey
Pa Bailey
Cousin Tilly
Sam Wainwright
Ruth Dakin [Bailey]
Cousin Eustace
Mrs. Hatch
Mr. Martini
Annie
Mrs. Martini
Little George
Little Sam
Little Mary
Little Violet
Little Marty Hatch
Little Harry Bailey
Nick
Potter's bodyguard
Joe the clerk in luggage shop
Tom in building and loan
Janie Bailey
Zuzu Bailey
Pete Bailey
Tommy Bailey
Mr. Partridge, school principal
Marty Hatch
Freddie
Mickey
Dr. Campbell
Bank examiner
Bank teller
Mr. Welch
House owner
Tollhouse keeper
Bill poster
Mrs. Wainwright
Man on porch
Mrs. Davis, building and loan
Sheriff

---
Other Versions of It's A Wonderful Life:
Lux Radio Theatre broadcast a radio adaptation starring Stewart, Donna Reed and Victor Moore as "Clarence," on March 10, 1947.
The Hallmark Playhouse broadcast a version, starring Jimmy Stewart, on May 8, 1949.
A remake of the film was made in 1977 starring Marlo Thomas for ABC television in the lead, titled "It Happened One Christmas."
---
More info coming
---
Original page 1998 | Updated April 2013
---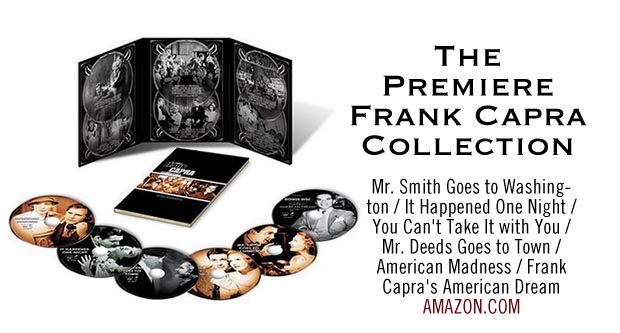 AMAZON: The Premiere Frank Capra Collection (Mr. Smith Goes to Washington / It Happened One Night / You Can't Take It with You / Mr. Deeds Goes to Town / American Madness / Frank Capra's American Dream)
---
---

---