JUNE 6, 2008
3 "Lost" Goya drawings to be sold at Christie's July 8
[UPDATE: SEE THE RESULTS FOR THE AUCTION HERE AT THIS PAGE]
Art Daily reports on the discovery of three previously assumed 'lost' Goya drawings that are to come up on auction in July:.
"Christie's will offer 3 rediscovered drawings by Francisco José de goya y Lucientes (1746-1828) at the auction of Old Master and 19th Century Drawings on 8 July 2008 in London. Last recorded at a landmark auction of works by the artist in Paris in 1877, the drawings have been missing and presumed lost ever since, and represent the most important grouping of sketches by the artist to be consigned to auction in over 30 years. The three drawings, which will be offered individually, are expected to realise a total in excess of £2 million.

...On 2 April 1877, a landmark auction in Paris offered a series of 105 drawings taken from goya's celebrated private albums. goya had started assembling personal notebooks or journals in 1796 and gradually filled the pages with imaginative drawings of people in various moods and situations, as both individuals and in groups. The drawings to be offered at Christie's are taken from two of the artist's albums, and present three differing styles and subjects."
The auction on July 8 occurs at 11 a.m. at the King Street, London location. There will be four days of viewing prior to the event.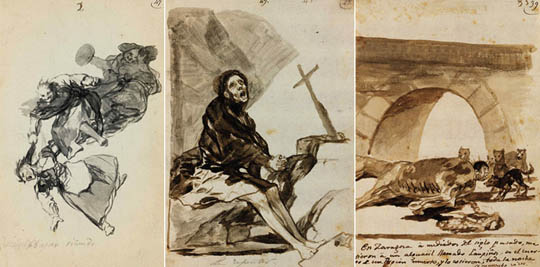 artdaily.com news article
UK Telegraph Article about Goya Auction
"The discovery of the sketches, in a Swiss private collection, has caused great excitement in the art world where they have been hailed as the most important of the acclaimed artist's work to come to auction for over 30 years." - From the UK Telegraph article
---
AMAZON
Goya The Terrible Sublime - Graphic Novel - (Spanish Edition) - Amazon
---
Goya: His Life & Works in 500 Images: An illustrated account of the artist, his life and context, with a gallery of 300 paintings and drawings – 256 pages, Lorenz Books, 2015 - Amazon
---

"From this headlong seizure of life we should not expect a calm and refined art, nor a reflective one. Yet Goya was more than a Nietzschean egoist riding roughshod over the world to assert his supermanhood. He was receptive to all shades of feeling, and it was his extreme sensitivity as well as his muscular temerity that actuated his assaults on the outrageous society of Spain." From Thomas Craven's essay on Goya from MEN OF ART (1931).
"...Loneliness has its limits, for Goya was not a prophet but a painter. If he had not been a painter his attitude to life would have found expression only in preaching or suicide." From Andre Malroux's essay in SATURN: AN ESSAY ON GOYA (1957).
"Goya is always a great artist, often a frightening one...light and shade play upon atrocious horrors." From Charles Baudelaire's essay on Goya from CURIOSITES ESTRANGERS (1842).
"[An] extraordinary mingling of hatred and compassion, despair and sardonic humour, realism and fantasy." From the foreword by Aldous Huxley to THE COMPLETE ETCHINGS OF GOYA (1962).
"His analysis in paint, chalk and ink of mass disaster and human frailty pointed to someone obsessed with the chaos of existence..." From the book on Goya by Sarah Symmons (1998).
"I cannot forgive you for admiring Goya...I find nothing in the least pleasing about his paintings or his etchings..." From a letter to (spanish) Duchess Colonna from the French writer Prosper Merimee (1869).
---
---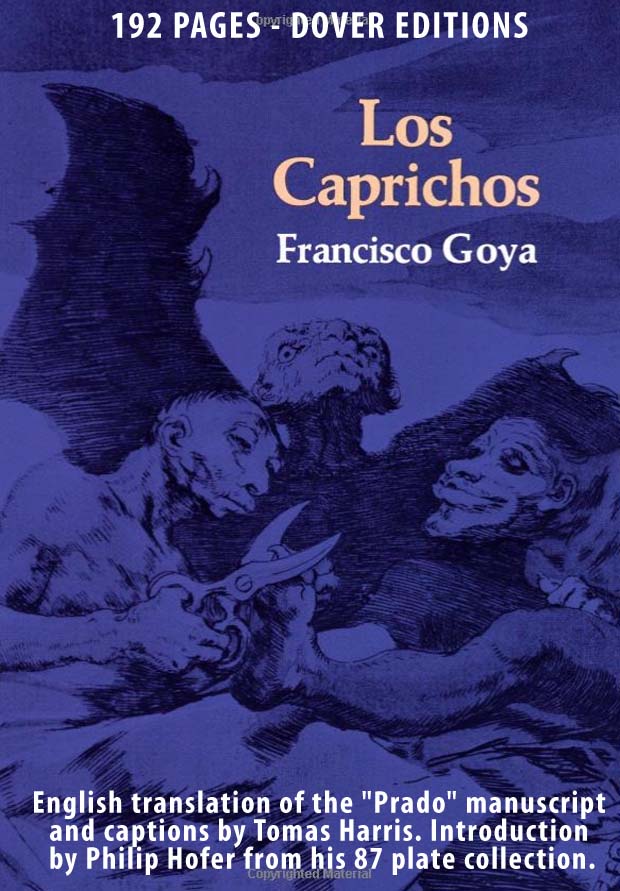 GOYA : Los Caprichos - Dover Edition - Amazon
---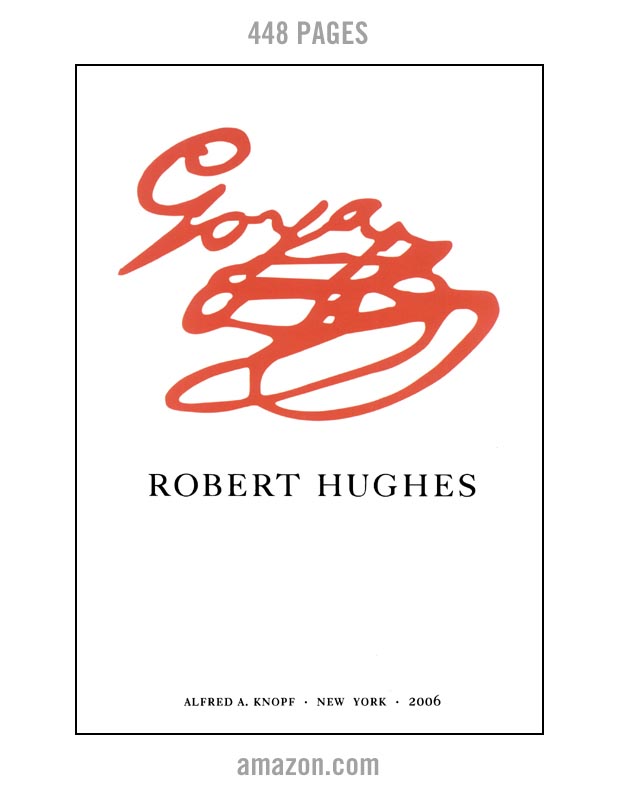 ---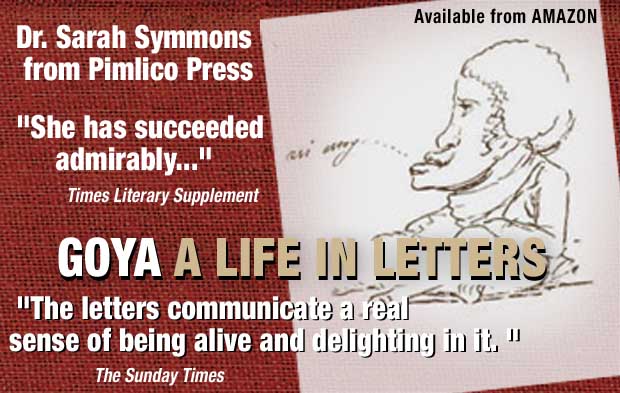 Goya: A Life in Letters
---