Goya Archive 2011 - 2012
---
December 15, 2012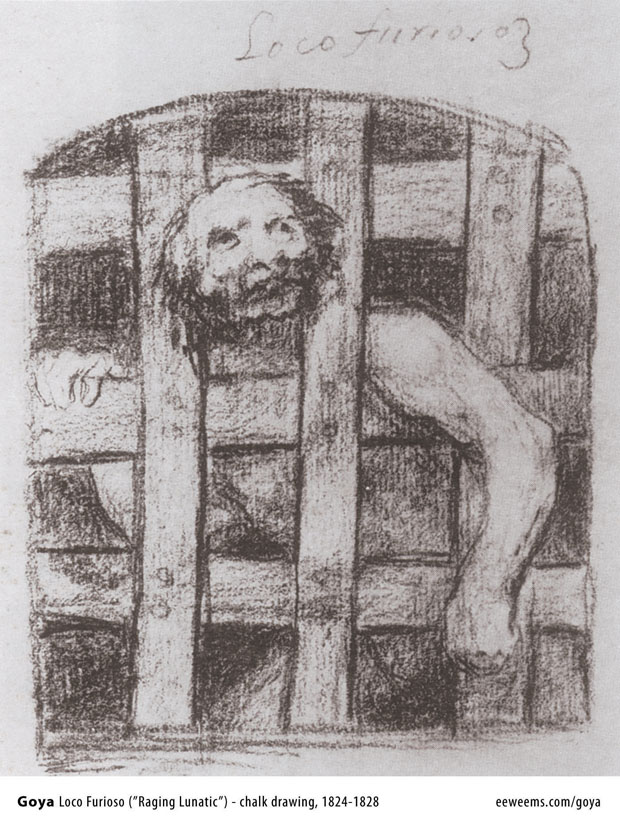 "Raging Lunatic" - Loco Furioso
It is suspected that the drawing is based upon Goya's visit to the asylum in Bordeaux, France.
See this black chalk drawing at an enlarged size.
---
August 21, 2012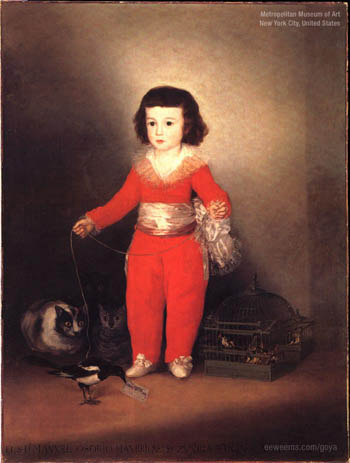 Portrait of Don Manuel Osorio de Manrique Zuniga
1784-88 Oil on canvas
50 inches by 39 3/4inches
127 cm x 101.6 cm
Metropolitan Museum of Art New York
This child was the son of the Count and Countess of Altimara, the boy being roughly the same age as Goya's son Xavier. The painting was commissioned by the Bank of Spain.
Koller Zurich auction in September for 'unknown' Goya
Painting was unrecognized in art collection for over 80 years.
To be auctioned between September 17 - 22.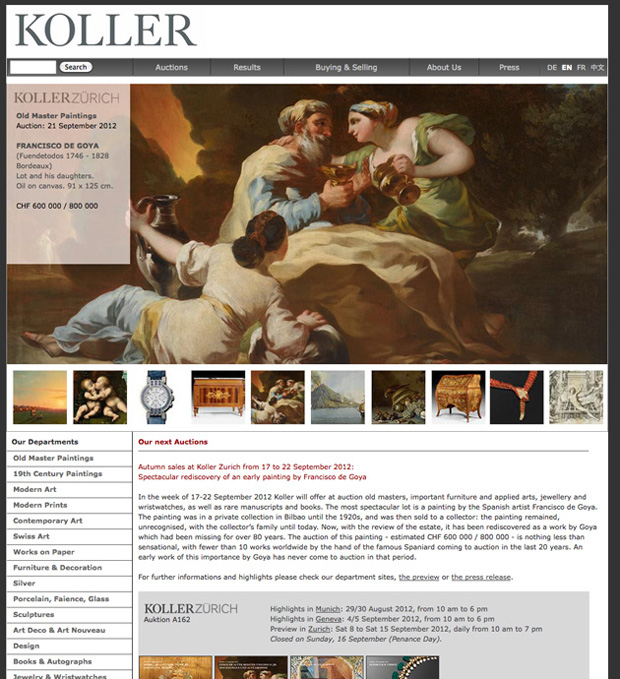 From the Koller web site:
"The most spectacular lot is a painting by the Spanish artist Francisco de Goya. The painting was in a private collection in Bilbao until the 1920s, and was then sold to a collector: the painting remained, unrecognised, with the collector's family until today. Now, with the review of the estate, it has been rediscovered as a work by Goya which had been missing for over 80 years. The auction of this painting - estimated CHF 600 000 / 800 000 - is nothing less than sensational, with fewer than 10 works worldwide by the hand of the famous Spaniard coming to auction in the last 20 years. An early work of this importance by Goya has never come to auction in that period."
Does it look like a Goya? It does indeed. Color handling looks like any number of Goya images, and the body forms and anatomy handling all looks like Goya, and matches his style for his tapestry works, too. Experts are placing the painting (Lot and his Daughters) to the 1770s. (For an example, compare to The Parasol.)
The discovery of Lot and His Daughters by Goya joins a short list of other 'discovered' unknown Goya works of recent news, such as Goya's Portrait of Don Ramon Satue which was found via X-ray's last year.
Much more info available at the Koller Zurich Web Site.
---
August 16, 2012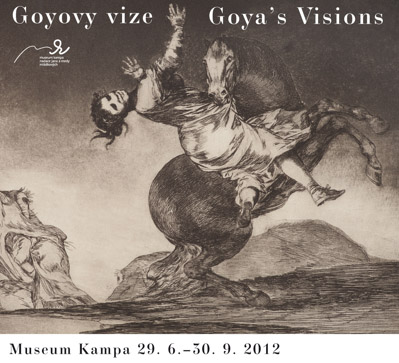 Prague Kampa Museum hosts exhibit of Goya etchings
80 selected prints from Caprichos, The Proverbs, The Disasters of War and La Tauromaquia are on display.
Exhibit opened August 1 and will continue through September 30, 2012.
Kampa Museum Web Site (English language section)
---
August 6, 2012
Prado Museum profile
An interesting overview of the Prado Museum, with an emphasis on Goya, from the online edition of the the newspaper The Australian.
"In another painting in the same series, young women in tight bodices and full skirts toss a life-sized male figure in a blanket. His head lolls and his limbs hang limp. Is he human?

"It is a rag doll," says Bernardo. "The women are taking their revenge on men."

Goya an early feminist? My appreciation of him increases at every turn. One of Goya's paintings shows the festival of San Isidro, the patron saint of Madrid. Every year on May 15, Madrilenos sing, dance, eat and drink on the banks of the River Manzanares.

"We still celebrate there today," says Bernardo, "but now there are more buildings."
Article by Eithne Nightingale
---
November 11, 2011
Anniversary of the theft of the 'Duke of Wellington'
The UK Guardian has an interesting look at the theft of Goya's Duke of Wellington and the Mona Lisa. Article by Sandy Nairne:
"The 21st of August is the anniversary of two shocking art thefts: Leonardo da Vinci's Mona Lisa stolen from the Louvre 100 years ago, and Francisco de Goya's The Duke of Wellington taken from the National Gallery, London, exactly 50 years later. The two thefts share more than the same date. Both thieves concealed the famous paintings for several years without being caught and both decided to return them: the Duke was deposited in the left-luggage office of New Street station in Birmingham. More significantly, once they had confessed, the thieves puzzled the authorities by not matching the expected profile of being debonair figures such as EA Hornung's Arthur Raffles, or Thomas Crown (whether Steve McQueen or Pierce Brosnan).

When in July 1965 a 61-year-old retired truck driver announced at West End Central police station that he had stolen the Goya, it was hard for the police to take Kempton Bunton seriously as he differed so much from the presumed image of whoever it was who had sent a sequence of notes, written in capitals, to various newspapers.

Although the Mona Lisa theft is considerably more famous, the loss of the Goya is significant. It was a fundamental shock to the National Gallery: its first ever theft, and the painting had been taken only 19 days after going on display.

...Reality and fiction often overlap in cases of art theft. However the link between the two was made very specific when in Dr No, the first of Ian Fleming's James Bond novels to be produced as a film in 1962, the evil scientist's underwater lair at Crab Key in Jamaica provides the setting for an unexpected encounter. Sean Connery, as Bond, pauses as he walks through the dining room to admire a portrait on an easel – it is Goya's The Duke of Wellington. The image fuels the commonly held view that thefts of great works of art are carried out at the behest of criminal collectors – a notion that has rarely been found to be true.

Even though a detailed account of how Bunton accomplished the theft was published in 1977, posthumously, it is possible that he was not the thief. He might have used the painting to promote his cause and confessed to cover up for another."
For more info about the painting "Duke of Wellington" go here.
---
October 29, 2011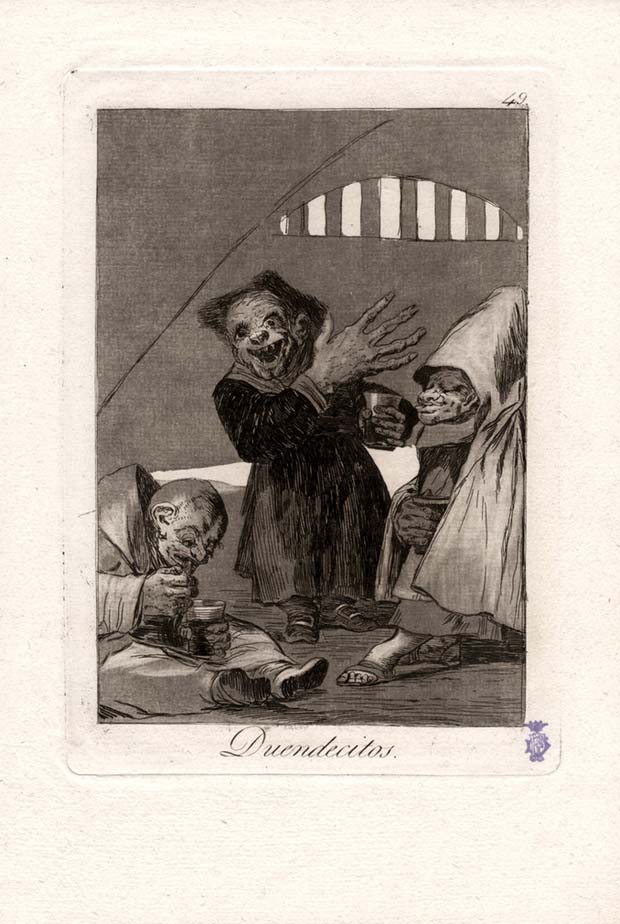 Goya's Dark Etchings From a Past Full of Horrors - New York Times
"One of the advantages of art history is that it provides a sense of perspective. If you think we've got it bad, with our financial crisis, wars and natural disasters, just look at Spain in the late 18th and early 19th centuries. A brilliant, sobering and visionary window onto that world is provided by "Los Caprichos (The Caprices)," a series of 80 etchings by Francisco José de Goya y Lucientes (1746-1828), currently on view at the Nassau County Museum of Art in Roslyn Harbor.

Goya made the etchings, which were originally published in 1799, from drawings and observations recorded in two sketchbooks, detailing abuses by the Roman Catholic Church, societal ills from pedophilia to prostitution, and rampant superstition in an age of revolution and terror."
---
August 17, 2011
Updated Pages on Josefa Bayeu
As part of the ongoing installation of our new web site design, pages are being updated: New Josefa Bayeu 1814 Oil Portrait Page and Josefa Bayeu black chalk portrait of 1805
---
August 12, 2011
Print exhibit in Houston "Acid on Metal" to feature Goya, Rembrandt, others
Museum of Fine Arts Houston, Texas, USA - Sep 11, 2011 - Nov 27, 2011
From the new release:
Acid on Metal: The Art of Etching and Aquatint chronicles the development of etching from the 16th century, through the golden ages of Rembrandt van Rijn and Francisco de Goya, to the medium's revitalization and modernization under Pablo Picasso, James Abbott McNeill Whistler, and contemporary masters such as Brice Marden and Richard Stankiewicz. Prints by Rembrandt, including Jupiter and Antiope, display the master's fluid handling and experimental style that inspired generations of printmakers to follow. Goya, who created works of a sharp satirical and political nature, showcases his mastery of aquatint with The Cid Campeador Attacking a Bull with His Lance.

The second in a series of print exhibitions at the MFAH examining the varied techniques in printmaking, Acid on Metal focuses on the intaglio printmaking process of etching and the related technique of aquatint, methods that require the biting of a metal plate with acid to incise a design. Exploring various etching techniques as unique vehicles of expression, this show features a selection of more than 50 works on paper drawn primarily from the MFAH collection. Also on view are tools, plates, and books to enhance the audience's understanding of the creative force of etching from the 16th century to today.
Museum Fine Arts Page on Print Exhibit
---
August 10, 2011
85 Year Duchess of Alba to sell art collection
Reuters reports on the coming nuptials of Duchess Cayetana Fitz-James Stuart who is reportedly selling off her collection of art by Goya, Velazquez, El Greco, Rembrandt, and others:
Spain's wealthy Duchess of Alba, 85, who is believed to have the most noble titles of any living person, has distributed her vast fortune and art collection to her six children in order to marry a 60-year-old civil servant, Reuters reports.

The twice-widowed duchess, Cayetana Fitz-James Stuart, is attempting to prove to her family that her suitor, Alfonso Diez, is not interested in her sizable real-estate, art collection and wealth, which is believed to stand at between 600 million and 3.5 billion euros ($4.9 billion). Her children have reportedly urged her to call off the marriage."
Story at the New York Observer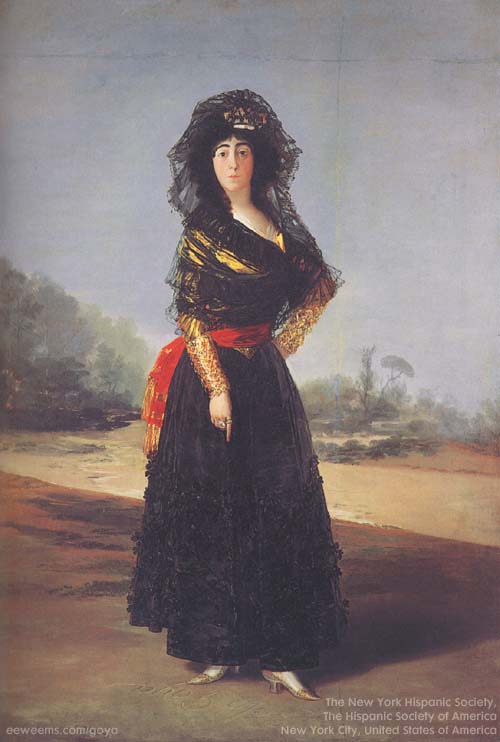 ---
February 18, 2011
Portrait of Josefa Bayeu page updated
Update Feb 2011: WriterJacek Dehnel sent an email mentioning an important error in the previous text about dating this image (see below):
[This site wrote] "Evidense about the clothing style and the lighting in the painting dates the image to 1815, a time when Goya's wife Josefa would have been much older than the apparent youthfullness shown here" and "Josefa would have been a much older woman in 1815 than what is presented in this image"

I would like to point out, that Josefa not only would look much older in 1815, but also that she was already dead for 3 years (she died in 1812)."
SEE THE UPDATED JOSEFA BAYEU PORTRAIT PAGE HERE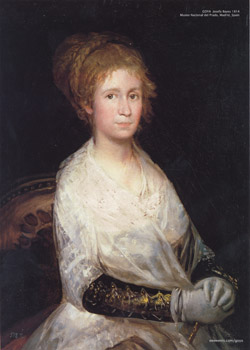 ---
January 7, 2011
Apple now offering a "Goya app" for iPod, iPad
As more people move their digital needs and toys to handheld devices, the catalogs of the great master artists will inevitably move their as well. Apple's new software tool for looking at the Goya images sells for $1.99 USD.
[Below] Screenshot of the Apple iTunes store offering the Goya app: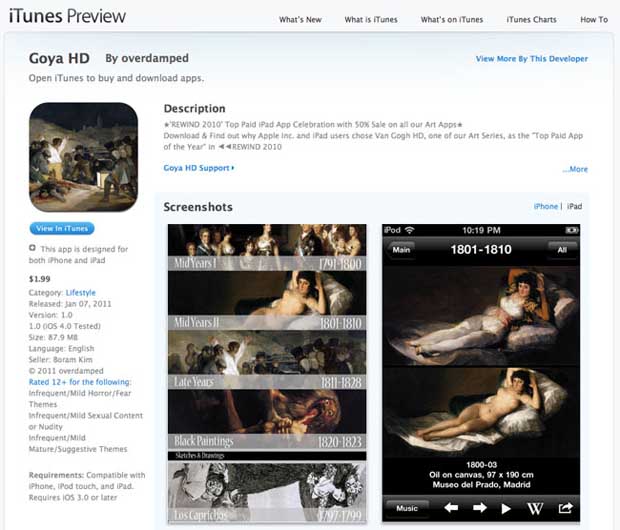 ---

---

---
AMAZON
Goya The Terrible Sublime - Graphic Novel - (Spanish Edition) - Amazon
---
Goya: His Life & Works in 500 Images: An illustrated account of the artist, his life and context, with a gallery of 300 paintings and drawings – 256 pages, Lorenz Books, 2015 - Amazon
---

"From this headlong seizure of life we should not expect a calm and refined art, nor a reflective one. Yet Goya was more than a Nietzschean egoist riding roughshod over the world to assert his supermanhood. He was receptive to all shades of feeling, and it was his extreme sensitivity as well as his muscular temerity that actuated his assaults on the outrageous society of Spain." From Thomas Craven's essay on Goya from MEN OF ART (1931).
"...Loneliness has its limits, for Goya was not a prophet but a painter. If he had not been a painter his attitude to life would have found expression only in preaching or suicide." From Andre Malroux's essay in SATURN: AN ESSAY ON GOYA (1957).
"Goya is always a great artist, often a frightening one...light and shade play upon atrocious horrors." From Charles Baudelaire's essay on Goya from CURIOSITES ESTRANGERS (1842).
"[An] extraordinary mingling of hatred and compassion, despair and sardonic humour, realism and fantasy." From the foreword by Aldous Huxley to THE COMPLETE ETCHINGS OF GOYA (1962).
"His analysis in paint, chalk and ink of mass disaster and human frailty pointed to someone obsessed with the chaos of existence..." From the book on Goya by Sarah Symmons (1998).
"I cannot forgive you for admiring Goya...I find nothing in the least pleasing about his paintings or his etchings..." From a letter to (spanish) Duchess Colonna from the French writer Prosper Merimee (1869).
---
---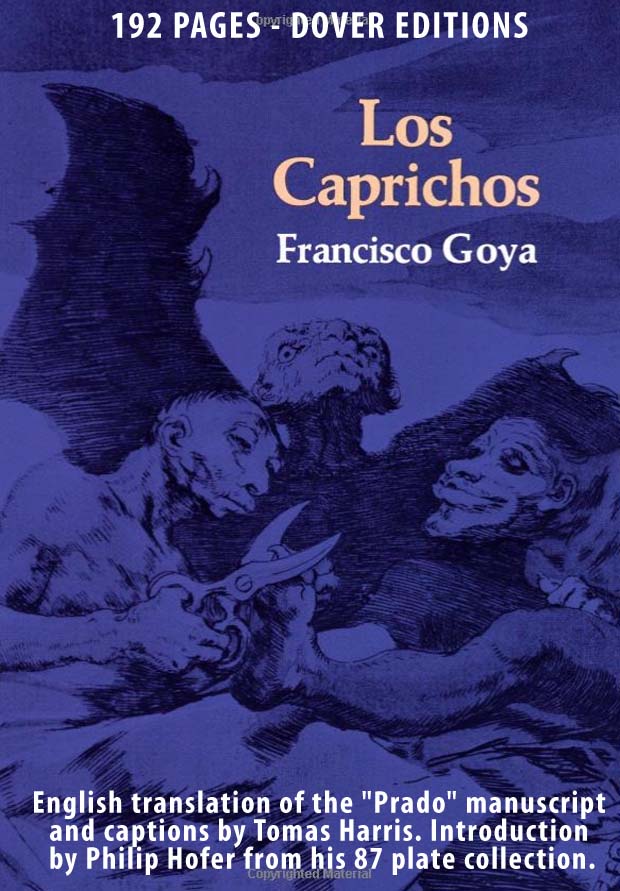 GOYA : Los Caprichos - Dover Edition - Amazon
---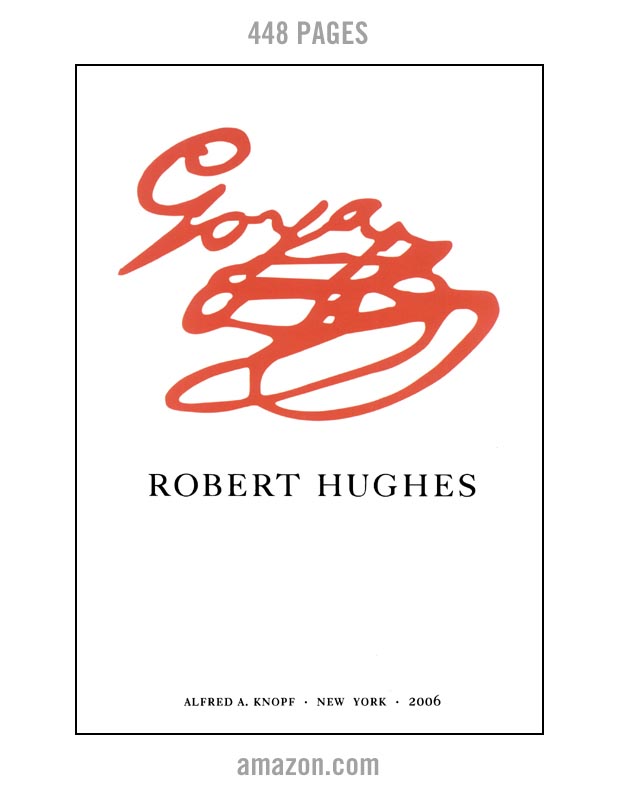 ---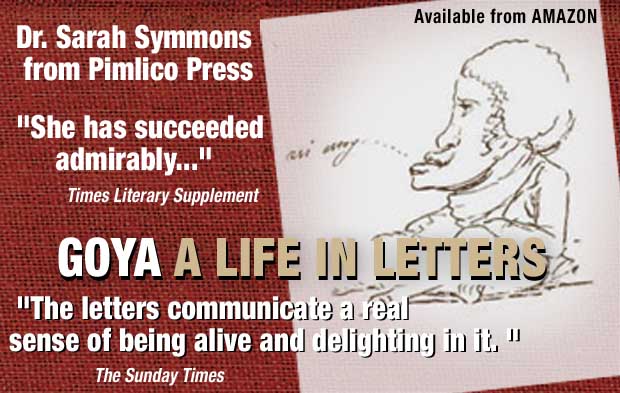 Goya: A Life in Letters
---