Goya Archive 2017
---
July 19, 2017
Disasters of War
Farideh Lashai on Goya - Harpers Bazaar Arabia
The mood embraces the horror of Goya scenography juxtaposed against the romanticism of Eliot's poetry, all of which are encapsulated in the video installation by the late Lashai. She manipulated the prints by removing the figures to leave empty settings, upon which she projected animated imagery via a roving spotlight to the rhythm of Chopin Nocturnes. The use of movement and music creates a somber, ephemeral sensation that plays against the concrete nature of printmaking, the traumas of history and the erasure of narrative in the face of disaster. Her use of fragmentation, both narratively and physically, is haunting.
Exhibit: Farideh Lashai's When I Count, There Are Only You… But When I Look, There Is Only a Shadow
May 30 to September 10 2017 at Museo Nacional del Prado
Madrid, Spain. For more information visit
museodelprado.es
---
June 9, 2017
Goya to Albuquerque Museum
Major show of Spanish art heading to ABQ - Abqjournal
"Four thousand years of Spanish art, including major works by Goya, Velázquez and El Greco, are coming to the Albuquerque Museum next year.

"Treasures From the Hispanic Society of America" will open on Nov. 10, 2018, and hang through March 2019. Albuquerque will be the first U.S. city to host the traveling display of world-renowned works of art.

The 200 pieces, including sculpture, fiber, jewelry and documents, are currently on view at Madrid's El Prado Museum. The Madrid show has drawn more than 150,000 spectators since April."
---
June 2, 2017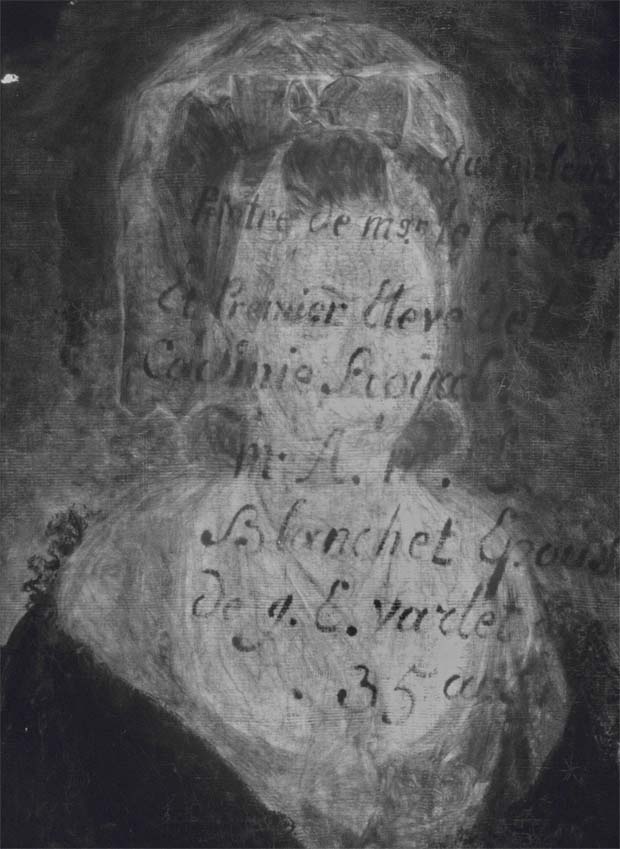 Striker Family portrait of Josefa Goya - Updated with new information
---
May 2, 2017
Francisco Goya's Mystery Illness Diagnosed After 200 Years - ndtv.com
"In 1793, Goya developed a severe illness that left him bedridden for months in the middle of his career. He experienced headaches, dizziness, hallucinations, vision problems and ringing in his ears, 'Live Science' reported. Most of these symptoms eventually went away, but the illness left Goya deaf.

He "had a certain constellation of symptoms" that gave the researchers clues to a possible diagnosis, said Ronna Hertzano, a surgeon and hearing expert at the University of Maryland. Susac's syndrome would "explain all of his symptoms" and can leave patients with lasting hearing loss, Hertzano said..."
---
March 21, 2017
La Tauromaquia print set at Sotheby's for April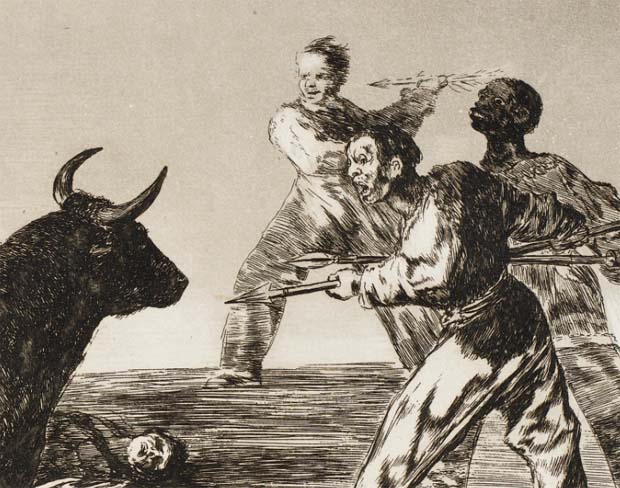 Newly-discovered bullfighting prints set estimated to sell for approx. €500,000
From the Sotheby's description
"The complete set of 33 etchings with burnished aquatint and lavis, drypoint and engraving, 1816, very fine to fine impressions from the First Edition, published by the artist, Madrid, 1816, printed in dark umber ink, the richly printed aquatints displayed to full, tonal effect, on fine laid papers, Plate 23 with a Serra watermark, the full sheets, mounted within a 19th-century ledger; together with five etchings after Velázquez (Harris 12-16), very good to pale impressions as published in the First or Second Editions (1778-9 and circa 1815-20); 90 hand-coloured lithographs after H. Bellangé, political and satirical items from the French and English press including Vanity Fair, many popular prints and four gouache views, the ledger bound in marbled half boards and green suede spine and corners, paper end pages watermarked Hudelist"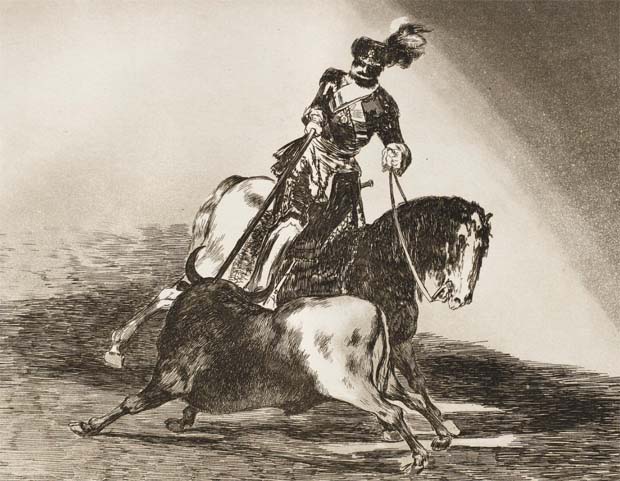 Article at the Irish Times describes the find:
"...Recently in France, a family clearing out an old library found a complete set of 33 prints by the acclaimed Spanish artist, Goya depicting bullfighting scenes, known as La Tauromaquia, that had remained undisturbed for decades in a 19th-century ledger. The prints are now set to go under the hammer at Sotheby's in London on April 4th with a top estimate of £500,000 (€590,000). "
---
New additions
Goya's The Bandit Maragato series
This oil painted sequential story by Francisco Goya [below] tells how Fray Pedro defeated the bandit Maragato. Click images below to enlarge.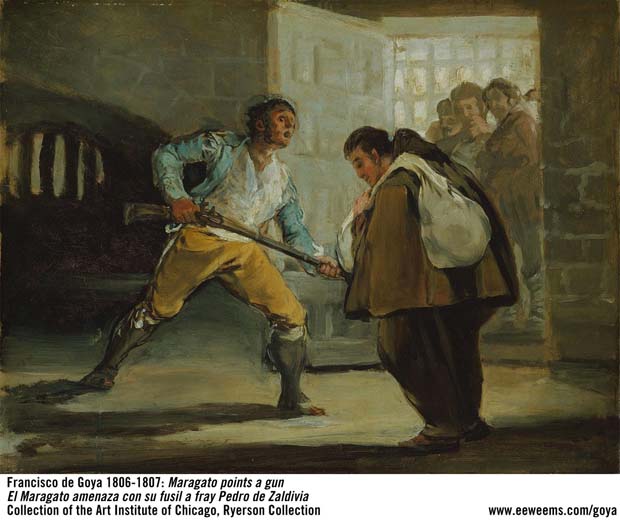 Maragato points a gun
El Maragato amenaza con su fusil a fray Pedro de Zaldivia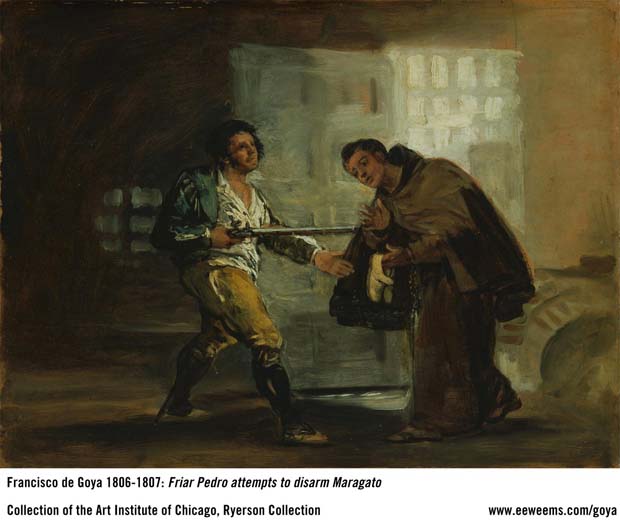 Friar Pedro attempts to disarm Maragato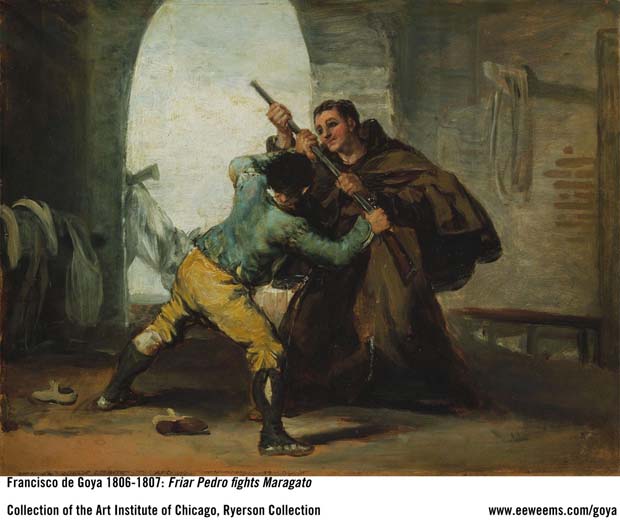 Friar Pedro fights Maragato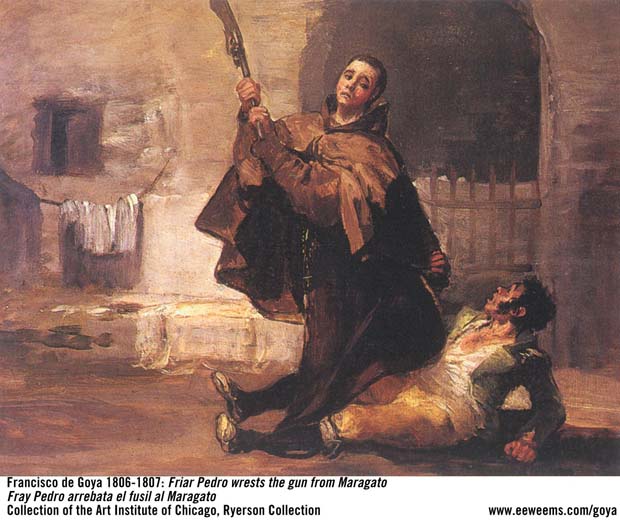 Friar Pedro wrests the gun from Maragato
Fray Pedro arrebata el fusil al Maragato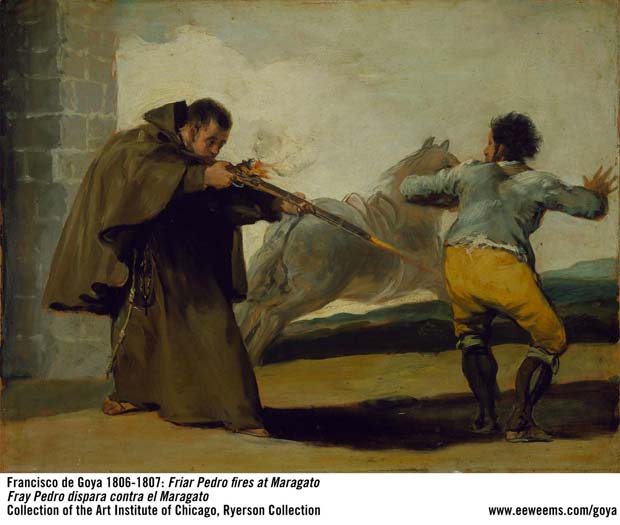 Friar Pedro fires at Maragato
Fray Pedro dispara contra el Maragato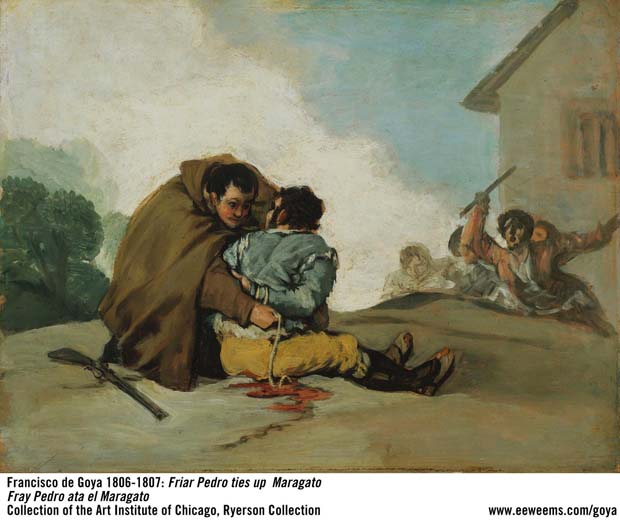 Friar Pedro ties up Maragato
Fray Pedro ata el Maragato
---

---

---
AMAZON
Goya The Terrible Sublime - Graphic Novel - (Spanish Edition) - Amazon
---
Goya: His Life & Works in 500 Images: An illustrated account of the artist, his life and context, with a gallery of 300 paintings and drawings – 256 pages, Lorenz Books, 2015 - Amazon
---

"From this headlong seizure of life we should not expect a calm and refined art, nor a reflective one. Yet Goya was more than a Nietzschean egoist riding roughshod over the world to assert his supermanhood. He was receptive to all shades of feeling, and it was his extreme sensitivity as well as his muscular temerity that actuated his assaults on the outrageous society of Spain." From Thomas Craven's essay on Goya from MEN OF ART (1931).
"...Loneliness has its limits, for Goya was not a prophet but a painter. If he had not been a painter his attitude to life would have found expression only in preaching or suicide." From Andre Malroux's essay in SATURN: AN ESSAY ON GOYA (1957).
"Goya is always a great artist, often a frightening one...light and shade play upon atrocious horrors." From Charles Baudelaire's essay on Goya from CURIOSITES ESTRANGERS (1842).
"[An] extraordinary mingling of hatred and compassion, despair and sardonic humour, realism and fantasy." From the foreword by Aldous Huxley to THE COMPLETE ETCHINGS OF GOYA (1962).
"His analysis in paint, chalk and ink of mass disaster and human frailty pointed to someone obsessed with the chaos of existence..." From the book on Goya by Sarah Symmons (1998).
"I cannot forgive you for admiring Goya...I find nothing in the least pleasing about his paintings or his etchings..." From a letter to (spanish) Duchess Colonna from the French writer Prosper Merimee (1869).
---
---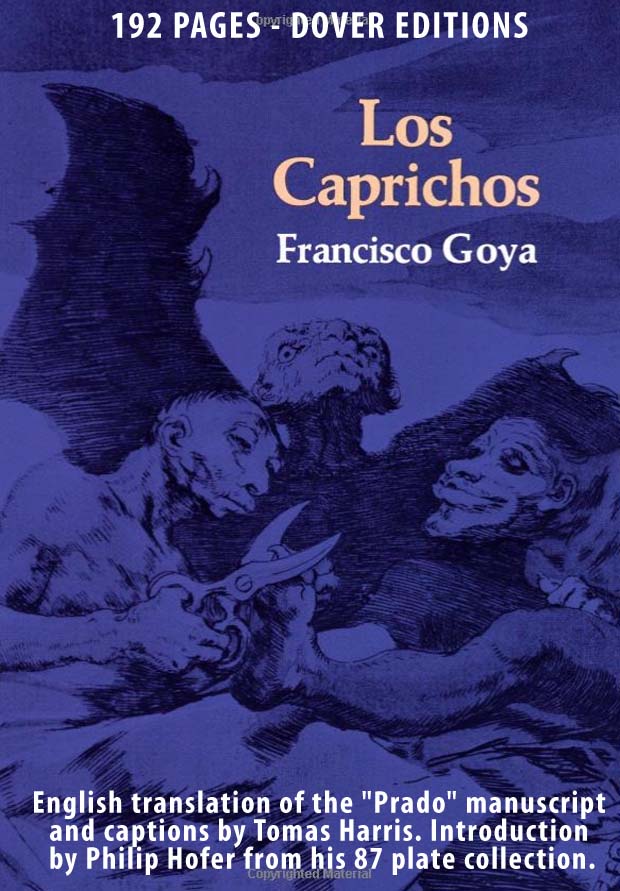 GOYA : Los Caprichos - Dover Edition - Amazon
---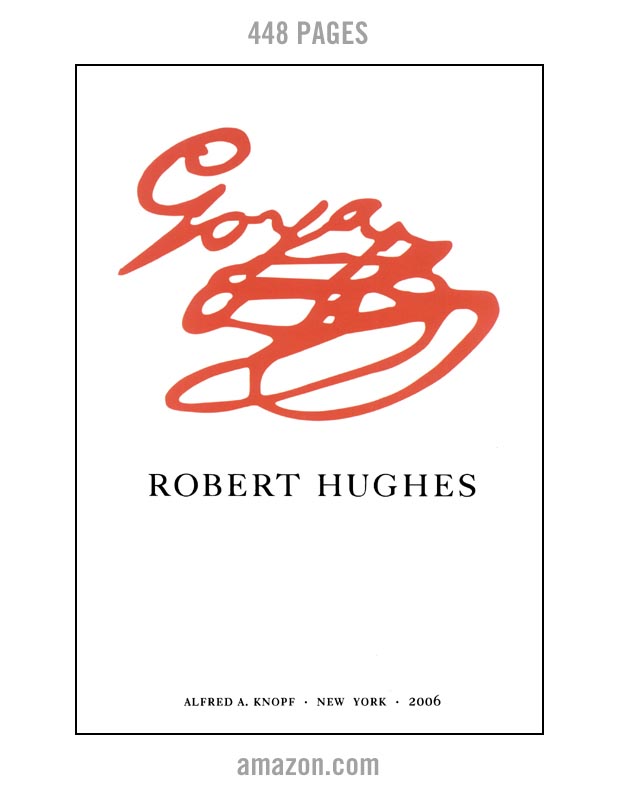 ---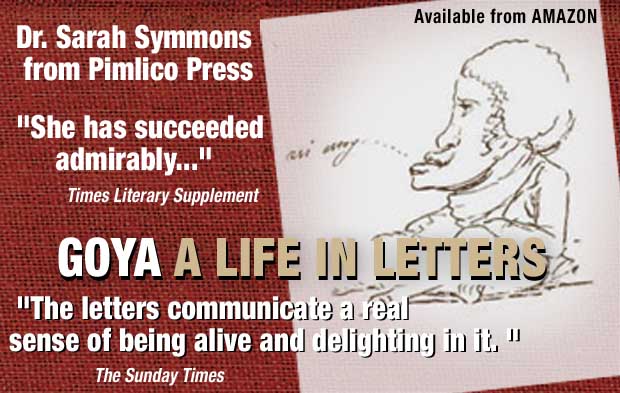 Goya: A Life in Letters
---