Goya Archive 2013-2016
---
December 30, 2016
Goya at the Israel Museum in Jerusalem
Goya: Daydreams and Nightmares - December 10, 2016-April 18, 2017 Location: Spertus Gallery - Museum web site page Israel Museum (English)
Article at Jerusalem Post
"Five of the works that form the centerpiece of the epic and historic exhibition at the Israel Museum in Jerusalem on view until April 18 were commissioned for the Spanish Royal Court in Goya's early years. We can see the color and frolicking that the artist witnessed around him exhibited against a blunt red background in masterpieces such as The Straw Manikin (1792), with children playing with a stuffed mannequin, and in The Parasol (1777) showing a man and woman with a green parasol."
---
October 8, 2016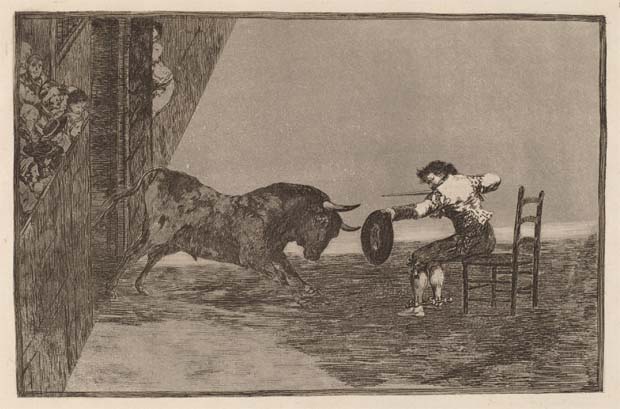 Drawing exhibit Goya's Tauromaquia now touring Australia
Curious Beasts includes animals drawn by Rembrandt and Goya - The Australian.com
"If the British Museum's Curious Beasts exhibition were a touring selection of paintings and sculptures, it would be described as a blockbuster. Setting the magnificence of Rembrandt to one side, it also features works by Goya, Albrecht Durer and the 18th-century English animal specialist George Stubbs."

...In the animal encounters category are two fine works by the Spanish master Francisco de Goya. Working on the cusp of the romantic and modern periods, Goya combined great imaginative freedom with penetrating realism. Both qualities are evident in his 33 etchings of bullfight scenes, published as a series titled the Tauromaquia."
---
September 2, 2016
Goya in Moscow
Description of exhibit at the Garage Museum of Contemporary Art
Article at Blouinartinfo
"The exhibition includes 43 of Eisenstein's sketches from the Russian State Archive of Literature and Art that have not been exhibited before. 50 of Goya's etchings, from all four of his suites, will be loaned for the first time from the State Central Museum of Contemporary History of Russia and more than 35 works by Longo, produced in the last fifteen years, loaned from international collections."
---
March 16, 2016
Prado museum gets new director
Article at Vietnamnews:
"Falomir, the museum's deputy director and long-serving curator, will replace outgoing director Miguel Zugaza who is stepping down after 15 years at the helm of the Madrid museum.

Last month, the Prado's selection committee unanimously chose the 51-year-old former art history professor to be its new director and the museum's trustees approved the decision on Wednesday, a statement from the Prado said."
---
February 15, 2016
Goya "The White Duchess" in Tennessee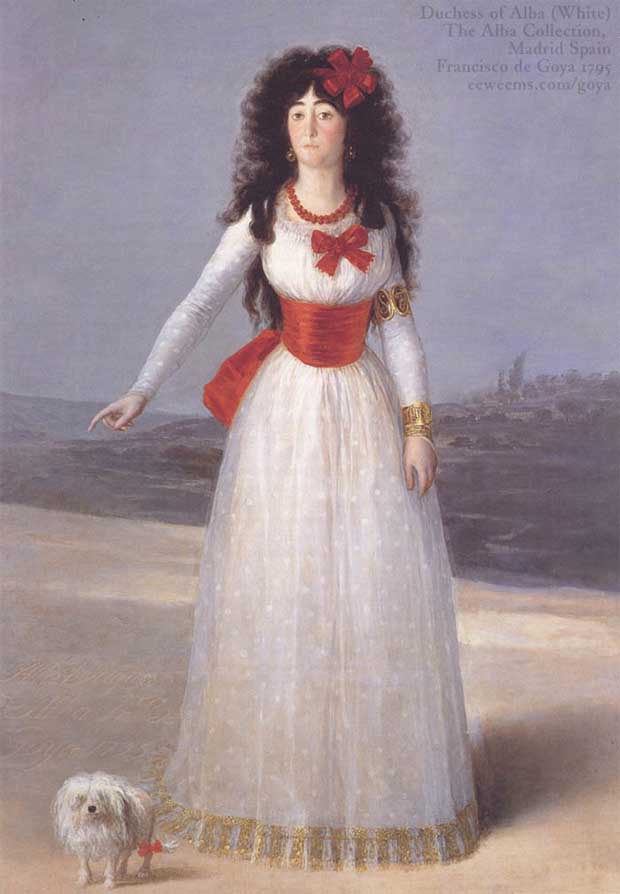 "Pair of Frist exhibits delve into European art, past and present " Article at The Tennessean
"Gracing the walls of the Ingram Gallery are works by Albrecht Dürer, Rembrandt, Titian, Francisco de Goya, Bartolomé Esteban Murillo, José de Ribera, John Singer Sargent and many more. The blockbuster exhibition surveys the family's history of collecting from the third Duke of Alba, who rose to prominence at the end of the Middle Ages, up through the current and 19th Duke of Alba, don Carlos Fitz-James Stuart.

....a highlight lies within the gallery that highlights Francisco de Goya's portraits of the Alba family, specifically the 13th Duchess of Alba, doña María del Pilar Teresa Cayetana, who was among Goya's major patrons. In perhaps the most famous works in the exhibition, Goya paints a full-length portrait of the Duchess entitled "The Duchess of Alba in White" (1795). Here, she is seen in an elegant white gown adorned with silken red ribbons. At her feet is a small white dog that dons a small red ribbon of its own. It is one of the artist's most celebrated portraits."
---
November 2, 2015
More reviews of the London Goya Portrait show
Article at UK Telegraph:
"Even in his more awkward early portrayals (he only came to portraiture in 1783, at the age of 37; before then he made religious paintings and designed tapestries) as well as in his grandest formal commissions, Goya always presented an uncanny ability to show his sitters as real people and to reveal their inner lives as well as capturing their outward appearance."
How to see beyond the stiff upper lips in Goya's portraits - New Statesman
"One of the best things in "Goya: the Portraits" is a red chalk drawing of Juan Agustín Ceán Bermúdez (1798-99). It is the spitting image of Hirst, with that tough, terse, lipless shrewdness – the mouth of a market stallholder in Leeds – inadequately disguised in a wig like an inverted empire sofa with scroll arms. There is a Self-Portrait (1815) later in the show, in which it looks as if the Botox went wrong in the right of the mouth."
Goya: the enigma behind the easel - UK Telegraph
"Sadly, The Family of Charles IV (which never leaves the Prado Museum) will not be travelling to London next week for the biggest exhibition of Goya's portraiture ever mounted. Some 70 of the 160 portraits he painted will appear in the National Gallery's autumn blockbuster, which amounts to a who's who of Spanish society in the late-17th and early-18th century."
Goya: The Portraits explores the legendarily dark artist's less nightmarish output - City AM
"Don't expect to see the Marquis of Villafranca doing the dishes, but do look out for the bulbous nose of King Charles III of Spain rendered with unflattering frankness, as he poses during a hunt, all warm smiles and friendly eyes. Neither did Goya make any attempt to play down the diminutive stature of the Count of Altamira, painting him as he did sitting on a short, custom-made chair next to a relatively tall table on which the Count rather awkwardly rests his arm."
Why did Goya's sitters put up with his brutal honesty? - UK Spectator
"Some of his earlier efforts have a stiff naiveté that is close to folk art. The main figure in the 'The Count of Floridablanca' (1783) (above) is wooden and doll-like and yet the painting as a whole is oddly memorable. Goya himself — short, subservient and sturdy, presenting a painting to his patron and simultaneously pushing himself into the picture — is a more lively presence than the noble subject. "
---
October 22, 2015
What Goya really thought of the Church - Catholic Herald
"He also produced a self-portrait in which he presented himself ailing in the arms of his doctor. In the background of the portrait are the shadowy figures of three men. To some viewers of the painting, these figures are devil-like. To others, they are churchmen. Interestingly, Goya requested in his will to be buried wearing a Franciscan habit. As he struggled against the tide of conflict and worsening illness, he might well have hoped to be comforted by the friars who were his friends."
---
October 21, 2015
Prado Museum exhibition features treasures from royal collections - Japan News
"A large-scale exhibition of masterworks from the Prado Museum of Madrid has come to Japan for the first time in 13 years, and this time it is one that aims to shed an entirely new light on the famed Prado collection.

...Rooted in the royal collections of the Hapsburg and Bourbon monarchs of Spain, the Prado's collection is celebrated as one of the world's finest, not only in the art of the great Spanish masters such as El Greco, Luis de Morales, Diego Velazquez, Bartolome Murillo and Francisco de Goya, but also the Italian Renaissance masters Titian, Tintoretto and Correggio, and the Dutch masters Bosch, Rubens and Brueghel, among others."
---
October 15, 2015
Portrait of Don Pedro Gil de Tejada - ApolloMag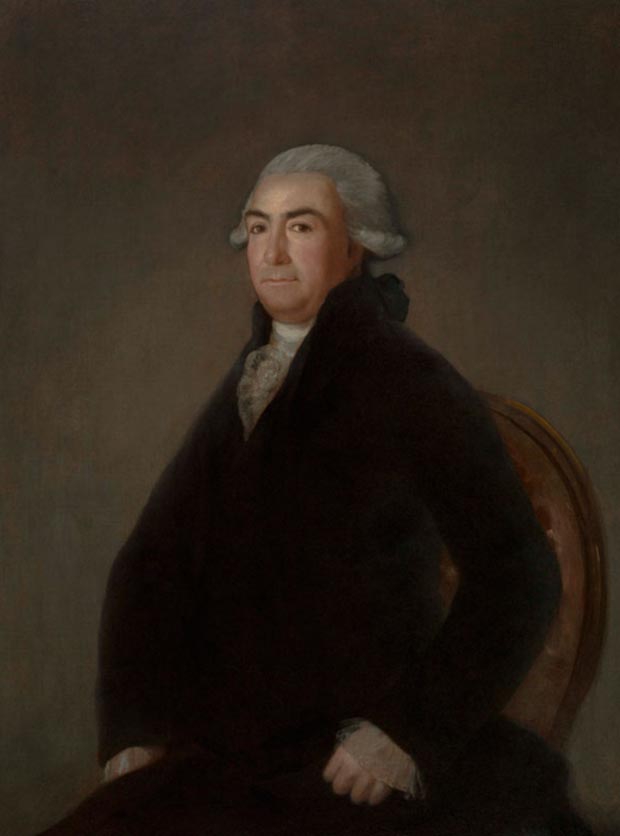 "At Stair Sainty's stand is Goya's Portrait of Don Pedro Gil de Tejada. Goya captured vanity and pomposity like no portrait painter before or since, but when a sitter appealed to him, he didn't ignore it. Don Pedro Gil de Tejada was a banker, depicted here in his pomp. He eventually died fighting the invading French. Going on Goya's depiction, he also seems to have had roguish charm; exactly the kind of guy you'd want for company at a Frieze party."
---
Oct 8, 2015
'Goya: The Portraits' Review The Spanish artist refused to become a dutiful, orthodox and formulaic portraitist - Wall Street Journal
"Goya had no desire to become a dutiful, orthodox and formulaic portraitist. Far from it: After becoming deputy director of painting at the Royal Academy, he encouraged rebellion by telling his students that "there are no rules in painting." That is why, walking through this exhibition, we encounter surprises at every turn. Even Charles III of Spain, painted full-length just before his death in 1788, is shown grinning as he leans on a hunter's rifle next to a cozily sleeping hound. This portrait is very far removed from lofty regal pomposity. Charles himself wanted to be seen as a "Friend of his people," so Goya's informal approach went down well. In 1789 Goya was appointed Court Painter—an accolade that gave him access to the royal family and any other grandees who relished his sense of adventure."
---
October 8, 2015
"Even as a courtier, Goya was no hack"
Piece discusses the current exhibition at the National Gallery in London. Writer knocks the inclusion of 'lessor' portraits but is enthusiastic about the group of the more famous artworks. Article at the Economist:
"In presenting the first-ever exhibition of Goya portraits, Xavier Bray, the chief curator of the Dulwich Picture Gallery, aims to rebalance the artist's legacy. By bringing together many rare and seldom-seen works, he hopes to increase appreciation of them. Does he succeed?

Well, it depends on where you look. The arresting full-length painting of the Duchess of Alba (pictured top), one of several rare loans (from the New York Hispanic Society), makes a fine case for this show. The portrait shows her swathed in costly black lace, a crimson sash around her waist, her long full skirt appliqued with black flowers, and with eyebrows to make Cara Delavigne envious. It is a star of the exhibition (and duly graces the posters)."
Additional coverage of the London Exhibit:
'Dazzling Brilliance' - Huffington Post
"The 70 portraits on show demonstrate Goya's genius beautifully and include works that have never been exhibited publicly before, having remained in the possession of descendants of the sitters, and some that are rarely lent. This includes the impressive Duchess of Alba, 1797, which has only once left the United States, and has never before travelled to Britain, and the delicate and intriguing portrait of Don Valentin Bellvis de Moncada de Pizarro, 1795, which is on public display here for the first time ever."
---
Sept 20, 2015
Goya portrait causes controversy at London's National Gallery
Article at Olive Press Es:
"The portrait's brushwork and the hidden painting beneath are the main points of controversy."

A painting of a man wearing a striped jacket was found beneath the portrait when the painting was x-rayed following scholarly sceptics.

Experts are now looking into the portrait's history, thought to have been painted in 1805, to determine if it truly is a Goya."
---
Sept 16, 2015
Alba family's treasures on display at Dallas' Meadows Museum
Part of the Meadows' 50th anniversary celebration
Article at the Star-Telegram
"The Alba collection, with thousands of works, was amassed by marriages, astute acquisitions, commissions and, in one case, almost ruinous collecting.

The story of the Alba family and its intrigues is worthy of a three-year Masterpiece Theater series. There were alliances and marriages with most of Europe's dynasties, and the record of these is illustrated in the collection's portraits, created by the most notable painters and sculptors of the time.

The paintings, furnishings, documents, tapestries, drawings, prints, maps and antiquities are from the three Alba palaces in Spain — the Liria in Madrid, Las Dueñas in Seville and Monterrey in Salamanca. There, these treasures are hung salon-style, three- and four-deep on the walls, clustered on tables and dwarfing the furniture.

The tapestries that take up an entire wall in the museum "look like a stamp in the staircase of the palace," says Mark Roglán, director of the Meadows.

There is such a glorious excess that even Fra Angelico's The Virgin of the Pomegranate, c. 1426, with its eye-catching gold leaf and brilliant colors, is lost among the Titians, Goyas, Riberas, Murillos, Rubenses, Ingreses, Renoirs and Sorollas.

Many of these works, such as Fra Angelico's Virgin, have never left Spain. The loan of this magnitude was achieved on the Meadows' sterling history of mounting Spanish exhibitions and artworks."
Wem site featuring the exhibit www.meadowsmuseumdallas.org

---
Judge probes use of four fake Goyas to fund Madrid hospital
Article at el Pais:
"A company used four fake Goya paintings to raise funds to build a medical center specializing in spinal cord injuries west of Madrid, the public prosecutor has said.

...The firm produced four supposed Francisco de Goya paintings and a report attesting to their authenticity written by an individual who purported to hold a PhD in art history. The artwork was meant to guarantee a capital increase that would enable the company to build the center.

The project met with the approval of the Villaviciosa government team. "It represented a major opportunity in terms of jobs and business development," said sources at the town hall. Workers were to be hired from a pool of local job seekers."
---
Dec 29, 2014
Cornell professor unlocks mysteries of paintings
"Richard Johnson can see right through the masterpieces of Rembrandt and Van Gogh.

The Cornell University electrical and computer engineering professor is a digital art detective, able to unlock the mysteries of a work's age and authenticity by analyzing its underlying canvas or paper.

Using high-resolution X-ray images, the 64-year-old academic can actually determine if paintings came from the same bolt of hand-loomed canvas, each of which has a varying thread density pattern that can be as unique as a fingerprint. Linking multiple pieces of canvas to the same bolt can shore up arguments for authenticity and even put works in chronological order."
Though not directly about Goya, this article discusses some of the aspects of modern painting authentication and research methods.
---
June 24, 2013
Goya drawing to be auctioned at Christie's
Old Master & British Drawings & Watercolours, July 2, 2013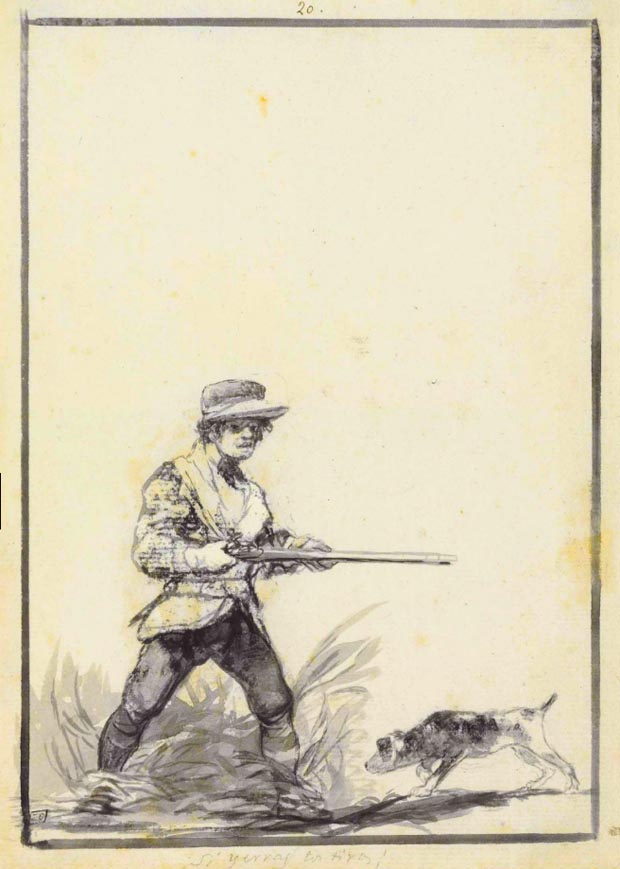 Drawing is from Goya's "Black Border Album" which dates to 1816/1818.
---
February 8, 2013
New documentary film on Goya "Secrets in the Shadows"
El Secreto de la Sombra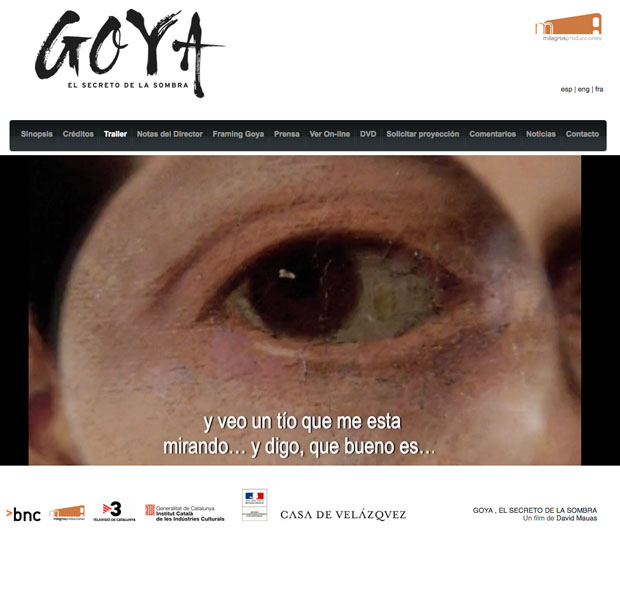 This spanish language documentary has an online trailer with english subtitles here.
The trailer is about the 'hidden signatures' that Goya placed in his paintings. Also mentioned is the high quantity of would-be Goya paintings that are seeking authentication, and the challenges of separating fakes from genuine works. The film provides a fascinating inside-view of the world of Goya collecting and details how Goya signed his paintings.
---

---

---
AMAZON
Goya The Terrible Sublime - Graphic Novel - (Spanish Edition) - Amazon
---
Goya: His Life & Works in 500 Images: An illustrated account of the artist, his life and context, with a gallery of 300 paintings and drawings – 256 pages, Lorenz Books, 2015 - Amazon
---

"From this headlong seizure of life we should not expect a calm and refined art, nor a reflective one. Yet Goya was more than a Nietzschean egoist riding roughshod over the world to assert his supermanhood. He was receptive to all shades of feeling, and it was his extreme sensitivity as well as his muscular temerity that actuated his assaults on the outrageous society of Spain." From Thomas Craven's essay on Goya from MEN OF ART (1931).
"...Loneliness has its limits, for Goya was not a prophet but a painter. If he had not been a painter his attitude to life would have found expression only in preaching or suicide." From Andre Malroux's essay in SATURN: AN ESSAY ON GOYA (1957).
"Goya is always a great artist, often a frightening one...light and shade play upon atrocious horrors." From Charles Baudelaire's essay on Goya from CURIOSITES ESTRANGERS (1842).
"[An] extraordinary mingling of hatred and compassion, despair and sardonic humour, realism and fantasy." From the foreword by Aldous Huxley to THE COMPLETE ETCHINGS OF GOYA (1962).
"His analysis in paint, chalk and ink of mass disaster and human frailty pointed to someone obsessed with the chaos of existence..." From the book on Goya by Sarah Symmons (1998).
"I cannot forgive you for admiring Goya...I find nothing in the least pleasing about his paintings or his etchings..." From a letter to (spanish) Duchess Colonna from the French writer Prosper Merimee (1869).
---
---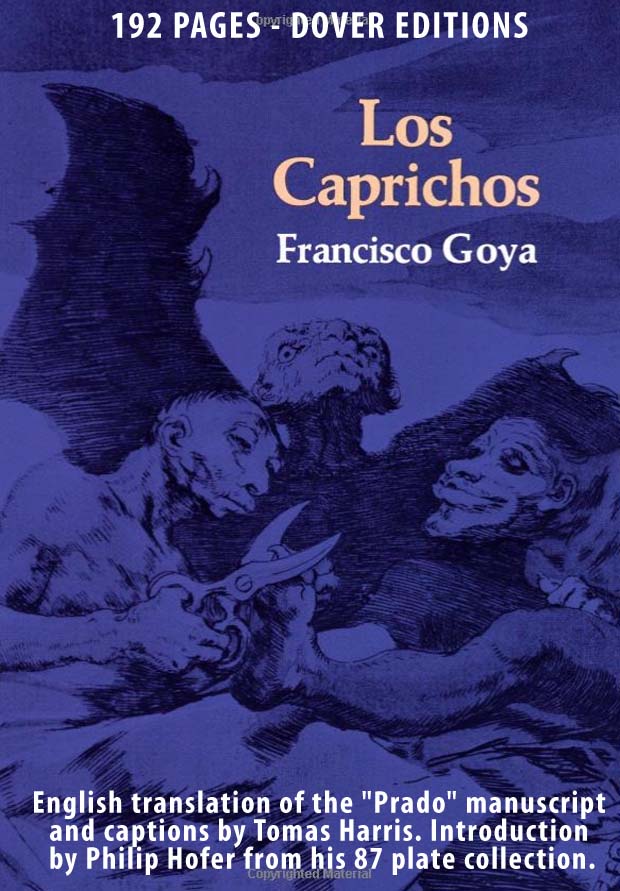 GOYA : Los Caprichos - Dover Edition - Amazon
---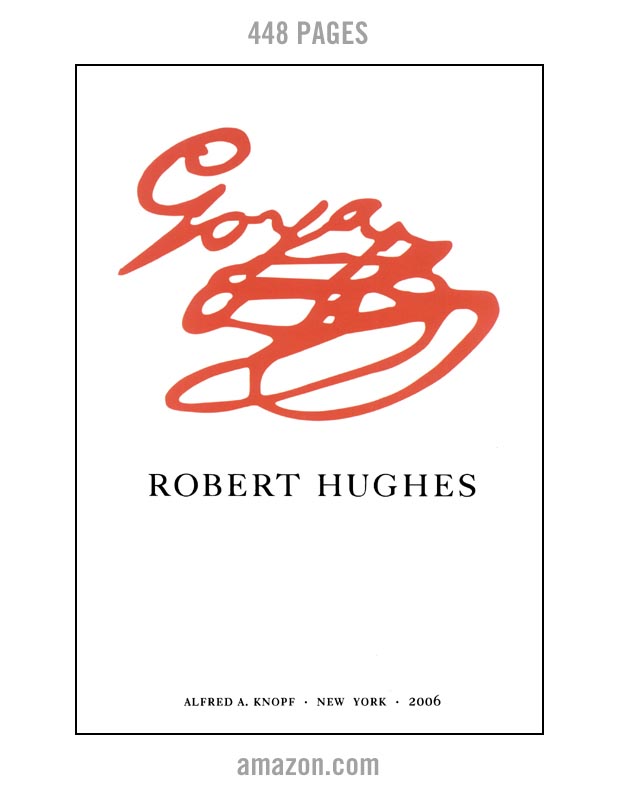 ---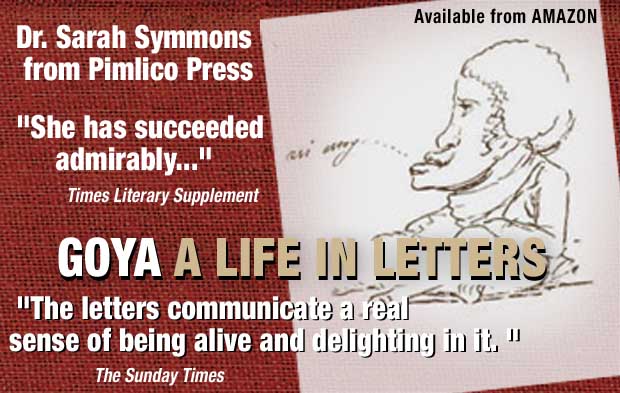 Goya: A Life in Letters
---