JUNE 12, 2008
Two Concurrent Goya Exhibits running at Prado
The exhibit titled "The Spanish Portrait in The Prado. From Goya to Sorolla" has just opened at the Prado.This is the second half of a previous exhibit which traveled to various museums in 2005-2006. I have yet to see a list of paintings included with the exhibit.
And closing on July 13th is "Goya in Time of War" which has as its centerpieces the twin Goya paintings "2nd of May" and "3rd of May" which have been cleaned and restored. (See earlier news item about the restoration work).
From a review by Barbara Rogers at Spain-Travel.com:
"The exhibit is so compelling that even those who thought they didn't care much about Goya are drawn into the tumbled world of 18th-century Spain. Ranging from portraits of his royal patrons to etchings satirizing the follies of mankind and the "Disasters of War," the show also includes the two monumental paintings that form the best-known artistic record of the abortive May 2 uprising. "
El Prado Museo web page on Goya Exhibit
Exhibit information: General entry is 6€
Free admission: from Tues to Sat from 6 pm to 8 pm; Sun from 5pm to 8 pm
Advance booking tickets: telephone 902 10 70 77
Date 15 April to 13 July 2008
Curator: Manuela Mena, Chief Curator 18th-century Painting and Goya at the Museum
Jointly organised with the Sociedad Estatal de Conmemoraciones Culturales under the direction of the Ministry of Culture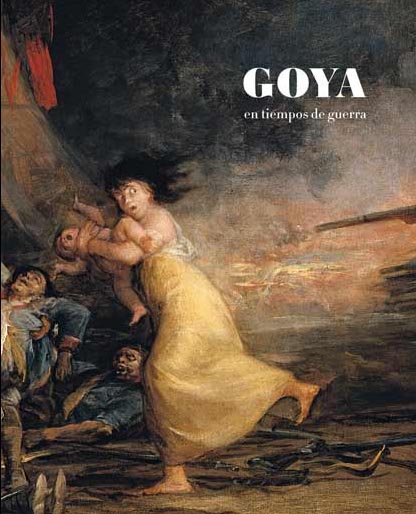 The Goya Tiempos de Guerra Catalog for the exhibit is written by José Luis Díez, Chief Curator of 19th-century Painting at the Prado; Juan J. Luna, Head of the Department of 18th-century Painting and Goya; José Manuel Matilla, Head of the Department of Prints and Drawings; Gudrun Maurer, art historian and associate of the Museo del Prado; and Manuela Mena, Chief Curator of 18th-century Painting and Goya and curator of the exhibition.
---
AMAZON
Goya The Terrible Sublime - Graphic Novel - (Spanish Edition) - Amazon
---
Goya: His Life & Works in 500 Images: An illustrated account of the artist, his life and context, with a gallery of 300 paintings and drawings – 256 pages, Lorenz Books, 2015 - Amazon
---

"From this headlong seizure of life we should not expect a calm and refined art, nor a reflective one. Yet Goya was more than a Nietzschean egoist riding roughshod over the world to assert his supermanhood. He was receptive to all shades of feeling, and it was his extreme sensitivity as well as his muscular temerity that actuated his assaults on the outrageous society of Spain." From Thomas Craven's essay on Goya from MEN OF ART (1931).
"...Loneliness has its limits, for Goya was not a prophet but a painter. If he had not been a painter his attitude to life would have found expression only in preaching or suicide." From Andre Malroux's essay in SATURN: AN ESSAY ON GOYA (1957).
"Goya is always a great artist, often a frightening one...light and shade play upon atrocious horrors." From Charles Baudelaire's essay on Goya from CURIOSITES ESTRANGERS (1842).
"[An] extraordinary mingling of hatred and compassion, despair and sardonic humour, realism and fantasy." From the foreword by Aldous Huxley to THE COMPLETE ETCHINGS OF GOYA (1962).
"His analysis in paint, chalk and ink of mass disaster and human frailty pointed to someone obsessed with the chaos of existence..." From the book on Goya by Sarah Symmons (1998).
"I cannot forgive you for admiring Goya...I find nothing in the least pleasing about his paintings or his etchings..." From a letter to (spanish) Duchess Colonna from the French writer Prosper Merimee (1869).
---
---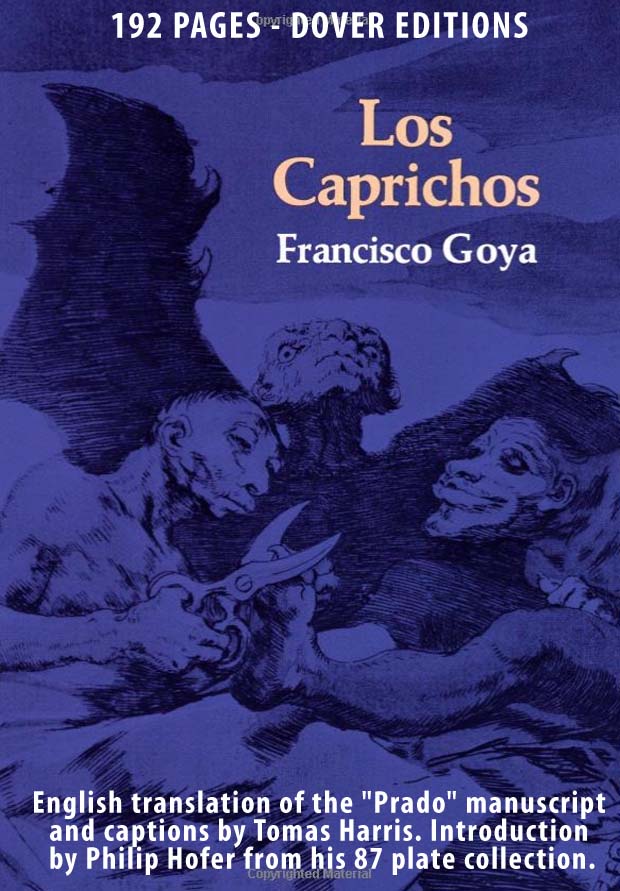 GOYA : Los Caprichos - Dover Edition - Amazon
---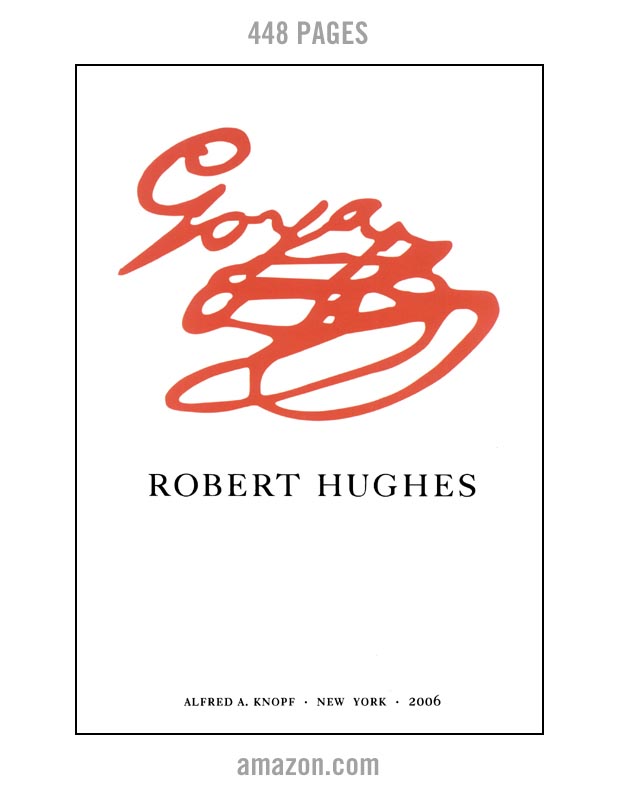 ---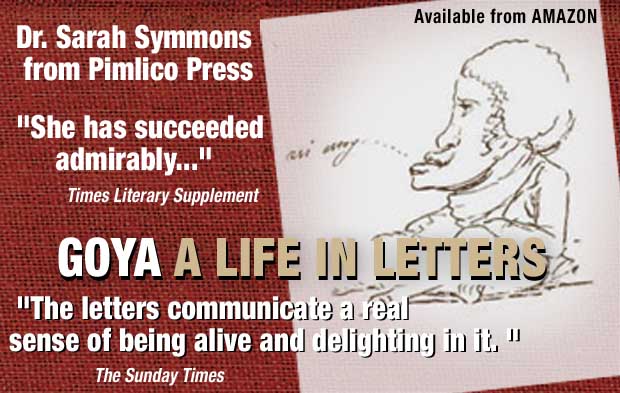 Goya: A Life in Letters
---