January 24, 2010
Goya Ink Wash Drawings sell for $1,048,000 USD
Sotheby Old Masters auction in New York on January 24, 2010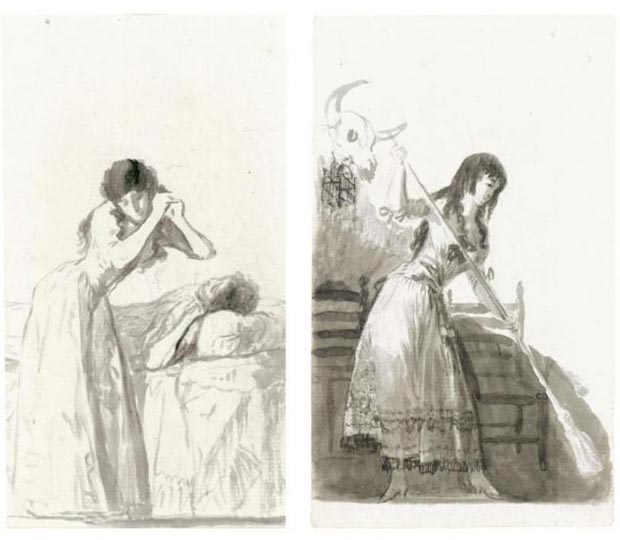 From Goya's "Sanlucar" album - dated by Gassier as drawn in 1796-1797
Sotheby's describes the images as 6.75 x 3 inches in size (172mm by 101mm). Also;
"RECTO: A YOUNG WOMAN ARRANGING HER HAIR BESIDE A BED ON WHICH ANOTHER WOMAN IS RESTING; VERSO: A YOUNG WOMAN SWEEPING IN A TAVERN"
These images appear in Gassier's "The Life and Complete Work of Francisco Goya" on pages 171-172. They are numbered images #368 and #369 respectively. They are on the reverse sides of a single sheet of paper. The drawings are rendered in indian ink wash (ink diluted with water to enable grey tones).
Provenance for the drawings provided on the Sotheby's online lot description: Javier Goya y Bayeu, 1828; Mariano Goya y Goicoechea, 1854; Valentin Carderera and/or Federico de Madrazo, c.1855 - 1860; Jules Boilly, his sale, Paris, Hôtel Drouot, 19-20 March 1869, lot 48 (the album sold 450 FF, bought by Leurceau); Hyades, Bordeaux; A. Strölin, Paris; Private collection, Switzerland; Private collection, Paris
From Sotheby's text:
"This double-sided page was part of the so-called Sanlúcar album and is among the best images from it.

...Gassier stresses the importance of the Sanlúcar album, saying that to his knowledge this is the first time that Goya uses wash on its own, and he again quotes Carderera, who eloquently describes the effect of this medium:'It is impossible to convey the clearness of the lines in most of these drawings, done with the very tip of the brush dipped in Indian ink...'. Goya's drawings up to this moment had been preparatory studies for paintings, executed in a classical technique of red and black chalks, so the Sanlúcar album represents a dramatic shift to a medium which became essential to him, particularly in the later albums.. "
---
AMAZON
Goya The Terrible Sublime - Graphic Novel - (Spanish Edition) - Amazon
---
Goya: His Life & Works in 500 Images: An illustrated account of the artist, his life and context, with a gallery of 300 paintings and drawings – 256 pages, Lorenz Books, 2015 - Amazon
---

"From this headlong seizure of life we should not expect a calm and refined art, nor a reflective one. Yet Goya was more than a Nietzschean egoist riding roughshod over the world to assert his supermanhood. He was receptive to all shades of feeling, and it was his extreme sensitivity as well as his muscular temerity that actuated his assaults on the outrageous society of Spain." From Thomas Craven's essay on Goya from MEN OF ART (1931).
"...Loneliness has its limits, for Goya was not a prophet but a painter. If he had not been a painter his attitude to life would have found expression only in preaching or suicide." From Andre Malroux's essay in SATURN: AN ESSAY ON GOYA (1957).
"Goya is always a great artist, often a frightening one...light and shade play upon atrocious horrors." From Charles Baudelaire's essay on Goya from CURIOSITES ESTRANGERS (1842).
"[An] extraordinary mingling of hatred and compassion, despair and sardonic humour, realism and fantasy." From the foreword by Aldous Huxley to THE COMPLETE ETCHINGS OF GOYA (1962).
"His analysis in paint, chalk and ink of mass disaster and human frailty pointed to someone obsessed with the chaos of existence..." From the book on Goya by Sarah Symmons (1998).
"I cannot forgive you for admiring Goya...I find nothing in the least pleasing about his paintings or his etchings..." From a letter to (spanish) Duchess Colonna from the French writer Prosper Merimee (1869).
---
---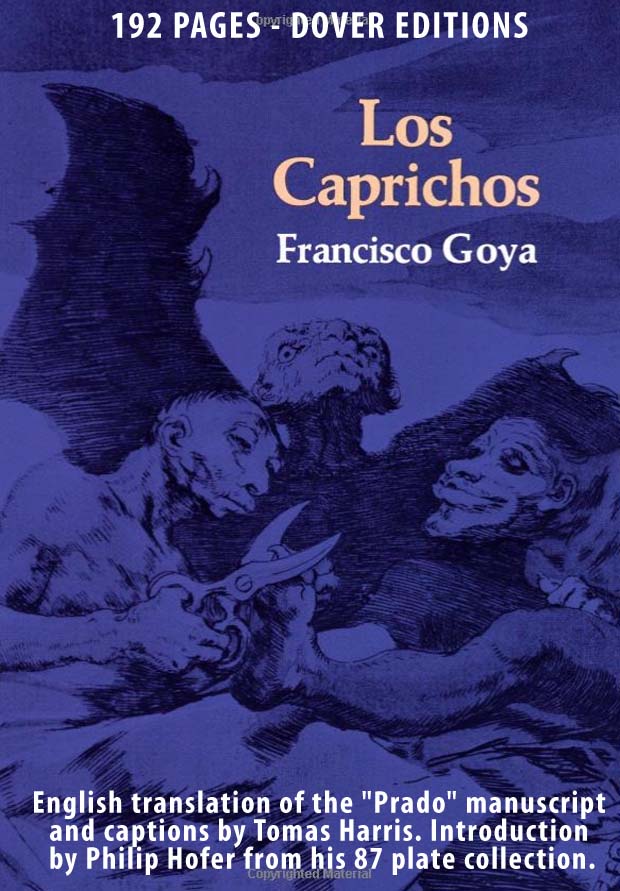 GOYA : Los Caprichos - Dover Edition - Amazon
---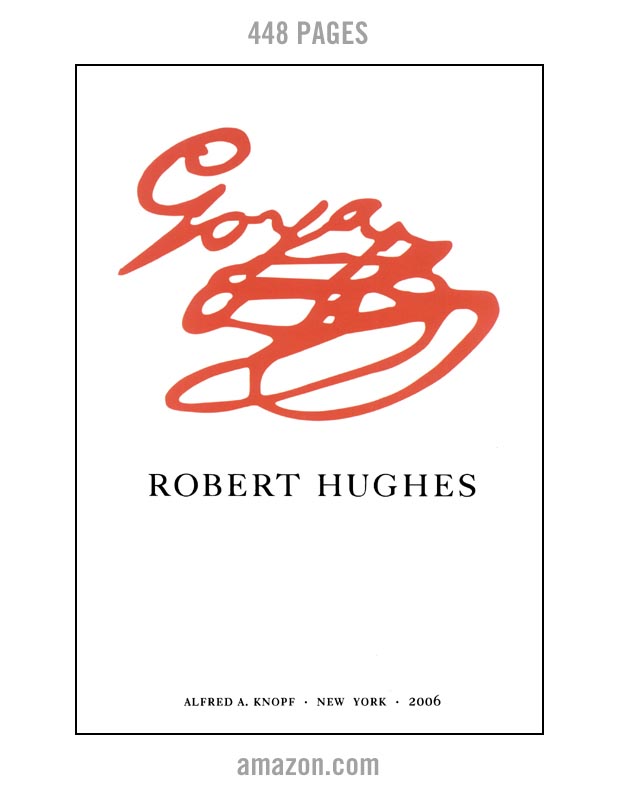 ---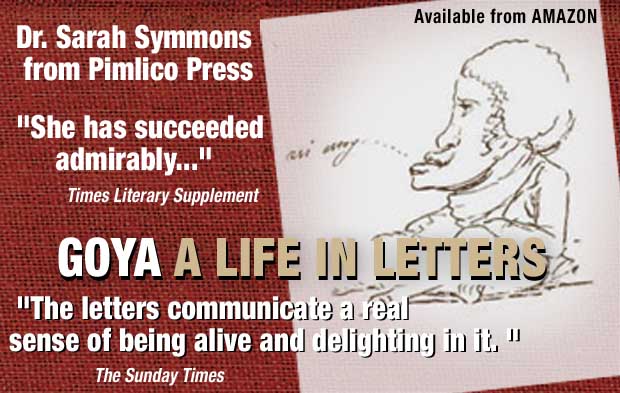 Goya: A Life in Letters
---