JULY 2, 2008
New York Times on Goya 'War' Exhibit; also El Coloso
An overview of the exhibit "Goya in Time of War" at the Prado in Madrid, written up by Michael Kimmelman at the New York Times. He provides a few thoughts about the near-official reduction of 'Colossus' to not-Goya, which seems to be the opinion carrying the day in all of the reports I have been reading. Kimmelman also touches on the general status of Goya in art, and gives an opinion on the exhibit's size and scope:
"There was a little orchestrated flurry of drama here at the Prado a few sweltering days ago when the museum staged a news conference to announce what was hardly news: that "Colossus," the famous, much reproduced Goya painting of a giant terrifying a landscape, may not be a Goya after all. Experts had been questioning its authorship for years. Expert or not, anybody who bothered to look closely at the picture and not just glance at Goya's name on the label next to it, might have felt doubts.

...the show (it remains on view through July 13) is most memorable for pictures less famous, some rarely or never seen — still lifes and portraits — many from obscure collections, which Ms. Mena, its curator, has finagled for the occasion.

These include swift drawings like "Cuantas Baras?" ("How Many Yards?"). It's a minor masterpiece of condensed, sardonic understatement, with a priest in a voluminous robe that, seen from the rear, gives him something of the creepy aspect of a bat. Then there are paintings like the portrait of Goya's grandson Mariano, standing, rosy-cheeked, beside his toy carriage, an image as tender as the priest's is ruthless.

That is the genius of Goya, not just to give equal weight to drawings and prints and paintings, to public and private pictures, but also to move so effortlessly between cruelty and love. The human condition was never whole, Goya made clear. "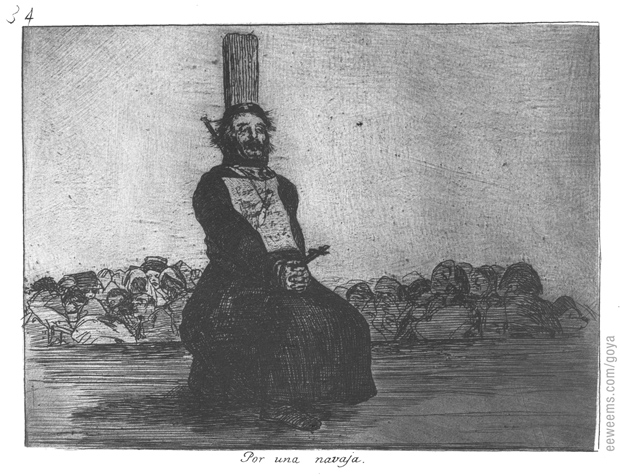 ---
AMAZON
Goya The Terrible Sublime - Graphic Novel - (Spanish Edition) - Amazon
---
Goya: His Life & Works in 500 Images: An illustrated account of the artist, his life and context, with a gallery of 300 paintings and drawings – 256 pages, Lorenz Books, 2015 - Amazon
---

"From this headlong seizure of life we should not expect a calm and refined art, nor a reflective one. Yet Goya was more than a Nietzschean egoist riding roughshod over the world to assert his supermanhood. He was receptive to all shades of feeling, and it was his extreme sensitivity as well as his muscular temerity that actuated his assaults on the outrageous society of Spain." From Thomas Craven's essay on Goya from MEN OF ART (1931).
"...Loneliness has its limits, for Goya was not a prophet but a painter. If he had not been a painter his attitude to life would have found expression only in preaching or suicide." From Andre Malroux's essay in SATURN: AN ESSAY ON GOYA (1957).
"Goya is always a great artist, often a frightening one...light and shade play upon atrocious horrors." From Charles Baudelaire's essay on Goya from CURIOSITES ESTRANGERS (1842).
"[An] extraordinary mingling of hatred and compassion, despair and sardonic humour, realism and fantasy." From the foreword by Aldous Huxley to THE COMPLETE ETCHINGS OF GOYA (1962).
"His analysis in paint, chalk and ink of mass disaster and human frailty pointed to someone obsessed with the chaos of existence..." From the book on Goya by Sarah Symmons (1998).
"I cannot forgive you for admiring Goya...I find nothing in the least pleasing about his paintings or his etchings..." From a letter to (spanish) Duchess Colonna from the French writer Prosper Merimee (1869).
---
---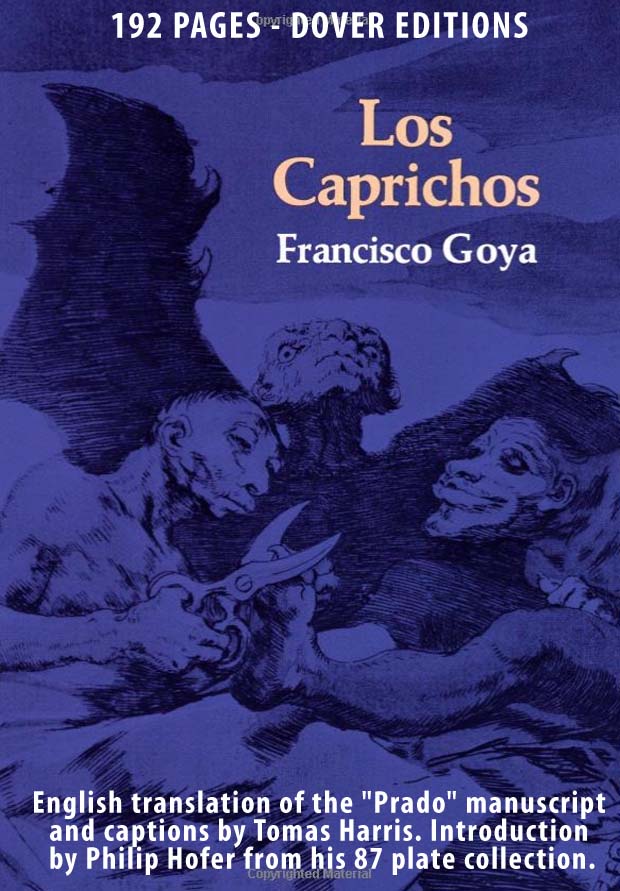 GOYA : Los Caprichos - Dover Edition - Amazon
---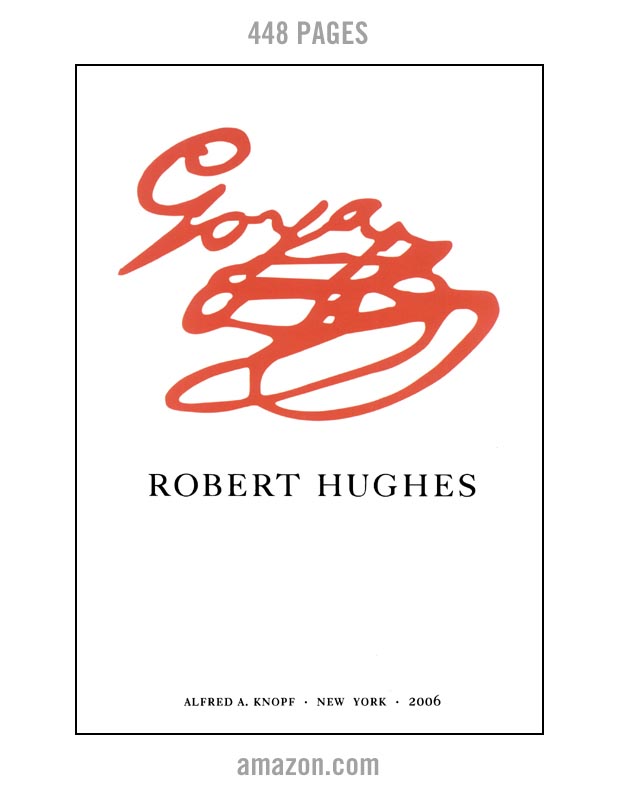 ---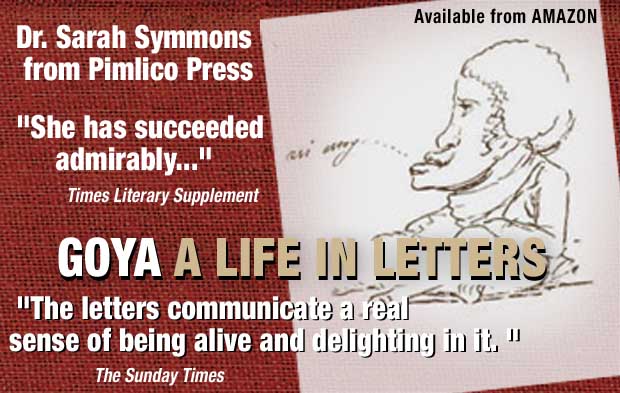 Goya: A Life in Letters
---