July 20, 2010
Chemicals, X-Rays, and Surprises


National Gallery: Close Examinations
Article by Michael Kimmelman about the science that is now brought to bear and understanding (and verifying) works of art. As the tools become more precise, the reliance on 'eye technique' fades a little more.
Exhibit is at the National Gallery in London. Runs from June 30 to September 12, 2010
Coverage of the "Close Examinations" exhibit at the London National Gallery from the New York Times:
"At first blush "Close Examination: Fakes, Mistakes and Discoveries," here at the National Gallery, has the quaint, cheerfully scholastic earnestness of a science fair. Some 30 pictures from the permanent collection, most of them culled from storage, have been enlisted to anchor a flurry of wall texts, X-rays and the sort of enlarged microscopic cross sections of layered pigments and varnish vaguely resembling the cautionary photographs of plaque that elementary school teachers flourish before floss-wary fourth graders.

...to instruct us in the chemistry of painting, it ends up suggesting how elusive art remains despite all the gadgets that we devise to master it.

...There is, for example, the Italian Renaissance painting of a young woman, brunet, demure and wide-eyed, standing before a window, that entered the National Gallery's collection in the mid-19th-century. Was it by Lorenzo Lotto or Palma Vecchio? Experts debated. Either way, she was a beauty, they agreed, despite her blemish: a layer of damage visible just beneath her hair, which conservators only got around to checking in 1978. They discovered — you guessed it — that the demure brunette covered up a sultry blonde whose hair had been darkened, jaw line and brow softened, eyes widened and breasts made more discreet to contrive what the unknown "restorer" more than a century ago thought fellow Victorians would regard as a comelier Renaissance portrait.

The original was still Italian, still Renaissance, although hardly like the faux-Renaissance version that masked it. To modern eyes the cleaned picture looks more striking, while the shenanigans that passed for conservation a century ago only prove how taste is hostage to its era."
I would like to see as thorough an examination done of the Goya paintings that are in the museums. Records indicate, for example, that much repainting had been done to the Goya Black Paintings during restoration efforts, perhaps even altering the actual figure positions and placement in some cases.
In the Sharon Waxman book Loot: Stolen Treasures of the Art World, she recounts a sometimes bewildering tale of how museums can trick others, trick themselves, or simply get taken by crooks selling artworks. In discussing some of these items, for example marble objects from the mediterranean, she shows how a museum could "restore and clean" something while actually bleaching the object with chemicals to brighten and "whiten" it in order to change the object to fit the expectations of the viewer, when in fact the original state of the marble was a different hue and painted.
Along these same lines, the Orson Welles documentary F for Fake shows how talented forgers create art that passes the 'eye test' to get into galleries and museums, and that manipulation sometimes doesn't just depend upon painting or sculpting something to look like some famous artists work, but to flatter the experts who guard the gates into the art world of lucrative sales.
---
AMAZON
Goya The Terrible Sublime - Graphic Novel - (Spanish Edition) - Amazon
---
Goya: His Life & Works in 500 Images: An illustrated account of the artist, his life and context, with a gallery of 300 paintings and drawings – 256 pages, Lorenz Books, 2015 - Amazon
---

"From this headlong seizure of life we should not expect a calm and refined art, nor a reflective one. Yet Goya was more than a Nietzschean egoist riding roughshod over the world to assert his supermanhood. He was receptive to all shades of feeling, and it was his extreme sensitivity as well as his muscular temerity that actuated his assaults on the outrageous society of Spain." From Thomas Craven's essay on Goya from MEN OF ART (1931).
"...Loneliness has its limits, for Goya was not a prophet but a painter. If he had not been a painter his attitude to life would have found expression only in preaching or suicide." From Andre Malroux's essay in SATURN: AN ESSAY ON GOYA (1957).
"Goya is always a great artist, often a frightening one...light and shade play upon atrocious horrors." From Charles Baudelaire's essay on Goya from CURIOSITES ESTRANGERS (1842).
"[An] extraordinary mingling of hatred and compassion, despair and sardonic humour, realism and fantasy." From the foreword by Aldous Huxley to THE COMPLETE ETCHINGS OF GOYA (1962).
"His analysis in paint, chalk and ink of mass disaster and human frailty pointed to someone obsessed with the chaos of existence..." From the book on Goya by Sarah Symmons (1998).
"I cannot forgive you for admiring Goya...I find nothing in the least pleasing about his paintings or his etchings..." From a letter to (spanish) Duchess Colonna from the French writer Prosper Merimee (1869).
---
---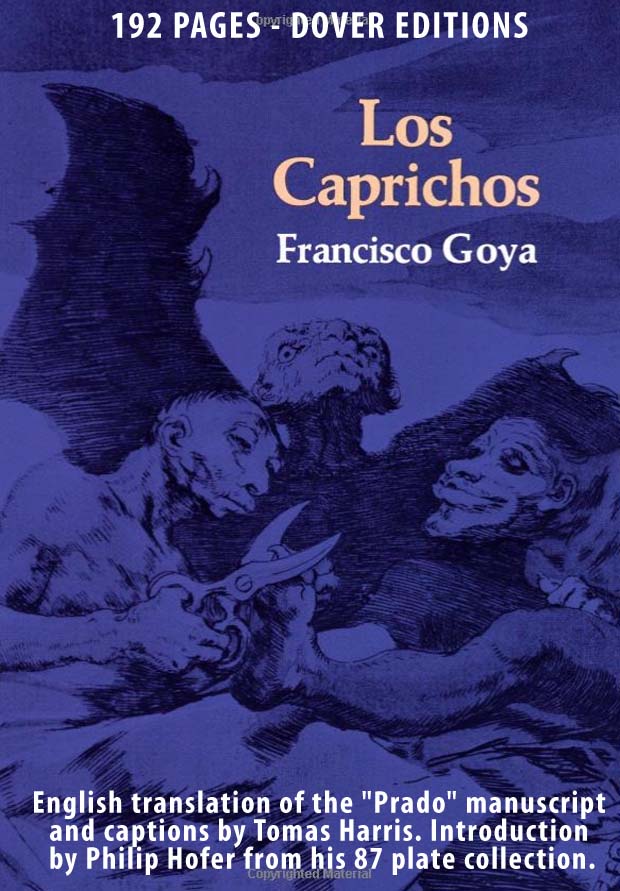 GOYA : Los Caprichos - Dover Edition - Amazon
---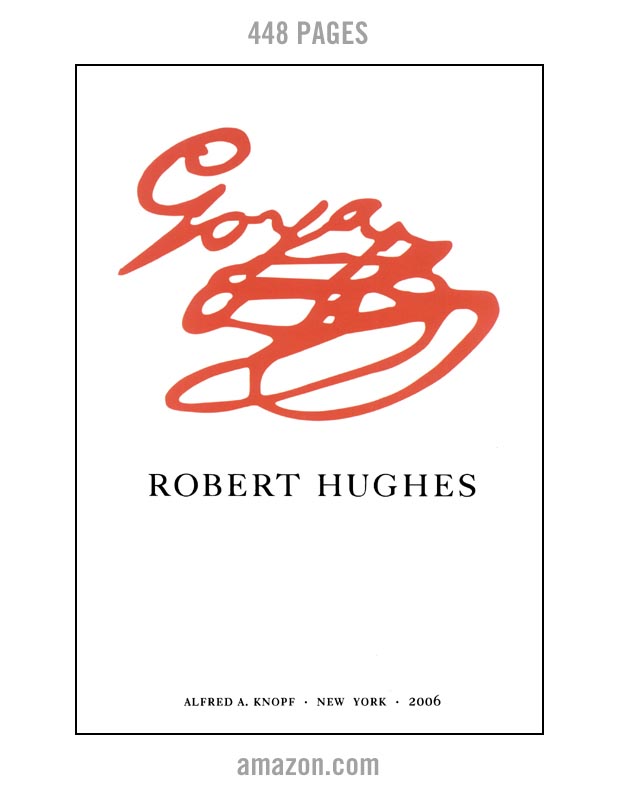 ---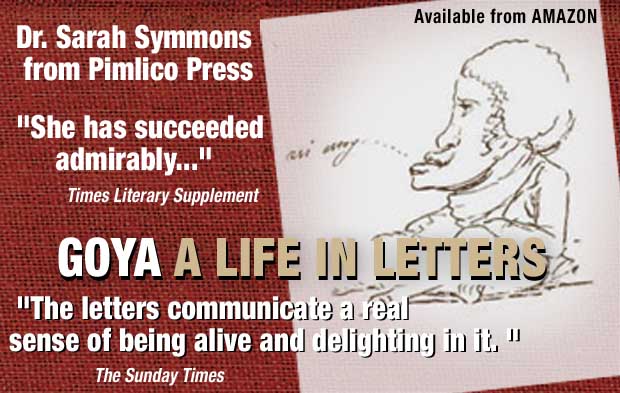 Goya: A Life in Letters
---