Possible Unknown Goya Painting
Striker Family "Portrait of an Unknown Woman" possible Goya painting of Josepha Bayou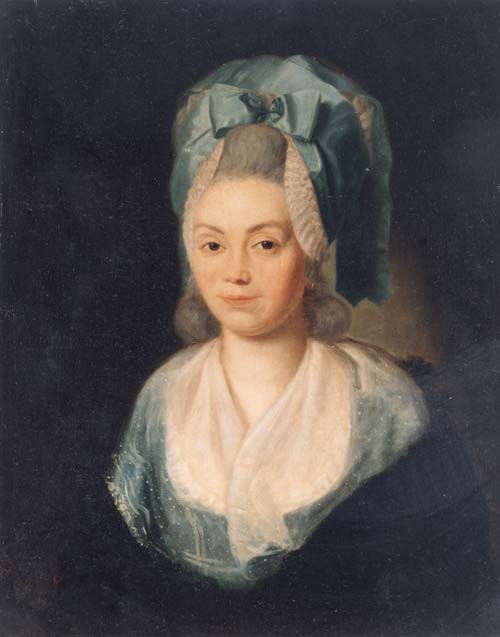 This painting was brought to my attention by the Paul & Helen Striker Family of Washington State. They purchased the painting in 1973. It was authenticated as coming from the last quarter of the eighteenth century, and appears to be a portrait of Goya's wife, Josepha Bayou. The authentication work was done by Oregon art dealer Lloyd Halverson and Agnes Mongen of England.
---
From Mr. Striker, June 2017:

"I've attached two images that demonstrate unique correlations between two authenticated paintings by Goya and our family portrait. The fifth image is a closeup of the "a" in the signature. A caricature of a man on top of the letter is aiming a gun at a "monster" on the right. It's a classic example of Goya's bizarre imagination.
The first comparison shows a flat nosed crocodile painted into the floral hat worn by the 'Countess of Chinchon' painted by Francisco Goya in 1800. A human head in profile comprises the snout of the animal. An almost identical flat nosed crocodile is incorporated into the painting of Madame Blanchet. Human forms also comprise the formation of this crocodile.
The second comparison shows two very similar signatures. The signature on our portrait is surrounded by and embedded with caricatures of people. Goya also played with his signature in his self-portrait dated 1795. The "O" of his signature is "hanging on a person's shoulder" and all the letters are surrounded by and embedded with caricatures that are painted in Goya's unmistakable style.
These correlations are just two of many that provide evidence that the painting of Madame Blanchet is an original painting by Francisco Goya."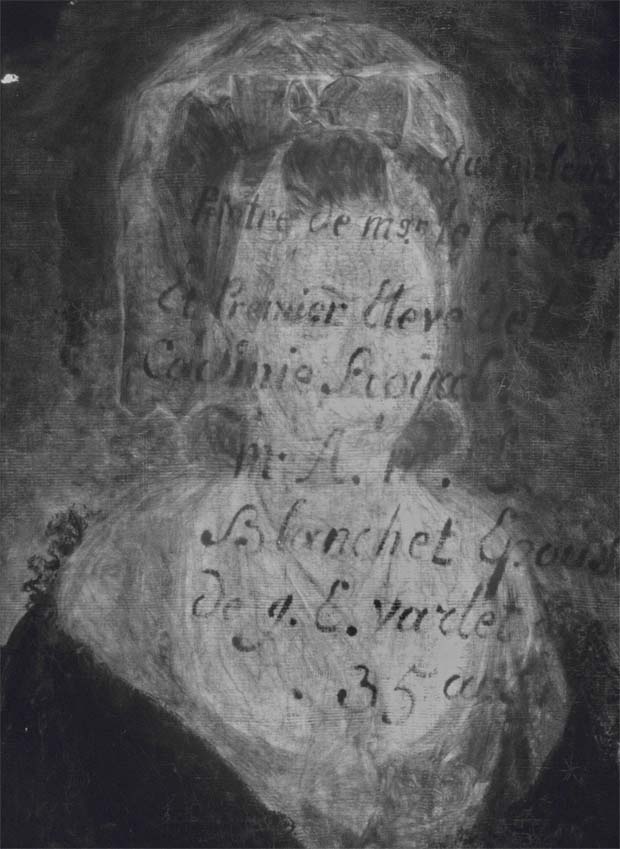 More information at www.goya.smugmug.com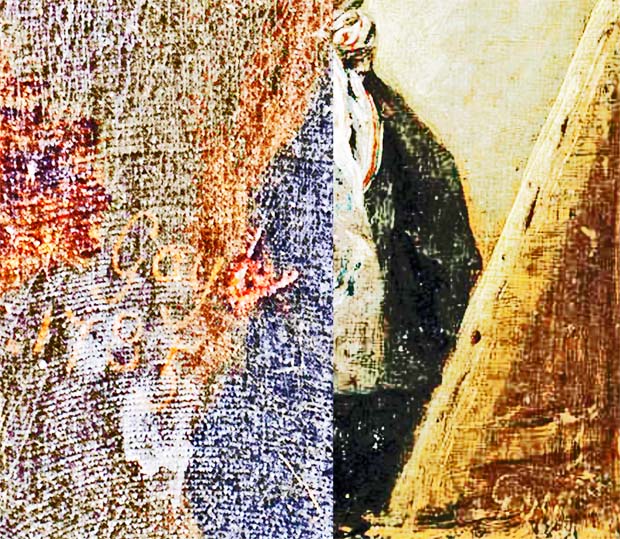 ---
From Mr. Striker, March 2005:
"We understand that March 30th is Goya's birthday. It is also our wedding anniversary, and we will celebrate 54 years together ,and the birth of Francisco Goya!

We are just finishing a book of fiction. Our painting will be reproduced and put on the front cover.We would like to know if it is possible to reproduce the sketch of Josepha Bayeu (1805). Could you please tell us who we need to get permission from to do this.

We plan to put it on the back cover of our book.
The e-bay auction recieved many hits but no sale of the painting. However, it was successful in acquainting more people with Parkinson's disease . Our son had DBS surgery last year, and is able to live a much better life today because of the positive results, and the help from our NWPF experts.

Our offer to give 50 per-cent of the net proceeds from the sale of our painting to the Micheal J Fox Foundation, and the NWPF is still on , and perhaps a few people will see the painting on our book-cover and find it interesting."
From Mr. Striker, May 2003:
"The art world is political, as you stated. We knew nothing of this, but only loved our painting and thought it had to be a masterpiece, as none but a master could do such work. Since it is signed "Goya ,1785 ", we believe him. We believe it is his wife Josepha , as although we are not artists, we also are not blind. Our painting, and the sketch Goya did in 1805 that you have on your site are the same wonan. We came to that conclusion several years ago, and believe it firmly. So do our children and friends.

We have firmly committed to auctioning the painting and giving 50% of the net proceeds to Parkinson's Research Foundations and to a foundation in the our area that strives to improve the life of patients with Parkinson's. We spoke at length with the Director, and he said just getting the public aware of the critical need for funds for research would be worth so much to them, and please help.

Since the world expert on Goya, Pierre Gassier , received and studied photos of the painting for months before telling us in a telephone conversation that "he won't say it is, and he wont't say it isn't ", and since Marcus Burke, the former curator of the Meadow's Museum in Texas received and studied photos and said "don't take less than 6 million at auction for it as ten years from now it will be sold for ten times that amount, and also that it is the most masterful work of the master and is signed all over", we are going set an opening bid for it at three million dollars, U.S. funds. The sale will be closed in escrow and the buyer may, at his expense, have the painting examined before closing the sale. The date is not decided yet, but we will keep you informed."
From Mr. Striker, April 2003:
Dear Mr. Weems,

"We recieved your packet of our Goya material last week and thank you and Mrs. Weems. Thank you for the wonderful CD you made and enclosed also.It was very thoughtful of you, and we appreciate you time and talent.Your Goya web-site is just grand. If Goya where here to view it we think he would be very pleased!

On March 30 we took a ferry-boat trip to Langley, on Whidbey Island ,Wa with our daugher,son-in-law, and two little grandsons. There are several art galleries there and we all enjoyed the colorful displays of the local artists. We had a fine dinner and toasted family, friends, Goya on his birthday, and life in general. It was a beautiful day."
Related:
1814 Portrait of Josefa Bayou by Goya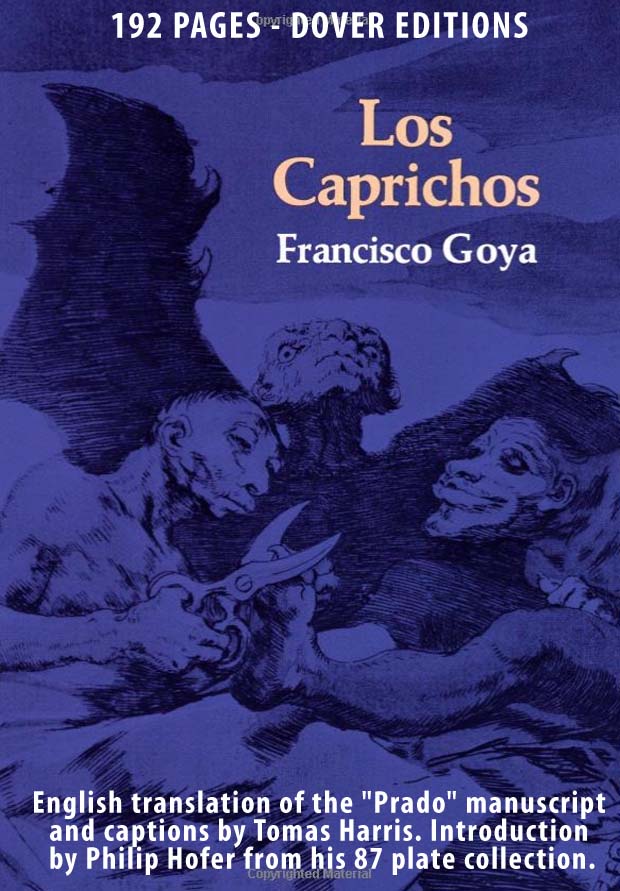 GOYA : Los Caprichos - Dover Edition - Amazon
---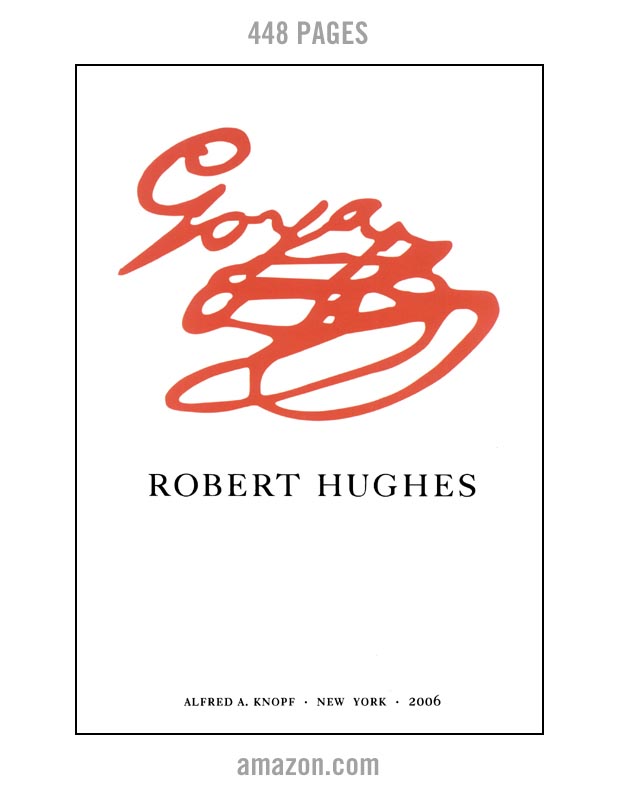 ---